I'm digging the homemade bread trend that is taking place in our house. It all started with this perfect sandwich loaf and has slowly crept to the unbelievably yummy honey oat bread you see here. You heard that right. Honey. Oat. Oh my delicious! It's slightly sweet with a filling amount of quick oats that are scattered through each slices. This bread is so amazing toasted, slathered in butter, and spread with some fresh fruity goodness.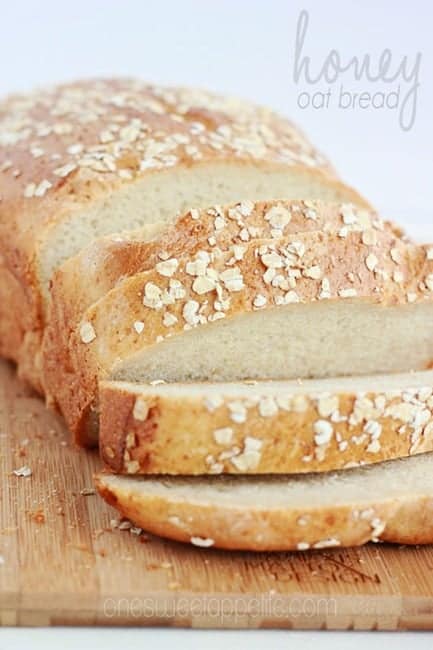 Honey Oat Bread
Ingredients
1-3/4 cup warm water
1 tablespoon active yeast
1 cup of quick oats divided
1/3 cup honey
3 tablespoons coconut oil
2-1/2 teaspoons salt
5 cups flour
1 egg
Instructions
Place the warm water in the bowl of your electric mixer. Stir in the yeast and let proof for 10 minutes. Stir in 3/4 cup of the oats, the honey, oil, and salt. Switch to the dough hook and knead in the flour one cup at a time.

Spritz a bowl with non stick spray. Place your dough in the bowl, turn once, and cover in plastic wrap. Allow to rest until doubled in size.

Punch down the dough. Knead for 5-10 minutes until smooth. Divide the dough in half and place into two bread pans. Cover with a clean towel and allow to double until the bread is slightly above the edge. Brush with the egg and sprinkle with the remaining oats.

Bake 40 minutes at 350 degrees.
Nutrition
Serving: 1Servings
We love the crunchiness that is added by the sprinkled topping. The only down side I've found is that these are smaller loaves. Which definitely isn't a deal breaker. You could even try to make one loaf on a cookie tray lined with parchment instead of two. If you were brave enough that is.

Make sure you try a slice fresh from the oven. I know you aren't supposed to cut into bread until it's cooled, but I promise I won't tell.
Reader Interactions