These Butter Bars are a quick and easy dessert recipe that will wow your taste buds! With just a few simple ingredients, including a boxed cake mix and butter, these bars come together in a snap and are the perfect combination of sweet and buttery. Whether you're hosting a party or just want a tasty treat to enjoy at home, these butter bars are sure to be a hit with everyone who tries them. So, let's get baking!
Searching for even more rich and delicious bar recipes? Try my Peanut Butter Bars, Blueberry Cheesecake Bars, and my Sugar Cookie Bars! All crowd pleasers and super simple treats.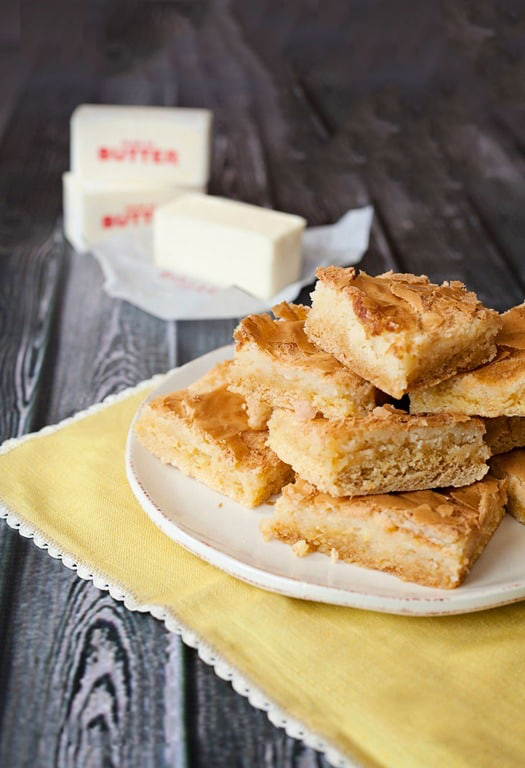 Recipe Features
Cake Mix Hack: You all KNOW I love a recipe that starts with a cake mix.
Rich and Decadent: Think blondie + Cheesecake. This is SO GOOD.
Party Worthy: This recipe makes a whooping 12 bars, but can easily be cut into 24 thanks to their richness, which is perfect for a crowd.
Here's the deal. I make zero claims to say that this recipe is original. It came it from a friend who got it from a friend etc.. I did a little research and it looks like it closely resembles the great Paula Deen. Which makes sense because she is the queen of butter.
These are so rich and nearly irresistible. The crumbly base is made with a cake mix and the topping is a drool worthy combination of cream cheese and more butter. One bite and you will be HOOKED.
What Are Butter Bars Made Of?
Turns out, the ingredient list for these easy bars is super basic. There's a total of six ingredients. That's it! Here's what you need to get started:
Cake Mix: We tried a few different versions and we feel like a yellow cake mix works best with the flavor profile. Pick your favorite.
Butter: I have made this with salted and unsalted butter. You don't need the extra salt, but it doesn't hurt. Either will work with this cake mix brownie.
Eggs: Large eggs are used in both the cookie crust and the cream cheese topping.
Cream Cheese: Two blocks, or sixteen ounces. Think of it like making it into a cheesecake filling.
Vanilla: Use pure vanilla extract. I always feel like there is a slight chemical flavor that comes with imitation extracts.
Powdered Sugar: One 16oz box, or approximately 2 cups.
Helpful Recipe Tips
How do I store butter bars?
The best way to store these gooey bars is covered and inside the refrigerator.
Can these bars be frozen?
Yep! Cool the bars completely, cut, and freeze in a single layer inside a freezer safe container.
Can I add toppings or frosting?
Technically, yes. Should you? Not in my opinion. These are rich and delicious all on their own.
How long do cake mix bars last?
These are best eaten within four days. Remember to keep them stored inside the refrigerator.
How many servings does a batch of butter bars make?
One batch makes 12 large servings or 24 smaller.
More Delicious Bar Recipes
If you're searching for delicious and easy brownie and bar recipes, you've come to the right place! Our collection of bar recipes features a variety of tasty treats that are perfect for any occasion.
Still Hungry? Follow One Sweet Appetite on Instagram, Pinterest, and Facebook!
Butter Bars
Indulge in delicious butter bars made with a cake mix. Quick, easy, and mouth-watering, these bars are perfect for any occasion.
Ingredients
Cake Base
1 (15.25oz) yellow cake mix dry
1 large egg
8 tablespoons butter melted
Cheesecake Topping
2 (8oz) blocks cream cheese softened
2 large eggs
1 teaspoon vanilla
8 tablespoons butter melted
16 oz powdered sugar
Instructions
Preheat the oven to 350. Lightly grease a 13×9 pan and set aside.

Lightly mist a 9×13 pan with baking spray and set aside for alter.
Cake Base
Combine the dry cake mix, one large egg, and 8 tablespoons of melted butter into a mixing bowl. Stir until crumbly.

Press the cake crumble firmly into the bottom of the 9×13 pan until solid.
Cheesecake Topping
Place the cream cheese into a clean mixing bowl. Whip the cream cheese for 1 to 2 minutes or until smooth.

Add the egg, vanilla, and remaining 8 tablespoons of melted butter. Beat an additional two minutes, or until smooth.

Stir in the powdered sugar and stir until combined.

Spread into an even layer over the top of the cake mixture and bake for 45 minutes.

Allow the cake to cool and enjoy.
Nutrition
Serving: 1Servings
Reader Interactions