I am so not a healthy person. I have a deep love for sugar but have recently decided it might be a good idea to make some healthy substitutions when I can. As long as they taste just like sweet sugary goodness. That is where this coconut whipped cream comes in. It's healthy but tastes just like the not so good for you stuff that I love. Top it on some red and blue berries and I ended up with a quick healthy treat that is patriotic and ready for the 4th of July!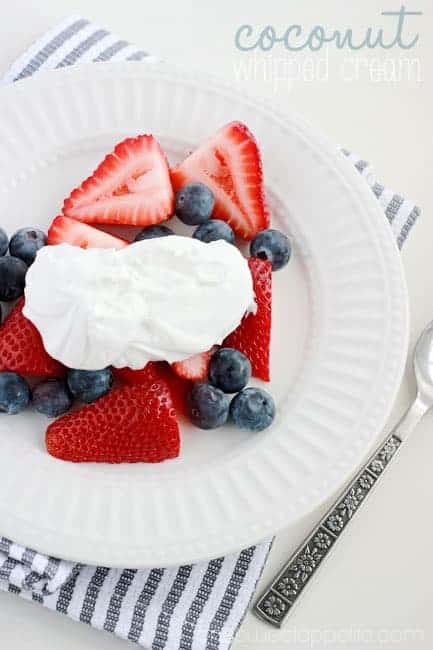 Coconut Whipped Cream and Berries
Ingredients
1 can of coconut milk
1 teaspoon honey or powdered sugar optional
1/2 teaspoon pure vanilla extract
berries of your choice
Instructions
Refrigerate your coconut milk, unopened, overnight. Open the can and spoon the top layer of thick milk into a chilled bowl of an electric mixer. Whip in the honey and vanilla. Continue to mix until a thick consistency is reached.

Serve over the berries or dessert of your choice
Nutrition
Serving: 1Servings
I can't really claim credit for this recipe. A friend of mine actually showed me how to make it ages ago. I've just put it back into the archives of my mind and completely forgot about it until recently. Berries are in season and what better way to baby step towards healthy choices? I'm replacing my nightly sweet treat with some fresh fruit. Sugar fix achieved without the guilt that normally follows.
The great thing about this whipped cream is that you can keep it covered in the fridge for about a week. Which means one batch will last you quite a while!
Did I mention this is part of a 4th of July blog hop? Some other extremely talented ladies have provided you with some other fun holiday knick knacks. Now pop on over to the other blogs that are participating in this 4th of July Blog Hop and check out all their amazing stuff!
Reader Interactions