Are any of you getting ready for the next holiday yet? I am just in love with these printable 4th of July popcorn cones from my contributor Vanessa from Our Thrifty Ideas! So without further chit chat I'm going to hand things over to her!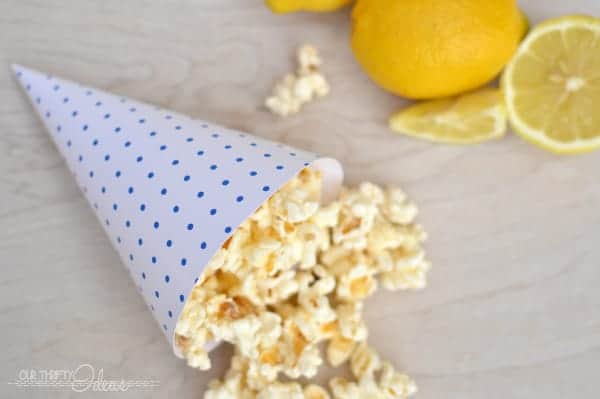 Wow, was that a tongue twister? Cause I'm fairly certain it was! Anywho, it's Vanessa from Our Thrifty Ideas again, and I'm super excited to be back this month to share another fun printable with you. I am SUPER excited for the 4th of July…like I'm already planning our day; the food, activities, parades, fireworks and more. There's no time for a nap or rest because we will make the most of the whole day. I may be a little obsessed excited. My husband tells me I'm slightly crazy about the day.
One of my favorite parts of the whole day is having a BBQ with family and friends including a ton of yummy food. I have the most amazing treat to be served at the party, or snacked on during the firework display. I'm sharing the Lemon & White Chocolate popcorn recipe on my site today. But to make the treat even better, of course I have to display and serve it in a fun way. Enter these darling patriotic popcorn cones.
Not only are these so cute, but they are incredibly simple and quick to assemble. It's as easy as print, cut and tape. They print 1 to a page (so they are large enough for a good snack portion) but the download comes with both the stripe and polka dot pages. I used
American Crafts This to That tape to adhere the cone in place. This stuff is amazing because it will hold it in place forever, there's no worry about the cone opening up while full of food!
More 4th Of July Ideas:
Another fun idea for the cones would be to print them on one sided patterned paper. So not only is the printed pattern on it, but the paper's pattern would be on the opposite side. Just make sure to print on the white side of the paper…not the patterned side (that's something I would do!)
What would you put inside your patriotic cones?
Come check out some other fun ideas and recipes on my site
Cinnamon Roll Pull-apart | Water Gun printable Summer gift | Double Chocolate w/ hazelnut no-bake Cookies