How to grill a frozen pizza – This easy cooking method gives you tasty pizza with a crisp crust with little work! Perfect with any of your favorite pizza flavors.
Love pizza? Me too! Be sure to try our other delicious pizza recipes like my Pepperoni Pizza Pockets, Flatbread Pizzas, and French Bread Pizza Recipe!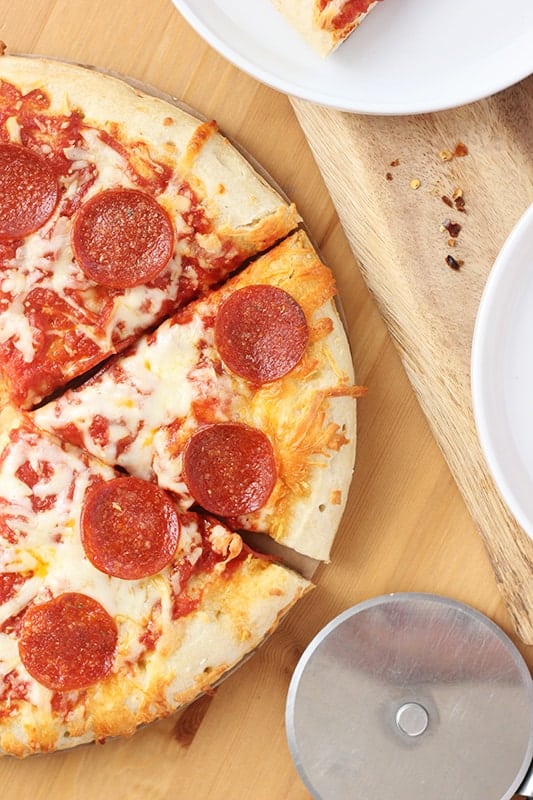 This post was originally published July 3, 2015. It has since been updated to include new photos and helpful tips.
Recipe Features
EASY Dinner Idea: Seriously, this is ONE ingredient and takes roughly 15 minutes!
Beginner Grilling Recipe: Since this is only one ingredient, and you can get a frozen pizza for next to nothing, this is the perfect grilling recipe to start with!
Have made dozens of times!
Summer is here and that can mean only one thing! We are out of the kitchen and working on the grill.
We hate turning the oven on during the summer and constantly search for easy grilling ideas. THIS recipe takes pizza night to an entirely different level. Perfect for those busy weeknights when you don't want to cook but have a hungry tribe waiting for a meal. Keep a frozen pizza on hand for occasions like this and dinner will be ready in a SNAP.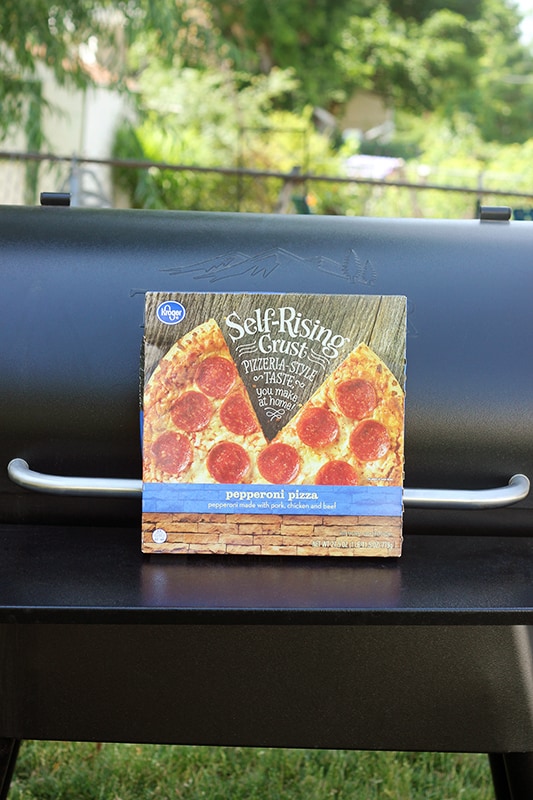 Grilled Pizza Ingredients:
The list of items you need is SHORT. All you need is your favorite go-to frozen pizza and a grill. Here are some suggestions for top rated frozen pizzas according to Delish. You can find the entire list on their website.
Tombstone Roadhouse Loaded Double Down Deluxe Pizza
Red Baron Classic Crust Pepperoni Pizza
California Pizza Kitchen White Pizza
California Pizza Kitchen BBQ Chicken Pizza
Tony's Pepperoni Pizza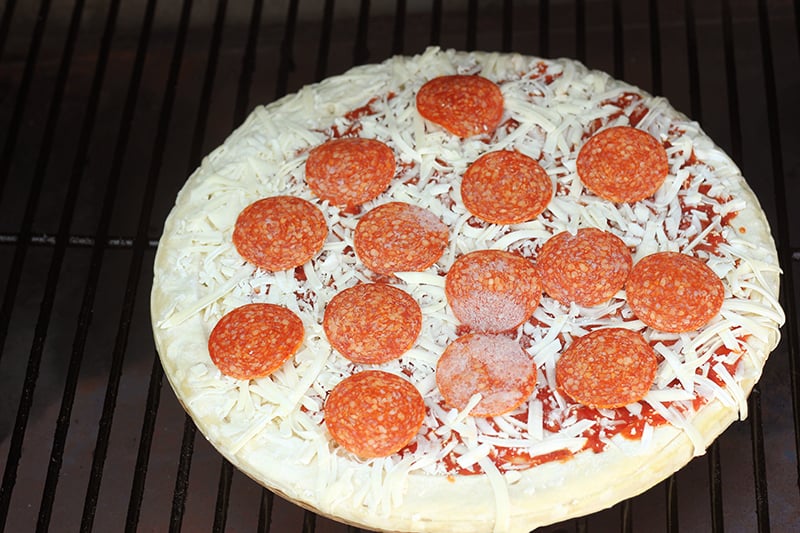 How To Grill The Best Frozen Pizza
PREP: Preheat the grill until it reaches 375 degrees. Make sure the grates are clear and clean. Unwrap the frozen pizza. Discard and cardboard and plastic.
GRILL: Place the frozen pizza directly in the center of the grill. Close the lid and cook 15 minutes or until slightly golden around the edges and heated through.
ENJOY: Serve immediately.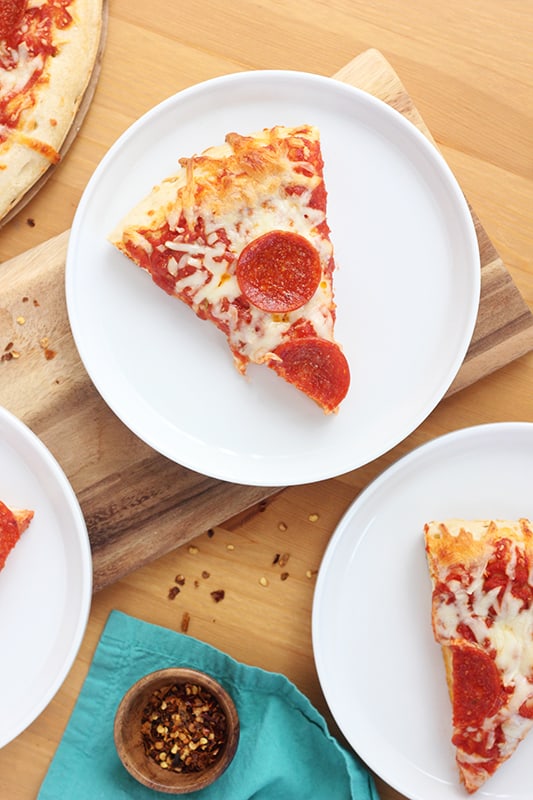 Recipe Notes:
Tips to Grill a Frozen Pizza
This recipe is perfect for either a gas grill but also makes delicious frozen pizza on traeger or pellet grill!
Make sure the grill has been properly cleaned.
Keep the lid closed while the pizza cooks. This helps to keep the heat in and gives you an even bake.
Cooking at 375 gives you a crisp crust but helps avoid burning. It is perfect.
What Is The Best Frozen Pizza To Grill?
We used a Kroger brand pizza, which is super tasty, but a close second is the Digiorno thin crust. You can really grill any frozen pizza! We try to stick with whatever is on sale. Cooking times may vary based on the pizza thickness or brand. I recommend checking your pie every 7 minutes or so.
Side note, if you have a Papa Murphy's in the area… Their pizza tastes AMAZING grilled this way. Especially their thin crust.
How To Upgrade A Frozen Pizza
Want to spice up your traeger frozen pizza? Try a few of these easy tips to upgrade.
Season the crust! We like to brush with melted garlic butter or parmesan cheese. You can also try everything bagel seasoning or minced garlic!
In fact, try seasoning the entire pizza! Add a pinch of garlic salt or Italian seasoning.
Include some fresh toppings. Adding fresh veggies, cheese, or even meats can kick things up to a new level!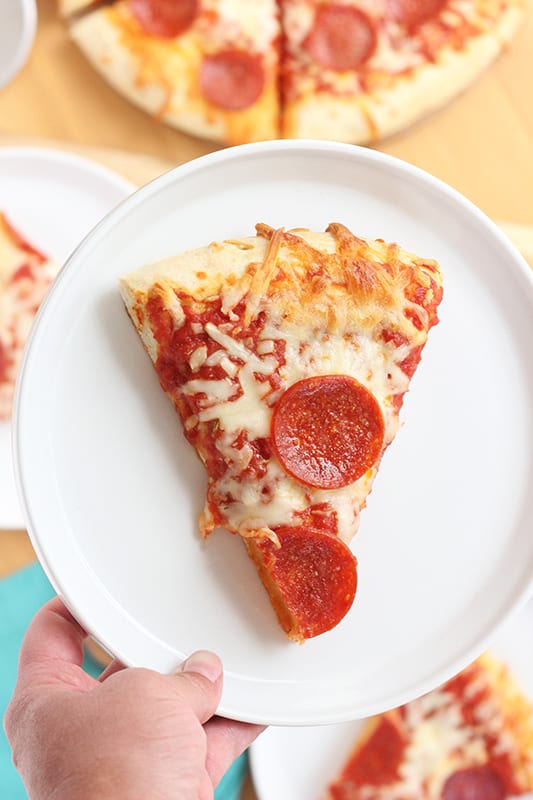 More Pizza Recipes
More Grilling Recipes
Still hungry? Follow One Sweet Appetite on Facebook, Instagram and Pinterest for more great recipe ideas!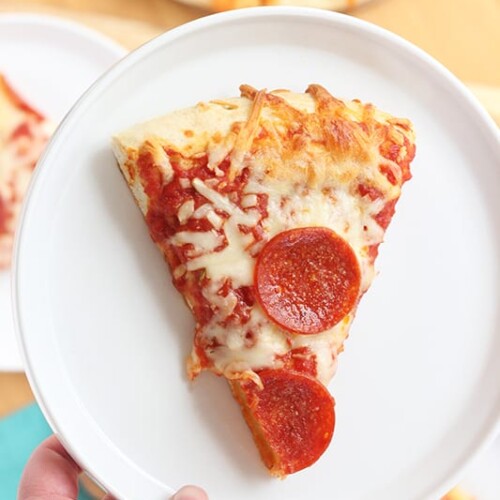 How To Grill A Frozen Pizza
How to grill a frozen pizza – This easy cooking method gives you tasty pizza with a crip crust with little work!
Ingredients
Frozen pizza flavor of your choice. Thin crust works best.
Instructions
Preheat your grill over medium until it reaches 375 degrees on a grill thermometer.

Place the frozen pizza directly in the center of the grill and close the lid. Cook 13-15 minutes or until the crust is golden and the cheese is melted.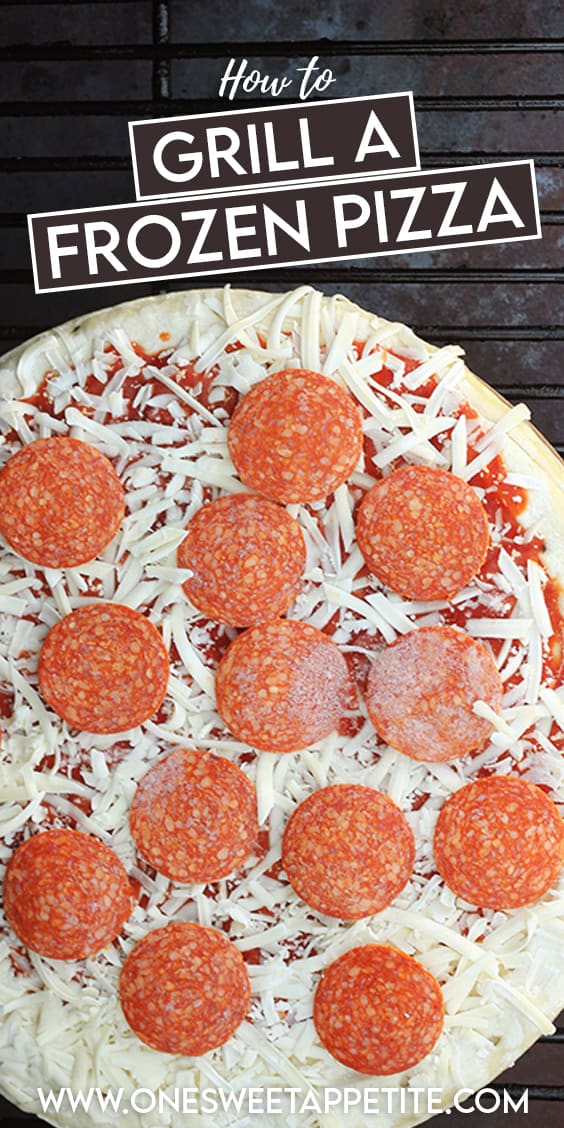 Reader Interactions