These easy Sugar Cookie Bars are soft, chewy, and topped with a delicious vanilla buttercream! Simple to make and the same buttery flavor of a classic sugar cookie. Skip the hassle and give this recipe a try!
I have over 80 Delicious Cookie Recipes on my site, and these rank high at the top of our favorites. In the mood for something out of the box? Whip up a batch of my Coconut Lime Sugar Cookies or Sour Cream Cut Out Cookies. Both must-make family favorites.
This post was originally published July 3, 2020. It has since been updated to include fresh photos and helpful tips.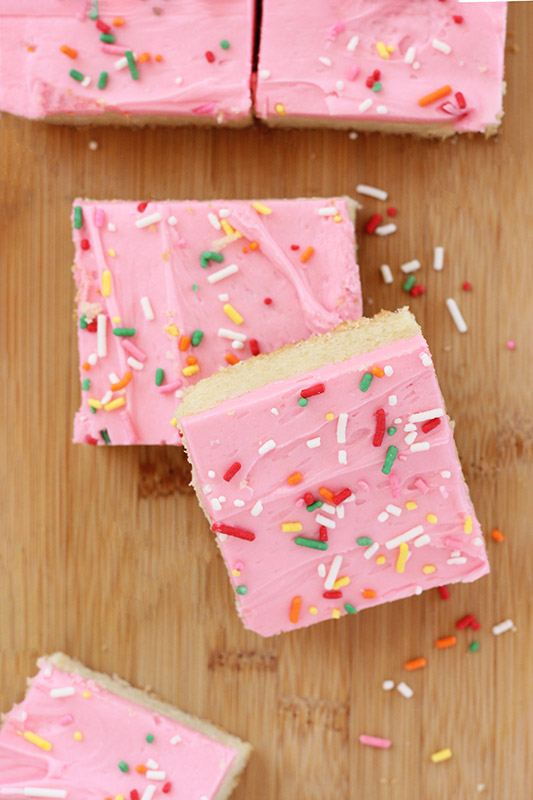 RECIPE FEATURES
Easy: Skip the hassle of rolling dough and make these bars. It is so stinken easy and they taste just as delicious.
Freezer Friendly: Before frosting, place cooled bars into a freezer safe bag or container. They will stay fresh up to one month!
Easy to Customize: Use different colored frosting and sprinkles for different occasions!
We love these sugar cookie bars. They are incredibly simple. I took my favorite soft sugar cookie recipe and pressed the dough into a pan. Bake, cool, and frost… The end result is a soft, fluffy, and delicious cookie that takes less than 30 minutes to make!
Bonus? You can decorate them for ANY holiday or event by swapping the sprinkles or coloring the frosting!
INGREDIENTS FOR THE BEST SUGAR COOKIE BARS
The ingredient list for this recipe is simple. To keep them soft and cake like, I combined oil and butter in the dough. Don't skip this step! It's worth it, I promise.
Flour– All-purpose flour, or white flour, is used in these cookies.
Baking Soda and Baking Powder– The leavening agents that help give the cookies rise and that fluffy texture.
Salt– Salt is an amazing flavor enhancer, but remember a little goes a long way.
Butter– Soft butter at room temperature is best.
Oil– I use vegetable or coconut oil for these cookie bars.
Sugar– Regular white sugar, or granulated.
Powdered Sugar– Just a touch, added to the batter to help keep the cookies soft.
Sour Cream– THIS is the secret. It adds a slight tang and is so incredibly vital to the end result.
Egg– 1 large egg to help bind things together.
Vanilla/Lemon Extract– I highly recommend you add the lemon. It gives them such a fresh flavor, but you can always stick with just vanilla.
FROSTING OPTIONS
Here is the deal with these cookies, pretty much any frosting will taste great. I like to stick with either vanilla buttercream or cream cheese frosting. Both are easy to make and easy to spread onto the top of the cooled bars.
I also only like a thin layer of frosting. If you like more of a thick topping I would suggest doubling the frosting ingredients.
SUGAR COOKIE BARS RECIPE
PREP: Preheat the oven to 375 degrees. Line a 9×13 pan with parchment OR generously grease with baking spray.
MIX: Whisk the dry ingredients together in a small bowl and set aside. Combine the butter, oil and BOTH sugars into a mixing bowl. Beat until combined and fluffy, about 2 minutes. Stir in the sour cream, egg, and extracts. Fold in the dry ingredients.
SPREAD: Spread into the lined pan. Pro tip, I use binder clips (affiliate) to hold my parchment in place while I spread the dough. Just don't forget to remove before baking!
BAKE: Bake for 13 to 15 minutes. IMPORTANT: do not overbake. I take mine out right around the 13 minute mark for a more soft cookie. Anything over 15 minutes will result in a dry crumbly mess.
FROST: Cool the bars completely and frost! Don't forget to add the sprinkles! They really make this the best sugar cookie bars recipe.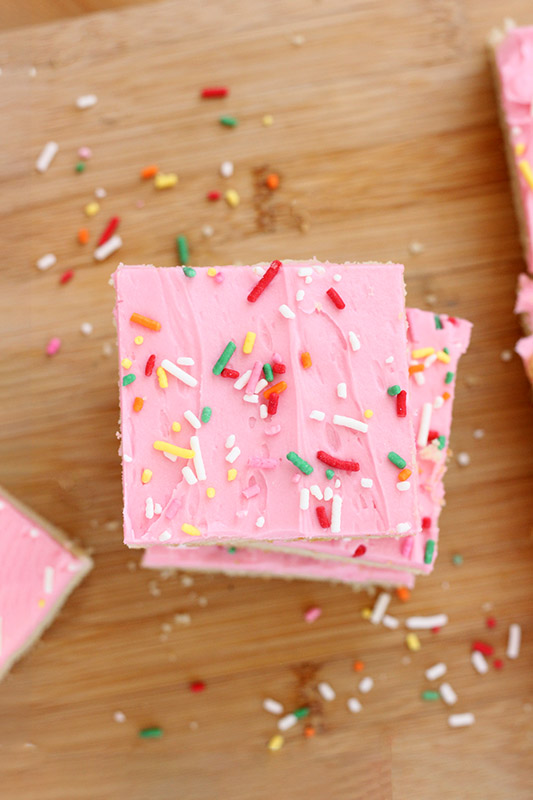 COOKIE MAKING TIPS
These bars are already so simple to make. I included some of my favorite tips to make them even easier!
Line your pan with parchment. This helps pull the bars out quickly without any sticking!
Pinch the parchment to the pan using binder clips while you spread the dough. This easy tip makes it so the parchment doesn't slide or slip while you are spreading the sticky dough. Just remember to remove the clips before you bake.
Mist your hands with cooking spray to help keep the dough from sticking while you press them into the pan. You could also spray a large spoon, but we find that clean hands work best.
Pull the bars from your pan right after you take them out of the oven to help them cool faster.
Wait until the bars are completely chilled before you frost them, otherwise the frosting will melt.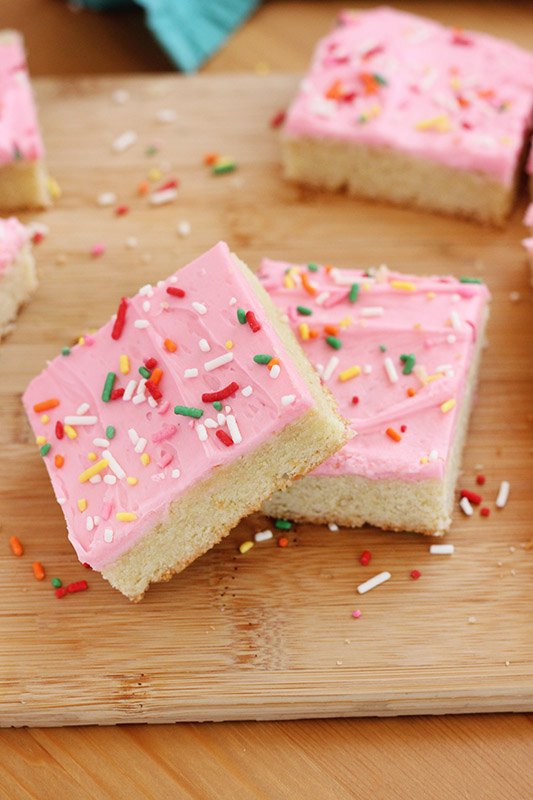 HELPFUL TOOLS
The items listed above are the ones I use and love. They are affiliate links, which means I earn a small percentage of sales. This helps me to keep my recipes free and still share all of my favorite products.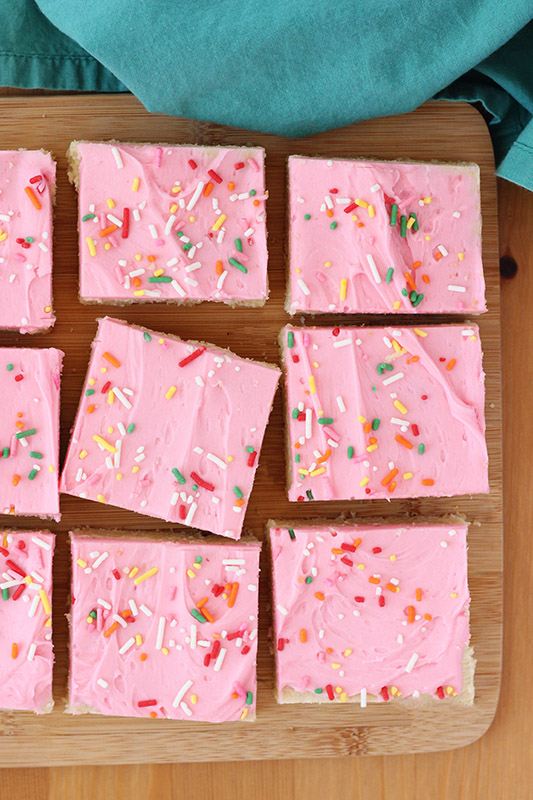 MORE MUST-TRY COOKIE RECIPES
MORE EASY BAR RECIPES
Still Hungry? Follow One Sweet Appetite on Instagram, Pinterest, and Facebook!
Best Sugar Cookie Bars
These easy Sugar Cookie Bars are soft, chewy, and topped with a delicious vanilla buttercream! Simple to make and the same buttery flavor of a classic sugar cookie. Skip the hassle and give this recipe a try!
Ingredients
Cookies:
2¾ cups all-purpose flour
1/4 teaspoon baking soda
1/4 teaspoon baking powder
1/4 teaspoon salt
1/2 cup butter soft
6 tablespoons oil we use vegetable or coconut
2 tablespoons sour cream
2/3 cup granulated sugar
1/4 cup powdered sugar
1 large egg
1 teaspoon vanilla extract
1/4 teaspoon lemon extract
Frosting:
1/2 cup butter soft
1½ cups powdered sugar
1/2 teaspoon vanilla extract
1 tablespoon milk or cream
Instructions
For the cookies:
1. Preheat the oven to 375 degrees. Line a 9×13 pan with parchment or grease with cooking spray. Set aside.

2. Whisk together the flour, baking soda, baking powder, and salt in a small bowl. Set aside. 

3. Combine the butter, oil, and both sugars in a mixing bowl. Whisk or beat with the paddle attachment of an electric mixer until fully combined. Stir in the sour cream, egg, and extracts. 

4. Fold in the dry ingredients until just combined. Transfer to your prepared pan. 

5. Spray your hands with cooking spray and gently press the dough into the pan to create an even layer. 

6. Bake 13 to 15 minutes, or until the edges are very lightly browned and the center is set. Be careful not to over bake. 

7. Allow the bars to cool completely. Spread with frosting and sprinkles. 
For the frosting:
1. Gently whisk the butter with an electric or hand held mixer. Add the powdered sugar, vanilla, and milk/cream. 

2. Whip until fluffy, about 3 minutes. 
Equipment
Reader Interactions