This easy snack comes together quickly and is a family favorite! Make your own Apple Peanut Butter and Jelly with just a few simple ingredients!
Looking for a quick and easy after school snack? THIS is the recipe for you!
The classic flavors of peanut butter and jelly combine to give you a fun treat approved by even the pickiest eater!
I really love the addition of protein added by peanut butter. My kid always comes home from school begging for food. Giving him something that is going to satisfy his craving, and keep him happy until dinner, is high on my priority list. The combination of the tart apple, salty peanut butter, and sweet jelly gives him a little bit of everything!
Peanut Butter and Jelly on an apple instead of bread
Health benefits of apples as a snack:
Apples are rich in antioxidants, flavonoids, and dietary fiber. That makes them the perfect snack for growing kids and is why I am more likely to reach for them when planning treats or weekday snack ideas. They are convenient to pack in lunches or backpacks and high on the list of kid favorites.
Ingredients for apple peanut butter and jelly:
Apples- We like tart varieties like Granny Smith
Peanut Butter
Jelly- Grape is our favorite!
The fun thing about this recipe is that it is completely customizable! You can easily leave the jelly out OR substitute with another option. We really love grape jelly but have been known to use honey, Nutella, even sliced strawberries or marshmallows!
How to make a quick after school snack:
Scrub your apples to clean the outside.
Slice into fairly thin slices.
Remove all of the seeds.
Pat dry with paper towels.
Spread with one to two tablespoons of peanut butter (we use creamy peanut butter).
Add jelly, honey, or optional second item.
Top with a second apple slice and serve immediately.
HELPFUL TOOLS
Paring Knife : A Paring Knife (affiliate) is a great tool to have in your kitchen at all times. It's ideal for slicing apples thinly for this snack!
Paper Towels : Paper towels (affiliate) will help to dry your apples so that they have less juice to make it easier to spread your condiments.
Apple Slicer: If you want to turn this into a dip use an apple slicer (affiliate)! Quick, easy, and only $8. Put a little pb and jelly in a bowl and go to town.
Like this recipe? You will love my: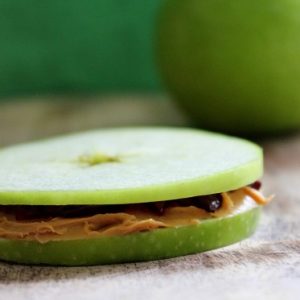 Apple Peanut Butter And Jelly
This easy snack comes together quickly and is a family favorite! Make your own Apple Peanut Butter and Jelly with just a few simple ingredients!
Ingredients
1 tart apple
1 tablespoon Peanut butter per apple slice
1-2 teaspoons Jelly per apple slice
Instructions
Cut the apple into thin slices. Clean out any seeds.

Pat each apple slice dry with a paper towel.

Spread peanut butter and jelly onto one slice.

Sandwich with an additional apple slice.

Serve immediately.
Notes
You could substitute the jelly with honey, chocolate chips, Nutella, or marshmallows for a fun twist!
Nutrition
Serving: 1Servings
Equipment
Pin for later:
Still hungry? Follow One Sweet Appetite on Facebook, Instagram and Pinterest for more great recipe ideas!
Reader Interactions