This Coconut Banana Bread is a fun fresh take on a classic. The added tart lime glaze paired with toasted coconut gives you a tropical flavor that will quickly become a family favorite! 
Love banana recipes? Me too! Be sure to try a few of my other favorites like my Classic Banana Bread, Banana Bread Granola, and Easy Banana Bread Waffles!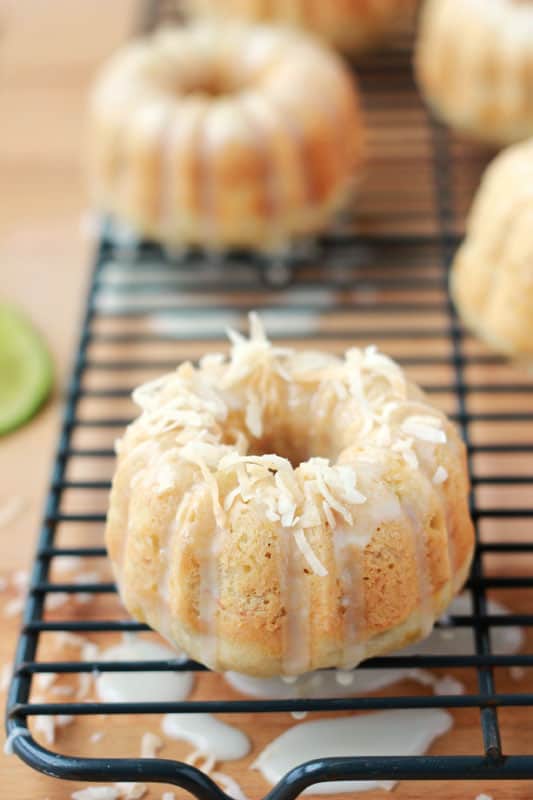 Recipe Features
Bold Flavor: This super moist quick bread brings the classic flavor of banana with a delightful hint of coconut! Perfect way to use leftover bananas.
Freezer Friendly: You can make these into muffins or mini loaves and freeze for later! Frozen banana bread will last up to 4 months.
Full Loaf and Mini Instructions: We love a warm loaf of bread, but sometimes mini versions are much more convenient!
Banana bread is such a classic dessert. My grandma would always make the very best. Occasionally she would add a cup or so of diced pineapple. It gave the bread the most amazing tropical flavor. I dream about that bread.
Because pineapple is not a fan favorite with my kid, we opted for something a little different. He LOVES coconut. Which is where this recipe came from. You still get the sweet soft banana flavor but with a delightful hint of coconut goodness. A fan and family favorite, you cannot go wrong with this quick bread.
Looking for something with more citrus? Try my Lemon Coconut Bread!
Ingredients for Coconut Banana Bread:
The ingredient list for this bread follows a lot of the staples in traditional banana bread. The biggest difference is the use of coconut milk and a touch of coconut extract.
Flour: All-purpose flour is what I use to make these little cakes. It provides a great structure while not becoming overly dense. This is also known as white flour.
Baking soda: I always suggest double checking the expiration date of your baking soda. Once you have opened the container, it's best to use within 6 months.
Salt: Just a pinch goes a long way to balance the flavors and boost the banana.
Sugar: Some banana bread recipes will call for both brown and white sugar. For this tropical version, stick with all granulated.
Butter: Softened unsalted butter. If you only have salted you can omit the salt called for in the recipe.
Eggs: Large eggs that are at room temperature.
Ripe bananas: Overly ripe is best. The browner the better. This gives you the most flavor and a slight sweetness that is unmatched.
Sour cream: Hear me out, a touch of tang makes this a true show stopping dessert! You can use plain greek yogurt as well.
Coconut milk: Canned milk OR the coconut milk you find in the cartons. Just make sure it is unsweetened.
Vanilla extract and Coconut extract
Toasted coconut: Optional.
How to Make Coconut Banana Bread:
PREP: Preheat the oven to 350 degrees. Grease a loaf pan, cupcake tin, or mini bundt with baking spray and set aside for later.
DRY INGREDIENTS: Whisk the flour, baking soda, and salt inside a medium mixing bowl. Set aside for later.
BATTER: Combine the butter and sugar inside the bowl of a stand mixer that is fitted with the paddle attachment. Beat at medium speed until the ingredients combine and are fluffy, about 2 minutes. Scrape the sides of the bowl and add the eggs, mashed banana, sour cream, coconut milk, and extracts. Stir for another minute or two or until the ingredients have fully combined. Slowly stir in the dry ingredients.
BAKE: Pour into the prepared pan, filling cupcake tins 3/4 full, and bake for 60 minutes, or until cooked through and an instant read thermometer reads between 200°F and 205°F.
HELPFUL TOOLS
Mini Bundt Pan : Mini Bundt Pans (affiliate) are my favorite to use so that everyone can enjoy their own mini bread. Bonus! Your presentation will be taken to the next level!
Electric Mixer : An Electric Mixer (affiliate) is a great thing to have while making this recipe. It will help make your ingredients well combined and fluffy.
Measuring Cups: A quality set of dry ingredient measuring cups (affiliate) are an amazing addition to any kitchen. They are perfect for measuring flour, sugar, and more.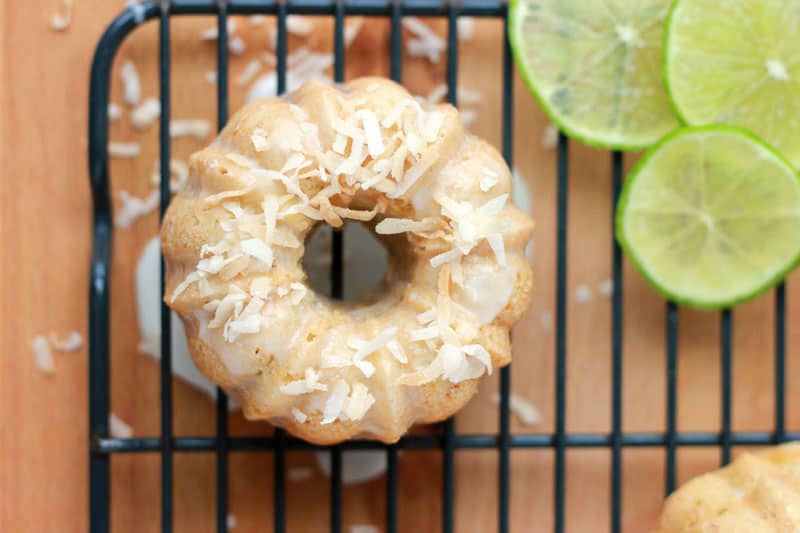 This bread is simply amazing. The added coconut pieces and sweet coconut glaze gives the bread a little boost of flavor that is out of this world. It is moist, light, and baked perfection. Follow the tips below to get the best out of your banana bread recipe!
Recipe Notes:
What are the best banana bread recipe tips?
Make sure your ingredients are at room temperature. This include the butter and eggs. Having all of the ingredients room temp helps them blend better as you mix the batter.
Do not over mix the batter. This means you should hand mix. If you can avoid it, do not use an electric mixer. If you have no alternative, you can set your mixer to low speed. Mix your ingredients until just combined.
Can you substitute brown sugar for white in banana bread?
Yep. You definitely can. Use a 1 to 1 ratio when substituting. For example, if the recipe calls for 1 cup of sugar you could use 1 cup of brown sugar.
However, you should be aware that brown sugar contains molasses which means it could potentially change the texture of your baked goods.
How do I keep my bread from burning?
The easiest way to keep your bread from burning on the edges before it is cooked through is to cover it halfway through baking with foil. Lightly set a tented foil barrier between the top of the bread and the top of the oven.
More Must Try Banana Recipes
Still Hungry? Follow One Sweet Appetite on Instagram, Pinterest, and Facebook!
Coconut Banana Bread
This easy Coconut Banana Bread recipe gives a tropical twist to a classic! Made with over ripe bananas and topped with a sweet coconut glaze!
Ingredients
For the bread:
2 cups all-purpose flour
1 teaspoon baking soda
1/2 teaspoon salt
1 cup granulated sugar
1/4 cup butter softened
2 large eggs
4 ripe bananas
1/4 cup sour cream
3 tablespoons coconut milk
1 teaspoon vanilla extract
1 teaspoon coconut extract
1/2 cup toasted coconut we prefer sweetened
Optional Glaze:
1 cup powdered sugar
2 tablespoons lime juice
1/4 teaspoon coconut extract
1/4 teaspoon vanilla extract
Instructions
Preheat your oven to 350 degrees. Spray a loaf pan or mini bundt with cooking spray and set aside.

Whisk together the flour, baking soda, and salt in a medium sized bowl and set aside.

Combine the butter and sugar in the bowl of an electric mixer and whisk until fluffy. Add the eggs, bananas, sour cream, coconut milk and extracts. Stir until combined.

Slowly mix in the dry ingredients and pour into your prepared pan.

Bake 60 minutes or until a toothpick comes out clean.
For the glaze:
Whisk together all of the glaze ingredients. Spread over your cooled bread and sprinkle with shredded coconut.
Nutrition
Serving: 1cupcake | Calories: 146kcal | Carbohydrates: 27g | Protein: 2g | Fat: 4g | Saturated Fat: 2g | Polyunsaturated Fat: 1g | Cholesterol: 22mg | Sodium: 125mg | Fiber: 1g | Sugar: 16g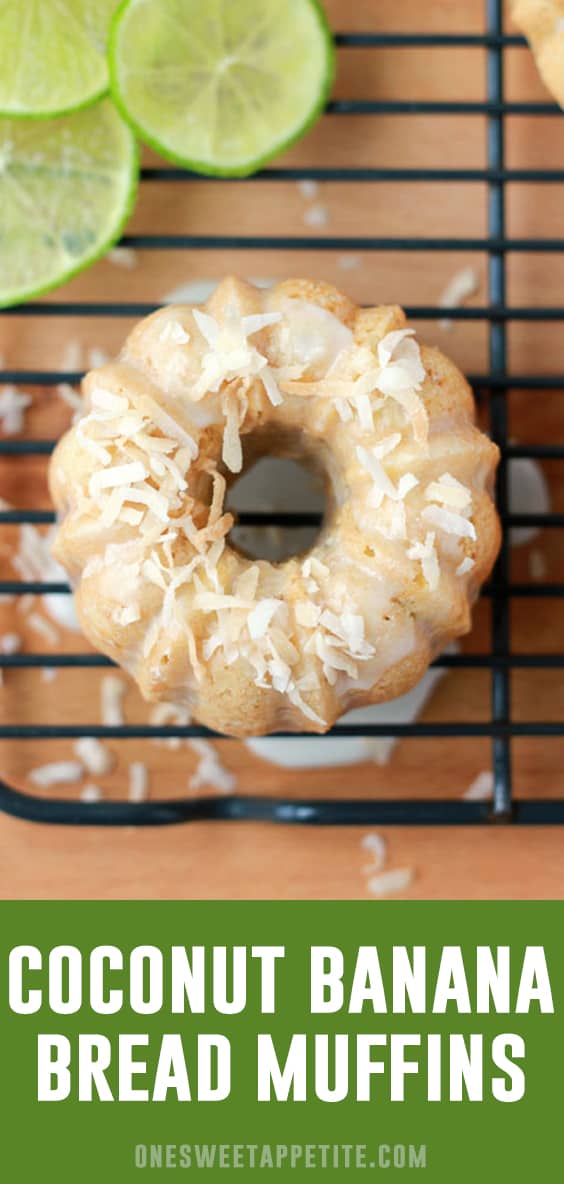 Reader Interactions