Crispy on the outside, tender in the center, these are the BEST Baked Onion Rings. No need to deal with hot oil and made with minimal ingredients. There are about to be a go-to side dish you'll make again and again.
Serve these with your favorite burgers, especially my Western Burger, as a side to Crispy Chicken Nuggets or as a quick snack!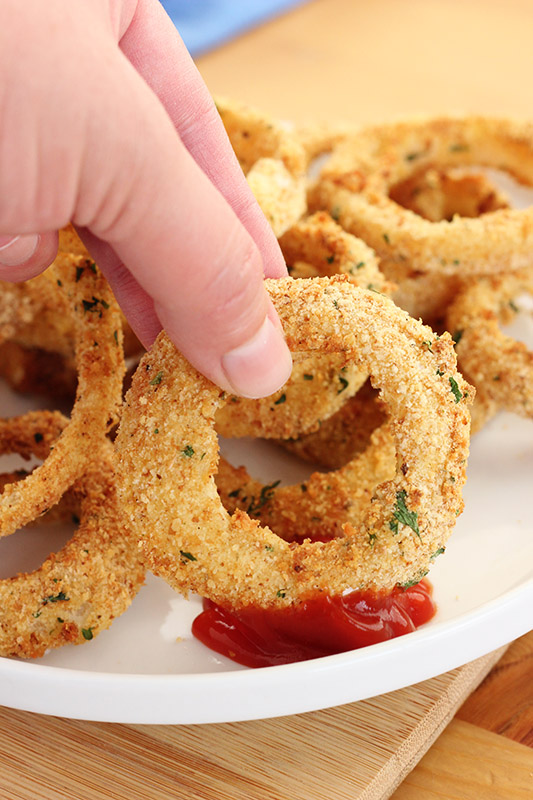 Recipe Features
Minimal Ingredients: You can have these ready in minutes with only a few basic ingredients.
Crispy and Quick: Baked at a high temperature, these onion rings have the perfect crispy outside and soft and tender onion center.
EASY Cleanup: No oil means you skip the tricky part of the recipe but miss none of the delicious crispy goodness.
Going to go out on a limb and say these oven fried onion rings rival my favorite fries. Onion slices dipped in batter and "fried" to golden perfection? Yes, please. Better that what you can get at most reasturants and the perfect vehicle to get that tasty dipping sauce to your mouth.
There is also the added bonus of having that classic fried food taste without the mess of deep frying. Deep frying leaves a lingering smell that lasts for days and is a pain to clean. This recipe takes 10 minutes and, if you line the pan with parchment, takes less than 5 minutes to clean.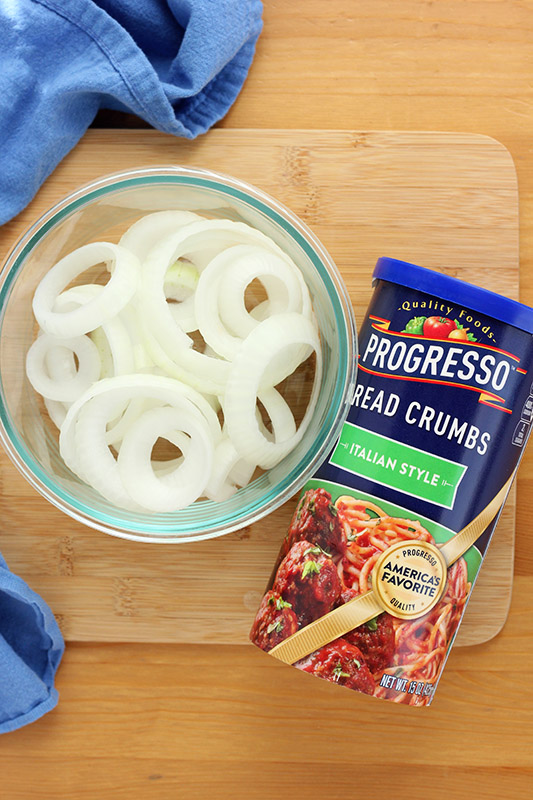 Oven Onion Rings Ingredients
You do not need many items to get started, and most are items you could already have on hand!
Onion: Sweet onions, like Vidalia, are my personal preference.
Flour: All-purpose flour is used as a base to help everything stick together.
Seasonings: Specifically, salt, pepper, and paprika. If you're looking for even more flavor you can swap the salt for garlic salt or seasoning salt.
Eggs: Large eggs are going to help the crumbs stay firmly on the onion ring while it cooks.
Breadcrumbs: Panko or Italian? That's the question of the day. I prefer the courser regular breadcrumbs. They stick better and give you the perfect crispy finish. As for the seasoning… You can stick with plain, use Italian crumbs, or even garlic and herb.
Oil Spray: This is my secret for getting the perfect crisp. Generously spray with oil. We like Avocado oil spray, as it has no flavor and lets the onion be the star.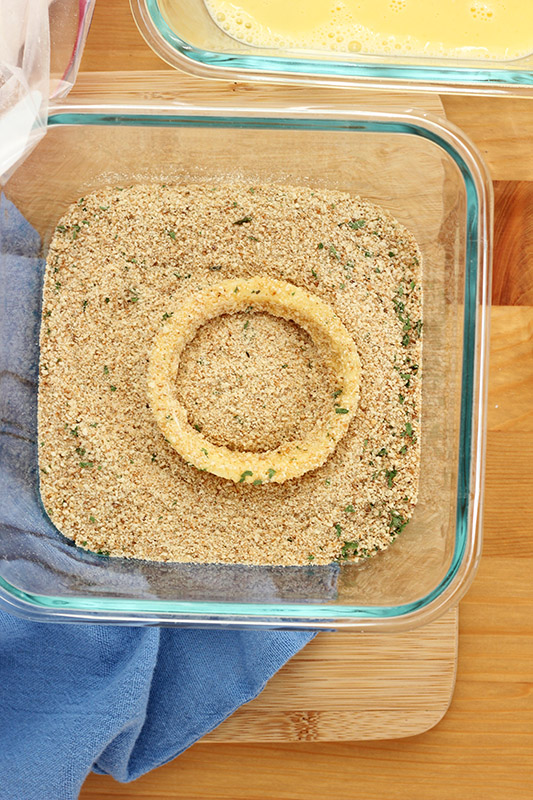 How To Make Onion Rings In The Oven
PREP: Gather ingredients, measure and slice. Place the onions into a bowl of water while you get everything else together.
BATTER: Toss the sliced onion pieces in the flour, followed by the egg mixture, and finishing with the crumbs. Make sure to cover every piece generously.
BAKE: Generously mist with cooking spray and bake, flipping about halfway through.
These could not be any easier to make. We set up an assembly line and my 13 year old helps assemble. It's fun and he loves adjusting the seasoning based on his own preferences. These are an amazing side dish to my Chili Cheese Dogs!
Helpful Tools
Baking Trays: One large tray (affiliate) is really all you need. You can line it with parchment for easy cleaning, or lightly mist with spray before adding your onions. Using a quality thicker tray helps with even cooking.
Silicone Baking Mats: One of my favorite, and most used, kitchen items are my silicone baking mats (affiliate). It keeps me from needing parchment and they are reusable.
Shallow Bowls (affiliate): These are so handy for so many things. Especially coating or dipping.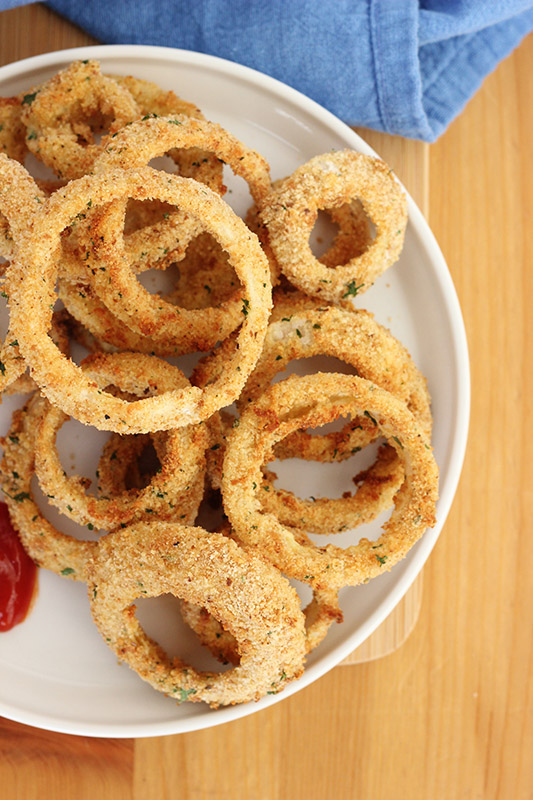 Recipe Notes:
Why soak onion rings in water before making onion rings?
Soaking onions in water before you bake helps to dilute the sulfur content. What does that mean exactly? It sweetens them slightly and gives them a more mild flavor. That way you aren't biting into a bitter and bold onion.
How do you crisp onion rings in the oven?
Spray with cooking spray! I mention this in the recipe, but giving them a generous mist helps the outside to crisp up perfectly. Use a spray that includes an oil that is slightly less bold in flavor, like coconut or avocado oil.
Why are my onion rings not crispy?
Finding that your onion rings aren't crisping up? You might have too much batter on them. Try diluting the egg with a bit of water and gently shaking after the breadcrumbs.
How do you keep batter from falling off onion rings?
Dipping the rings in flour first is key. It helps give the egg and crumbs something to hold onto.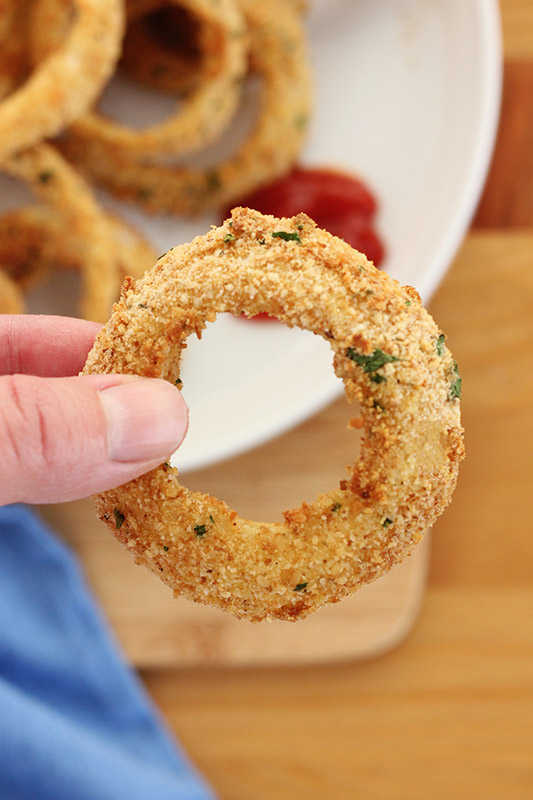 MORE MUST-TRY SIDE DISH RECIPES
Still Hungry? Follow One Sweet Appetite on Instagram, Pinterest, and Facebook!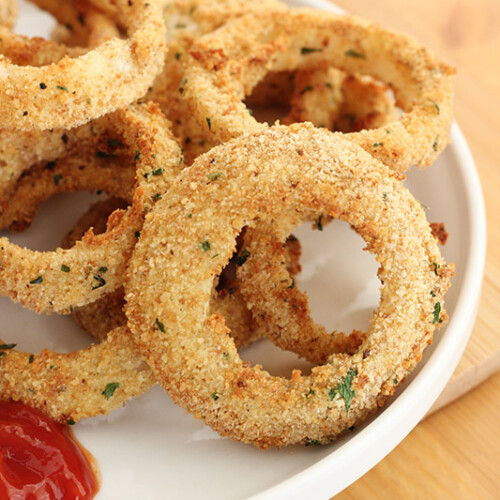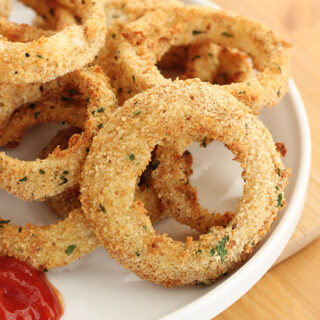 Baked Onion Rings
Crispy on the outside, tender in the center, these are the BEST Baked Onion Rings. No need to deal with hot oil and made with minimal ingredients. There are about to be a go-to side dish you'll make again and again.
Ingredients
2 large sweet onions
1 cup flour
1 teaspoon salt
1/4 teaspoon pepper
1/2 teaspoon paprika
2 large eggs
1-1/2 cups breadcrumbs
Instructions
Preheat the oven to 425 degrees.

Slice the onion into thick rings, placing the rings into a bowl of cold water. Set aside.

Combine the flour, salt, pepper, and paprika into a large zip top bag. Set aside.

Whisk the eggs in a shallow dish and add the breadcrumbs to a second shallow plate.

Drain the water from the onion.

Toss or shake into the flour mixture.

Dip each individually into the egg, followed by the breadcrumbs. Being sure to coat each well.

Place on a baking tray.

Generously mist the tops of the onion rings with cooking spray.

Bake 10 minutes, flip and bake 5 additional minutes.

Enjoy.
Notes
Adjust seasonings to taste.
Nutrition
Serving: 1Servings | Calories: 178kcal | Carbohydrates: 50g | Protein: 10g | Fat: 4g | Saturated Fat: 1g | Polyunsaturated Fat: 2g | Cholesterol: 62mg | Sodium: 649mg | Fiber: 3g | Sugar: 8g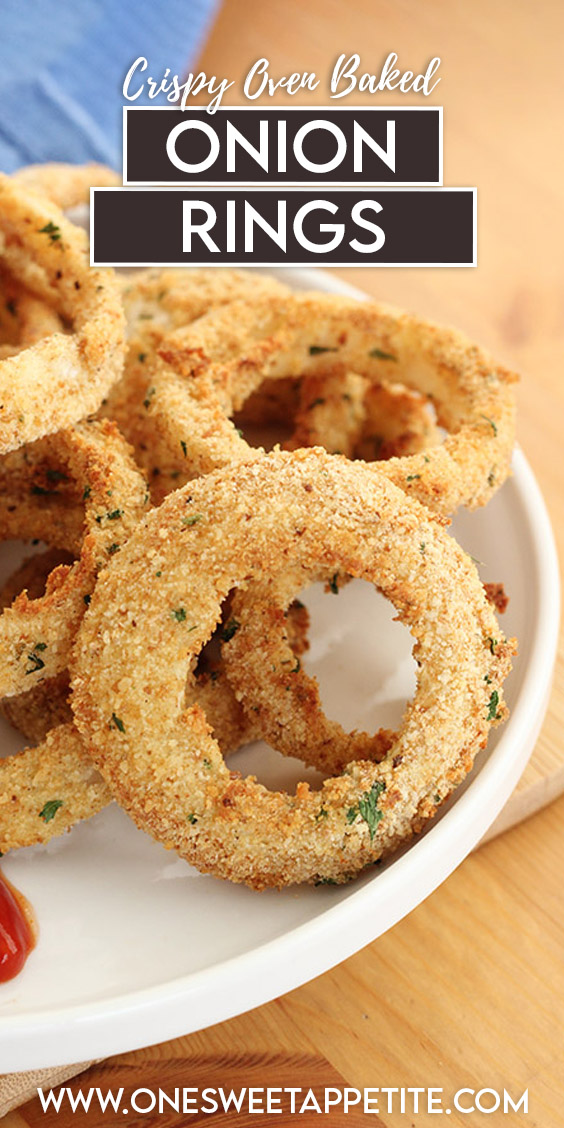 Reader Interactions