Blueberry Cheesecake Bars. Blocks of cream cheese mix together with sugar, eggs, milk, vanilla, and fresh blueberries giving you the perfect cheesecake bar recipe!
There are two types of fruit I reach for when looking for a fresh dessert flavor:
Strawberries and blueberries.
This recipe has been made both ways. My personal favorite?
This is a no-fail cheesecake recipe. Why? Because you do not have to worry about sinking, cracks, or under baked filling.
Creating a bar version of the classic dessert eliminates all of these common issues. Before I let you go, let's walk through a few tips!
How to make cheesecake bars:
Do not over mix. If you can, I recommend using a hand mixer.
Be creative. I used a graham cracker crust. You can easily substitute wafer cookies or even Oreo's. You can even substitute different fruit varieties!
Watch closely. This cheesecake is done in a mere 20 minutes.
Cool completely before moving to the refrigerator.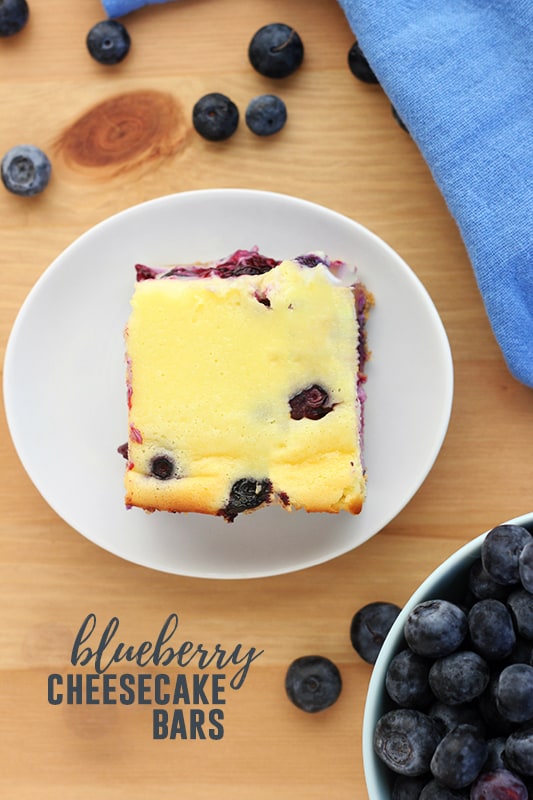 Like this recipe? You will love my Salted Caramel Cheesecake Bars, Strawberry Cheesecake Bars, and Banana Cream Cheesecake!
Blueberry Cheesecake bars
Ingredients
1/2 cup butter, melted
1-1/2 cup finely crushed graham crackers
1/2 cup flour
11/4 cup sugar
1 1/2 (8oz) package cream cheese, softened
2/3 cup sugar
4 Large eggs
1 tablespoon milk
1 teaspoon vanilla
2 cups blueberries
Instructions
Preheat your oven to 375 degrees. Line a 9×13 pan with foil and lightly spray with non-stick spray. Set aside.
Stir the butter, graham crackers, flour, and 1/4 cup of sugar together with a fork. Press into the bottom of you prepared pan. Bake for 8 minutes or until light brown.
Cream together the cream cheese, 2/3 cup sugar, eggs, milk, and vanilla in the bowl of an electric mixer. Pour over your warm crust and sprinkle with blueberries.
Bake 20 minutes or until the center looks like it has set. Cool until room temperature and refrigerate for at least 2 hours if not overnight.