These incredibly simple Blueberry Cheesecake Bars are a no-fail way to enjoy your favorite dessert. Rich and creamy cheesecake swirled with blueberries served on a graham cracker crust. This will absolutely become your new favorite dessert.
This recipe was originally published April 21, 2014. It has since been updated to include fresh photos and helpful tips.
Recipe Features
Quick and Easy: You can have these bars ready for the oven in around 20 minutes, and fully baked just 25 minutes after that!
Fuss-Free: No water bath, no overnight baking, and no cracks.
Freezer Friendly: You can freeze baked bars for up to 3 months.
There is something irresistible about these blueberry cheesecake squares. The rich and creamy cheesecake filling is toned down slightly by the fresh blueberry sauce and everything is brought together with the buttery graham cracker crust.
It's like taking the taste of a New York style cheesecake, but leaving all of the fuss of a classic cheesecake behind. These are practically no-fail, quicker, and an easier alternative. Perfect for cheesecake beginners.
Looking for something even easier? Try my No-Bake Cheesecake Bars.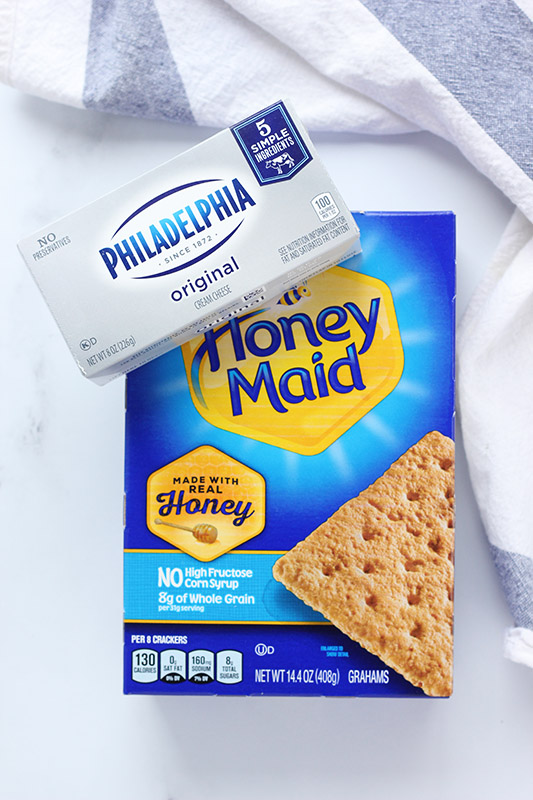 Cheesecake Bar Ingredients
Like many of my dessert recipes, this one uses pantry and refrigerator staples. Specifically, lots of baking basics like flour and sugar. The biggest ingredient tip I can give you is to use name brand cream cheese. That is the only item we've seen that actually can make a difference in the flavor and texture.
Butter: Reach for salted butter. This is used in the crust and the salt enhances the flavor of the crackers. No salted butter? No problem. Add a pinch of salt to your crust mixture.
Graham Crackers: Skip the cinnamon topped crackers and stick with the classic. They have a buttery flavor that is ideal for cheesecake.
Cream Cheese: The only item I'll tell you to stick with name brand. Philadelphia cream cheese tastes the best.
Sugar: Granulated sugar is whipped with the cream cheese to give you a great fluffy base batter.
Eggs: Large eggs at room temperature. This is key to helping the batter come together without overmixing.
Milk: 2% milk or higher works best for this cheesecake.
Vanilla: I like pure vanilla extract. I feel like it leaves less of a chemical aftertaste, but you can use imitation in a pinch.
Blueberries: Fresh or frozen berries OR you can use a berry jam, like I did, for a beautiful swirl.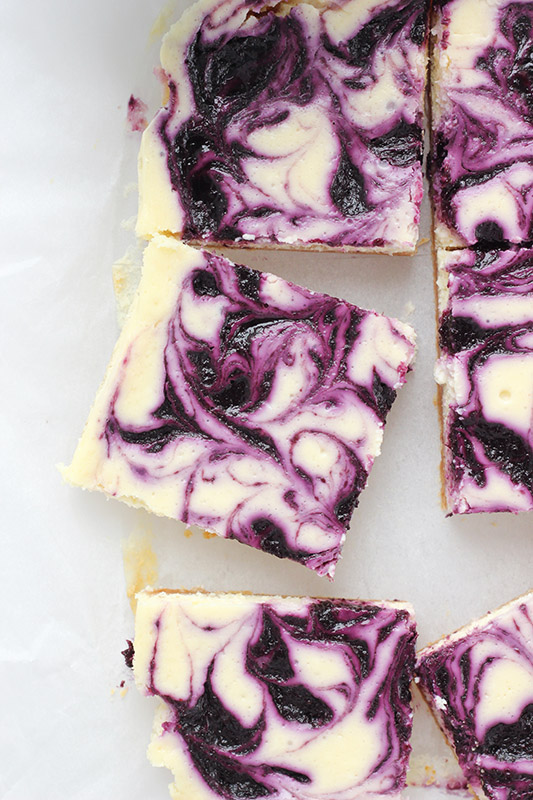 How To Make Blueberry Cheesecake Bars
This is a no-fail cheesecake recipe. Why? Because you do not have to worry about sinking, cracks, or under baked filling. Creating a bar version of the classic dessert eliminates all of these common issues.
PREP: Line a pan with parchment paper for easy cleanup and a handy way to get the bars out once they have baked. Preheat the oven and measure all of the ingredients.
CRUST: Make the crust by finely blending the crackers and stirring together with the melted butter. Press firmly down in the pan and bake for 10 minutes.
FILLING: For the filling, mix the room temperature cream cheese with the sugar using an electric mixer. Add the lemon juice, milk, and vanilla. Continue to beat until combined fully. Turn the mixer on low speed and add the eggs, stirring until just combined.
SWIRL: Pour the batter over the cooked crust. Sprinkle with fresh or frozen berries OR swirl the top with blueberry sauce/jam. I did this by dropping spoonfuls of berry sauce over the batter and used a toothpick to swirl.
BAKE: Bake until the bars are set. Allow them to cool completely and transfer to the refrigerator to chill.
Helpful Recipe Tips
This is a fairly simple recipe to make and much easier to make than an entire cheesecake recipe. Just as delicious without a ton of work. But there are a few tips and tricks I've learned to help give you the very best blueberry cheesecake squares.
Use room temperature ingredients. This ensures your batter will come together quickly and evenly while mixing.
Try not to overmix the batter. Over mixing a cheesecake batter is what leads to cracking. I recommend using a hand mixer (affiliate).
Mix up the berries you use for other fun cheesecake bar variations!
I used a graham cracker crust. You can easily substitute wafer cookies or even Oreo's.
Watch closely. This cheesecake is done in 30 to 45 minutes.
Cool completely before moving to the refrigerator.
Recipe Notes:
How do you know when cheesecake bars are done?
The filling will be set but still a little jiggly in the center. For a more accurate result cook until an instant-read thermometer reads at least 180 degrees once inserted into the bars away from the edge.
Can you use frozen berries in cheesecake?
Yes. I've used fresh and frozen berries and both have worked out perfectly. I even like to switch things up with blueberry sauce or jam for a pretty swirled top.
How do you store these bars?
The cheesecake bars need to be refrigerated, so store them in an airtight container in the refrigerator for up to 3 days.
Can you freeze this recipe?
Yes! These blueberry swirl cheesecake bars freeze incredibly well. Bake and cool completely, store in an airtight container inside the freezer for up to 2 months. Thaw overnight in the refrigerator before serving.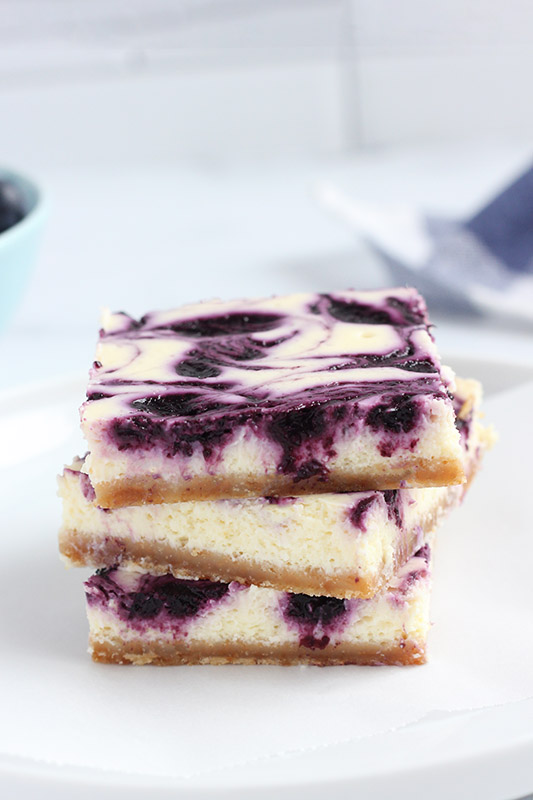 MORE MUST-TRY BLUEBERRY RECIPES
MORE DELICIOUS CHEESECAKES TO TRY
Still Hungry? Follow One Sweet Appetite on Instagram, Pinterest, and Facebook!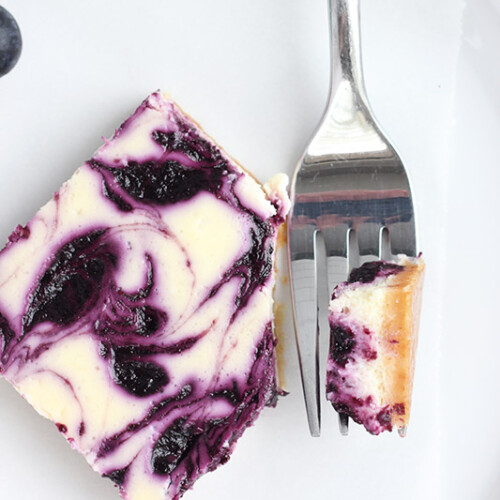 Blueberry Cheesecake bars
These incredibly simple Blueberry Cheesecake Bars are a no-fail way to enjoy your favorite dessert. Rich and creamy cheesecake swirled with blueberries served on a graham cracker crust. This will absolutely become your new favorite dessert.
Ingredients
For the Crust:
1/4 cup butter melted
1 sleeve graham crackers about 9 full sheets, crushed finely
For the Cheesecake:
1 8oz package cream cheese, softened
1/4 cup sugar
1 tablespoon lemon juice
2 tablespoons milk
1 Large eggs
1/2 teaspoon vanilla
1 cups blueberries or blueberry jam
Instructions
Preheat the oven to 350 degrees.

Line an 8 inch pan with parchment (optional) and lightly spray with non-stick spray. Set aside.

For the crust: stir the butte and graham crackers together with a fork. Press firmly into the bottom of the prepared pan.

Bake for 8-10 minutes until light brown and fragrant.

Combine the cream cheese and sugar in a mixing bowl. Whisk with a hand mixer until light and fluffy, about 1 minute.

Stir in the lemon juice, milk, and vanilla until combined and smooth. It's ok if there are a few small lumps from the cream cheese.

Add the eggs, stirring until only just combined.

Pour the batter over the baked crust. Sprinkle with fresh or frozen whole blueberries OR swirl with blueberry jam by dropping small spoonfuls over the batter and swirling with a toothpick.

Bake 20 to 30 minutes or until the center looks like it has set.

Cool until room temperature and refrigerate for at least 2 hours if not overnight.
Nutrition
Serving: 1Servings | Calories: 211kcal | Carbohydrates: 11g | Protein: 1g | Fat: 7g | Saturated Fat: 4g | Polyunsaturated Fat: 2g | Cholesterol: 38mg | Sodium: 69mg | Sugar: 9g
Equipment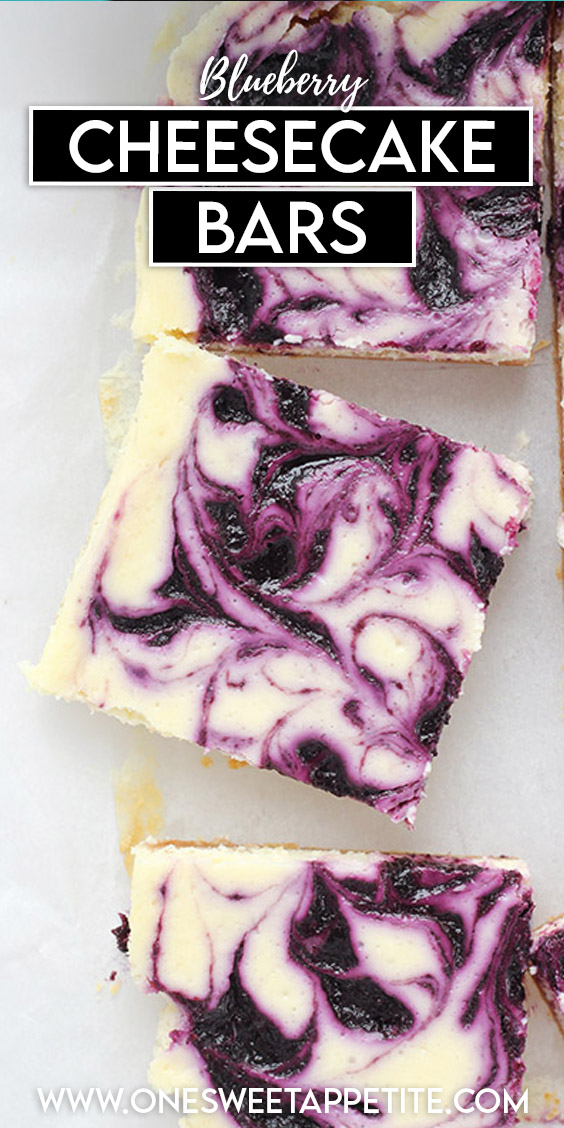 Reader Interactions