This Cheesy Hashbrown Casserole recipe is the stuff of weekend dreams. Imagine a dish so comforting, it's like a warm hug for your taste buds—a heavenly blend of crispy hashbrowns, gooey cheese, and creamy goodness that'll make you the MVP of any potluck or family gathering.
Looking to make it a full meal? Try serving this cheesy casserole with my Crispy Chicken Strips!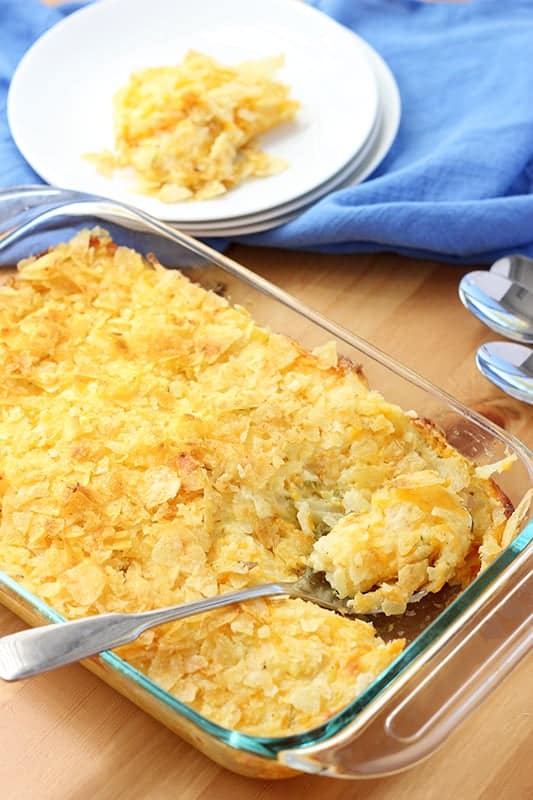 This recipe was originally published Nov 13, 2015. It has since been updated to include more clear instructions and photos.
Why You'll Love These Funeral Potatoes
This recipe was introduced to me when I married into my husbands family. His mom first made these when we attended a dinner at her home. She made a classic meatloaf, roasted brussels sprouts, and cheesy potatoes.
I fell in love at first bite. She was so kind to share the recipe with me and it quickly became our go-to side dish when we needed something extra cheesy and delicious.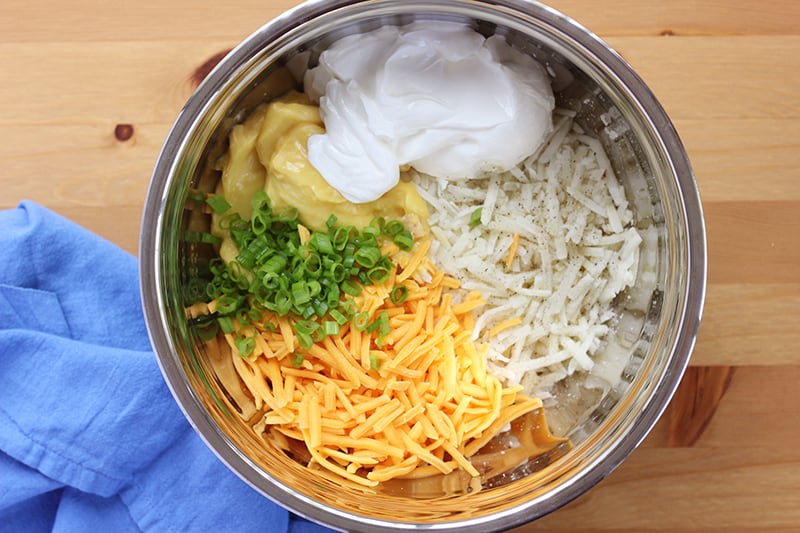 Cheesy Potato Casserole Ingredients:
The original version of this was handed down from my mother in law. She would whip this up along side meatloaf and chicken for Sunday dinners and it is on the list of favorites from every single family member. You start with a hash brown base (frozen variety or fresh), mix in a little sour cream and cheese, and top with a buttery cereal topping. The result is a gooey cheese filled casserole with a crunchy finish. Instead of yellow onions we like to use green for a slightly stronger flavor.
Shredded hash browns: We prefer shredded hash browns, but have also use cubed!
Green onions: You could also use half of a small yellow onion.
Butter: Salted butter is my go-to but unsalted would work just as well in this recipe.
Cream of chicken soup: You could substitute any cream soup but we find that chicken works best.
Sour cream: Full fat.
Salt and pepper
Cheddar cheese: Sharp cheddar is key in this recipe.
Corn flakes or potato chips: The choice is yours. We use both and find them equally delicious.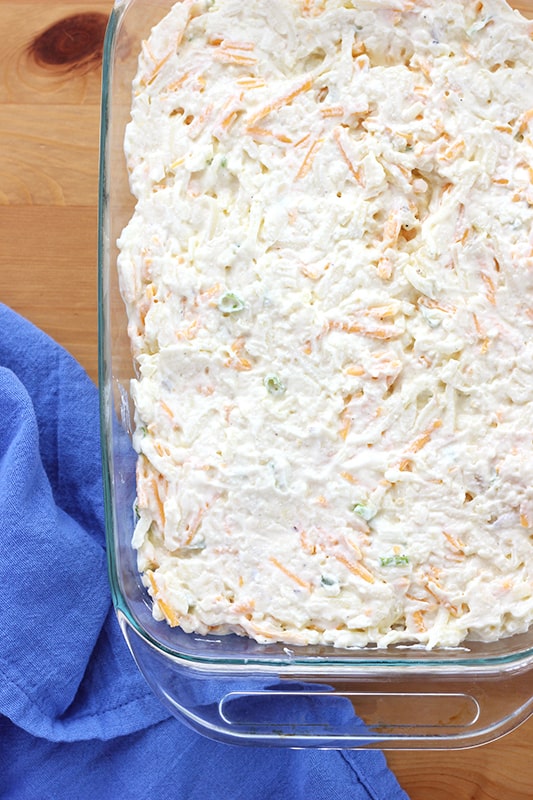 Cheesy Potatoes Recipe
This also makes for a great freezer meal. We are always whipping up a full batch and dividing it between two (or sometimes three) containers. One heads straight for the oven the other for the freezer. When you are in a dinner rut you can pull one out and stick it straight into the oven. I do suggest holding off on the cereal topping until you are ready to bake. It tends to get a little soggy when you freeze.
PREP: Preheat the oven to 350 degrees. Mist a 9×13 with non stick spray and set aside for later.
MIX: Stir together the frozen hash browns, green onion, 1/2 cup melted butter, cream of chicken soup, sour cream, salt and pepper, and cheddar cheese.
CRUNCH: Transfer to the prepared 9×13 pan. Toss the crushed corn flakes and remaining 2 tablespoons butter. Sprinkle over your prepared potatoes.
BAKE: Bake 45 minutes, or until bubbly and heated through.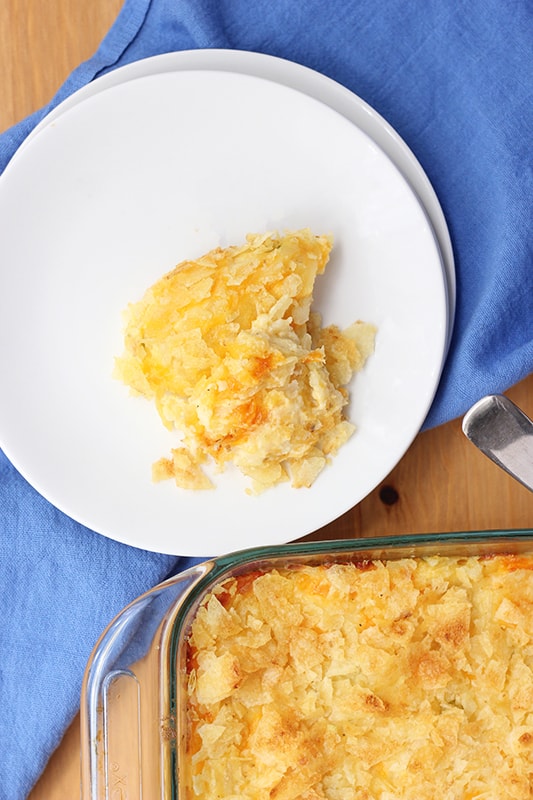 Recipe Notes:
Can I use fresh potatoes instead of frozen hashbrowns?
Yes. Peel and shred potatoes. Rinse the shredded potatoes until water is clear, then drain and squeeze dry.
What type of cheese works best?
Cheddar is a classic, but feel free to mix it up with Gruyère, mozzarella, or even pepper jack for some heat.
Can I make this potato casserole ahead of time?
Absolutely, assemble it a day before and pop it in the oven when you're ready. Just hold off on the topping until just before baking.
How long does it last in the fridge?
About 3-4 days, but let's be real—it'll probably be gone before then!
Can I freeze it?
Yep, just make sure to wrap it tightly. It'll last up to 2 months in the freezer.
More Side Dish Recipes To Try
Still Hungry? Follow One Sweet Appetite on Instagram, Pinterest, and Facebook!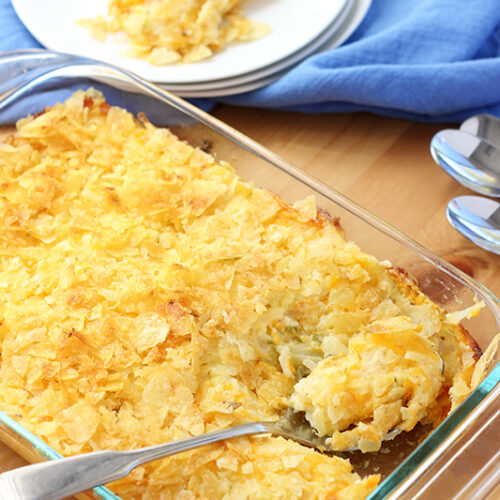 Funeral Potatoes
Easy and delicious funeral potatoes, also known as cheesy potatoes, are about to become your go-to side dish recipe! Simple to make, minimal ingredients, and big flavor!
Ingredients
1 (28 oz) bag of shredded hash browns thawed
1/3 cup green onions diced
2 (10.5 oz) cans cream of chicken soup
2 cups sour cream
1 teaspoon salt
1/4 teaspoon pepper
2-3 cups sharp cheddar cheese shredded
2 cups corn flakes or potato chips crushed
2 tablespoons butter melted
Instructions
Preheat the oven to 350 degrees.

Stir together the frozen hash browns, green onion, cream of chicken soup, sour cream, salt and pepper, and cheddar cheese.

Transfer to a 9×13 pan.

Bake 45 minutes, or until bubbly.

Toss the crushed, corn flakes or chips, and 2 tablespoons butter. Sprinkle over the top of the potatoes.

Bake an additional 10 to 15 minutes, or until the topping is crispy.
Nutrition
Serving: 1Servings
More Recipes You Might Enjoy
Reader Interactions