This Western Burger is stacked high with a big beef patty, bacon, barbecue sauce, and crispy onion rings! Loaded with flavor in every bite and the perfect addition to your summer grilling!
Nothing beats grilling season. Serve this burger with Homemade Onion Rings and a tall glass of Lemonade for a go-to meal the entire family will love!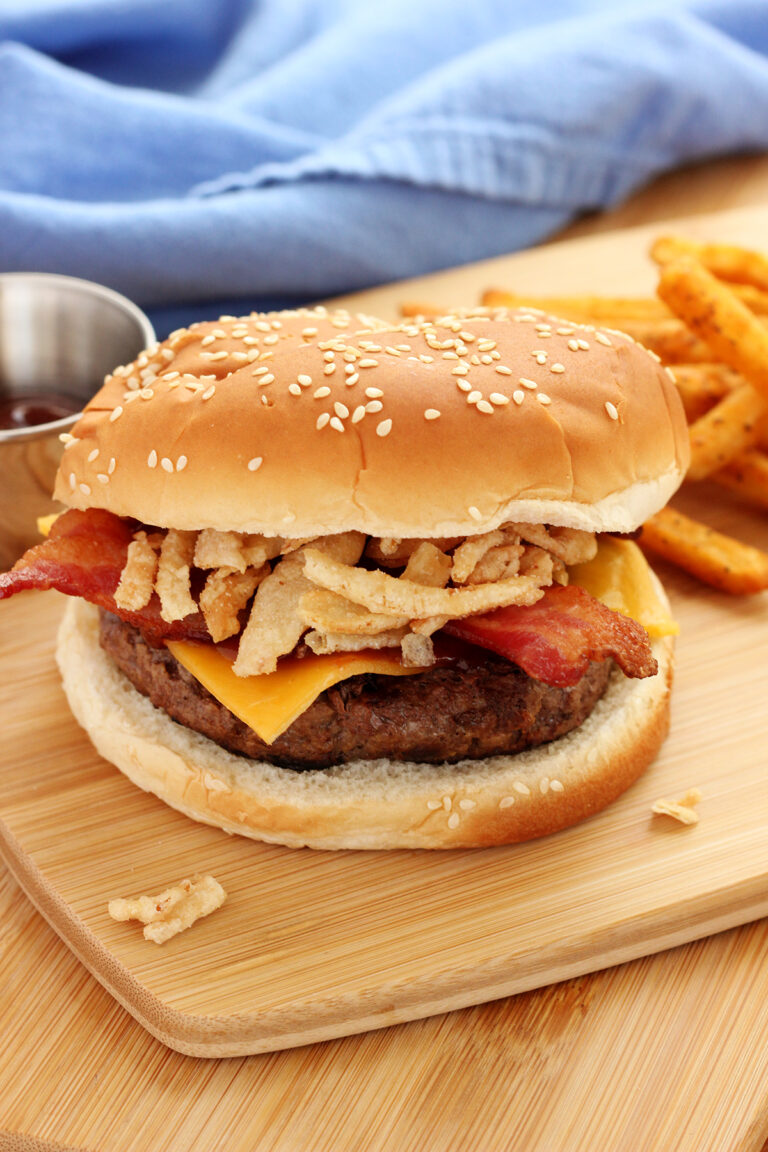 Why You Should Make This Western Bacon Cheeseburger
Nothing beats a big juicy burger, especially during the summer when it's prime grilling season. We would visit my aunt and spend days out on the lake. Her treat to us? Carl's Jr western bacon cheeseburger. They were such a treat and loaded with our favorite toppings. You just cannot beat a burger that is topped with crispy onion rings and slathered in bbq sauce.
For this recipe, I opted to use my homemade bbq sauce which adds a depth of flavor that is drool worthy. Pair that with the super simple juicy patty and crispy onion rings and you have yourself a copycat burger that rivals the original!
What Ingredients Are On A Western Burger?
If you're looking for the classic Carl's Jr burger, it comes with a charbroiled all-beef patty, two strips of bacon, melted American cheese, crispy onion rings and tangy BBQ Sauce on a seeded bun. My recipe? All the same, minus the charbroil.
How To Make A BBQ Bacon Burger
PREP: Gather your ingredients and form the patties. I find it is easiest to get everything ready before you start cooking. That way your kitchen experience runs quick and smooth. Line a work surface with parchment paper for extra easy cleanup.
COOK: Mix the ground beef with the burger seasoning and Worcestershire, making sure to mix by hand until just combined. Divide into four burgers that are roughly 4oz patties. You can make the burgers on the grill, in the oven, or even in the air fryer! This is a great time to start cooking the onion rings, if you are opting for a frozen version vs the crispy fried onions.
ASSEMBLE: Build your burgers! Try toasting the buns slightly and spreading a very thin layer of butter. This will send the flavor over the top!
ENJOY: Serve and enjoy!
Helpful Tools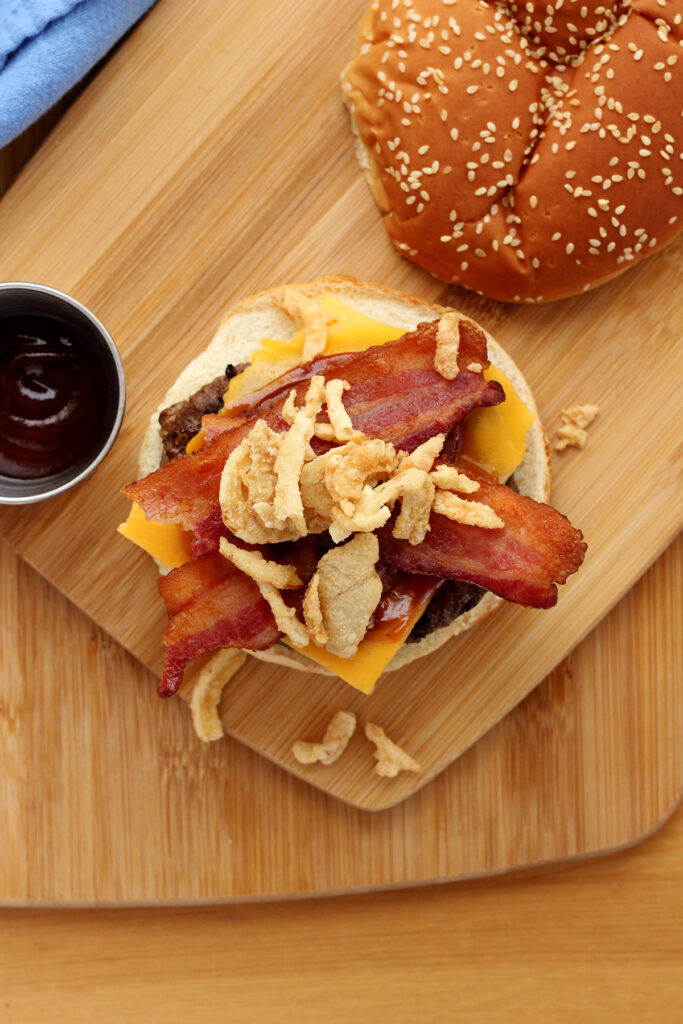 Recipe Notes:
What is the best ground beef for burgers?
The percentage of fat in burger is key. Fat provides moisture which gives you those super juicy burger patties. We like to stick with a meat that has 15 to 20 percent. A ground chuck is my go-to, but you can use any variety that works for you.
Can I use a different type of meat for the burger patty?
While the classic choice is typically beef, there are various alternatives you can consider to suit your preferences. Here are a few options:
Turkey: Ground turkey can be a leaner alternative to beef. It offers a milder flavor and can still be seasoned with the Western burger spices and toppings to create a delicious patty.
Veggie or Plant-based Patty: If you prefer a vegetarian or vegan option, you can use a veggie or plant-based patty made from ingredients like beans, vegetables, grains, or soy. Look for pre-made options or try making your own using a combination of flavorful ingredients and spices.
Remember to adjust the cooking time and temperature as needed, as different meats or meat alternatives may require different cooking techniques. Experimenting with different types of meat can add exciting flavor profiles and cater to various dietary preferences.
Can I make the burger patty ahead of time?
Yes, you can make the burger patty for a Western burger recipe up to 24 hours ahead of time. Preparing the patties in advance can be a time-saving option, especially if you're planning to serve them for a gathering or a busy mealtime.
By preparing the burger patties ahead of time, you can streamline your cooking process and have the patties ready to go when you're ready to cook. Just ensure proper storage and handling to maintain their quality and taste.
How can I add a smoky flavor to my Western burger?
Smoked Paprika: Sprinkle a generous amount of smoked paprika onto the burger patty before cooking. This spice adds a deep, smoky flavor that enhances the overall taste of the burger.
Liquid Smoke: Add a few drops of liquid smoke to the burger patty mixture before shaping it. Liquid smoke is a concentrated flavoring that infuses a smoky taste into the meat. Use it sparingly as it can be potent.
Are there any variations or twists on the classic Western burger recipe?
While the classic Western burger recipe is delicious on its own, there are several variations and twists you can try to add a unique touch to your burger.
Add Jalapenos for a spicy twist.
Slice up an avocado for a creamy addition.
Turn it into a mushroom swiss western with sauteed mushrooms and melted swiss cheese.
Spread a little guacamole onto the burger bun.
More Must-Try Burger Recipes
Still Hungry? Follow One Sweet Appetite on Instagram, Pinterest, and Facebook!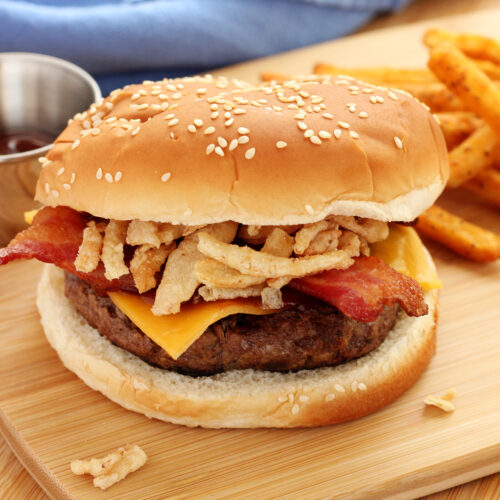 Western BBQ Burger
This Western Burger is stacked high with a big beef patty, bacon, barbecue sauce, and crispy onion rings! Loaded with flavor in every bite and the perfect addition to your summer grilling!
Ingredients
1 lb ground beef
1 tablespoon burger seasoning
1-1/2 teaspoon Worcestershire sauce
6-8 slices bacon cooked
Crispy fried onions or onion rings. homemade or frozen, cooked
Barbeque sauce of your choice
Additional toppings
Hamburger buns
Instructions
Combine the beef, burger seasoning, and Worcestershire in a medium bowl. Gently mix with your hands until combined. 

Divide into four equal pieces. Use your hand to form a thin and large round patty. You want them to be larger than you think. They will shrink and thick up while cooking. 

Heat the grill to medium/high heat.

Grill the burgers roughly 4 minutes on each side, or until the burger reaches an internal temperature of 160 degrees.

Remove the patty and layer on a bun with barbecue sauce, onion rings, and cooked bacon.
Notes
Toast your hamburger buns with a tiny bit of butter. This gives you an incredibly delicious restaurant flavor and helps keep the toppings from soaking into the bun. 
Start with the lowest time and work your way up. You do not want your burger to overcook. 
Use 80/20 ground chuck for the best flavor. 
Nutrition
Serving: 1Servings | Calories: 698kcal | Carbohydrates: 39g | Protein: 42g | Fat: 40g | Saturated Fat: 12g | Polyunsaturated Fat: 23g | Trans Fat: 1g | Cholesterol: 120mg | Sodium: 1162mg | Fiber: 2g | Sugar: 7g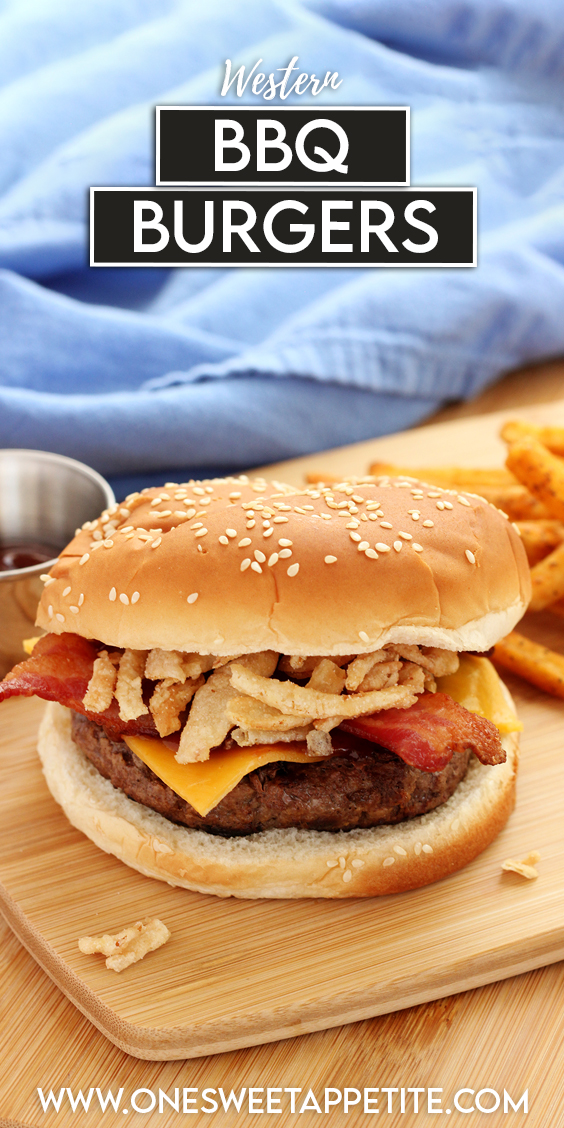 Reader Interactions