These gingerbread cupcakes are your ticket to a festive flavor explosion. Forget the traditional gingerbread men; it's all about these fluffy, spice-filled delights. Perfect for the holiday season or whenever you're craving a sweet kick with a nostalgic twist.
Gingerbread is a staple during the holiday season. Be sure to try some of our other go-to treats like my gingerbread truffles, gingerbread pancakes, and a homemade gingerbread latte!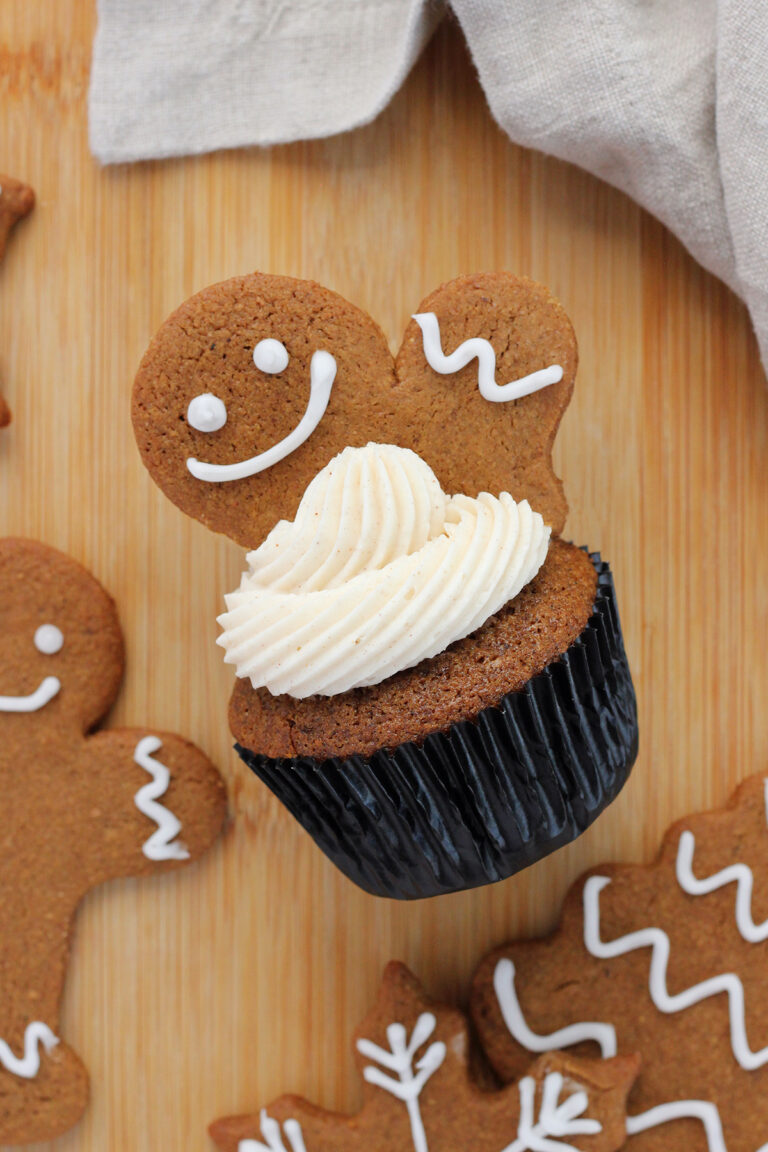 Why You'll Like These Holiday Cupcakes
Nostalgia with a Twist: Gingerbread cupcakes offer a delightful blend of those classic gingerbread spices we all know and love, but with the soft, moist consistency of a cupcake.
Versatile Frosting Choices: Whether you're a fan of cream cheese frosting, vanilla buttercream, or even a spicy cinnamon glaze, these cupcakes can handle them all!
Perfect for Gifting: They're not just delicious but also look incredibly festive.
I love gingerbread. Something about the bold spices and sticky molasses flavor just screams "Holiday" to me. And these cupcakes are no exception. Packed with flavor, moist, and delicious no matter what type of frosting you decide to use!
The cupcake itself has those warm, cozy spices – think ginger, cloves, and nutmeg – making it a sweet symphony of nostalgia. Now, pair that with the tangy richness of cream cheese frosting elevated with a spicy kick of cinnamon. It's a harmonious dance of bold and subtle, spicy and creamy. In simpler terms? It's like if Christmas morning and a cozy blanket had a delicious, edible baby.
Gingerbread Cupcake Ingredients
With a homemade cupcake like this you will need some pantry staple ingredients like flour, leavening agents, and eggs. But we're bringing a bold flavor so there are a few more items you'll need.
Molasses: The heart and soul of gingerbread's signature flavor!
Spices: Ginger (of course!), cinnamon, nutmeg, and cloves – the fabulous foursome that brings the holiday warmth.
All-Purpose Flour: The foundation of our cupcake masterpiece. Cookies typically use a combination of both white and wheat flour. For these cupcakes, however, we're sticking with all-purpose.
For a full list of ingredients and measurements see the recipe card below.
Gingerbread Cupcakes Recipe
Let's break down the instructions. This gives you a quick once over of what you'll need to do to whip up this recipe. Always read the instructions fully before beginning.
Prep Time: Turn on your oven. Set it to the magic number (probably around 350°F/175°C but check your recipe). Put cute little paper liners in a muffin pan.
Mix It Up: Grab a big bowl. Dump in all the dry stuff: flour, spices, baking soda, and a pinch of salt. Mix. In another bowl, mix wet stuff: melted butter, brown sugar, molasses, and an egg.
Combine: Pour wet stuff into dry stuff. Stir just until they become buddies – don't overdo it.
Fill 'Em Up: Scoop your batter into the lined muffin pan. Fill each about 2/3 full.
Bake: Pop them in the oven. Wait around 15-18 minutes or poke with a toothpick. If it comes out clean, they're done. If not, give them a few more minutes.
Cool & Frost: Let your cupcakes chill for a bit. Once they're cool, slap on some frosting.
Helpful Tools
Muffin/Cupcake Pan (affiliate): This isn't just a pan, it's the canvas for your baking masterpieces. A quality pan ensures even baking and perfect shapes. Plus, imagine the oohs and aahs when your cupcakes come out picture-perfect!
Electric Mixer (affiliate): Speed up your baking game! Whipping up batters and dreamy frostings becomes a breeze. And let's be real, watching ingredients whirl into a creamy mixture is oddly satisfying. Upgrade your kitchen, and your arms will thank you!
Piping Bags (affiliate) & Tips: Elevate your cupcake presentation from 'homemade' to 'bakery level'. With various tips (affiliate), you can experiment and design like a pro. Who doesn't want cupcakes that look as fabulous as they taste?
Recipe Notes:
Can I turn this recipe into a gingerbread cake instead of cupcakes?
Go big or go home, right? You sure can! Just adjust the baking time accordingly – larger cakes usually require a longer bake. Keep an eye on it and use the toothpick test to check for doneness. I also recommend doubling the recipe.
I'm not a fan of cinnamon. Can I skip it in the frosting?
Totally! Your kitchen, your rules. The cream cheese frosting will still be delish without it. Feel free to experiment with other spices or flavors that tickle your fancy.
Can I freeze my gingerbread cupcakes for later?
You bet! Just hold off on the frosting. Once cooled, store them in an airtight container or zip-lock bags, separating layers with parchment paper. They can last up to 3 months in the freezer. When ready to eat, thaw at room temperature and frost away!
Can I substitute molasses if I don't have it?
While molasses gives gingerbread its iconic deep flavor, if you're in a pinch, you can use dark corn syrup, honey, or maple syrup. But remember, each substitute will slightly alter the flavor!
How long can I store these cupcakes?
Store them in an airtight container at room temperature for up to 3 days, or in the fridge for up to a week. Pro tip: If you've frosted them, consider refrigerating to keep the frosting fresh!
More Must Try Holiday Favorites
Still Hungry? Follow One Sweet Appetite on Instagram, Pinterest, and Facebook!
Gingerbread Cupcakes with Cinnamon Cream Cheese Frosting
This easy Gingerbread Cupcakes Recipe will be the hit of the holidays! Bold ginger with the perfect balance of molasses.
Ingredients
Cupcakes:
1¾ cup all-purpose flour
1 teaspoon baking soda
2 teaspoons ground cinnamon
1 teaspoon ground ginger
1/4 teaspoon ground cloves
1/4 teaspoon ground nutmeg
1/4 teaspoon salt
1/2 cup butter melted and slightly cooled
1/2 cup brown sugar
1/4 cup molasses
1 large egg
1 teaspoon vanilla extract
1 cup water
Frosting:
8 oz cream cheese softened
1/2 cup butter softened
3 cups powdered sugar
1 teaspoon vanilla extract
1/2 teaspoon ground cinnamon
Instructions
Cupcakes
Preheat the oven to 350 degrees. Line a cupcake tin with paper liners and set aside for later.

Combine the butter and brown sugar in the bowl of an electric mixer that is fitted with the paddle attachment, or a mixing bowl with a hand mixer.

Beat at medium speed until the butter sugar is combined and fluffy, about 3 minutes. Scrape the sides of the bowl.

Add the molasses into the bowl and stir until just combined. Stir in the egg and vanilla extract and mix an additional 1 minute.

Whisk together the flour, baking soda, cinnamon, ginger, cloves, nutmeg and salt in a medium bowl or large measuring cup.

Add half of the dry ingredients into the mixing bowl along with with half of the water. Stir on low until fully incorporated.

Scrape the side of the bowl with a silicone spatula and add the remaining dry ingredients and water and stir until fully incorporated.

Spoon or scoop the batter into the prepared paper liners, filling 2/3 full.

Bake 15 to 18 minutes, or until a toothpick comes out clean.
Frosting
Combine the cream cheese and the butter in the bowl of a stand mixer that is fitted with a paddle attachment.

Whip until fully combined, about 3 minutes.

Scrape the sides of the bowl. Slowly stir in the powdered sugar with the vanilla and cinnamon.

Turn the mixer on medium speed and mix for 5 minutes.

Spoon or pipe onto your cooled cupcakes.
Nutrition
Serving: 1g | Calories: 449kcal | Carbohydrates: 60g | Protein: 4g | Fat: 22g | Saturated Fat: 14g | Polyunsaturated Fat: 1g | Monounsaturated Fat: 6g | Trans Fat: 1g | Cholesterol: 73mg | Sodium: 333mg | Potassium: 175mg | Fiber: 1g | Sugar: 44g | Vitamin A: 748IU | Vitamin C: 0.02mg | Calcium: 55mg | Iron: 1mg
Reader Interactions