Gingerbread Pancakes. Bring a classic holiday flavor into your breakfast with this easy pancake recipe. Cinnamon, Ginger, and nutmeg blend together with molasses for that beautiful holiday blend! 
Every year I seem to pick a theme with my Christmas recipes.
I have gone through my fudge, eggnog, and candy cane phases…
Which left GINGERBREAD for this year.
I am totally digging the molasses addition to baked goods. I think I got onto this track when I made my gingerbread biscotti.
Those crunchy little cookies were perfect for my cookie trays and the extras were devoured with our morning coffee (biscotti makes for an excellent dipping cookie!).  However, they left me with some extra whole wheat flour and I could not just let that go to waste!
The idea for a pancake version came from my six year old.
He is a big believer in starting every day on a sweet note and I could not have agreed more that these would be ideal for a holiday brunch. One of these smothered in a warm maple syrup is heavenly. The spices are strong and compliment the molasses beautifully. My only suggestion is to double the recipe if you have a large family. We got exactly 6 medium sized:
Gingerbread Pancakes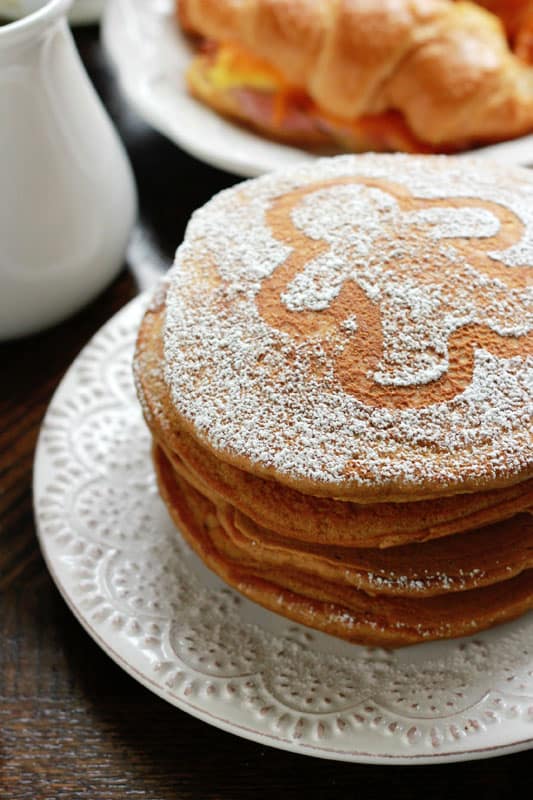 Like this recipe? You will love my Gingerbread Latte, Gingerbread Biscotti, and Gingerbread Cookies! 
Gingerbread Pancakes
Ingredients
1

cup

all-purpose flour

1/2

cup

wheat flour

2

tablespoons

brown sugar

1-1/2

teaspoon

baking powder

1/4

teaspoon

baking soda

1/4

teaspoon

salt

1/2

teaspoon

ginger

1

teaspoon

cinnamon

pinch

nutmeg

1

large egg

1/2

teaspoon

vanilla extract

1/4

cup

molasses

1

cup

water
Instructions
Whisk together your flours, baking powder, baking soda, salt, ginger, cinnamon, and sugar.

In a small measuring cup combine the egg, vanilla, molasses, and water. Stir into the dry ingredients.

Heat a skillet over medium/low heat. Pour 1/2 cup (or 1/4 for smaller pancakes) of batter onto the pan. Cook until edges are slightly browned and bubbles appear on the top. Flip and cook 1-2 minutes more or until lightly browned.

Continue with remaining batter.

Serve with syrup.
Recipe Notes
Yield: 6 medium pancakes or 10-12 small
(Visited 1,147 times, 1 visits today)
2