These soft and fluffy Gingerbread Pancakes taste just like gingerbread cookies! The perfect holiday breakfast that combines cinnamon, ginger, and nutmeg for that beautiful Christmas blend of spices. No one will be able to resist these simple pancakes.
This post was originally published December 14, 2015. It has since been updated to include fresh and helpful information.
Recipe Features:
Quick and Easy- From start to finish you're looking at 30 minutes to make these pancakes.
Freezer Friendly – You can freeze this Christmas pancakes recipe for up to 2 months!
Pancake Sunday. This is a tradition that was started years and years ago in our household.
My then five year old would request pancakes every. single. day. We had to put a stop to his syrup addiction and proclaimed that the only day we could eat pancakes was on Sunday. It was on a whim, and not something I thought would stick, but here we are six years later and we ALL look forward to that special day.
We gather in the kitchen and work together to build the perfect pancake breakfast. Occasionally we like to shake things up and try a new flavor. Flavor of the season this year? Gingerbread.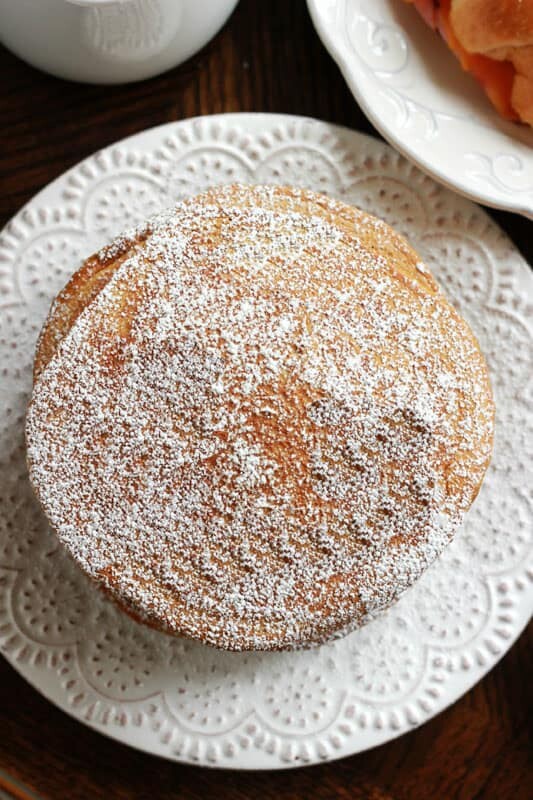 Gingerbread Pancakes Recipe Ingredients
The base of this recipe starts like any other pancake. You'll need flour, sugar, leavening agents, and eggs. But the secret really is in the "extras." Let's break things down.
Wheat Flour- Along with the classic all-purpose flour, this pancake recipe calls for a dash of wheat flour. Most gingerbread recipes call for a mixture of both all-purpose and wheat, and this pancake is no different.
Brown Sugar- Brown sugar adds a rich flavor that compliments the spices and molasses ever so perfectly. In a pinch, you can swap this for white sugar.
Spices- Adding all of the same spices you would add to a ginger cookie is key to giving these that classic holiday flavor. You're going to use ginger, cinnamon, and nutmeg. When you combine all of these spices together they create magic!
Vanilla Extract- Be sure to use pure vanilla, not imitation.
Molasses- The key to any gingerbread! Molasses adds a sweetness (notice no sugar listed??) and a little more brown sugar flavor to the pancake itself.
Copycat IHOP Gingerbread Pancakes:
Now you know what you need, let's walk through the steps and give you all of my secret pancake making tips!
Whisk the all-purpose flour, whole wheat flour, baking powder, baking soda, salt, ginger, cinnamon and brown sugar in a medium sized mixing bowl until combined.
Use a fork to whisk the egg, vanilla, molasses and water in a medium sized measuring cup until the ingredients blend together, about 30 seconds.
Pour the wet ingredients into the dry ingredients.
Mix until fully combined and no large clumps remain, about 1 minute.
Heat a large skillet over medium/low heat. Add a dab of butter or a mist of cooking spray.
Pour 1/2 cup of the batter onto the warmed pan.
Cook until the edges are slightly browned and bubbles begin to form on the top side of the pancake, about 1-2 minutes.
Flip and cook for 1-2 minutes more, or until lightly brown.
Continue with the remaining batter until all of the pancakes are made.
Serve warm with butter and syrup.
Tips for Christmas Pancakes
How do you make pancakes fluffy?
Getting your pancakes to be fluffy and light is surprisingly simple. Just follow these easy tips:

Use room temperature ingredients for fluffy pancakes. I take my eggs and milk out of the refrigerator 20 minutes before starting.
Do not over mix the batter. This recipe turns out best if you gently fold the ingredients together.
Check your leavening agents to make sure they are fresh.
How do you get pancakes to brown evenly?
I have found that using a non-stick pan with NO BUTTER works the best for an even browned pancake. If you butter the pan you will get uneven spots. Although, they are rather tasty that way.
Can you freeze pancakes?
Yes. Cool the pancakes completely. Place in a single layer on a baking tray and freeze for 1 hour. This extra step will help keep the pancakes from sticking together in the freezer later on. Remove from the freezer and transfer to a freezer safe bag or container. Label and freeze for up to 2 months.
Looking for more holiday brunch inspiration? Check out these 15 Amazing Christmas Brunch Recipes including my favorite Eggnog Pancakes!.
More Gingerbread Recipes:
More Pancake Recipes:
Still hungry? Follow One Sweet Appetite on Facebook, Instagram and Pinterest for more great recipe ideas!
Gingerbread Pancakes
Gingerbread Pancakes. Bring a classic holiday flavor into your breakfast with this easy pancake recipe. Cinnamon, Ginger, and nutmeg blend together with molasses for that beautiful holiday blend! 
Ingredients
1 cup all-purpose flour
1/2 cup wheat flour
2 tablespoons brown sugar
1½ teaspoon baking powder
1/4 teaspoon baking soda
1/4 teaspoon salt
1/2 teaspoon ginger
1 teaspoon cinnamon
pinch nutmeg
1 large egg
1/2 teaspoon vanilla extract
1/4 cup molasses
1 cup water
Instructions
Whisk together your flours, baking powder, baking soda, salt, ginger, cinnamon, and sugar.

In a small measuring cup combine the egg, vanilla, molasses, and water. Stir into the dry ingredients.

Heat a skillet over medium/low heat. Pour 1/2 cup (or 1/4 for smaller pancakes) of batter onto the pan. Cook until edges are slightly browned and bubbles appear on the top. Flip and cook 1-2 minutes more or until lightly browned.

Continue with remaining batter.

Serve with syrup.
Notes
Yield: 6 medium pancakes or 10-12 small
Nutrition
Serving: 1medium pancake | Calories: 184kcal | Carbohydrates: 39g | Protein: 4g | Fat: 1g | Polyunsaturated Fat: 1g | Cholesterol: 31mg | Sodium: 323mg | Fiber: 1g | Sugar: 14g
Equipment
Reader Interactions