This post was updated on by Jesseca
This Grapefruit + Apple Cider Vinegar Drink  is brought to you by Pompeian. #TrendingInTheKitchen
Whoa. Hey there. It's been a while. Where have I been you might ask? Well, funny story. We moved across the country. Again. Some big life changes had me missing home and ready to be closer to my family. That big emotional roller coaster helped encourage me to better myself in more than one way. That's where Pompeian Organic Apple Cider Vinegar comes in.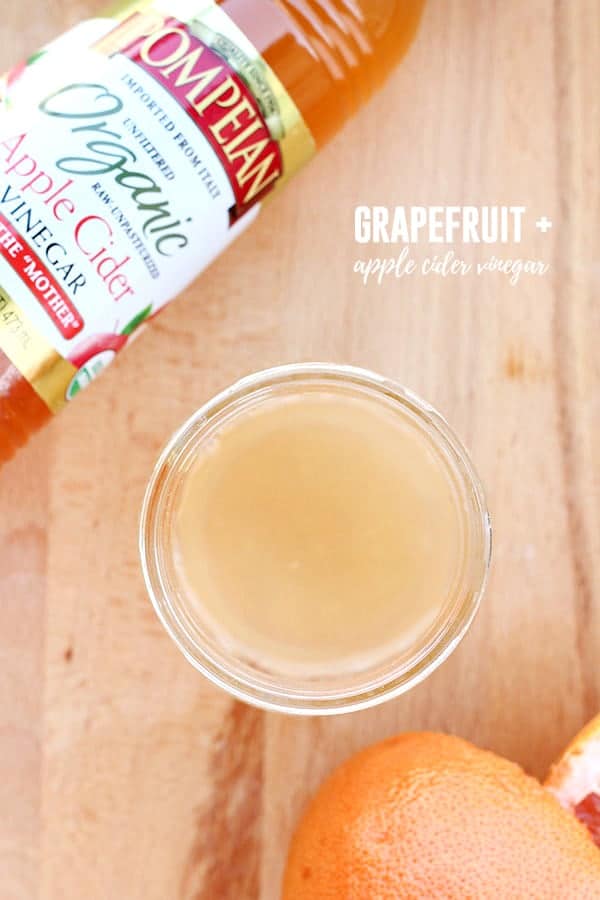 Random fact: Consuming two tablespoons of Pompeian Organic Apple Cider Vinegar with the mother daily offers the maximum benefit from the high volume of polyphenols, which improve digestion, boost the immune system, combat cholesterol, prevent dandruff, sooth sore throats, keep skin healthy, and reduce excess fat in cells, promoting weight loss.
Crazy, huh? I've used it as a marinade, drizzled over grilled vegetables, in salad dressings and even on its own as a daily health supplement for ages and THIS drink is by far my favorite way to add my daily dose into my diet. Pair the vinegar with the slightly sweet and tangy flavor of grapefruit and you've got a morning drink to start your day off right!
The recipe is simple and easily adaptable to your taste. I always start with fresh grapefruit juice. The secret is picking a grapefruit is finding one that is slightly red in color and still fairly firm to the touch. When you get a perfectly ripe fruit it should be just sweet enough. If you want to add a little more tang mix in a little fresh orange juice. Need it a little more on the sweet side? Stir in a spoon full of honey!
Grapefruit with Apple Cider Vinegar
Ingredients
1

cup

fresh squeezed grapefruit juice

2

Tbsp

Pompeian Organic Apple Cider Vinegar
Instructions
Stir your ingredients together. Pour over ice and enjoy!
Recipe Notes
Add a dash of orange juice and/or honey to sweeten your drink as needed.
This post may contain affiliate links. I include these links to help you find specific products that are used in my recipes. If you purchase an item from the link on One Sweet Appetite, I will receive a small commission helping keep my recipes free for you.
(Visited 8,199 times, 2 visits today)
47