Easy Oreo Truffles. With just three ingredients (Oreo's, cream cheese, and chocolate) you can have a super simple and classy dessert recipe!
Searching for even more flavors? Try my Gingerbread Truffles!
Are you ready for the most decadent and addictive treat of all time?
Easy Oreo Truffle Recipe
I have not made these truffles in ages (I actually think it was waaaaaaaaay back when I made my Bat Oreo Truffles). Luckily, a reader reached out and asked if I had a good recipe to share and this is it. Just a few simple ingredients mix together giving your a beautiful treat that is incredibly tasty. No one will even know these homemade truffles started out as America's favorite cookie.

Oreo Truffle Ingredients:
Oreo cookies
Cream cheese
Chocolate or candy melts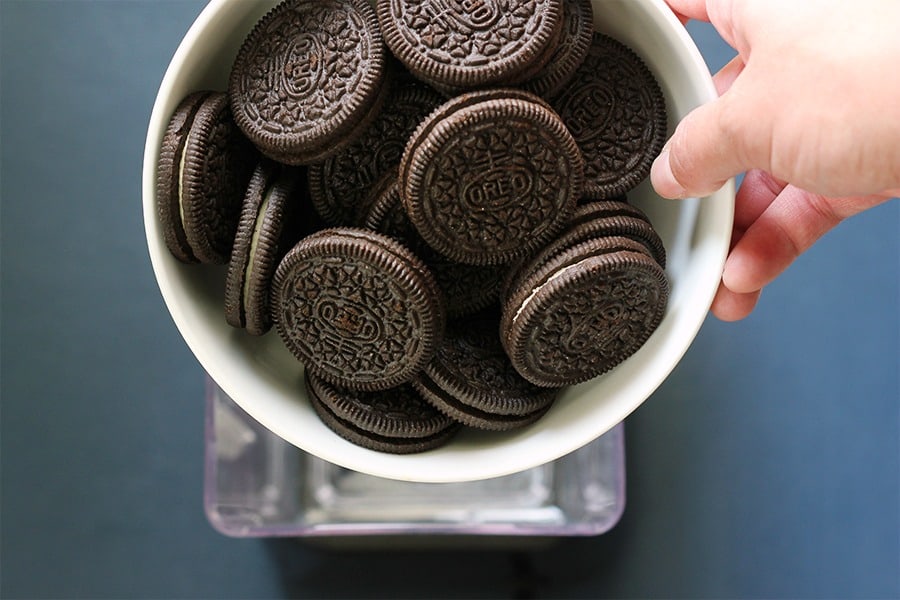 How to Make Oreo Truffles
You are not going to believe how easy this is. You start with two basic ingredients- Oreo's + cream cheese!
Put both of those ingredients right into your high powered blender (I use my Blendtec) and pulse until fully combined. Next comes the fun part. You're going to get your hands dirty and roll out the dough!
The secret to perfect sizing is using a cookie scoop. I prefer the small version since these are incredibly sweet and decadent, but you definitely could use the larger version if you have got a serious sweet tooth. Roll the dough out and place on a parchment lined pan. Chill or freeze for an hour. They will be pretty soft and we need them to stiffen up just a bit before we move on to decorating!
Once you have let your dough cool off the only thing that's left is dipping them in CHOCOLATE! Melt your favorite color of chocolate melts and dip away! We like to add a chocolate swirl to the top or a few fun sprinkles to finish the look.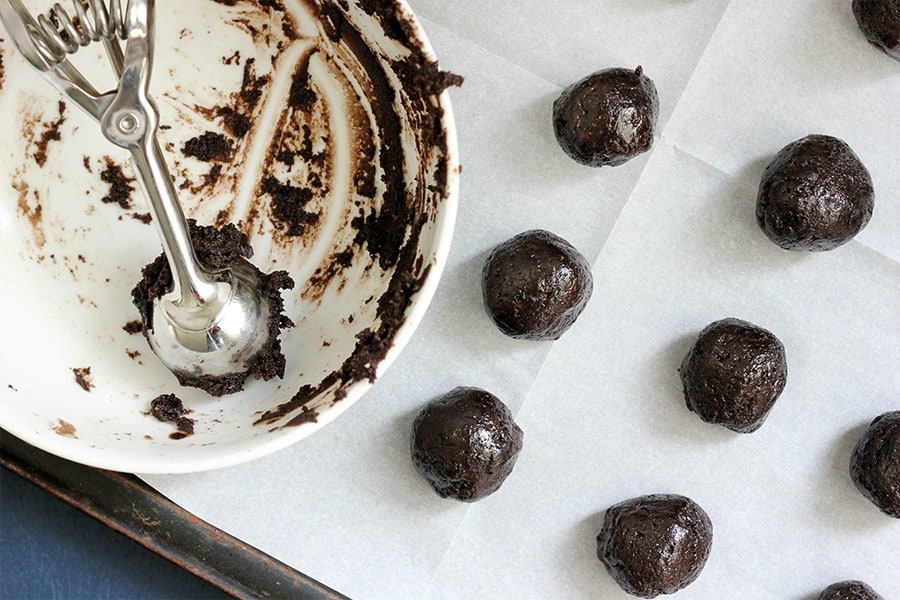 How long are Oreo truffles good for?
If stored properly, Oreo truffles can last up to one week! I suggest keeping them in an air tight container in the refrigerator.
Did you know you can make different flavors? Try my lemon truffles!
Can you make Oreo truffles ahead of time?
Yep! You can make them up to one week in advance. I suggest only making them five days in advance so you can save any leftovers for a few more days.
Like this recipe? You will love my:
Oreo Truffles
Easy Oreo Truffles. With just three ingredients (Oreo's, cream cheese, and chocolate) you can have a super simple and classy dessert recipe!
Ingredients
18 Oreo cookies or your favorite sandwich cookie
4 oz cream cheese soft
candy melts
Instructions
Place your Oreo cookies and cream cheese in a high power blender. Pulse until fully combined.

Roll your dough into evenly sized balls. Chill for 1 hour or until firm.

Melt the candy melts according to the package. Dip each ball until fully covered. Add sprinkles or other decorations as desired.

Serve once the chocolate is set.
Nutrition
Serving: 1Servings
Pin for later:
Still hungry? Follow One Sweet Appetite on Facebook, Instagram and Pinterest for more great recipe ideas!
Reader Interactions