This Apple Harvest Salad and Apple Vinaigrette is brought to you by Pompeian. All opinions are 100% my own.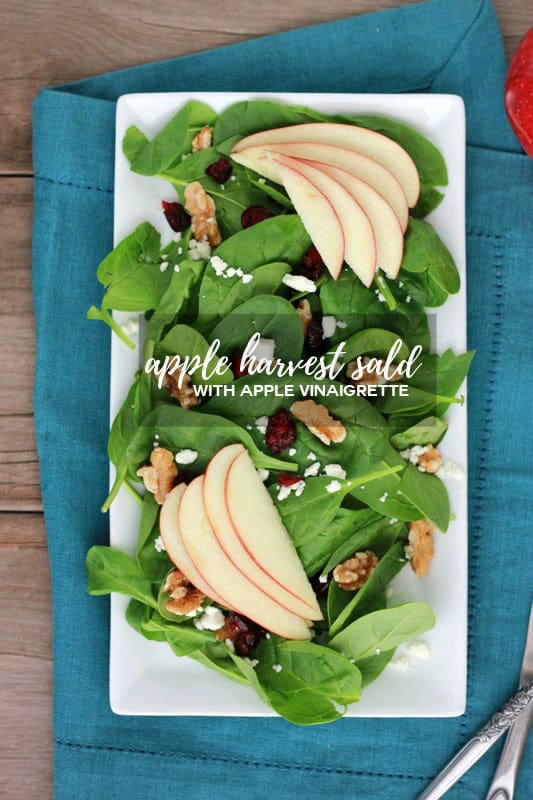 Who has their Thanksgiving assignments already? Hopefully a lot of you because this is IT. The major countdown has begun and if you are anything like me you are running around in a panic trying to decide what to make. I'm in charge of the salad this year and wanted to bring something that really was a show stopper but don't want to spend more than a few minutes prepping. I walked into the grocery store to see what's in season and was hit in the face with dozens of different apples. I instantly knew that was what I wanted as the star of my dish!
To me, holiday cooking is all about adding special touches to your meals and using quality ingredients that are sure to impress. It's the one time of year you want your food to feel special because you are sharing it with the most important people in your life. I instantly reached for Pompeian Organic Apple Cider Vinegar to be the star of a vinaigrette. I knew this unique twist would send this salad over the top. Pompeian's commitment to quality and authenticity can be tasted in each and every bottle.
I started this dressing with the basic combination of vinegar and oil. Typically you would see a 1 to 3 ratio but since we are dealing with an out of the box combination I decided on a 1 to 2 with oil being the later. You want to use a quality olive oil (I suggest Pompeian Organic Cold Pressed) to avoid a super heavy texture. Stir in just a few other basic ingredients, season with salt and pepper, and voila! You're ready to drizzle.
I really love the addition of fresh produce paired in a salad and this one has it all. It gives you an elegant looking dish that tastes delicious but still helps you stay on the healthy side. I started with a full spinach base and loaded it with walnuts (try them candied!), dried cranberries, crumbled feta, and a LOT of sliced apples. We've enjoyed this with both red and green varieties but suggest splurging a bit and reaching for the honey crisp!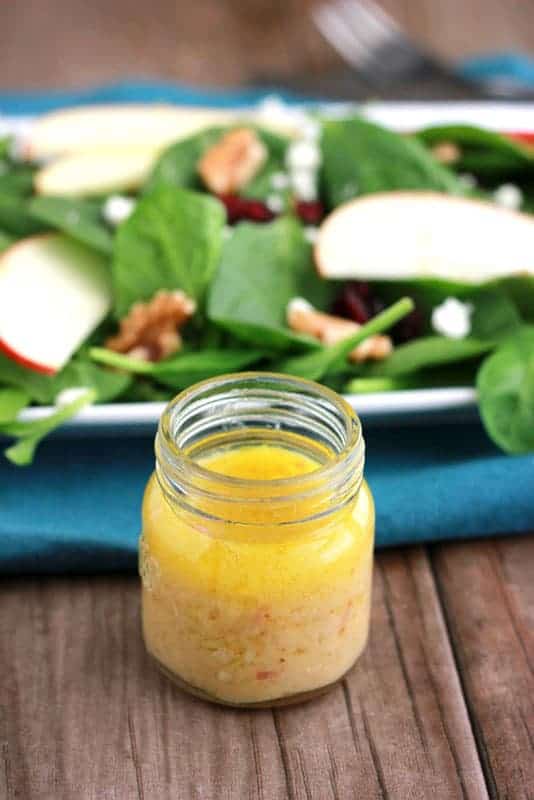 While the holidays are a very indulgent time of the year, it's important to pay special care to your health. Consuming two tablespoons of Pompeian Organic Red Wine Vinegar with the mother daily offers the maximum benefit from the high volume of polyphenols – which improve digestion and boost the immune system – in it. Additional health benefits include combatting bad cholesterol, preventing dandruff, soothing sore throats, keeping skin healthy and reducing excess fat in cells, promoting weight loss.
Apple Harvest Salad with Apple Vinaigrette
Ingredients
1/4

cup

apple cider vinegar

I suggest using Pompeian Organic

1

small shallot

finely diced

2

teaspoons

dijon mustard

3

teaspoons

honey

1/2

cup

high quality olive oil

salt and pepper to taste

4

cups

spinach or other dark greens

1

cup

walnuts

plain or candied

1

cup

feta or other crumbled cheese

1/2

cup

dried cranberries or fresh pomegranate seeds

2

large apples

diced
Instructions
Combine the vinegar, shallot, mustard, honey, and olive oil in a bowl. Whisk to combine.

Add the spinach to a large bowl. Add the walnuts, cranberries, feta, and apples.

Drizzle with the dressing just before serving and toss to combine.
Recipe Notes
Alternatively you can add the dressing ingredients to a blender. This will break down the shallots and give you a smoother finish.

PS, you might like…
This post may contain affiliate links. I include these links to help you find specific products that are used in my recipes. If you purchase an item from the link on One Sweet Appetite, I will receive a small commission helping keep my recipes free for you.
One Sweet Appetite is a participant in the Amazon Services LLC Associates Program, an affiliate advertising program designed to provide a means for sites to earn advertising fees by advertising and linking to amazon.com
Dressing recipe slightly adapted from this one.
(Visited 633 times, 1 visits today)
4