This homemade Apple Cider Vinaigrette is the perfect light and tangy salad dressing. Made with only 5 simple ingredients and ready in 5 minutes.
Searching for more must-try salad dressings? Try my Cranberry Vinaigrette, Balsamic Dressing, and Strawberry Champagne Vinaigrette!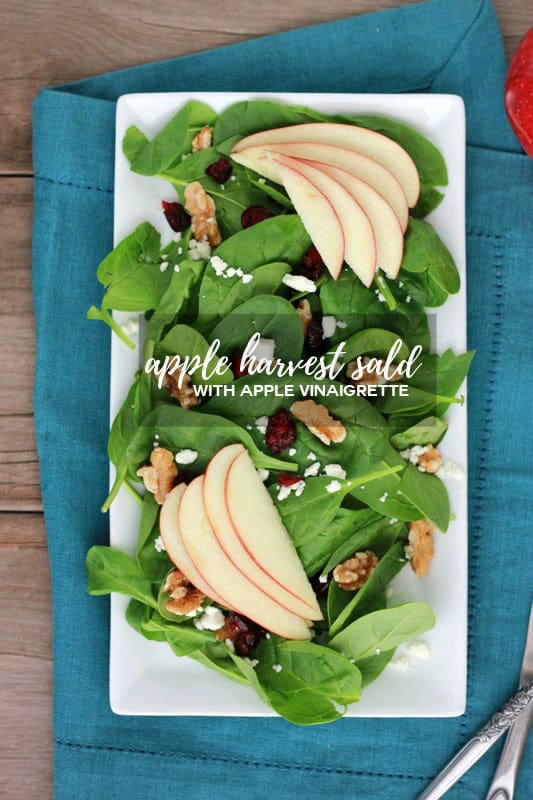 Recipe Features
5-Ingredients: This salad dressing calls for just a handful of ingredients, most of which are probably already in your kitchen!
Make-Ahead: This dressing lasts up to two weeks if stored properly.
Apple cider vinegar is amazing for cooking, but did you know that it can be used in something as simple as vinaigrette? The fermented apple vinegar produces the perfect fruity and zesty flavor that makes it ideal for salad toppings! Once you taste this dressing, you will want to put it on everything!
Apple cider vinegar is made from fermented apples, or apples that are exposed to yeast. This vinegar happens to have dozens of health benefits, including lowering blood sugar levels and reducing cholesterol (Healthline.com) and is even used as a healthy drink when paired with grapefruit! But my favorite recipe has to be this apple harvest salad.
What Is Apple Cider Vinaigrette Made Of?
Apple cider vinegar: Personally, I like Pompeian Organic Apple Cider Vinegar or Bragg's.
Shallot: Shallot add a light flavor of onion without overtaking the dish. They have a more mild and delicate flavor that is perfect for vinaigrette.
Dijon mustard: This adds a slightly sweet and spicy flavor and a tang that pushes this dressing over the top. Do not replace this with yellow mustard.
Honey: With the vinegar, shallot, and mustard there is a lot of tang in this recipe. To help tone that down, add just a touch of honey. It gives the perfect balance of flavors.
Olive oil: I really like to use a light olive oil in my salad dressings. This gives a nice thickness to the vinaigrette without overtaking the flavor.
Salt and pepper: Season to taste.
How To Make Apple Vinaigrette Dressing
I started this dressing with the basic combination of vinegar and oil. Typically you would see a 1 to 3 ratio, but since we are dealing with an out of the box combination, I decided on a 1 to 2. The oil being the later.
You want to use a quality olive oil to avoid a super heavy texture. Stir in just a few other basic ingredients, season with salt and pepper, and voila! You are ready to drizzle.
PREP: Combine the vinegar, shallot, mustard, honey, and olive oil in a bowl.
MIX: Whisk to combine.
SEASON: Add salt and pepper to taste.
DRIZZLE: Add a drizzle to your salads just before serving. Toss to combine and enjoy!
TIP: Alternatively, you can add the dressing ingredients to a blender. This will break down the shallots and give you a smoother finish.
Helpful Tools
Salad Dressing Shaker: This shaker bottle (affiliate) is perfect for vinaigrettes!
Cutting Board: I own dozens of cutting boards but this wood cutting board (affiliate) is by far my favorite.
Chef's Knife: If you only invest in one fancy knife, let it be a chef's knife (affiliate). This is the most versatile and can be used for almost anything.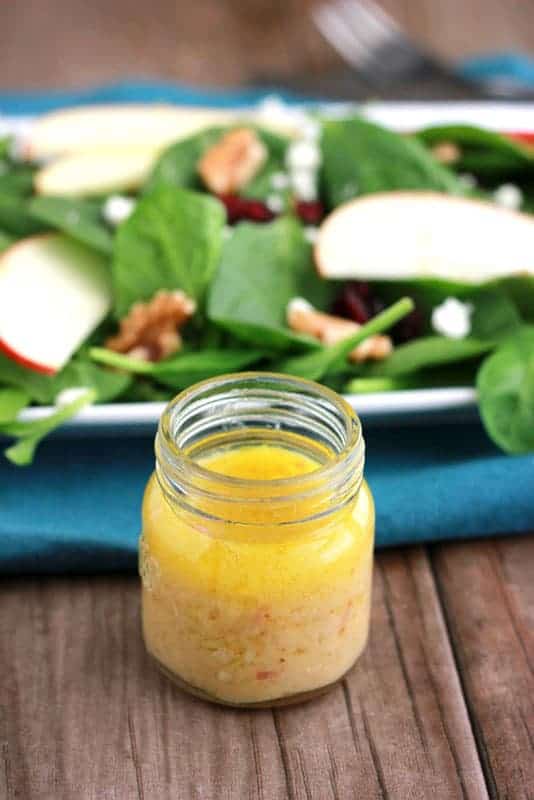 Want to turn this into a salad? I really love the addition of fresh produce in a salad and this one has it all. It gives you an elegant looking dish that tastes delicious but still helps you stay on the healthy side.
I started with a full spinach base and loaded it with walnuts (try them candied!), dried cranberries, crumbled feta, and a LOT of sliced apples. We've enjoyed this with both red and green varieties but suggest splurging a bit and reaching for the honey crisp!
Recipe Notes:
How long does homemade vinaigrette last:
If stored properly, homemade vinaigrette will last up to two weeks. Keep in an airtight container inside the refrigerator until ready to use. Shake well before drizzling over your salad.
Does vinaigrette need to be refrigerated?
This recipe uses fresh ingredients (shallots) in the base which means it should be refrigerated. Be sure to keep it in an airtight container in the refrigerator. Give it a good shake before using.
Does apple cider vinegar need to be refrigerated?
No. However, once you add shallots and mustard this recipe will require to be stored inside the refrigerator.
Can I add fresh herbs?
Yes! Adding fresh herbs is always a wonderful flavor profile. Try rosemary or sage for a bonus flavor.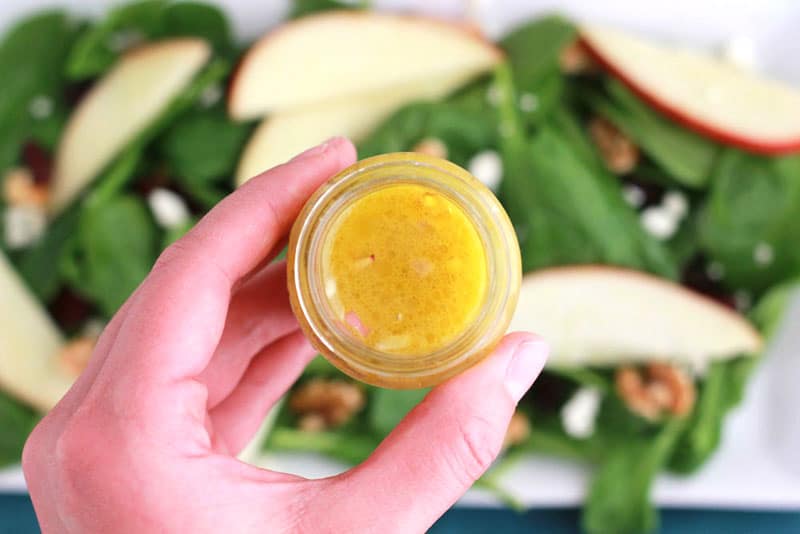 Still Hungry? Follow One Sweet Appetite on Instagram, Pinterest, and Facebook!
MORE MUST-TRY SALAD RECIPES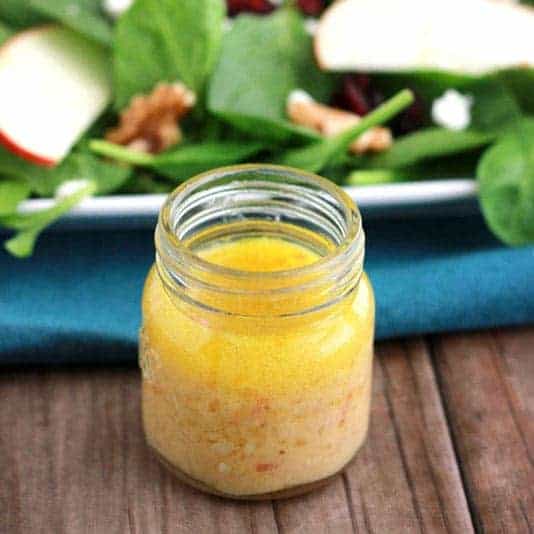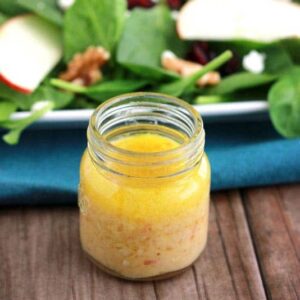 Apple Vinaigrette
This fresh apple harvest salad is drizzled with an incredible homemade apple vinaigrette recipe! Made with only 5 simple ingredients and in under 5 minutes! 
Ingredients
1/4 cup apple cider vinegar I suggest using Pompeian Organic
1 small shallot finely diced
2 teaspoons dijon mustard
3 teaspoons honey
1/2 cup high quality olive oil
salt and pepper to taste
Instructions
Combine the vinegar, shallot, mustard, honey, and olive oil in a bowl.

Whisk to combine well.

Season with salt and pepper to taste.
Notes
Alternatively you can add the dressing ingredients to a blender. This will break down the shallots and give you a smoother finish.
Nutrition
Serving: 0.25cup | Calories: 132kcal | Carbohydrates: 3g | Protein: 0.1g | Fat: 14g | Saturated Fat: 2g | Polyunsaturated Fat: 1g | Monounsaturated Fat: 10g | Sodium: 15mg | Potassium: 19mg | Fiber: 0.2g | Sugar: 2g | Vitamin A: 1IU | Vitamin C: 0.3mg | Calcium: 3mg | Iron: 0.2mg
Reader Interactions