How to freeze peaches- Freezing this fruit is amazingly simple. The absolute perfect way to take advantage of fresh flavors and keep them on hand all year long!
Recently I was lucky enough to fall into a giant box of peaches. Now, these were not just ANY peaches. These are Brigham City peaches.
If you are not from Utah, that means little to you, am I right? If you are, you will know that the farmers of Brigham pride themselves in the very BEST peaches.
My box container two varieties. Both equally delicious and both VERY ripe. There was absolutely no way I was going to be able to eat all of them in time. The only solution was to freeze them so I could have these delicious peaches available for months instead of days.
How long do frozen peaches last?
If stored properly, frozen peaches will last up to one year. That is 12 whole months of peachy goodness. The secret is in picking quality containers to help beat freezer burn. Here are my suggestions:
Plastic Containers – These containers are reusable, sturdy for stacking, and have air tight lids. I use them for freezing all kinds of things including soups and pastas.
Mason Jars (glass jars)- Another reliable air tight option. These are glass, which makes them easy to clean and reuse.
Zip top freezer bags– This is an option if you plan to eat the peaches sooner rather than later. Just be sure to use freezer bags.
How to keep peaches from turning brown when freezing:
When you slice a peach, or many other fruits, they start to oxidize. Essentially, this means the fruit starts to produce enzymes once they touch the air which changes their coloring. In this case, they start to brown.
To stop this from happening, and keep your peaches that classic bright color, you will add a touch of lemon juice. The acid in citrus acts as a natural anti-oxidant and stops them from changing color. It doesn't add additional flavor.
How to prepare peaches for freezing:
Peaches are fairly simple to freeze. There are two options when it comes to preparing this fruit for the freezer.
The first option is to slice them with the skin on. Simply wash and cut into large pieces or slices.
The second way you can prep is to peel them before you slice. This is my preferred method and the one I suggest. I have an amazing tutorial on how to easily peel a large batch of peaches or you can use a sharp paring knife to carefully remove the outside. Cut into slices and voila! Ready to freeze.
Helpful tools for this recipe:
I already covered the container suggestions above, but here are a few other helpful items to use while freezing your peaches.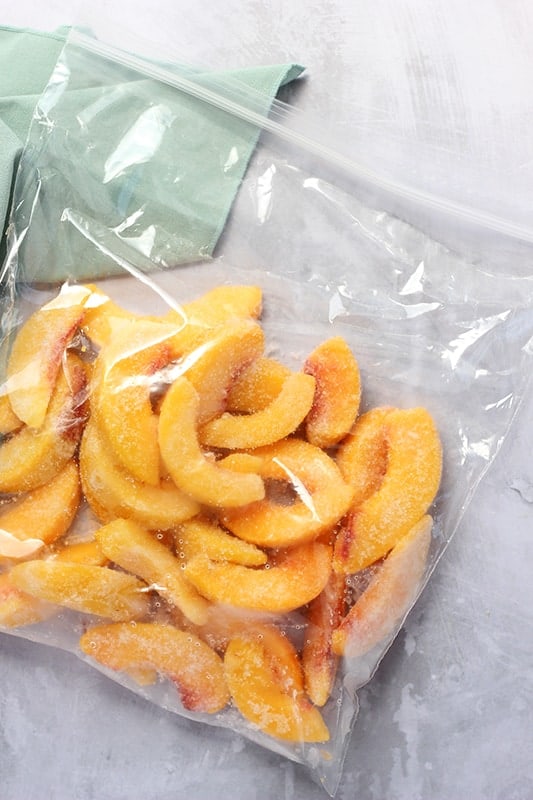 What to do with a lot of peaches:
Have a large batch of peaches and not sure what to make? I have you covered! Here are a few of our favorite peach recipes:
Still hungry? Follow One Sweet Appetite on Facebook, Instagram and Pinterest for more great recipe ideas!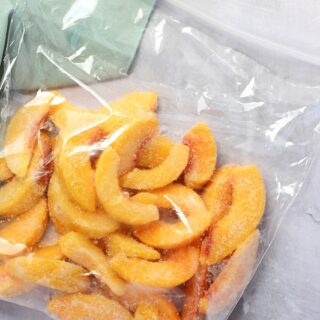 How to freeze peaches
How to freeze peaches- Freezing this fruit is amazingly simple. The absolute perfect way to take advantage of fresh flavors and keep them on hand all year long!
Ingredients
1-2 lbs peaches
1 tablespoon lemon juice
Instructions
1. Peel and slice your peaches until you get 3 cups.

2. Gently toss the peaches with lemon juice.

3. Line a baking tray with parchment paper. Lay the peach slices in a single layer on the tray.

4. Transfer to the freezer and chill 2 hours.

5. Remove the peaches from the tray and transfer to a freezer safe container. Label and keep stored for up to 1 year in the freezer.
Nutrition
Serving: 1g | Calories: 119kcal | Carbohydrates: 29g | Protein: 3g | Fat: 1g | Sodium: 1mg | Fiber: 5g | Sugar: 25g
Reader Interactions