Get ready to elevate your summer game with this incredible Peach Sangria recipe! Bursting with ripe peaches, luscious wine, and a dash of magic, this concoction will whisk you away to a sunny paradise with just one sip. Grab your glasses, call up your pals, and let's mix up this liquid gold for a peachy good time like no other!
Like this recipe? Make it a to-go version with my Single Serve Sangria! Perfect for BBQ's, parties, weddings, and even camping! OR try some of my other go-to summer drinks: Blackberry Mojito, Easy Party Punch, and my Frozen Strawberry Margaritas!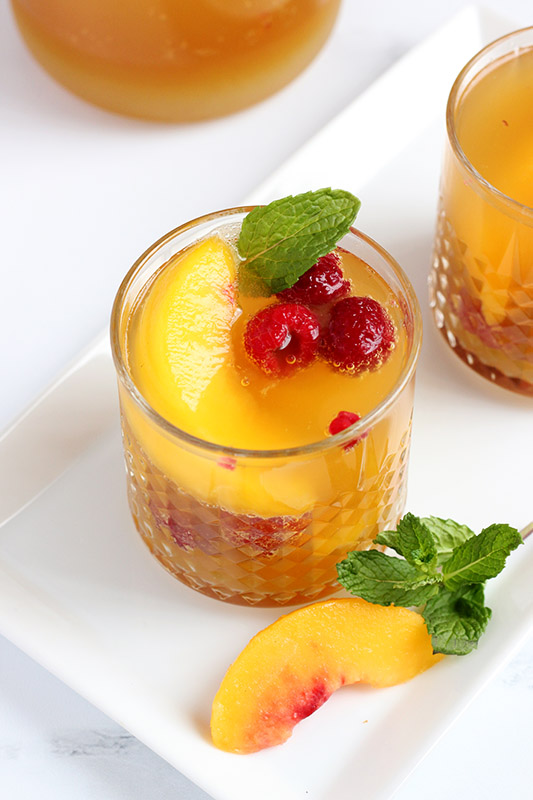 This post includes a recipe for alcohol. Drink responsibly. One Sweet Appetite and it's authors are not responsible for the actions of our readers should they choose to make this recipe and consume it. Please drink responsibly.
Why You'll Love This Easy Sangria
Dangerously Delicious: When I say dangerously, I mean it. I could easily sip this all day long and it is booze packed. So delicious you won't even realize how much you've drank.
Make Ahead: The longer the fruit sits in this drink the more flavor packed it will be. You can make this up to 48 hours in advance, with a few ingredients added just before serving (see below).
Easy to Double: Serving a crowd? Double or even triple this recipe.
Summer is just around the corner and I am here to share the PERFECT summer cocktail. This is one you have to make at least once and is perfect for sipping with friends, serving at parties, or enjoying solo.
Why? It is fruit packed, not overly sweet, and packs a boozy punch. Mix this up in under 10 minutes and you will have EVERYONE begging for the recipe.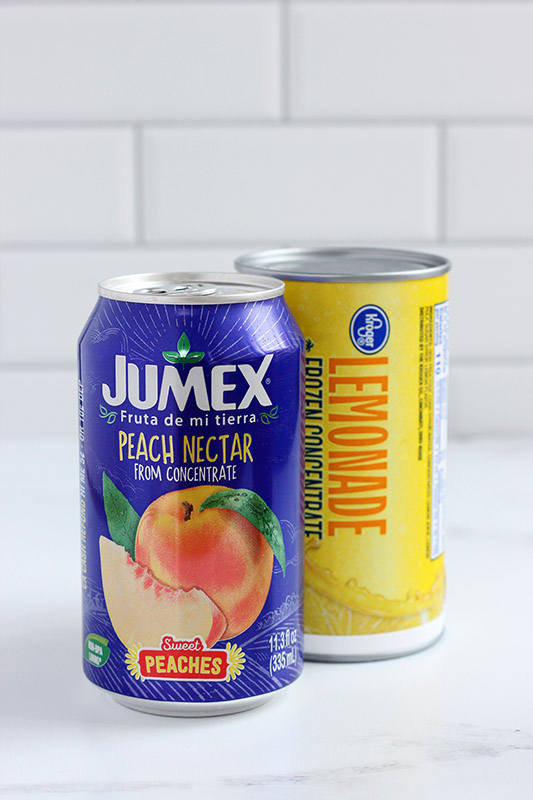 Peach Sangria Ingredients
Most sangria recipes are made with a base of:
The beauty of this summer cocktail is that you really can play around with the flavors. I chose to use peaches and raspberries but you could easily use blueberries, blackberries, or any other fruit of your liking!
WARNING: This drink is trouble. It combines wine, vodka, fruit, and sugary goodness into a giant pitcher. It is one of "those" drinks. You know… The ones you keep sipping and easily forgetting how many glasses you have consumed.
It is just SO GOOD. Save this recipe in your archives of party wonders. Everyone will love it! If you are making it for a group of people I would double it.
What Alcohol Is In Sangria?
For this white peach sangria, I opted for a sweet moscato and vodka. I promise, this calls for enough alcohol that you'll be happy you followed the instructions to a T.
Moscato: You can use a pink moscato, like Beringer Vineyards Pink Moscato (typically around $5), or a classic like Sutter homes. Both will blend great with the flavors and won't break the bank.
Vodka: Here's where I don't recommend skimping. Use your favorite vodka. Most people like Tito's. I like to try out local brands and have found success testing out liquor store employee recommendations.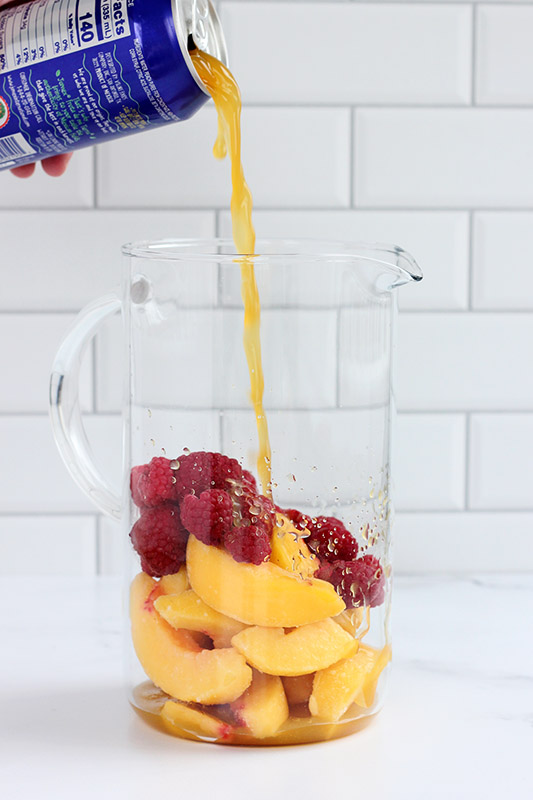 How To Make White Sangria
CHILL: Be sure to chill all of the ingredients, even freezing some of the fruit. This will make sure you can serve this immediately.
PREP: Gather and measure all of your ingredients. I always find that prepping everything before you mix makes this so much easier.
MIX: Mix the ingredients into a large pitcher.
TOP WITH SODA: Add the club soda last. This will ensure you have a nice and fizzy drink.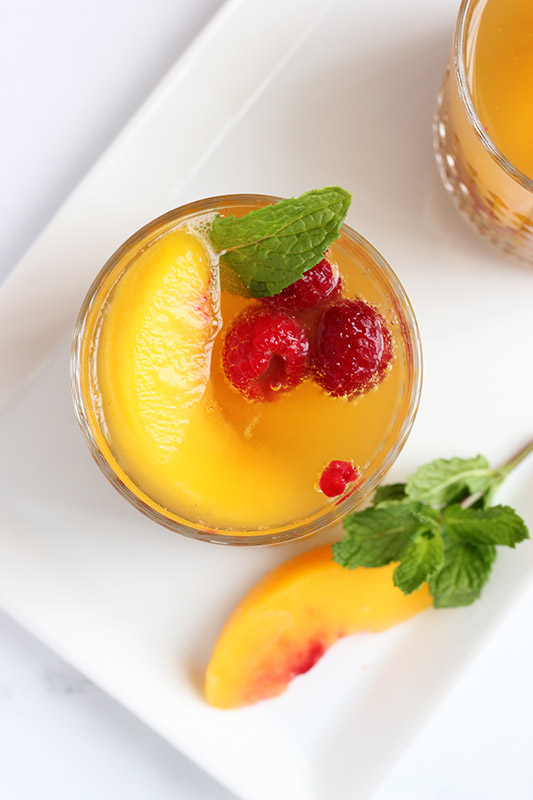 Recipe Notes:
Do you have to use fresh fruit?
No. In fact, sometimes it is better to use frozen fruit. This acts like ice without watering down your beverage. You can use either fresh or frozen in this recipe.
What fruit goes best in sangria?
Almost any fruit will work in this cocktail, but our favorites are peaches, raspberries, and blueberries. They soak up the sweet liquid and add so much fresh flavor to the drink.
What is the best wine to use in sangria?
For a sweeter cocktail, use a Moscato. I like pink Moscato or sometimes Riesling.
Can this be made in advance?
Yes. You can stir all of the ingredients, minus the club soda, up to 48 hours before serving. Top off with club soda just before you serve the drink.
Can this be made non-alcoholic?
Substitute your favorite juice for the Moscato and stir in some sprite. It's just as tasty as the original but kid safe and approved for all ages.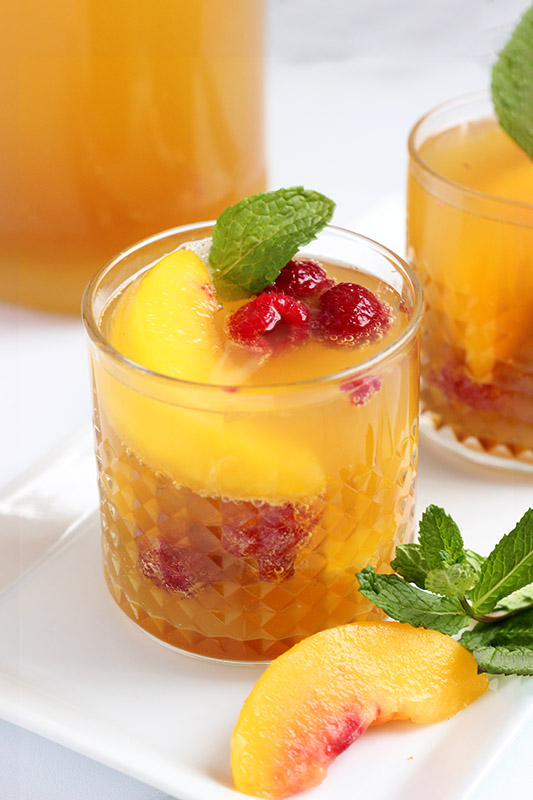 More Must-Try Summer Cocktails
Still Hungry? Follow One Sweet Appetite on Instagram, Pinterest, and Facebook!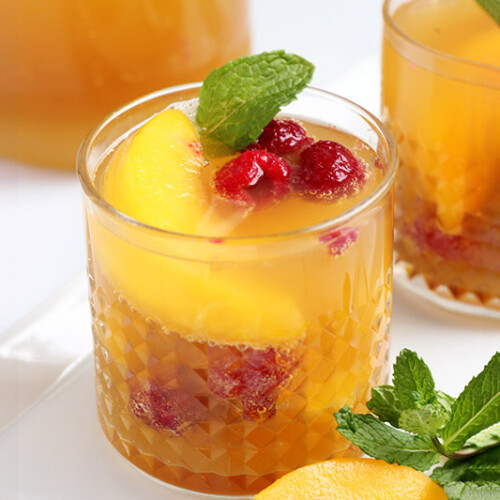 Raspberry Peach Sangria
This Raspberry peach sangria is a sweet summer favorite that is simple to whip up and quick to disappear! Made with fresh fruit, vodka, and a sweet moscato!
Ingredients
1 bottle pink moscato chilled
3/4 cup good quality vodka chilled
1/2 can peach nectar chilled
1/2 cup lemonade concentrate
2 tablespoons sugar
6 peaches peeled and sliced
1-6 oz container fresh raspberries
2 cups club soda chilled
Instructions
Combine the wine, vodka, peach nectar, lemonade, and sugar in large pitcher. Stir in the peaches and raspberries.

Chill overnight or at least eight hours.

Add the club soda right before serving.
Notes
This recipe can be made up to 48 hours in advance. You can serve this right away if you use chilled ingredients. However, this will develop flavor the longer it sits and is delicious after sitting at least 8 hours.
Nutrition
Serving: 1Servings | Calories: 233kcal | Carbohydrates: 38g | Protein: 2g | Fat: 1g | Sodium: 4mg | Fiber: 5g | Sugar: 29g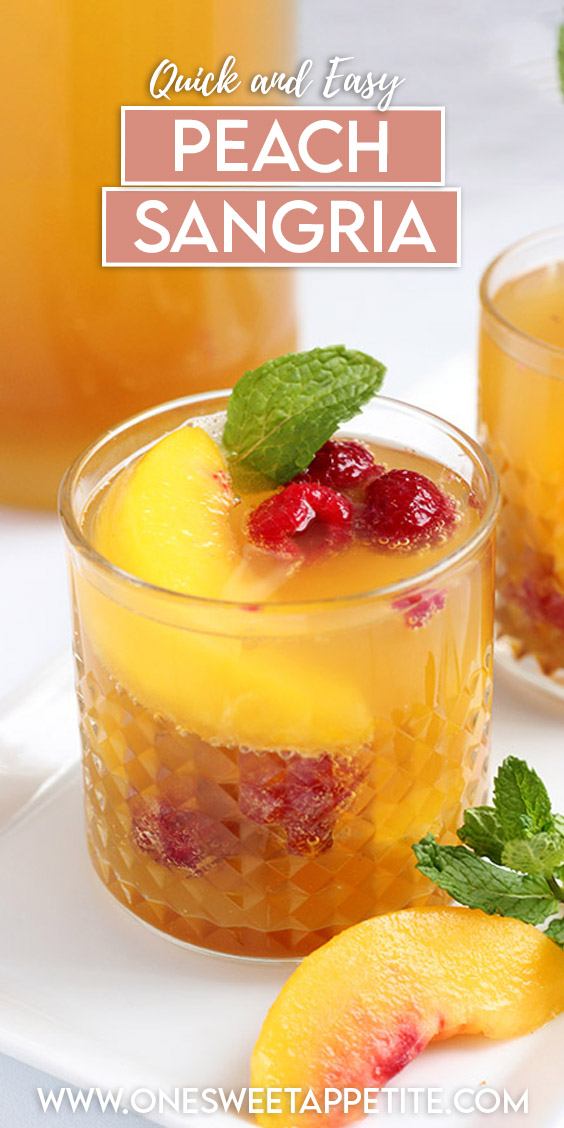 Reader Interactions