A few years back I posted this eggnog dip recipe and the feedback was amazing. Not being a big eggnog fan I've put off making it again and pushed the idea of retaking photos to the back of my mind. Luckily I had to make some cute little gingerbread cookies for a project (More on that coming soon! #MerryMag) and decided… Why not whip up a batch to go along. I forgot how much this dip really shines when paired with a great ginger cookie.
There it is in all of it's glory. Eggnog DIP. You can use gingersnaps, gingerbread, graham crackers, or even biscotti for dipping. Even eggnog haters will be asking for the recipe. It's ok, I'm aloud to say that because technically I belong to that category. So does my five year old who licked his small bowl clean. I'd even go so far as to say this would be great as a cupcake filling or even topping to a pumpkin pie.
Ingredients
1-1/2 cups eggnog
2 tablespoons Cornstarch
1/2 cup Sour Cream
1/2 cup Heavy whipping cream
1 tablespoon Sugar
Instructions
Whip together the cream and sugar in the bowl of an electric mixer until stiff. Set aside.
Whisk together the eggnog with the cornstarch in a small pan. Heat to a boiling and cook two minutes. Make sure you are constantly stirring to avoid any burning.
Remove from the heat and stir in your sour cream. Fold in the heavy cream.
Refrigerate until chilled and enjoy with your favorite cookies.
https://onesweetappetite.com/2014/11/eggnog-dip/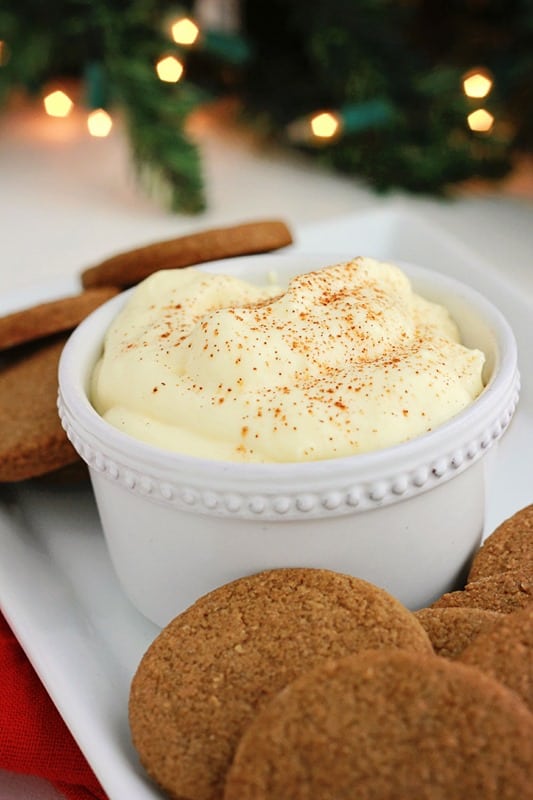 My only advice is to make this at least one day in advance. It needs a while to cool completely and it isn't too great warm. Dust with a little cinnamon to give it a great appeal and be prepared to watch this disappear. This is great to take to family parties or get together because it is so simple to make. Just be prepared to hand out the recipe!
(Visited 5,301 times, 1 visits today)
6