Eggnog Dip.  This creamy dip recipe is the perfect dessert or appetizer to serve at your holiday parties! It comes together quickly and tastes amazing served with your favorite Christmas cookies! 
There it is in all of its glory.
Eggnog DIP
Even eggnog haters will be asking for the recipe. Technically I belong to that category and I love this recipe. So does my five year old.
I watched him lick his small bowl clean. Which is saying a lot.
I would even go so far as to say this would be great as a cupcake filling or even topping to a pumpkin pie.
It is creamy and just sweet enough that it does not overpower your cookie dippers!
Backstory:
I first made this dip ages ago when we were invited to my In Laws for one of my first Christmas events with them.
I was a nervous wreck.
What do you even bring when you are trying to impress the family???
I decided on cookies, because who doesn't love cookies? But something was missing. A quick peek in the fridge and my eyes landed on the nog.
Ten minutes later I had both of my taste testers in the kitchen raving about this dip. Definitely a winner.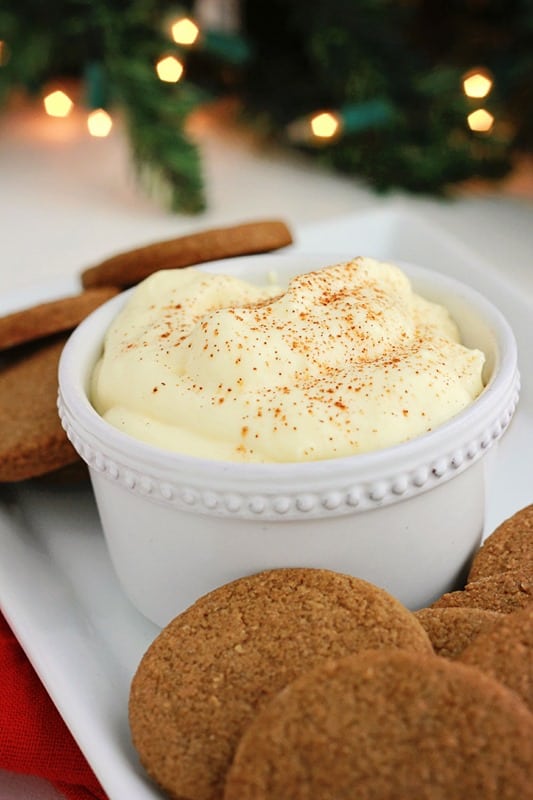 My only advice is to make this at least one day in advance. It needs a while to cool completely and it is not too great warm. Dust with a little cinnamon to give it a great appeal and be prepared to watch this disappear. This is great to take to family parties or get together because it is so simple to make. Be prepared to hand out the recipe!
Like this recipe? You will love my Eggnog Buttercream, Pumpkin Eggnog Dip, and Gingerbread Cookies! 
Eggnog Dip
Ingredients
1-1/2

cups

eggnog

2

tablespoons

cornstarch

1/2

cup

sour cream

1/2

cup

heavy whipping cream

1

tablespoon

granulated sugar
Instructions
Combine the eggnog and cornstarch in a medium saucepan. Whip until smooth.

Bring to a boil. Let boil for 2 minutes. Remove from the heat and stir in the sour cream.

Beat whipping cream and sugar in a separate bowl until stiff peaks form. Fold into the eggnog mixture.

Serve with your favorite cookies.
(Visited 5,568 times, 1 visits today)
11