Pumpkin Eggnog Dip. This fun dessert/appetizer is a great way to bring the classic holiday flavor to your table! With just a few simple ingredients you have a fancy dip ready to serve! 
Eggnog is a staple in our fridge this time of year.
Truth? I actually do not drink it.
We use it for everything else.
Pancakes, waffles, french toast, custard, frosting… So many yummy things. The best?
Pumpkin Eggnog Dip
It goes great with almost any dipping cookie. I was talking with a friend who asked if there was a way to make it more of a Thanksgiving treat and that is when this genius idea hit me. I had seen pumpkin eggnog in my parents fridge recently and figured it cannott be too difficult to swap out in that classic eggnog dip recipe!
This tastes amazing with vanilla wafers, graham crackers, sugar cookies, or even ginger snaps! Get creative when you are serving to your guests!
We have even dipped churros and they are simply divine!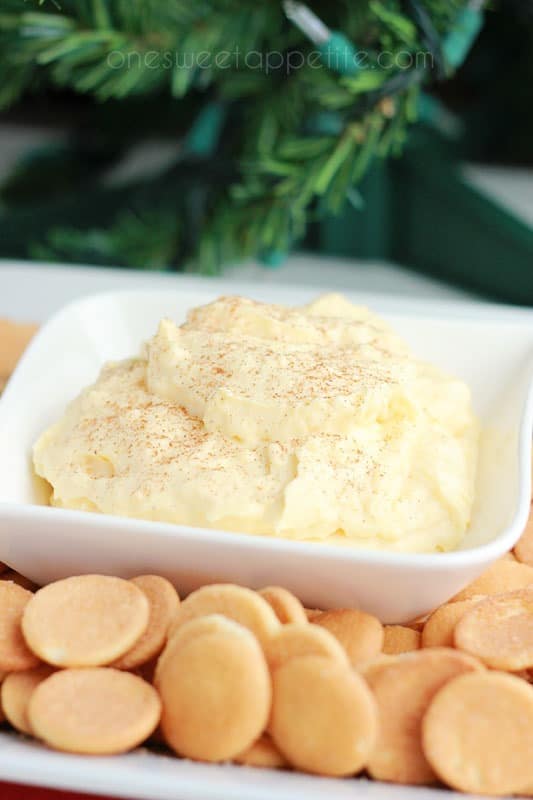 Like this recipe? You will love my Classic Eggnog Dip, Eggnog Buttercream, and Gingerbread Cookies!
Pumpkin Eggnog Dip
Ingredients
1-1/2

cup

pumpkin eggnog

2

tablespoons

cornstarch

1/2

teaspoon

cinnamon

1/8

teaspoon

nutmeg

1/2

cup

sour cream

1/2

cup

heavy whipping cream

1

tablespoon

granulated sugar
Instructions
Combine the eggnog and cornstarch in a medium saucepan. Whip until smooth. Stir in the cinnamon and nutmeg.

Bring to a boil. Let boil for 2 minutes. Remove from the heat and stir in the sour cream.

Beat whipping cream and sugar in a separate bowl until stiff peaks form. Fold into the eggnog mixture.

Serve with your favorite cookies.
(Visited 599 times, 1 visits today)
3