It's Cinco de Mayo. The fifth of May. I feel like this recipe should be something from a different theme… It seems that the holiday snuck right up on me and happened to be smack dab in the middle of burger week. What's burger week? Glad you asked! I've teamed up with my dear friend Yvonne from the blog Tried and Tasty to bring you one whole week of burger recipes! Five days. Ten recipes. Starting with this BBQ pork burger with coleslaw!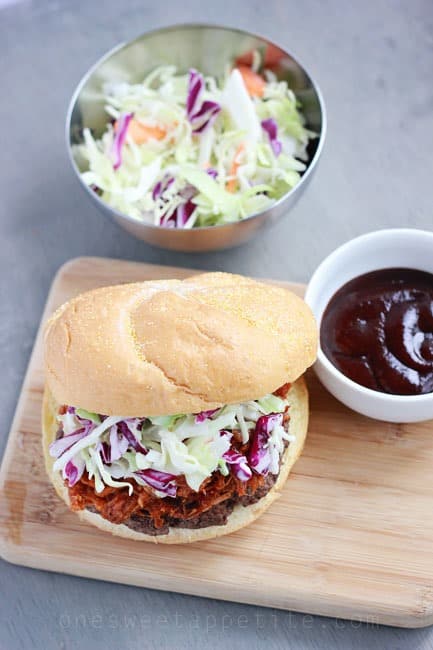 I have a wonderful pulled pork recipe. It didn't take me long to pair it up with a juicy burger patty. The cole slaw addition was inspired by some tasty meal I saw on Triple D. Any Guy Fieri fans? Those frosted tips take me right back to junior high. I can remember when everyone had to have the bleached hair and spiked in every different direction.
But I am getting off track. Let's get back to this recipe. The pulled pork is slow cooked all day, the cole slaw takes a few seconds to whip up, and the burgers are so simple to cook.
Top with a few fresh pickles and BBQ sauce– you are golden.
BBQ Pork Burger with Coleslaw
Ingredients
8 oz coleslaw mix
1/3 cup mayonnaise
2 tablespoons sugar
4-1/2 teaspoons milk
1 tablespoon vinegar
1/4 teaspoon salt
pinch pepper
rolls or buns
3 lbs ground hamburger
1-1/2 cups bbq pork*
Instructions
Mix together your coleslaw mix, mayonnaise, sugar, milk, vinegar, salt, and pepper. Refrigerate until ready to use.

Heat your ovens broiler for 5-10 minutes. Line a baking sheet with foil and set aside.

Divide your hamburger meat in half and shape into patties. Sprinkle with salt and pepper if desired and place onto your prepared sheet. Cook 8-10 minutes making sure to flip halfway through.

Top your burger with pulled pork, coleslaw, and pickles
Nutrition
Serving: 1Servings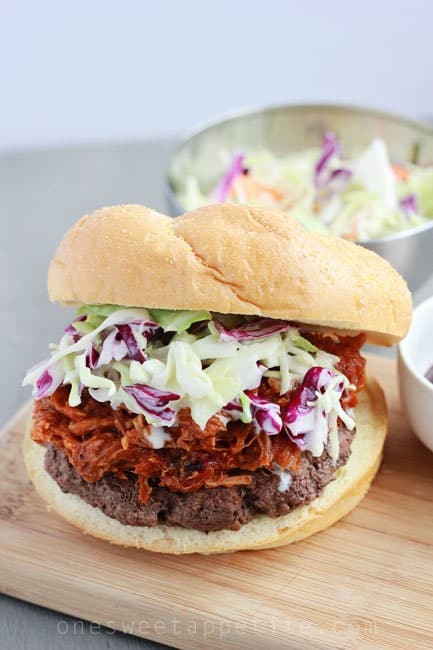 You can get the pork recipe here. Great thing about that is you can make a giant batch, divide it into bags, and freeze. Nice for these burgers, regular sandwiches, or even some pulled pork nachos!
NOW, head over to Tried and Tasty for the first burger in her series! Unlike me, it's perfect for any Cinco de Mayo celebrations you might be having! I'm wishing I had that queso for breakfast this morning! CLICK THE PHOTO BELOW!
Reader Interactions