This Easy Pulled Pork recipe is incredibly juicy, tender and full of flavor. Set it and forget it thanks to the use of a slow cooker- You will love this easy dinner idea!
Serve this slow cooker pork shoulder is great for weekly meal prep and serving a crowd! Serve as sandwiches, pork tacos, and even on top of salads!
This recipe was originally published March 31, 2014. It has since been updated to include new photos and tips.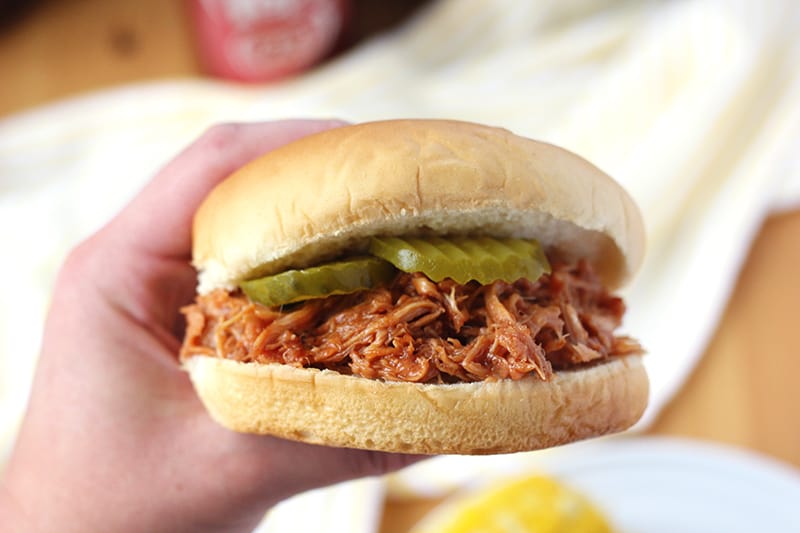 Why You'll Love This Slow Cooker Recipe
Easy: This is a set it and forget it recipe. That means, with minimal effort you'll have a slow cooked pulled pork that is mouth wateringly delicious come dinner time!
6-Ingredients: Only SIX ingredients!
Easy to Customize: Use your favorite soda and barbecue sauce for an easy twist on flavor.
This is the recipe I pull out for every summer gathering. It is incredibly simple to make but packs a bold flavor. I constantly have people begging for the recipe and they don't believe me when I tell them the secret ingredient… Soda.
That's right. I add an entire can of soda to the slow cooker with a seasoned pork roast and let that baby cook on low for 8+ hours. The acidity in soda helps to tenderize the meat while the sugars add flavor. It is my secret weapon and one I am so incredibly glad we stumbled upon.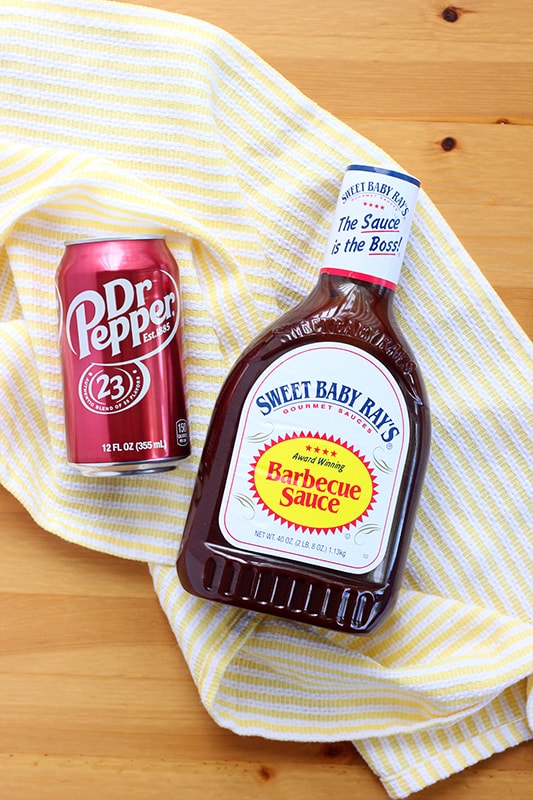 The BEst Cut Of Pork For Pulled Pork
I mentioned that this is simple, and the ingredient list follows suit. It is short, but that means you really do need to pick quality ingredients. Here is what you need to get started:
Pork Roast (roughly 3 to 4 lbs.): I have made this recipe dozens of times using all different cuts of meat. Technically, any cut will work for a pulled pork. Which means you can pick up anything that is on sale. However, if you want the very best, reach for a pork shoulder. The shoulder tends to be a little more fatty, but that fat brings flavor. You might see it labeled as a pork butt in the meat section of your local grocer.
Garlic Powder, Salt and Pepper: Feel free to adjust the seasonings as needed. This recipe is delicious as-is, but don't be afraid to get creative. Alternatively, You can use a pork rub.
Soda: Dark cola, specifically. I stick with Dr. Pepper or Coke.
BBQ Sauce: A lot of flavor will come from the sauce. We really like Stubbs or Sweet Baby Rays. Use what your family likes. OR, you can make your own easy bbq sauce.
Speaking of homemade, try making homemade buns! This recipe is particularly delicious served on my Onion Buns.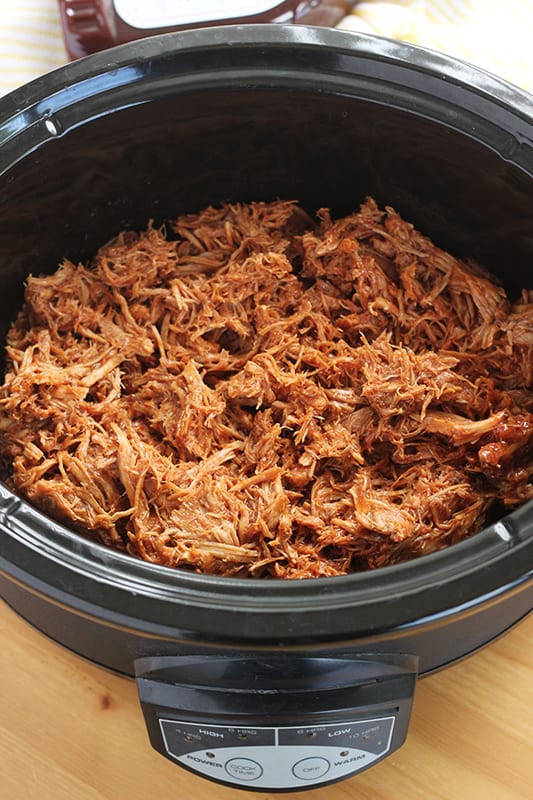 How To Make Slow Cooker Pulled Pork
Looking for a killer side dish? Try serving these with my Creamy Jalapeno Mac and Cheese!
PREP: Gather ingredients. this is always my first step. It helps things come together quickly and ensures you don't overlook an ingredient.
SEASON: Season the roast with the garlic powder, salt and pepper.
SLOW COOK: Place the seasoned roast into the slow cooker. Add one can of soda around the base of the meat. Cover and cook 8 hours, or until fork tender.
SAUCE: Drain the juices, shred the meat, and add your sauce. Let the mixture cook one hour more.
SERVE: Serve on buns, in a burrito, as tacos, or even salads!
Searching for something a little more tropical? This Kalua Pork Recipe is perfect.
Helpful Tools
Slow Cooker: My slow cooker (affiliate) in one of my most-used appliances. I love the convenience of a dump and go meal. Especially handy when we're busy during the week.
Meat Claws: These are gold in my kitchen. Meat Claws (affiliate) are perfect for shredding pork, chicken, and beef.
Airtight Container: Keep leftovers stored in an airtight container (affiliate) inside the refrigerator.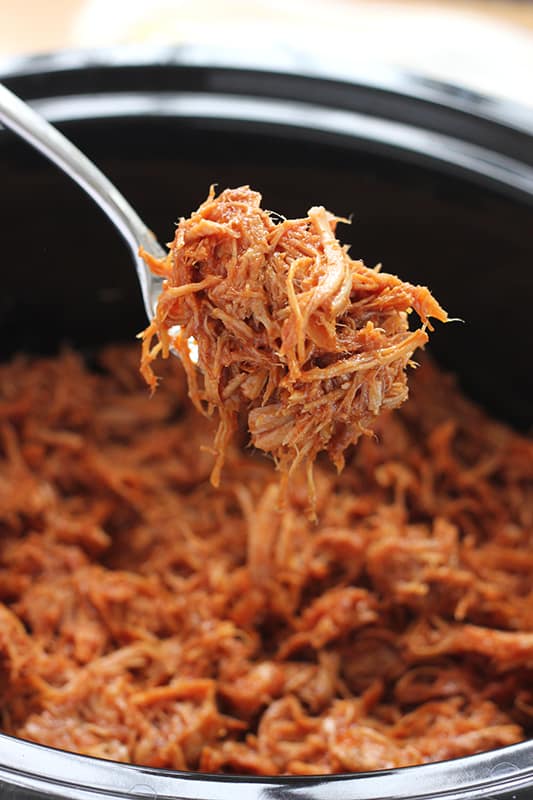 PULLED PORK RECIPE TIPS
What are good toppings for bbq pulled pork?
If you pick the right sauce, this recipe will be delicious just pork and bun. However, there are a few toppings we reach for that really help it shine. 
Sliced Pickles
Coleslaw
Roasted Peppers
Caramelized Onions
Can you freeze leftovers?
To top off how amazing this recipe is, it is even freezer friendly! That means you can make a large batch and keep it stored in the fridge for a super quick last minute dinner! Heat and serve. 
Cook the recipe through shredding the meat. 
Allow the pork to cool slightly. 
Place into a gallon sized freezer safe bag that has been labeled. Freeze. 
When ready to eat, remove the pork from the freezer. Add to a slow cooker or saucepan. Stir in the sauce and cook until heated through.
What do you serve with pulled pork?
This bbq pulled pork is great all on it's own! But we like to serve it with:
Corn on the cob
Mashed Potatoes
Grilled Asparagus
Cucumber Salad
How long does it take to make pulled pork in the slow cooker?
This recipe does best low and slow. Cook it at a low temperature for 8 to 9 hours for that juicy tender pork.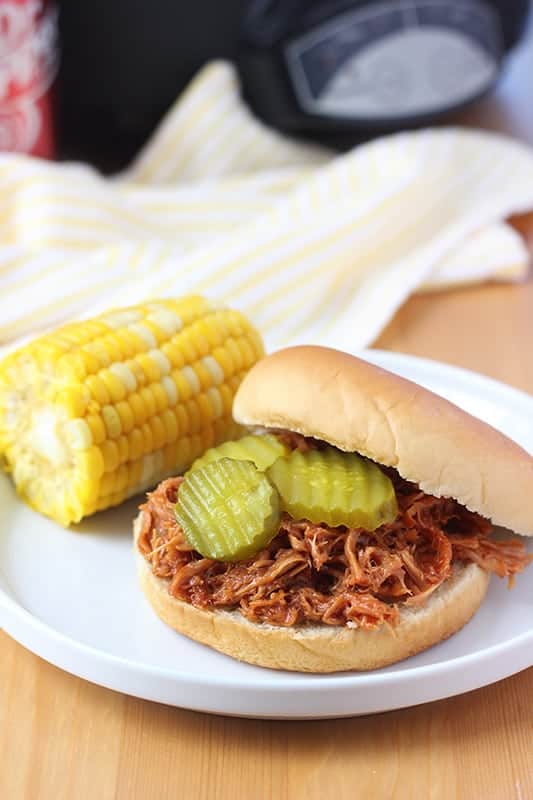 More Pork Recipes:
More Slow Cooker Recipes:
Slow Cooker BBQ Pulled Pork
Slow cooker pulled pork- This recipe is SO easy. Made with simple ingredients, slow cooked until the meat falls apart, and full of flavor. This easy dinner recipe is about to become a family favorite. 
Ingredients
1 3-4 lb pork roast, pork shoulder is our favorite
2 teaspoons garlic powder
1 teaspoon salt
1/2 teaspoon pepper
1 12 oz can soda, we use Dr. Pepper
3 cups barbecue sauce
Buns
Additional toppings like pickles or coleslaw
Instructions
1. Mix together the garlic powder, salt, and pepper. Rub onto your roast and place in the slow cooker. 

2. Add one can of dark soda, about 1-2 cups, to just cover the bottom of the slow cooker. 

3. Cover and cook on low for 8 hours, or until the meat is cooked and fork tender. 

4. Remove the roast from the slow cooker. Drain the fat and shred the meat. 

5. Return to the cooker and stir in the barbecue sauce. Cook one hour longer. 

6. Serve on toasted buns. 
Notes
How to freeze pulled pork: 
Cook the recipe through shredding the meat. 
Allow the pork to cool slightly. 
Place into a gallon sized freezer safe bag that has been labeled. Freeze. 
When ready to eat, remove the pork from the freezer. Add to a slow cooker or saucepan. Stir in the sauce and cook until heated through.
Nutrition
Serving: 1Servings | Calories: 248kcal | Carbohydrates: 47g | Protein: 4g | Fat: 5g | Saturated Fat: 1g | Polyunsaturated Fat: 3g | Cholesterol: 13mg | Sodium: 1172mg | Fiber: 1g | Sugar: 37g
Reader Interactions