This post was updated on by Jesseca
That's right. I said it. Pulled Pork Nachos.
The other day I showed you how we make our BBQ Pulled Pork and how tasty it can be all on it's own, but what if we mix things up and make something crazy? Even better… What if it's gluten free?! Ok, so I have to admit… The gluten free part was a complete accident. I picked up a bag of Simply Balanced white corn tortilla chips from Target the other day to help me with my salsa craving and didn't even realize they were gluten free until after we were half way through the bag. Pretty Impressive Target. You fooled me into buying something organic and healthy… And it was delicious!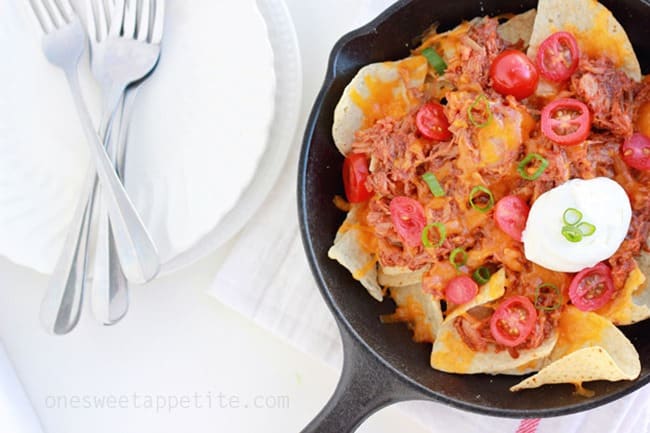 The best thing about a good nacho is how easily adaptable they can be. I was a little nervous about the strong barbeque flavor that the pork had but my husband was so sure that this was going to work. I figured we should give it a try at least. The combination of the cheese, green onions, tomatoes, and sour cream piled onto the pork was out of this world. The only thing I felt it was kind of missing was maybe an avocado or two.
Check out that color! Seriously drooling right now wishing we had more pork to make these again! Or maybe even some of my Sweet Pork to change things up! That would kick these up a notch and really send my taste buds over the edge!
Pulled Pork Nachos
Ingredients
Handful of your favorite tortilla chips
1/2 cup pulled pork*
medium cheddar cheese
sliced tomatoes
sliced green onions
cream cheese
any additional toppings you'd like
Instructions
Preheat your oven on the broiler setting.
Layer your chips with cheese, pork, and any additional toppings you might want except for green onions and sour cream. Make sure you are using an oven safe dish like a cast iron skillet.
Place your creation under the broiler for 2-3 minutes or until your cheese is melted and your pork is heated through. Remove and top with green onions and sour cream. Enjoy!
* Try either my Sweet Pork or
BBQ Pork recipes
!
(Visited 549 times, 1 visits today)