This crowd-pleasing pulled pork nachos recipe is a great way to use up leftovers! Melt-in-your-mouth shredded pork and gooey melted cheese give you the ultimate appetizer or dinner recipe.
This recipe is ideal for my Slow Cooker Pulled Pork. I like to double the recipe and freeze the meat for this nacho recipe, Pork Tacos or Pulled Pork Burgers.
RECIPE FEATURES
Easy Recipe: Load on the toppings and bake. It really is that easy.
Customizable: Add your favorite toppings and skip the ones you aren't a fan of.
Calling all of my nacho loving friends. This recipe is loaded with goodness and oh-so filling. Festive, tasty, and perfect for parties. If you start with pre-cooked pork you can have these ready in under 15 minutes!
All you have to do is pile on the toppings and bake for roughly 10 minutes. Don't limit yourself to pork. This tastes amazing with BBQ chicken or vegetarian style with beans!
LOADED PULLED PORK NACHOS INGREDIENTS
This is a recipe that uses leftovers, which means there aren't many ingredients needed! THREE base ingredients plus your toppings. That's it! However, I did include the instructions for making the pork. Freeze leftovers for later and you can have endless dinner options.
Tortilla Chips: Not all chips are created equal, but in this case you can use even the most basic. Thanks to all of the toppings on these pork nachos, the chips are really only there to use as a utensil to get the goods to your mouth.
Pulled Pork: Make it fresh, use up leftovers, or buy it premade from the store.
Cheddar: We use a medium cheddar. It has slightly more flavor than mild and can hold its own against the bold bbq sauce.
Sauce: BBQ sauce drizzled on the pork elevates the flavor to the next level. Optional, but delicious.
Toppings: What toppings are good on pulled pork? We like to switch it up from time to time. Our most loved options are sour cream, guacamole, diced tomatoes, jalapenos, black beans, pico de gallo.
Ingredient Note: I used leftovers from our BBQ pork. However, I did separate it BEFORE I added BBQ sauce. This let me have a little more control over the amount added to my nachos.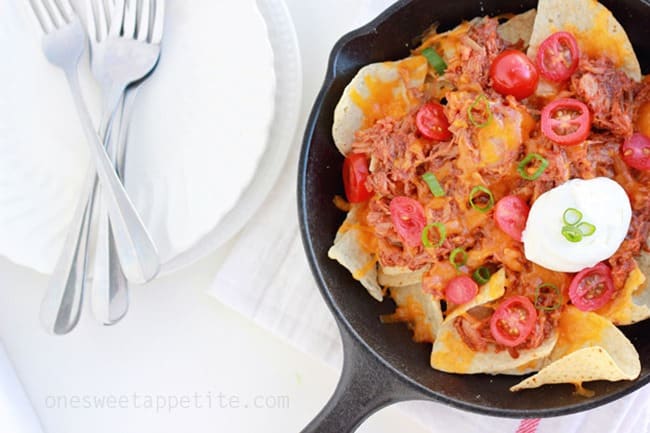 HOW TO MAKE BBQ PULLED PORK NACHOS
PREP: Preheat the oven to 400 degrees and line a baking tray with parchment, for easy cleanup. Not completely necessary, but one of my favorite hacks.
STACK: Layer your chips in a single layer on the pan. Top with pork, cheese, and other toppings that you want warmed.
BAKE: Bake for 8-10 minutes, or until the cheese is melty and the toppings are warmed.
ENJOY: Add a scoop of sour cream, guacamole, and pico before dishing up.
HELPFUL TOOLS
Baking Trays: Or a cast iron pan (affiliate). Either one will work great for these homemade nachos.
Cheese Grater: I am slightly obsessed with my Nesting Kitchen Bowls (affiliate). They come with a lid attachment that has a cheese grater. It lets the cheese fall right into the bowl which is ideal.
Slow Cooker: Making pulled pork is as easy as dump and bake with a good Slow Cooker (affiliate). Great for so many recipes, check out my list here.
RECIPE TIPS
This recipe uses leftovers but you can find ready to eat pulled pork in many local grocers.
This would also taste incredible with shredded chicken!
I use a cast iron pan but you could also use a sheet pan to create your nachos.
What toppings do you put on nachos?
The toppings are a place where I like to encourage you to get really creative. We used what we had on hand the first time around, but have quickly adapted and made this recipe including some or all of the following: Black Beans, Tomatoes, Green Onion, Pico De Gallo, Guacamole, Jalapenos, Sour Cream.
MORE MUST-TRY APPETIZERS
Still Hungry? Follow One Sweet Appetite on Instagram, Pinterest, and Facebook!
Pulled Pork Nachos
Ingredients
3 cups tortilla chips
1 cup pulled pork
2 cups medium cheddar cheese shredded
Additional toppings like black beans sliced tomatoes, green onion, pico de gallo, guacamole, sour cream, jalapenos
Instructions
Preheat the oven to 400 degrees.

Heat and shred the pork. If using homemade, I find it easy to heat in the microwave, covered with a paper towel, for 1 to 2 minutes. If using store bought, follow the package directions.

Place a layer of tortilla chips in the bottom of a cast iron skillet or foil lined half sheet pan.

Top the chips with shredded cheese followed by the pulled pork.

This is where you will also add additional toppings that you want heated like black beans or jalapenos. Sprinkle evenly across the cheese covered chips.

Bake until heated through and the cheese has melted completely, roughly 10 minutes.

Top with a sprinkle of green onion and sour cream.
Notes
This recipe uses leftovers but you can find ready to eat pulled pork in many local grocers.
This would also taste incredible with shredded chicken!
I use a cast iron pan but you could also use a sheet pan to create your nachos.
Nutrition
Serving: 1Servings | Calories: 352kcal | Carbohydrates: 28g | Protein: 18g | Fat: 19g | Saturated Fat: 8g | Polyunsaturated Fat: 8g | Trans Fat: 1g | Cholesterol: 53mg | Sodium: 635mg | Fiber: 5g | Sugar: 7g
Reader Interactions