I am not a hot dog fan. I just want to start this post letting everyone know that they are my least favorite food. Ever. But when you live in a house full of boys… Sometimes they win and you have to have a hot dog. I guess they are kind of staples when camping?! Or so I was told. So I decided that if they were going to force me to eat them, I was going to get creative. And that is when we made pretzel wrapped hot dogs!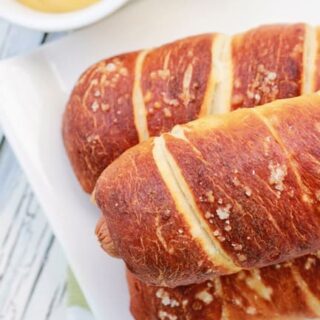 Camping Food: Pretzel Wrapped Hot Dogs
Ingredients
1½ cups warm water, make sure you can comfortably stick your finger in it for a few seconds
1 tablespoon sugar
2 teaspoons salt
1 package active dry yeast
4½ cups flour
¼ cup butter, melted
10 cups water
2/3 cup baking soda
2 tablespoons butter, melted
salt, for sprinkling
hot dogs, the longer ones tend to work better
Instructions
Combine the warm water, sugar, salt, and yeast in the bowl of an electric mixer. Allow that to sit for a few minutes to let the yeast activate and start to foam. Stir in the flour and 1/4 cup of butter. Stir until the dough forms and pulls away from the sides using the dough hook.
Spray a glass bowl with cooking spray. Place your dough into the bowl, turning once to coat. Cover with plastic wrap and allow to double in size (typically one hour in a warm place).
Preheat the oven to 450 degrees. Line two baking sheets with parchment and boil the 10 cups of water with the baking soda.
Divide the dough into eight equal pieces. Roll each piece into a long rope and wrap around a hot dog, making sure to pinch the edges.
Place each wrapped dog into the boiling water. Cook for 30 seconds. Remove with a slotted spoon and place onto your prepared baking sheets. Brush with melted butter and sprinkle with salt.
Bake for 13 minutes, or until a nice golden brown.
Kind of genius. The salty and slightly tough pretzel exterior is perfectly wrapped around that little hunk of beef. Dip it in some honey mustard or a classic Dijon and you are golden! I'm sure you are wondering… How the heck am I supposed to make these for CAMPING?! Isn't this a camping post after all? Follow the instructions below:
When camping you want things to be as easy as possible. These are actually made before you leave on your trip, frozen, wrapped in foil, and tossed into warm coals (or a grill) when you are ready to eat!
CAMPING INSTRUCTIONS: Prepare the pretzels as stated in the above recipe. Wait to sprinkle with salt. Flash freeze by placing on a baking sheet and sticking in the freezer for twenty minutes. Individually wrap each in tin foil and place in a sealable bag. Keep them in the freezer until you are ready to head out on your trip.
Once you are ready to get cooking, simply toss these onto warm coals, turning once, until warmed through. Brush with melted butter and sprinkle with salt. Easy peasy.
recipe source: Brown Eyed Baker