Whip up this incredibly simple Five Minute Strawberry Dessert for any spring or summer celebration! Fresh strawberries and ladyfingers combine to make this a no-fail dessert recipe.
Searching for more strawberry favorites? Give my Strawberry Icebox Cake, Starbucks Strawberry Frappuccino Recipe, Jello Strawberry Cheesecakes, and Strawberry Ice Cream Recipe a try. All must-makes and family approved.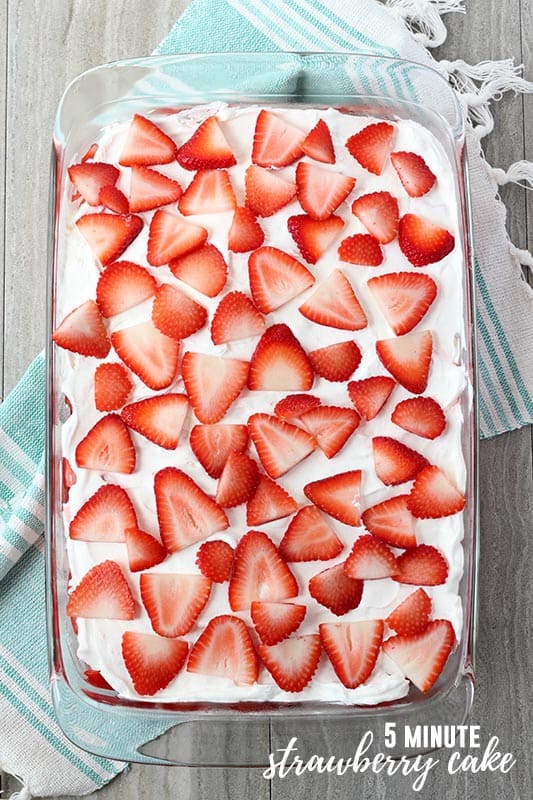 Why You'll Love This No Bake Dessert
Quick and Easy: This recipe takes less than five minutes from start to finish.
No-Bake: Perfect way to whip up a delicious dessert without turning on the oven.
Make-Ahead: Make in advance and have it ready to go whenever you are ready to serve.
I am a fixer. When I see a problem I roll up my sleeves and find a solution. Today's problem? I need a quick and delicious dessert recipe for a picnic.
Enter this stellar recipe. It is SO quick to put together, has minimal ingredients, and tastes amazing. It even got two thumbs up from my picky 10 year old, which is really saying something! Since it doesn't really fall into the cake category… I like to classify this as an easy strawberry desserts with few ingredients!
The best way to describe this would be a strawberry flavored tiramisu. In place of coffee I used a sweet danish jello type of dessert. It soaks into the soft ladyfingers and when combined with cool whip and fresh berries you are left with a light and refreshing sweet treat! I dare say, it is the EASIEST dessert recipe I have ever made.
Want another super quick no bake treat? Be sure to try my Strawberries Stuffed With Cheesecake!
How To Make An Easy Strawberry Dessert
You keep things simple. I chose to stick with 5 basic ingredients that when blended together make something amazing. That is a big promise, isn't it? The good news is that this five minute strawberry dessert really delivers. It will easily become one of your go-to treats for every occasion.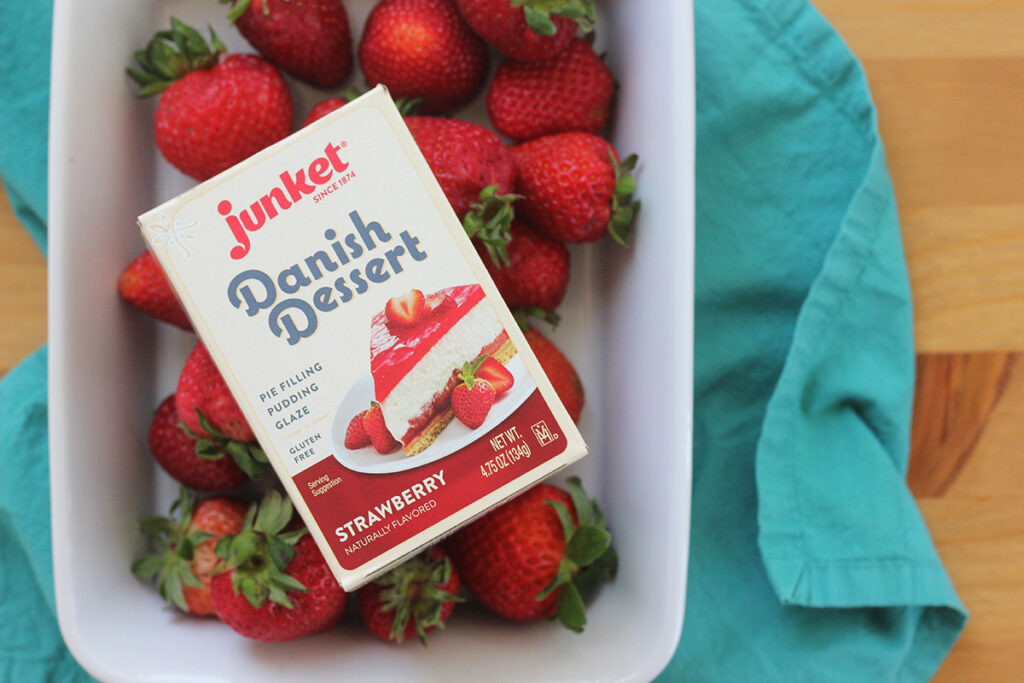 Ingredients For An Easy Cold Strawberry Dessert
The ingredient list for this no-bake strawberry cake is short, which makes it all the more appealing. With 4 simple ingredients, and 5 minutes of your time, you are well on your way to a delicious treat that everyone will love. It's also the perfect answer to what to do with lots of fresh strawberries. Here's what you need:
Lady Fingers: You can find these in the bakery section of most local grocers and sometimes the cookie aisle.
Junket Danish Dessert (affiliate) (or found by the Jello): This is NOT Jell-O. It's more like a strawberry sauce.
Whipped Topping: I like to use thawed cool whip. However, this recipe would be delicious with fresh whipped cream too.
Fresh Strawberries: Wash, dry and dice strawberries. Looking for a flavor change? Try with raspberries!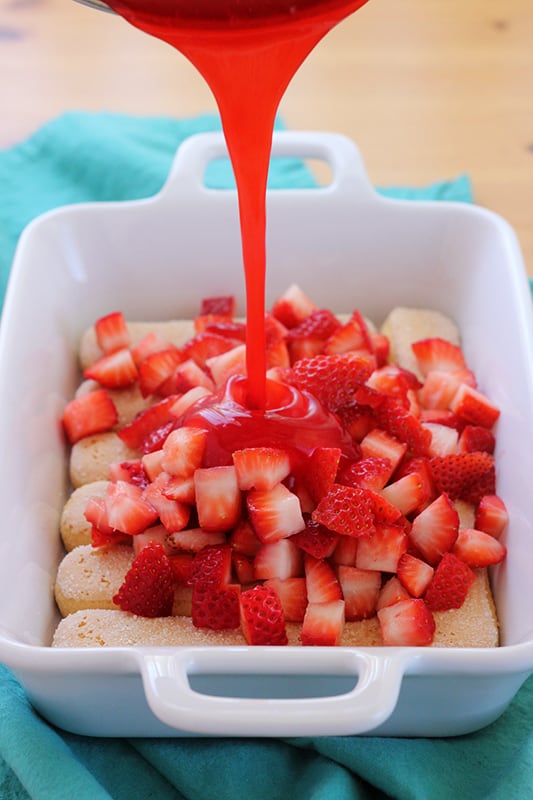 How To Make A No Bake Strawberry Cake
I am always asked for the recipe. When I let them in on the secret of how simple this dessert truly is, everyone is amazed. I think the beautiful finish packs a big punch. Everyone seems to gravitate towards it on the dessert table.
I mean, that very well could be because I live in Utah and Jello is apparently a big thing here?? Who knew.
PREP: Open the ladyfingers and split in half. Layer into the bottom of a 9×13 pan.
MIX: Whisk together the strawberry junket with the water. Bring to a boil and allow the mixture to cook for one minute. Let it slightly cool, roughly 3-5 minutes.
LAYER: Stir in the berries and spread over the top of the layer of cookies. Chill at least 2 hours. Spread with the whipped topping and remaining strawberries just before serving.
Recipe Notes:
The longer it sits in the fridge the better. The flavors seem to blend together in the most beautiful way. You will have to hold back from over indulging.
You can make this treat up to 2 days in advance! Wait to add the cool whip and decorative berries until serving.
Danish Junket comes in other flavors too! Try this with fresh raspberries.
More Delicious Strawberry Desserts To Try
More Favorites from One Sweet Appetite
Still Hungry? Follow One Sweet Appetite on Instagram, Pinterest, and Facebook!
5 Minute Strawberry Dessert
Whip up this incredibly simple Five Minute Strawberry Dessert for any spring or summer celebration! Fresh strawberries and ladyfingers combine to make this a no-fail dessert recipe.
Ingredients
6 oz ladyfingers split
1 packet strawberry Junket Danish Dessert
1¾ cup cold water
3 pints strawberries
1 (8oz) carton Cool Whip thawed
Instructions
Layer your ladyfingers in a 9×13 pan. Set aside.

In a medium pan combine the Strawberry Junket Danish Dessert with the water. Bring to a boil and cook one minute. Remove from the heat and slightly cool.

Fold in 3/4 of the strawberries. Spoon over the top of the layered cookies.

Chill 2-3 hours.

Spread cool whip and top with remaining strawberries before serving. Enjoy.
Nutrition
Serving: 12people | Calories: 113kcal
Reader Interactions