These Baked Quesadillas are the perfect quick dinner! Perfectly crisp, loaded with melted cheese, and ready in under 15 minutes.
Serve this easy dinner with sour cream, Blender Salsa, and Guacamole for a fun meal everyone will love.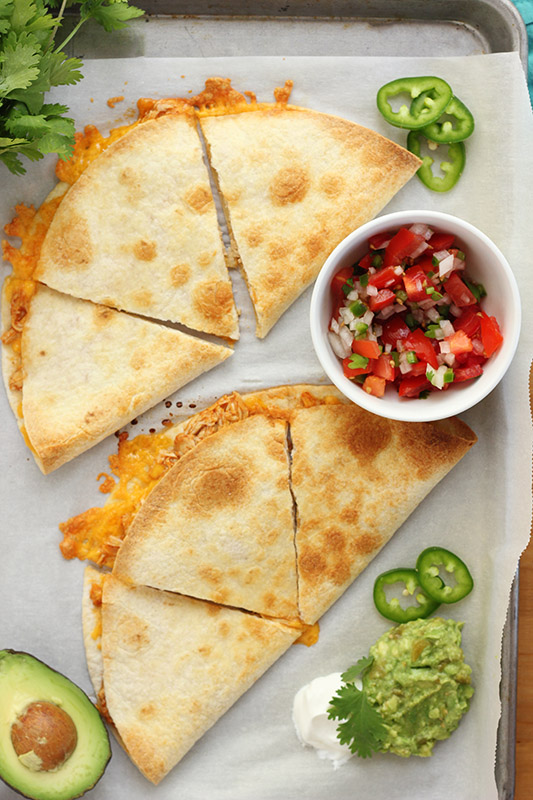 RECIPE FEATURES
Sheet Pan Dinner: This is what I like to consider a sheet pan dinner. You can make one individual quesadilla, OR load them up and bake for a the entire family.
Easy to Customize: Use just cheese or load with your favorite toppings like chicken or steak!
Perfect for a Crowd: Make a quesadilla bar and let everyone build their own. Brush with butter and bake to perfection.
I LOVE this crispy oven cheese quesadilla recipe. It makes a filling and delicious meal with no fuss and everyone is happy. And NO hovering over the hot stove. Make one, two, or ten. The baking instructions are the same no matter the amount you're making, which makes this a serious game changer.
The quesadillas turn out buttery, crisp on the outside, and melty delicious cheese throughout. Load it with your favorite toppings or stick with just the cheese. You can't mess this one up.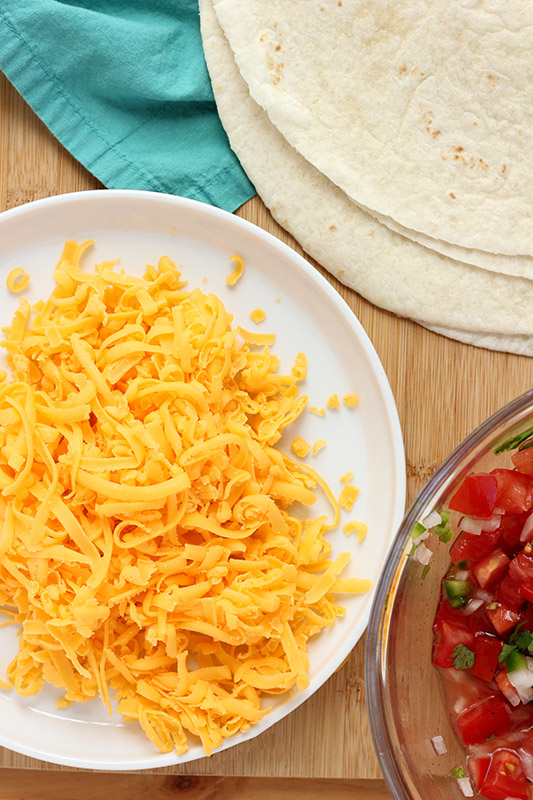 BAKED CHICKEN QUESADILLA INGREDIENTS
There really aren't too many ingredients in a quesadilla. You can make this with just cheese and tortilla and it would taste incredibly delicious. We decided to load it up with some of our favorite toppings. Here's how we make a delicious and filling sheet pan chicken quesadilla:
Tortillas: While I do love a good corn tortilla, this recipe works best with flour tortillas. I like the 8 inch size, but you can use larger or smaller tortillas in this recipe.
Cheese: Here's the deal with cheese… You cannot go wrong with cheddar, pepper jack, or monteray jack. All three give you a delicious melt, but stick with the fresh grated. Pre shredded cheese has additives that make it not stick together, which means you don't get that beautiful melty finish.
Protein: Add in your favorite protein, like shredded chicken or beef. You can even stir in black beans if you need a little extra filling without meats.
Salsa: Use your favorite salsa to add moisture and flavor the the cheese/meat mix. I personally love Trader Joe's hatch chili salsa, but any salsa you love will do.
Toppings: Top or dip your quesadillas with fresh pico, sour cream, and guacamole.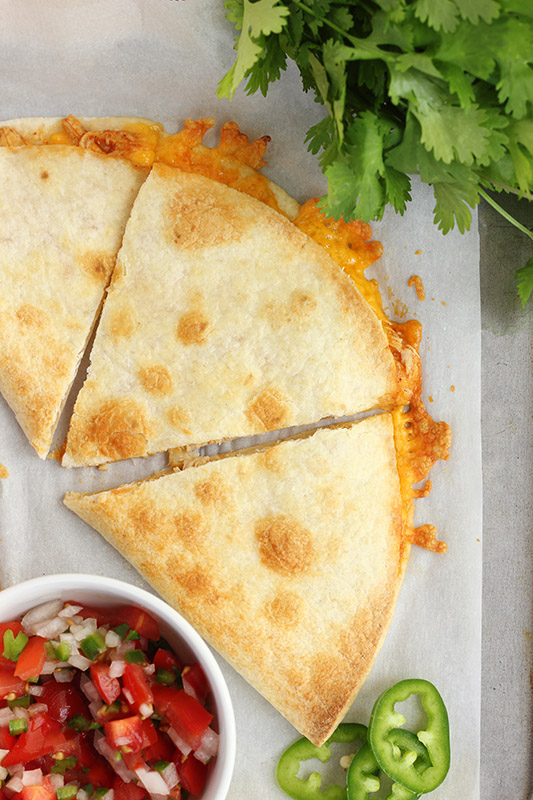 HOW TO MAKE QUESADILLAS IN THE OVEN
PREP: Gather and measure ingredients. Shred the cheese and preheat the oven to 425 degrees.
ASSEMBLE: Mix the cheese, chicken, and salsa together in a small mixing bowl. Place the tortillas on a baking tray and divide the cheese mixture between all 3, keeping the mix on one half of each tortilla.
BRUSH: Fold the tops of the quesadillas to sandwich the filling. Brush with melted butter.
BAKE: Bake 6 to 10 minutes, or until lightly crisp on top and heated throughout the center.
Want more quick dinner ideas? Be sure to try my Homemade Pepperoni Pizza Pockets!
HELPFUL TOOLS
Baking Sheets: Sheet dinners are a game changer when it comes to easy meals. I love my set from Nordic Ware (affiliate). They are heavy duty and bake evenly. Not to mention an Amazon best seller!
Cheese Shredder: Do you need a fancy cheese grater (affiliate)? Probably not. But I use this one every day and it's one of my favorite kitchen items!
Pizza Cutter: I use our pizza cutter (affiliate). It is so handy, especially with quesadillas, and was one of the first ways I taught my son to help in the kitchen.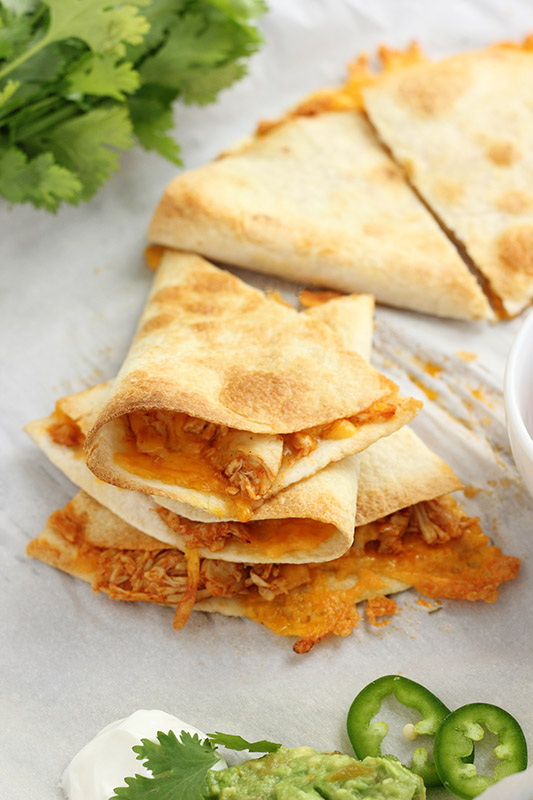 QUESADILLA RECIPE FILLINGS
You don't want to overfill your quesadillas, but that doesn't mean you can't add extra mix-in's! Here are what we use for these quesadillas in the oven, above the listed ingredients:
Meat: While chicken is the easiest, you can also use shredded beef, pork, or cooked taco meat!
Black Beans: You can never go wrong with seasoned black beans.
Cilantro: A little cilantro goes a long way to adding bold flavor.
Green Onion: Not a fan of cilantro? Try chopped green onion!
Veggies: Chopped tomatoes, sliced olives, corn or cooked zucchini are all great healthy additions.
Buffalo Sauce: Hear me out… Stir the chicken and cheese called for in the recipe. Add a dollop of sour cream and a hefty dash or three of buffalo sauce. SO. DANG. GOOD.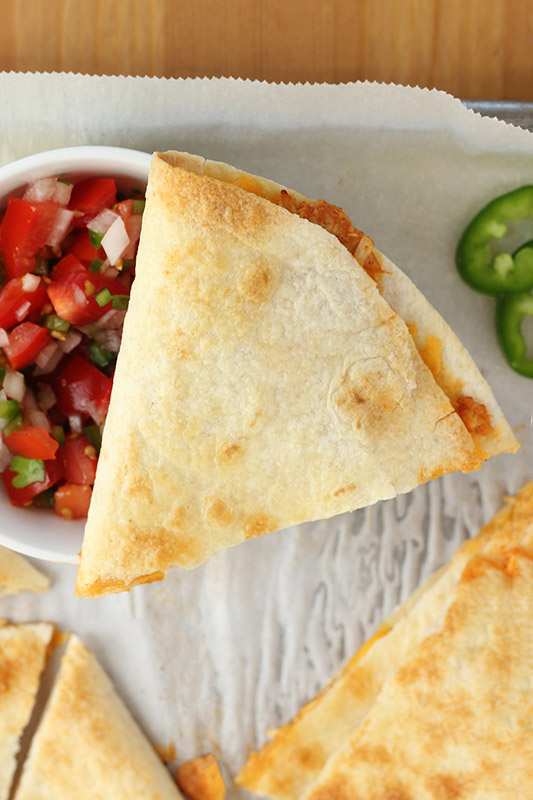 MORE MUST-TRY TACO TUESDAY RECIPES
Still Hungry? Follow One Sweet Appetite on Instagram, Pinterest, and Facebook!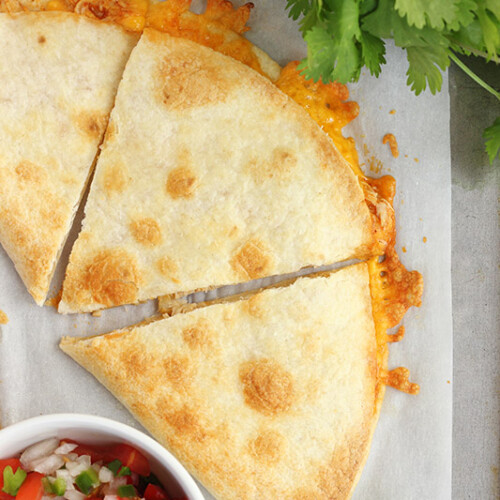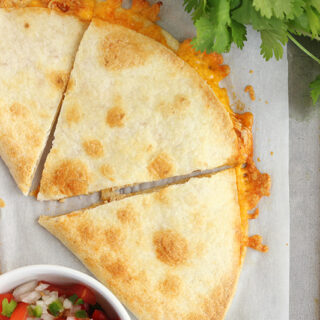 Oven Baked Quesadillas
These Baked Quesadillas are the perfect quick dinner! Perfectly crisp, loaded with melted cheese, and ready in under 15 minutes.
Ingredients
1-1/2 to 2 cups shredded cheese
1 cup cooked shredded chicken
1/3 cup salsa
3 8 inch flour tortillas
2 tablespoons butter
Instructions
Preheat the oven to 425 degrees. Line a baking tray with parchment or foil for easy cleanup.

Mix the cheese, salsa, and chicken in a mixing bowl until combined.

Lay the tortillas on the prepared pan. Divide the cheese mixture between the three, keeping it towards half of each tortilla.

Fold over, creating the quesadilla.

Brush with melted butter and bake 6 to 10 minutes, or until crisp.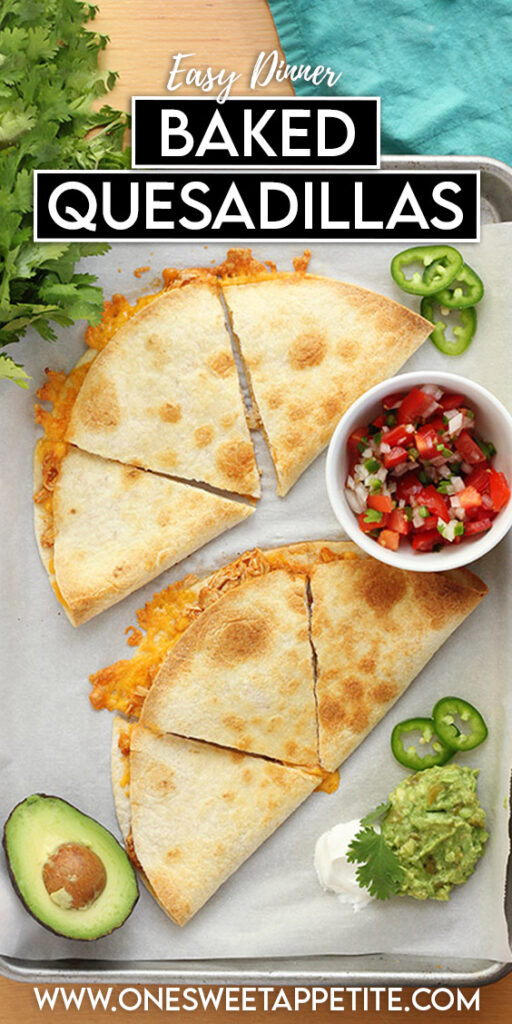 Reader Interactions