Let's elevate your cheesy game to legendary status with this Easy Cheese Ball Recipe. So simple it could charm its way out of a locked pantry. But here's the twist that'll have your taste buds doing the tango: a top-secret seasoning that'll make your guests gasp in gastronomic delight. Get ready to be the talk of the town as you roll out this mysterious, magnificent, and magnificently easy-to-make cheese ball that'll leave everyone wondering, "What's the magic behind this marvelous mouthful?"
Obsessed with cheesy appetizers and snacks? Honestly, same. Here are some of my other go-to options: Beer Cheese Dip with One Ingredient Pretzel Bites and Spinach Artichoke Dip. I could easily eat all of those on my own, but they're also great for sharing!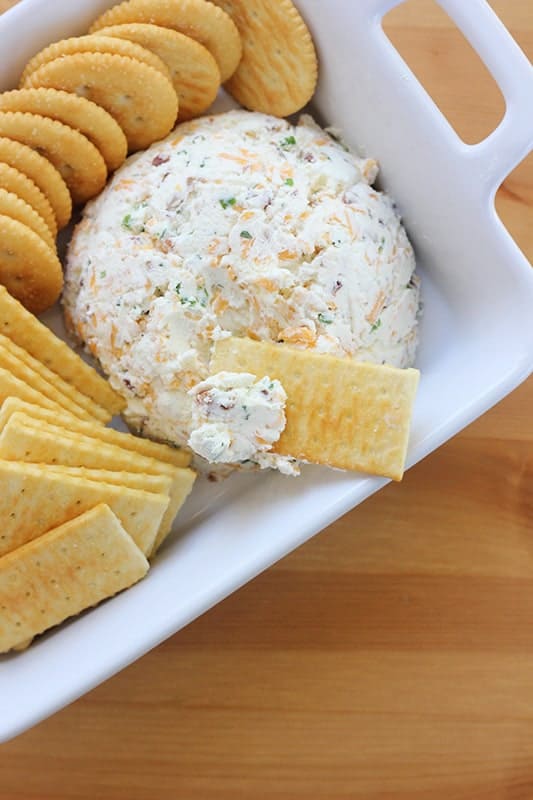 Why You'll Love This Classic Cheese Ball
Quick and Easy: This recipe comes together in just 10 minutes and you will be shocked at how simple it really is.
Make Ahead: You can make this up to two days in advance and it tastes even better with time!
Easy to Customize: You can add or take out ingredients based on your tastes!
"I love it! It was quick and easy."

– Carol
I am the biggest sucker for appetizers. ESPECIALLY dips made of cheese. We started making this super easy cheese ball recipe a few years ago and it has become a staple in our home around the holidays! Why?
It is so stinken good. A ranch dressing packet adds a tangy flavor that is out of this world. Pair that with real bacon crumbles and cheddar cheese… You have one crazy good appetizer or snack recipe that no one can resist. Be prepared to hand out the recipe. It's one of our top fan favorites and one requested on repeat all year long.
PS- want even more flavor? Try adding bacon and jalapeno to this recipe for a jalapeno popper cheese ball or some seasoning for an everything cheese ball that is out of this world delicious.
Cheese Ball Ingredients
Another winning part of this recipe is the tiny ingredient list! You only need SIX ingredients! Even better? It takes less than 10 minutes to put together.
Cream Cheese: When making a cheese ball, it is best to use regular full-fat cream cheese. The creamy texture and mild flavor of regular cream cheese allow it to blend well with other ingredients and create a smooth, delicious cheese ball. Avoid using low-fat or non-fat cream cheese, as they may result in a less creamy and less flavorful outcome.
Cheddar Cheese: I like to shred my own cheese, but pre shredded works too.
Ranch Dressing Seasoning: My secret ingredient that takes this cheese ball from good to great.
Sour Cream: This not only thins the cream cheese slightly to make it perfect for dipping, but also adds a delightful tang that pairs amazingly well with the dressing.
Bacon: Yes. Bacon. I like to cook my own and crumble, however we've recently discovered that Costco sells bacon crumbles that are equally delicious and save on prep.
Green Onion: This adds a mild onion flavor that complements the creaminess of the cheese.
For a full list of ingredients and their measurements see the recipe card below.
How To Make A Cheese Ball Recipe
Because this recipe is SO easy, you really can't mess it up. Just follow the simple instructions. However, I do have a few tips and tricks for making this even better down below.
PREP: Pull out a piece of plastic wrap and place on a worksurface to be used later. Pro tip, you can place this into a bowl to help get that round shape.
MIX: Combine all of the ingredients into a mixing bowl. Stir until fully incorporated.
SHAPE: Transfer the cheese mixture directly onto the plastic wrap. Use the wrap to help form into a ball.
CHILL: Chill for at least 4 hours, or overnight, until ready to serve. This is key to helping give time for those flavors to blend together and makes the cheese ball a 10/10.
Optional: You can always roll the cheese ball in toasted pecans or bacon crumbles. We opted out of this option due to a nut allergy.
Helpful Tools
Mixing Bowls: I love this set of mixing bowls with lids (affiliate). They stack together which makes them super convenient to store and have so many sizes included.
Airtight Container: Test out this set of bowls with lids (affiliate). Perfect sized and one of my most-used kitchen items!
Silicone Spatulas: If I can only recommend one kitchen tool, it would be a set of silicone spatulas (affiliate). These are so versatile and used daily in our kitchen. Great for baking AND cooking.
Tips and FAQs:
Recipe Notes:
Can I make the cheese ball ahead of time?
Absolutely! In fact, you should. This recipe needs a minimum of 4 hours to chill to allow the flavors to really shine. Just remember to cover it tightly with plastic wrap to maintain freshness.
How long does the cheese ball last in the fridge?
When properly stored in an airtight container, the cheese ball can stay fresh in the refrigerator for up to 3-4 days.
Can I use flavored cream cheese for the recipe?
Absolutely! Experiment with flavored cream cheese like garlic, herb, or onion to add an extra layer of taste to your cheese ball.
What should I serve with the cheese ball?
The cheese ball pairs wonderfully with various accompaniments, such as crackers, pretzels, sliced baguette, vegetable sticks, or even apple slices.
Can I customize the add-ins for the cheese ball?
Absolutely! Feel free to add your favorite ingredients, such as chopped nuts, dried fruits, cooked bacon, or different herbs, to create a cheese ball that suits your taste.
My cheese ball is too soft, what should I do?
If your cheese ball is too soft to shape, pop it in the refrigerator for a bit to firm up before rolling it into a ball.
More Fun Appetizers To Try
Still Hungry? Follow One Sweet Appetite on Instagram, Pinterest, and Facebook!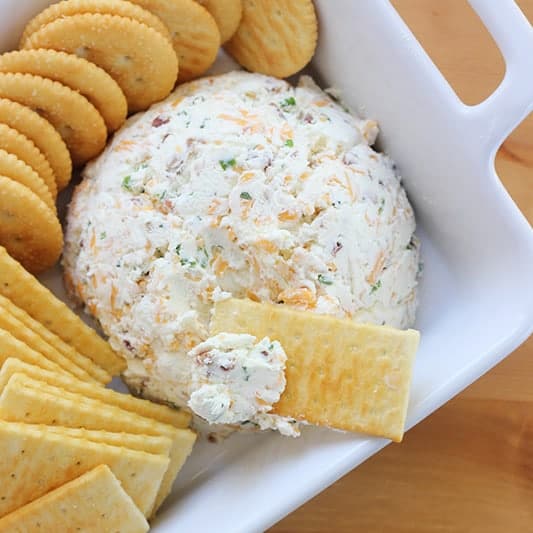 The Best Cheese Ball Recipe
This is the BEST Cheese Ball Recipe! Cream cheese, cheddar, bacon, and ranch dressing combine giving you a delicious and easy holiday appetizer!
Ingredients
16 oz cream cheese
1 3/4 cup shredded cheddar cheese
1 (1oz) ranch dressing mix packet
3 tablespoons sour cream
5 pieces bacon cooked and crumbled
2-3 tablespoons green onion chopped
Instructions
Combine all of the ingredients into a mixing bowl. Stir until fully incorporated. Set aside.

Place a piece of plastic wrap into a large bowl. Transfer the cheese mixture into the wrap and bowl, using the wrap to help form into a ball.

Chill for at least 4 hours, or overnight, until ready to serve.
Notes
Optional* You can always roll the cheese ball in toasted pecans or bacon crumbles. We opted out of this option due to a nut allergy. 
Nutrition
Serving: 2tablespoons | Calories: 104kcal | Carbohydrates: 1g | Protein: 3g | Fat: 10g | Saturated Fat: 6g | Polyunsaturated Fat: 0.4g | Monounsaturated Fat: 2g | Cholesterol: 28mg | Sodium: 120mg | Potassium: 36mg | Fiber: 0.01g | Sugar: 1g | Vitamin A: 351IU | Vitamin C: 0.1mg | Calcium: 78mg | Iron: 0.05mg
More Favorites from One Sweet Appetite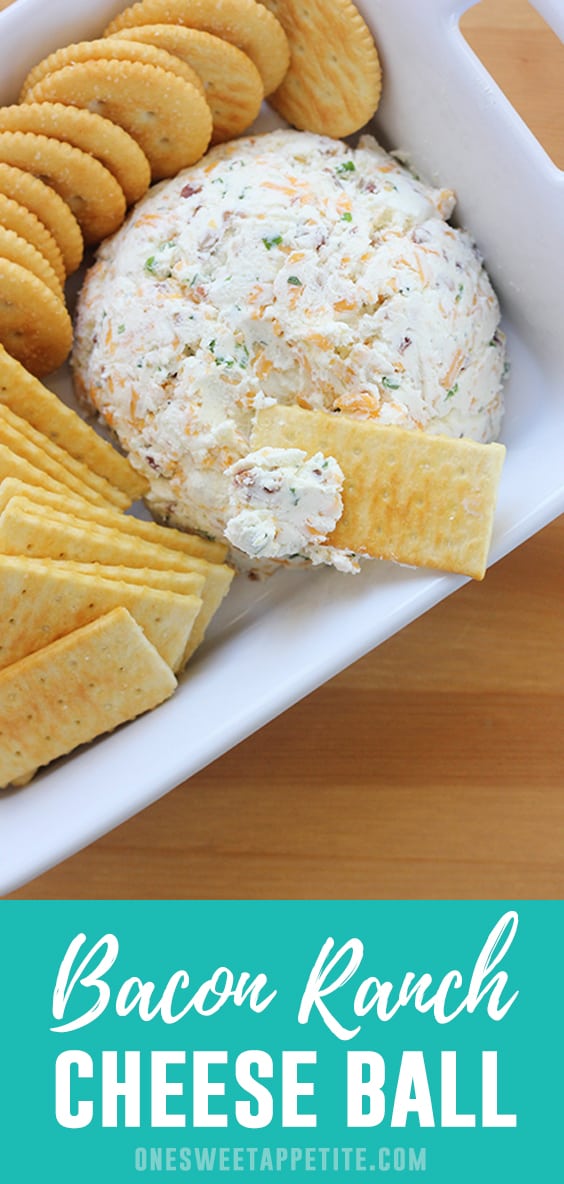 Reader Interactions