These Chocolate Waffles are the best way to satisfy your chocolate cravings! A heavenly blend of rich cocoa, fluffy perfection, and a hint of pure magic! So, grab your waffle maker and prepare to be whisked away on a cocoa-infused adventure – one bite, and you'll be smitten!
Want even more waffle recipes? Be sure to try my Perfect Belgian Waffles, Blueberry Waffles, and Banana Bread Waffles for fun variations on this classic.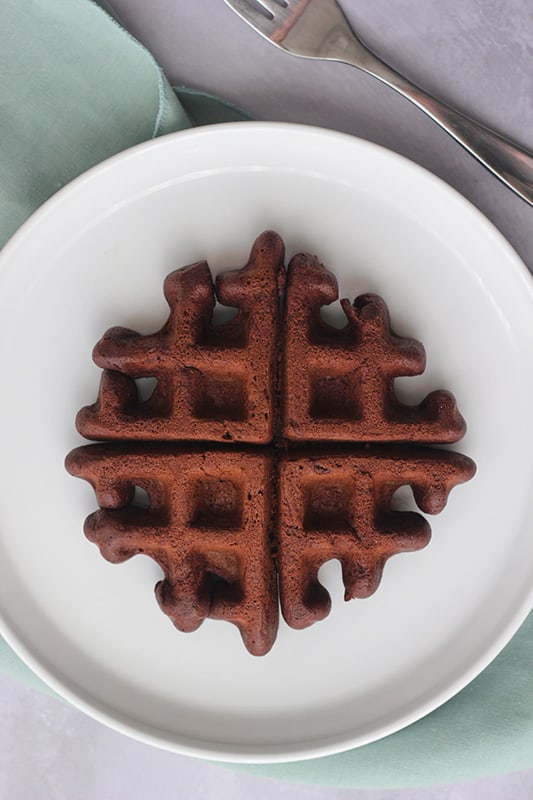 Why You'll Love These Waffles
Freeze Friendly: You can freeze this waffle recipe which makes it a must for busy mornings. Grab and go!
Rich and Delicious: You get a sweet dose of chocolate with the richness of butter!
Family Favorite: Loved by all, but especially my teenager.
"Thank you so much for this amazing recipe! My family raved about them and I'll definitely be adding them to my recipe collection! Can't wait to try the banana bread waffles next!!"

-Katie
We are obsessed with waffles. They're a quick way to make breakfast or brunch extra special and are always a hit! I can confidently say that I've made them over a dozen times, and we almost always double the recipe so we can store leftovers in the freezer. A quick pop in the toaster and you have an easy breakfast in just minutes.
Not to mention, this is my child's go-to request every Sunday. It's the one day of the week we make him whatever he wants, and this is his pick!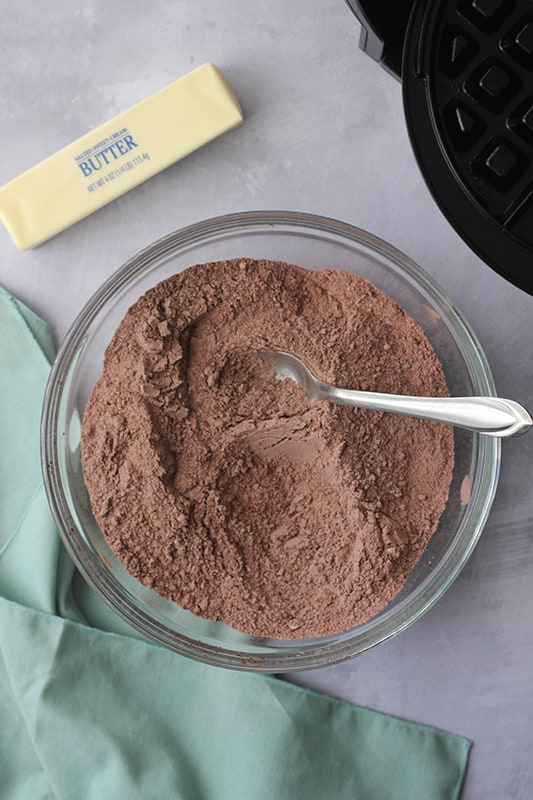 Chocolate Waffle Ingredients
I suggest using quality ingredients for this recipe. The rich flavor comes from the cocoa and is enhanced with the remaining ingredients. So if you have to pick only one to splurge on, make it the cocoa powder!
All-purpose flour: You can also opt for a white whole wheat combination.
Leavening Agents: Both baking powder and baking soda are called for in the dry ingredients. Always double check the expiration dates of ingredients. They should be replaced six months after opening.
Sugar: I like to use granulated sugar for this recipe. It really helps boost the chocolate flavor.
Cocoa powder: I tested with both Dutch cocoa, which produces a rich dark waffle, as well as traditional cocoa. Both are equally delicious.
Vanilla extract: I'm a fan of pure vanilla. Imitation vanilla can sometimes leave a slight chemical aftertaste that is less appealing.
Milk: Whole milk works best in this recipe, but you can use other varieties in a pinch. Full disclosure, I have not tried this with dairy free options. Please let us know in the comments if you do.
Eggs: Large eggs that are at room temperature will mix into the batter quickly and help avoid overmixing.
Butter: Salted or unsalted work in this recipe. I prefer the first.
Want to make these into double chocolate waffles? Stir in one cup of mini chocolate chips into the batter before cooking!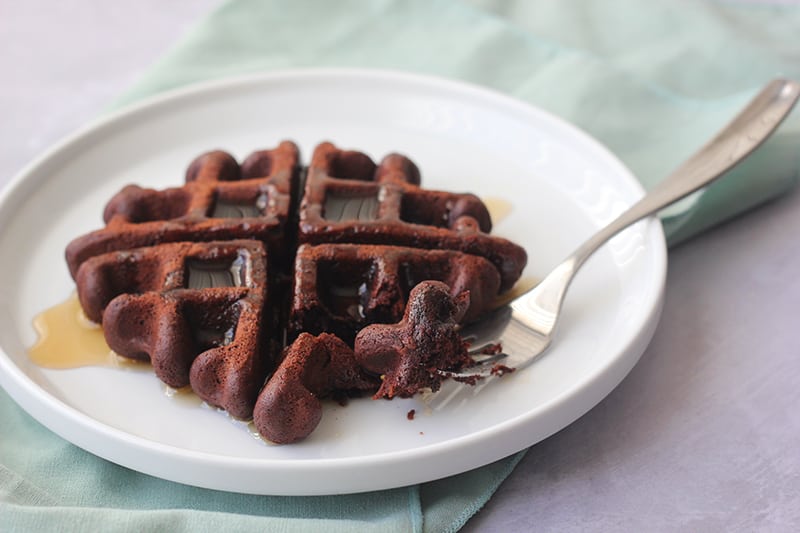 Chocolate Waffle Recipe
PREP: Preheat a waffle iron according to the manufacturer directions.
WHISK: Combine the flour, baking powder, baking soda, sugar and cocoa powder in a medium mixing bowl. Whisk until combined, about 30 seconds.
STIR: In a large measuring cup combine the vanilla, milk, egg yolks, and butter. Whisk with a fork until mostly combined, about 20 seconds. Stir into the dry ingredients and whisk until fully incorporated.
WHITES: Whip the egg whites with a hand mixer, in a clean bowl, until peaks form. Fold into the prepared batter.
COOK: Pour the mix into your waffle iron and cook until golden brown, refer to your waffle irons instructions for times and amount of batter.
Helpful Tools
Waffle Iron : A Waffle Iron (affiliate) is key for this recipe! If you are a waffle lover like me then you will want to make sure to have one in your kitchen.
Batter Dispenser: Necessary? No. Helpful? Definitely. I use this for waffles, pancakes, and cupcake batter (affiliate).
Tongs: As someone who has burned her fingers on a waffle iron more times than she can count, or cares to admit, these silicone tongs (affiliate) are a lifesaver!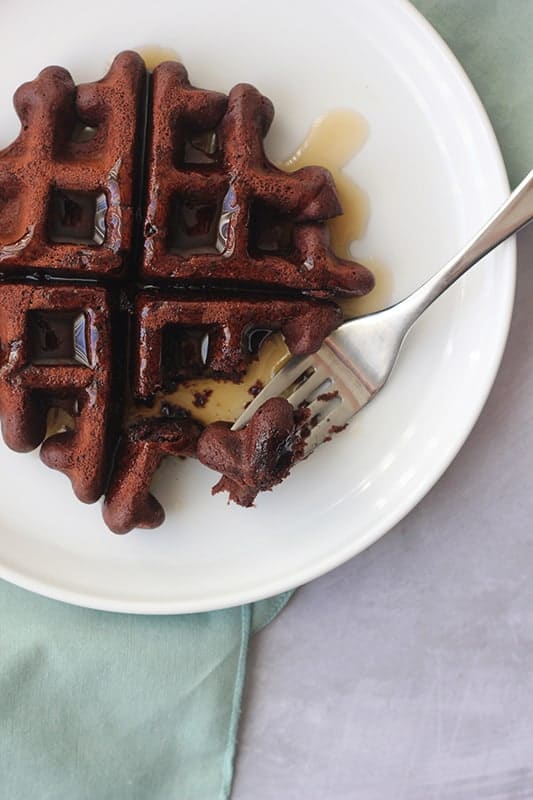 Recipe Notes:
Can I make the batter ahead of time and refrigerate it for later use?
Yes, you can make the batter ahead of time and refrigerate it for up to 24 hours. Just make sure to give it a good stir before using it as some separation might occur.
Can I freeze the leftover waffles for later consumption?
Absolutely! Once the waffles have cooled completely, you can wrap them individually in plastic wrap or aluminum foil and store them in a freezer-safe container for up to 2-3 months.
What toppings do you recommend for chocolate waffles?
We have made this recipe a handful of times, and each time we tried a new topping. Here is a list of the few we love the most to help you decide what the best toppings are for chocolate waffles.
Butter
Sliced strawberries
Whipped cream
Warm maple syrup
Nutella
Bananas
Powdered sugar
Chocolate syrup
Can I use chocolate chips in the batter for extra chocolatey goodness?
Absolutely! Adding chocolate chips to the batter will enhance the chocolate flavor and add delicious melty pockets of goodness to your waffles.
Can I substitute any ingredient for a healthier version, like whole wheat flour or a sugar substitute?
Yes, you can make some substitutions if you prefer a healthier version. You can use whole wheat flour instead of all-purpose flour, and you can experiment with sugar substitutes like stevia or monk fruit.
More Sweet Chocolate Breakfasts To Try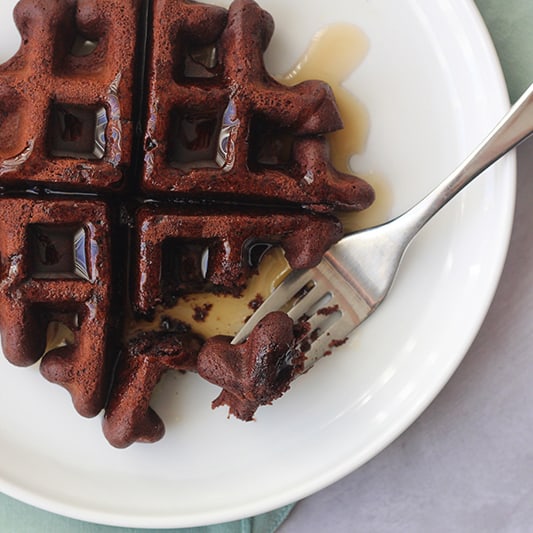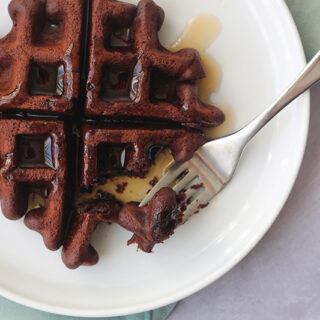 Chocolate Waffles
These easy chocolate waffles are fluffy and rich in flavor. The perfect breakfast or brunch recipe! 
Ingredients
1½ cups all-purpose flour
2 teaspoons baking powder
1/2 teaspoon baking soda
1/2 cup granulated sugar
1/2 cup cocoa powder
1 teaspoon vanilla
1 cup milk
2 eggs divided
1/2 cup butter melted
Instructions
Preheat your waffle iron. Whisk together the flour, baking powder, baking soda, sugar, and cocoa. Set aside.

In a large measuring cup combine the vanilla, milk, egg yolks, and butter. Stir into the dry ingredients until fully incorporated.

Whip the egg whites until peaks form. Fold into your batter. Pour the mix into your waffle iron and cook until golden brown.
Notes
Top your waffles with fresh fruit, whipped cream, or warm syrup!
Nutrition
Serving: 1Servings | Calories: 427kcal | Carbohydrates: 55g | Protein: 9g | Fat: 19g | Saturated Fat: 11g | Polyunsaturated Fat: 6g | Trans Fat: 1g | Cholesterol: 106mg | Sodium: 435mg | Fiber: 2g | Sugar: 17g
Equipment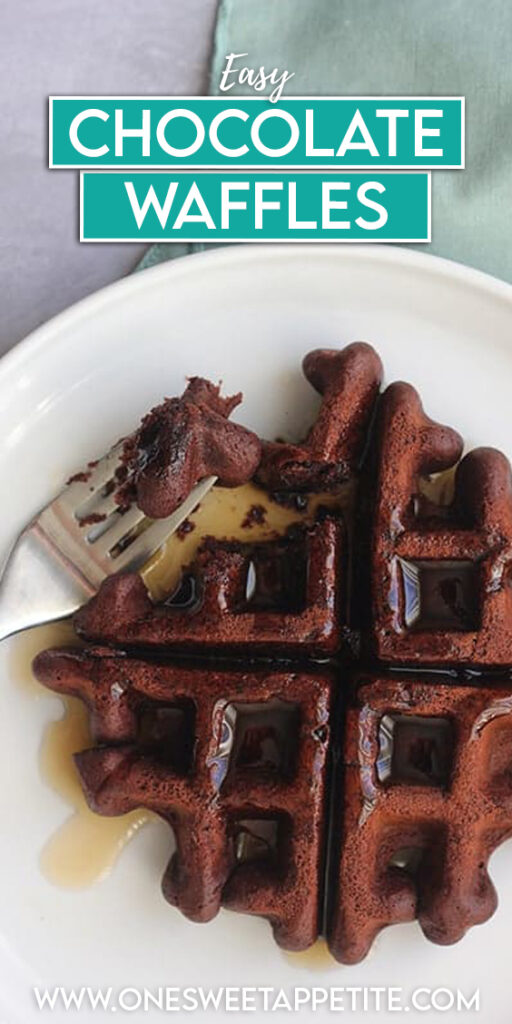 Reader Interactions