Thank you to Blendtec for generously providing the Designer 725 & Twister Jar for this giveaway! The recipe and opinions in this post are 100% mine. Let's start our morning with some fresh Blueberry Waffles and a GIVEAWAY!
I am so excited for today's post! A while back my cute friend Yvonne from
Tried and Tasty
reached out and asked if I wanted to participate in a fun blogger brunch series. Of course I jumped on the list and was super excited to see all of the participating bloggers. We have a drool worthy list of crepes, waffles, and so much more that you will want to sink your teeth into. ALL of that is starting with these delicious blueberry waffles.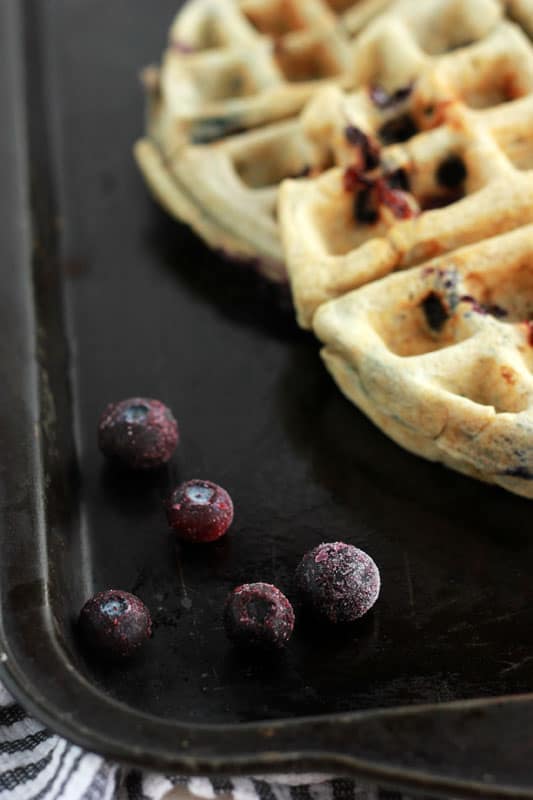 When making waffles I like to think naturally sweet. We are, after all, going to smoother these things with some
syrup
 which means there is no sugar called for in the batter. If you want to sweeten things up you can add a tablespoon or two of granulated without compromising the end results. My six year old gave these two thumbs way up and decided we should always have a bag of these stashed in the freezer for a quick weekday meal. I have to agree and my favorite part about these beauties is the marble affect you get when the berries are smashed under the weight of the iron. It causes a dark purple (or blue?) spiral throughout the waffle that is gorgeous. Top these with a dust of powdered sugar, syrup, or a blueberry sauce and you have got yourself one amazing dish.
Ingredients
1 cup all-purpose flour
1 cup whole wheat flour
2-1/4 teaspoons baking powder
1/2 teaspoon salt
1-2/3 cup milk (we used coconut milk)
3 large eggs
1/4 cup butter, melted
1 teaspoon vanilla extract
1 cup blueberries (thaw if frozen)
Instructions
Turn on your waffle iron and allow to preheat while preparing the batter.
Whisk together the two flours, baking powder, and salt in a large bowl.
Combine the milk, eggs, butter, and vanilla in a measuring cup. Stir until combined and slowly stir into your dry ingredients. Fold in your blueberries.
Scoop your batter onto your waffle iron and cook according to the directions.
https://onesweetappetite.com/blueberry-waffles/
Remember at the begging of the post when I said this was a GIVEAWAY? Bet you are ready for those details right about now, right? Well, I am going to keep you waiting just one more minute. You see, I wanted to make sure I had your FULL attention when I show you the lineup of brunch favorites we have all put together for you. Waffles, sauces, cocoa… You name it and we have a recipe for it. Check out some of the amazing work from my super talented friends below:
Blueberry Waffles | One Sweet Appetite • Caramel Cream Sauce | Mandy's Recipe Box • Whole Wheat Greek Yogurt Waffles | Tried and Tasty • Berry Preserves | The Weary Chef • Banana Bread Smoothie | Love Bakes Good Cakes
Lemon Cheesecake Crepes | Sugar & Soul • Homemade Lemon Curd | Lemon Tree Dwelling • Berries & Cream Crepes | Like Mother Like Daughter • Easy Blackberry Syrup | Cupcake Diaries • Almond Joy Hot Chocolate | Frugal Foodie Mama
And give a round of applause for the participating bloggers: 
Without further adieu… I bring you the most amazing brunch lovers giveaway!
Giveaway is available to US and Canada Residents Only
This post may contain affiliate links. I include these links to help you find specific products that are used in my recipes. If you purchase an item from the link on One Sweet Appetite, I will receive a small commission helping keep my recipes free for you.
One Sweet Appetite is a participant in the Amazon Services LLC Associates Program, an affiliate advertising program designed to provide a means for sites to earn advertising fees by advertising and linking to amazon.com

(Visited 1,324 times, 1 visits today)
2