This easy lemon bread recipe has a delicious hint of coconut! Light and moist, full of lemon flavor, and the most incredible coconut topping. The perfect sweet bread recipe to make for spring and summer!
A slice of this delicious loaf is made extra special when topped with fresh fruit and Coconut Whipped Cream!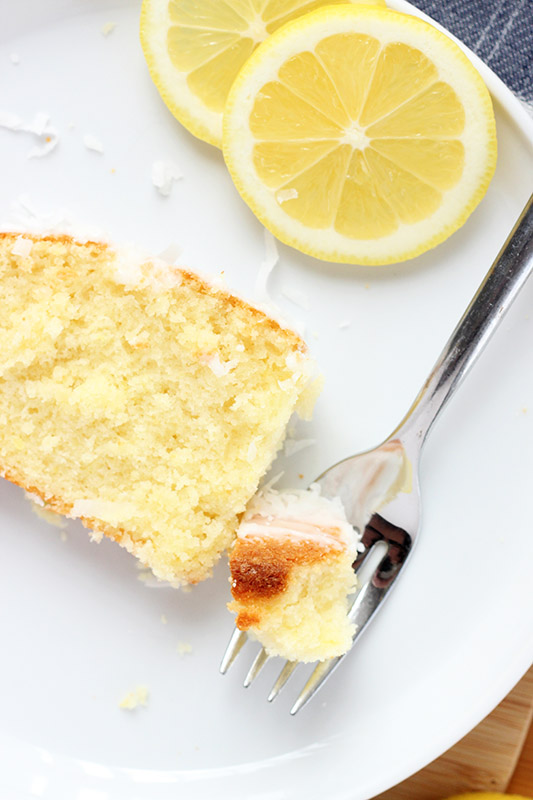 Recipe Features
No Mixer Required: This recipe is actually best mixed by hand. That means you'll be able to whip this up in a snap.
Bold Flavor: The lemon and coconut flavor is absolutely perfect. Wonderful citrus and coconut blend together beautifully.
Family Favorite: We make this all summer long, and even occasionally throughout the winter.
This easy lemon loaf cake has taken over my life. It is SO. STINKEN. GOOD. Like, if I had to pick only one dessert recipe to enjoy for the rest of my life, it would be this lemon coconut bread. It reminds me of the Starbucks Lemon Loaf, only better!
The cake is tender and moist, the icing drizzle has the perfect amount of citrus kick, and the addition of sweetened coconut shreds sends this easy dessert over the top. Enjoying a slice with your morning coffee, sneaking in a piece as an afternoon snack, or enjoying as a sweet finish to dinner. You cannot go wrong with this delicious loaf!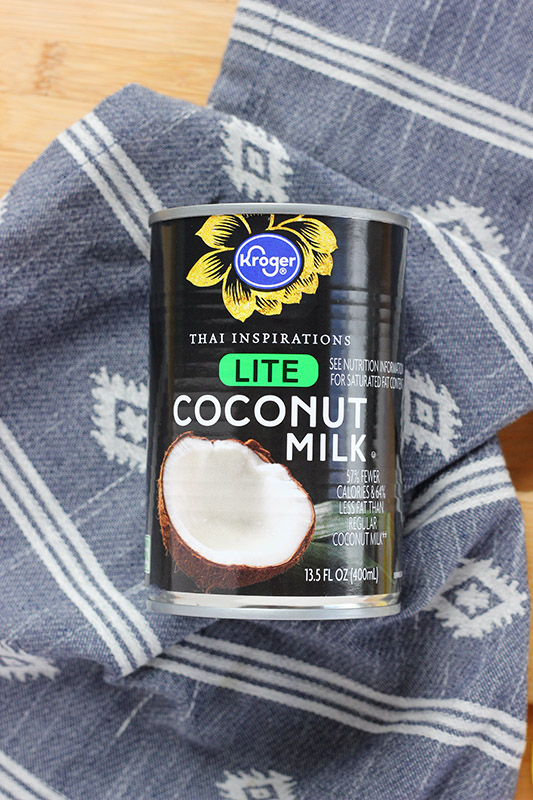 Lemon Coconut Loaf Ingredients
Like many of my dessert recipes, the ingredient list is basic and filled with items you most likely already have on hand. A few ingredients are a little more special, let's break those down and talk about substitutions.
Lemons: Fresh lemons will work best. I have used bottled lemon juice and it works ok. You will get a toned down citrus flavor, but it will still be delicious. Taking the extra few minutes to squeeze fresh lemons is worth the effort.
Coconut Milk: Canned coconut milk, or bottled, will work excellent in this recipe. We have tested lite as well as full-fat. All work well and give you a subtle hint of coconut.
Shredded Coconut: This is optional, but adds the most incredible finish and texture. Use sweetened coconut or lightly toasted. All will be delicious.
Extracts: I add just a touch of vanilla extract. It helps to blend the flavors together. You can optionally add lemon extract as well, although we find the recipe does not need it.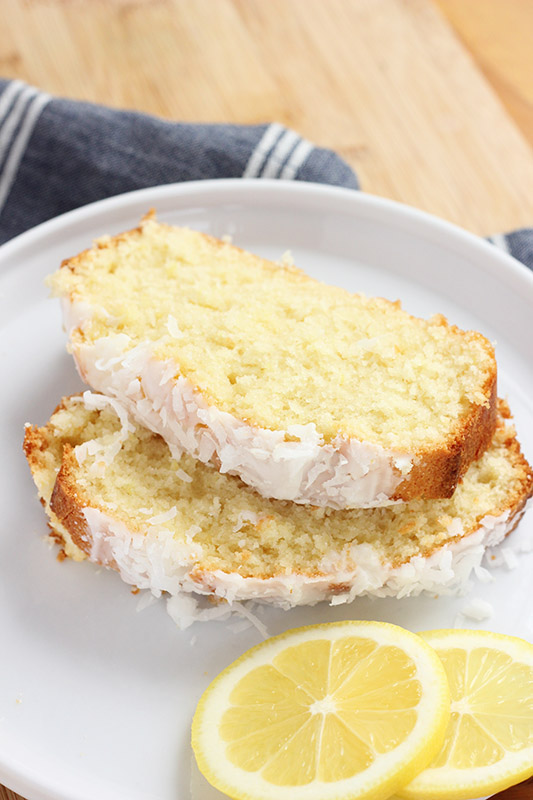 How To Make Tropical Lemon Bread
PREP: Pick up fresh lemons and start squeezing. Using fresh juice is key to the bold citrus flavor.
MIX: Hand mixing sweet breads gives you that moist and tender crumb that is hopped for. This bread rivals the Starbucks Lemon Loaf and the key is mixing by hand.
BAKE: Covering the bread with foil halfway through keeps the bread evenly browned.
TOPPING: Whipping up a lemon glaze takes seconds and gives this bread the perfect finish.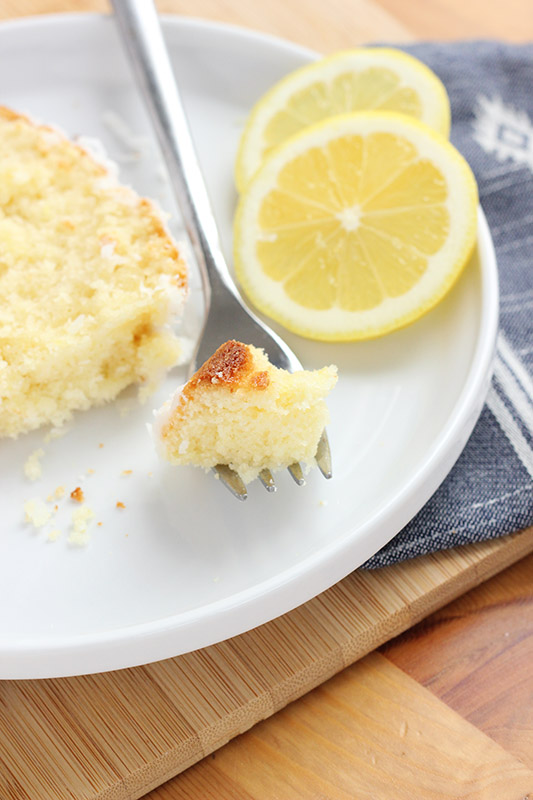 Recipe Notes:
How long does this coconut loaf last?
This simple sweet loaf will last up to 4 days if stored properly. Even longer if you make ahead and freeze.
How do you store this recipe?
This bread is best stored wrapped in plastic wrap or kept in a cake storage dish. You can keep it stored at room temperature for up to 3 days, or stored in the refrigerator for up to 6 days.
Can you freeze lemon loaf?
Yes! The best way to freeze this bread is to cook, cool, and slice. Wrap each slice individually in plastic wrap and place in a zip top bag. Freeze solid.
When ready to enjoy, allow the bread to sit at room temperature for 1 hour or heat in the microwave for 30 seconds.
Can you use toasted coconut?
Yes! We enjoy untoasted coconut. However, toasted coconut is a wonderful topping addition. Toasting coconut can be incredibly simple. Click here for a full tutorial.
Why is my bread dry?
Mixing the batter gently and watching as it bakes is key to making sure the bread turns out tender and moist. I suggest skipping the mixer and whisking the batter by hand. This avoids overmixing.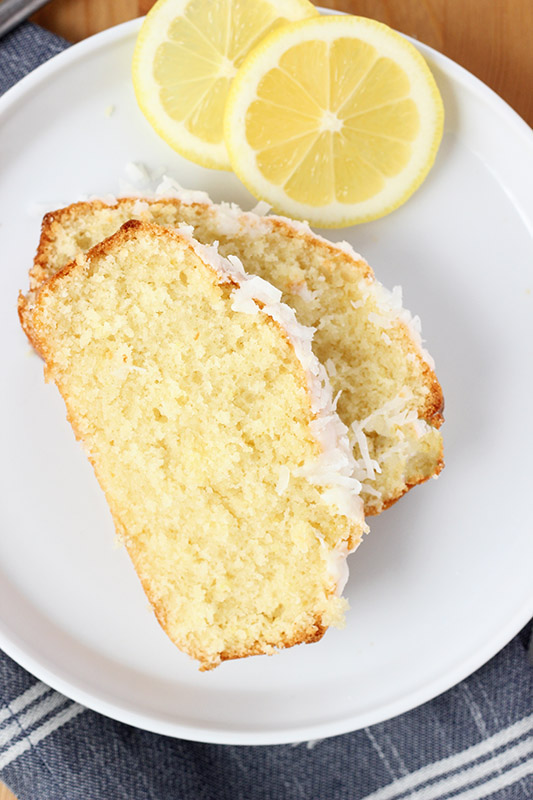 MORE MUST-TRY LEMON RECIPES
MORE COCONUT DESSERTS
Still Hungry? Follow One Sweet Appetite on Instagram, Pinterest, and Facebook!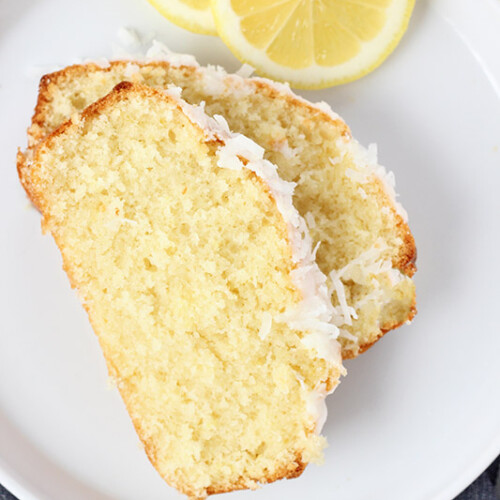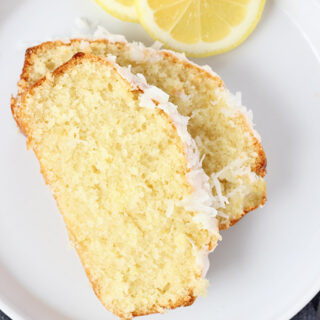 Lemon Coconut Bread
This easy lemon bread recipe has a delicious hint of coconut! Light and moist, full of lemon flavor, and the most incredible coconut topping. The perfect sweet bread recipe to make for spring and summer!
Ingredients
For the Bread:
1/2 cup soft butter
1 cup sugar
2 large eggs
2 tablespoons lemon juice
grated lemon peel of two lemons
1½ cup all-purpose flour
1 teaspoon baking powder
1/8 teaspoon salt
1/2 cup coconut milk
For the Topping:
1/2 cup powdered sugar
1 tablespoon lemon juice
1 teaspoon melted butter
1/4 cup shredded coconut
Instructions
Preheat the oven to 350 degrees.

Lightly grease a loaf pan with baking spray or butter and set aside.

Add the butter and sugar to a mixing bowl. Whisk until fully combined and slightly fluffy, about 1 minute.

Stir in the eggs, lemon juice, and lemon zest.

In a separate bowl, whisk together the flour, baking powder, and salt. Fold into the butter mixture along with the coconut milk.

Pour the batter into the prepared pan.

Bake 40 to 45 minutes, covering with foil halfway through baking.

Bread is ready after a toothpick comes out clean.
For the topping:
Whisk the powdered sugar, lemon juice, and melted butter until combined and smooth.

Spread over the top of your cooled loaf.

Sprinkle with shredded coconut.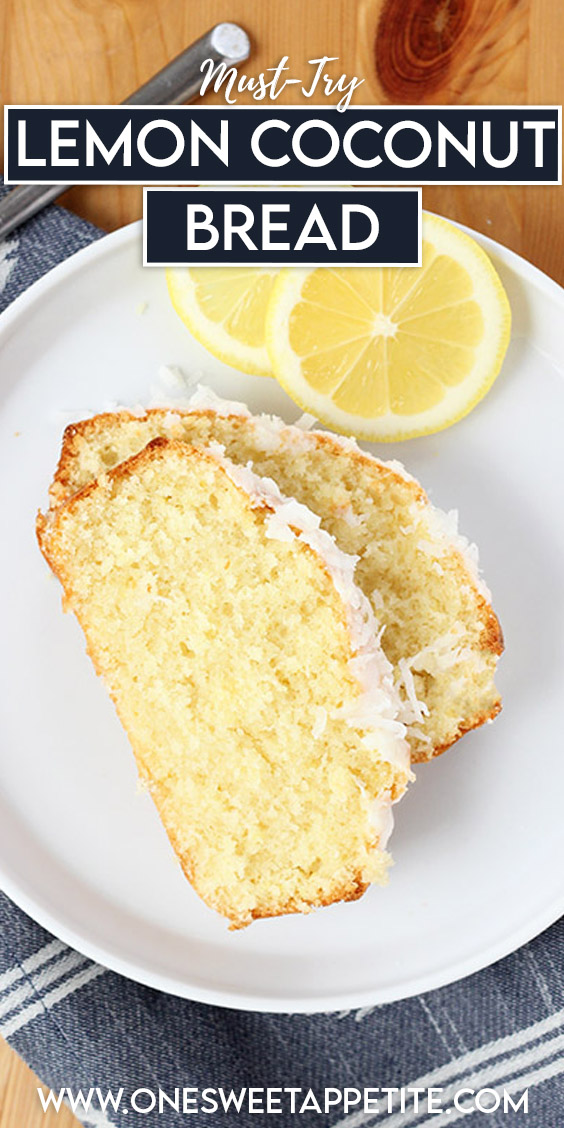 Reader Interactions