I was a little nervous to post this. Photographing tuna is not an easy task, but I love this recipe enough that I knew I just had to share it with all of you. It's my semi healthy version of a classic. This is the perfect tuna salad. Which is great when you are in the need for a quick filling meal. Pack it in your kids lunch boxes, take it out on a picnic, or just enjoy it at home.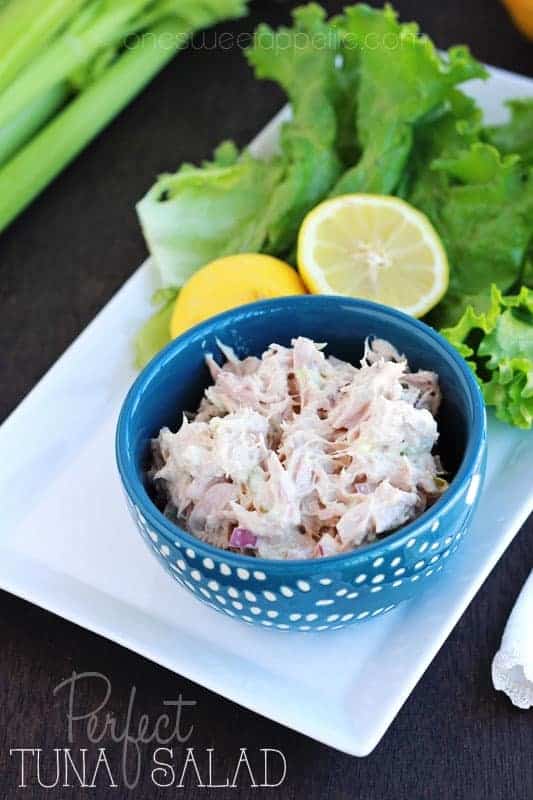 Perfect Tuna Salad
Ingredients
2 cans of tuna drained
2 tablespoon celery finely diced
2 tablespoon red onion finely diced
1 tablespoon Dijon mustard
1/4 cup Greek yogurt
2 tablespoons sweet relish
Juice of 1 lemon
salt and pepper to taste
Instructions
Combine all of the ingredients in a large bowl. Serve on lightly toasted bread, croissants, or rolled in lettuce.
Nutrition
Serving: 1Servings
Did you know that Greek yogurt is a super simple substitution for mayo? Me either. Until now. Apparently you can even use it in baking! Try it out. You can thank me later. Some people like to add cashews or grapes, but I'm a plain Jane kind of girl. The celery and onion add enough crunch all on their own, and the addition of lemon gives it a fun citrus flavor. Perfect summer dish!
Love tuna but searching for a more filling meal? Try my Lemon Pepper Tuna Burgers!
Try out these fun sides to go along with the meal:
Mint Fruit Salad
Chicken, Corn, & Tomato Pasta Salad
Tomato Feta Pasta Salad
Simple Balsamic Vinaigrette
Blackberry Lemonade
Mint Limeade
Turkey Wrap
Combine a few of these great recipes and you have got yourself one flavor packed picnic!
Reader Interactions