I bought a few too many raspberries. Do you ever do that? Stock up on something because it's such a great deal only to get home and realize your eyes were possibly too big for your stomach? It seems like fruits and vegetables go bad far to quickly. I decided the weather is warming up and it's about time to make some frozen treats. But first… Let's pause and look at how pretty these red berries can be when they are covered in a tiny layer of frost!
These raspberry yogurt pops are addicting. I could eat all of them in one sitting. Every single one. I wouldn't even feel guilty. That probably has something to do with the fact that it only has three ingredients. All of them healthy.
*gasp*
I promise I'm not turning into a health food blogger. Although I don't mind the occasionally healthy meal. This one really just happened to work in my favor. I took a look in my fridge and pulled out what I had on hand. Just like that these addicting pops were born!
Originally I was hoping to make a key lime pop but that will have to wait until later this summer. This raspberry version has stolen my heart. I even have a hard time sharing with my main squeeze. I hid them in the back of the freezer under the vegetables to keep them tucked away from my husband. Does that make me just the worst person?
Like this recipe? You will love my…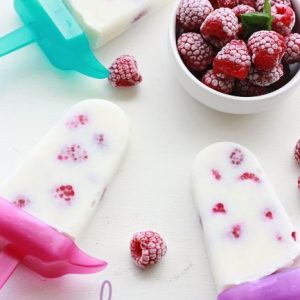 Raspberry Yogurt Pops
Ingredients
1 cup Greek yogurt
2 tablespoons of honey
1 cup frozen raspberries
2 tablespoons lime juice optional
Instructions
Mix together the yogurt and honey. Add the lime juice if you are looking for a nice citrus zing. Fold in the frozen berries as quickly as possible.

Place in your popsicle molds and freeze solid.
Nutrition
Serving: 1Servings
Reader Interactions