Wahoo! It's donut day! Well, more like donut week. I have so many great recipes lined up and all of them are inspired by this fun donut blog hop that was put together by the adorable Vanessa from Our Thrifty Ideas. At the bottom of this post you will find a list of great tasting donut recipes just begging for you to try out. I've always loved a good maple bar and decided to kick things up a notch with a secret ingredient. Bacon. These maple bacon donuts are fluffy breakfast goodness.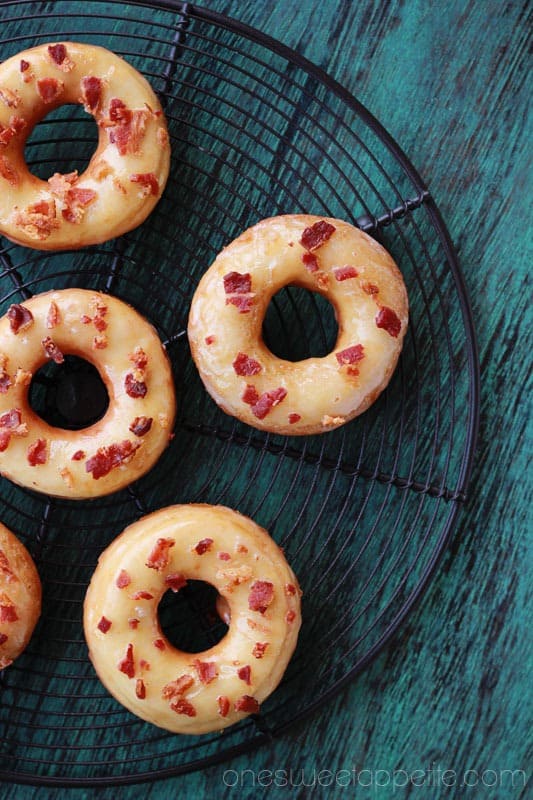 Maple Bacon Donuts
Ingredients
1-1/4 oz package yeast
2 tablespoons warm water
3/4 cups warm milk
1/4 cup sugar
1/2 teaspoon salt
1 egg
2-1/2 tablespoons shortening
2-1/2 cups flour
oil for frying
1-1/2 cup powdered sugar
1/4 teaspoon maple extract
1-2 tablespoons milk
bacon, cooked and chopped
Instructions
Stir together your yeast with the water, and milk. Let that sit for five minutes or until foamy. Stir in the sugar, salt, egg, shortening and flour. Beat on medium speed for two minutes or until the dough comes together. Lightly spray a glass dish with cooking spray, place your dough in the dish, cover, and let rise until doubled. This should take 45 minutes to 1 hour.
Roll your dough to 1/2 inch thickness. Cut out your donut shapes and set on a parchment lined pan. Cover and let them rest 15 minutes.
Heat your oil to 350 degrees. Fry each donut for 40 seconds on each side or up to one minute. Donuts are done when slightly browned.
In a small bowl whisk together the powdered sugar, maple extract, and milk. Dip your donuts into your glaze and sprinkle with bacon.
Mini donuts are becoming a trend (or so I hear) so I used a mini donut cutter. Let me just tell you… these are just adorable. The fact that they are half the size makes me feel like I can get away with eating one or ten extra. I used thick sliced bacon to be sure there would be extra crunch in the topping.
Now browse around these other great sites and see what flavors they are cooking up!
Related Recipes: