These soft and fluffy Maple Bacon Donuts are so easy to make and the perfect balance of sweet and salty! A classic flavor that never fails to satisfy.
Looking to save some time? Try cooking your bacon in the oven! This time saving kitchen hack is our go-to and a quick way to cook large batches of bacon at once. Perfect pieces every single time.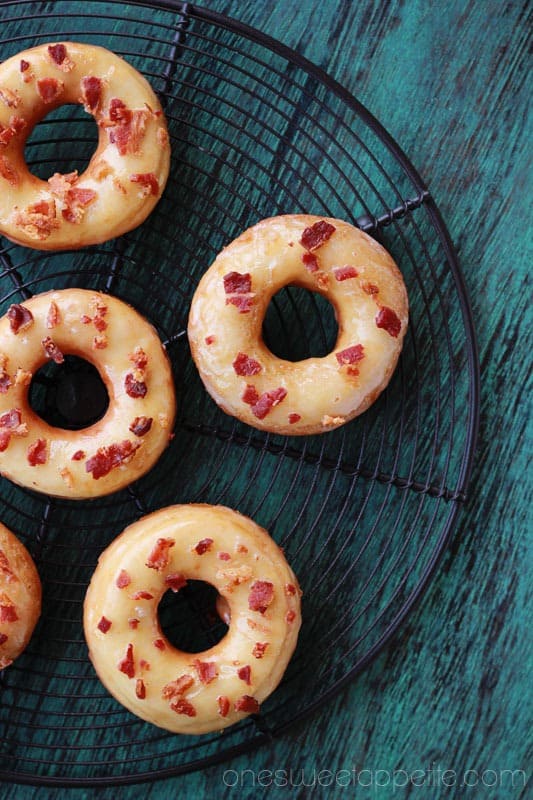 RECIPE FEATURES
Family Favorite: The combination of sweet and salty is a winner all around.
Make-Ahead: Since the dough needs time to rise, you'll need to plan ahead a smidge. I start mine the night before and keep it stored in the refrigerator.
Easy to Customize: Want a plain maple donut? Skip the bacon. Looking for a chocolate drizzle? Add one!
Years ago I attempted to make my own version of Krispy Kreme Donuts. I was blown away at how easy the process actually was. It can be intimidating when you are working with yeast for the very first time, but this recipe is fool-proof. We make it constantly and I knew it was time to add in a new flavor.
I truly thought I would never love a flavor more than that original recipe, but these maple bacon doughnuts are giving classic glazed a run for their money. They are so incredibly light and tender, almost melt-in-your-mouth, and pack a flavor punch in every single bite. The sweet maple glaze paired with the salty bacon is a match made in heaven.
MAPLE BACON DONUT INGREDIENTS
This recipe uses a yeast dough, but don't be intimidated. I am going to walk you through, step by step, how easy it is to work with yeast to get the most fluffy and delicious donuts. And you only need basic ingredients to get started! I guarantee you can do this and by the end of your first batch you will feel like a pro.
Yeast: Active dry yeast is what you are searching for. This is sold in packets or jars. Just be sure you store it in a cool dry place to keep it fresh.
Water and Milk: Warm, but not too hot. These two ingredients are going to help activate the yeast which in turn gives you a beautiful rise to the dough. I like to say just slightly above room temperature. You want to be able to hold your finger in the water without it burning.
Sugar: Sugar does two things in this recipe. It sweetens the dough and helps to feed the yeast.
Salt: Just a pinch to help balance the flavors.
Egg: Large egg at room temperature. Making sure everything is warm ensures that the dough will double in size quickly.
Butter: Or shortening. I lean firmly on the side of "butter makes everything taste better," but have used shortening in this recipe with great success.
Flour: All-purpose, or regular white flour, is needed to form the dough structure. For a very soft and pillowy dough be sure to stick with the measurements called for. Even if it seems a bit sticky.
Oil: I opt for vegetable oil. It is fairly inexpensive and does not leave behind any flavor.
The maple glaze on these donuts is what takes them from good to great. I could eat this by the spoonful. It is thick, but not too thick, and coats each donut perfectly. All you need is butter, maple syrup, powdered sugar, salt, and maple extract.
Bonus, this maple glaze will easily become a favorite. Use it on other baked goods like my Snickerdoodle cupcakes, Banana Bars, or even Peach Cupcakes for a delicious finish!
HOW TO MAKE MAPLE DONUTS WITH BACON
PREP: Start by measuring all of the ingredients. It's helpful to start proofing (mixing the yeast with milk) the yeast at this point too, as this can take 5 to 10 minutes. I also suggest reading through the recipe instructions before you start. That way you can build a plan and know what is coming next.
MIX: Once the yeast has started to bloom you are ready to mix together the dough. If using a stand mixer, this will take roughly 5 minutes.
RISE: Cover the dough and let it rest for about 1 hour, or until it has doubled in size. Turn out onto a lightly floured surface and roll to 1/2 inch thickness. Cut out your donuts, cover, and let them rest about 15 minutes more.
COOK: Heat your oil to 350 degrees. Fry each donut 40 seconds on each side, or until lightly browned. Transfer to a cooling rack.
DIP: While the donuts are cooling, whip together the ingredients for your glaze. Dip the top of each donut and sprinkle with crumbled bacon pieces.
ENJOY: Best served warm, but delicious even cool.
HELPFUL TOOLS
Stand Mixer: This dough comes together best with a stand mixer (affiliate) fitted with the paddle attachment. However, you could start with a hand mixer and knead the dough by hand if needed.
Electric Skillet: Not necessary, but an easy way to ensure you keep your temperature right at 350 degrees while frying. This electric skillet (affiliate) is surprisingly one of my favorite kitchen tools.
Tongs: Do NOT try to touch these donuts while they are in the oil. Use tongs (affiliate) or a long skewer to flip and pull these out of the oven.
MORE MUST-TRY DONUT RECIPES
Still Hungry? Follow One Sweet Appetite on Instagram, Pinterest, and Facebook!
Maple Bacon Donuts
These soft and fluffy Maple Bacon Donuts are so easy to make and the perfect balance of sweet and salty! A classic flavor that never fails to satisfy.
Ingredients
Donuts
1-1/4 oz package yeast
2 tablespoons warm water
3/4 cups warm milk
1/4 cup sugar
1/2 teaspoon salt
1 large egg
2-1/2 tablespoons melted butter or shortening
2-1/2 cups all-purpose flour
1-2 quarts oil for frying
Glaze
3 tablespoons butter
1/2 cup maple syrup
1/4 teaspoon maple extract
1-3/4 cup powdered sugar
pinch salt
6-12 slices cooked bacon crumbled
Instructions
For the Dough:
Combine the yeast, water, and milk in your mixing bowl. Let sit for 5 minutes, or until the yeast starts to bloom (foam).

Fit your mixer with the paddle attachment and slowly stir in the sugar, salt, egg, and melted butter.

Add the flour, one cup at a time, and mix until the dough starts to come together and pull away from the side, about 2 minutes.

Mist a glass bowl with cooking spray. Place the dough into the dish, turning once to coat with the spray, and cover with a clean cloth.

Place in a warm area and allow to rise for 1 hour, or until doubled in size.

Turn the dough out onto a lightly floured surface. Roll to 1/2 inch thickness and cut into donut shapes using a cutter.

Place the cut donuts, and donut balls, onto a parchment lined pan. Cover with a clean towel and allow them to rest for 15 minutes.

Heat the oil to 350 degrees.

Fry each donut for 40 seconds on each side, or until golden brown. Remove and place on a cooling rack.
For the Glaze:
Stir together the butter and maple syrup in a small saucepan.

Heat over low heat until the butter has melted, being sure to stir frequently. Remove from the heat and whisk in the maple extract, powdered sugar, and salt.

Dip the tops of each donut into the glaze and sprinkle with bacon.

If the glaze starts to harden, simply put it over the burner and warm it up, whisking until thinned.

Notes
Overnight Instructions:
Prep the dough through the initial mixing. Before allowing the dough to rise, cover tightly and place in the refrigerator. The dough can stay refrigerated up to 12 hours.
When ready to cook, remove from the refrigerator and allow to rise in a warm area until doubled.
Follow the instructions for cooking.
Nutrition
Serving: 1Servings
Reader Interactions