This post was updated on by Jesseca
Apple Cider Donuts… If they aren't on your fall bucket list they should be.
A few months ago I got to travel with a few of my favorite bloggers to Portland and experience the city. It was a fun filled weekend full of learning and lots of eating. There were so many delicious meals but one of my favorite treats had to have been the donuts! I'm sure you know that the famous Voodoo Doughnuts is in the city but have you heard about Blue Star? We heard it was a must try and boy-oh-boy was it! We sampled from both locations but it's very possible I had Blue Star more than once. That place really knows how to fry dough and I've been missing their little round shaped cakes ever since I left.
So of course I had to try making my own. A few things I learned…
-Frying food isn't all cookies and sunshine. It's messy and stinky. I think my entire house smelled like hot oil for three days.
-It's hard to flip a donut the first few times. Don't give up. You'll get the hang of things.
-Homemade donuts are delicious.
Seriously, there is nothing quite like a warm donut that's fresh from the fryer. Dip it in a little cinnamon and sugar, add a glaze, or just enjoy plain! Either way you can't go wrong.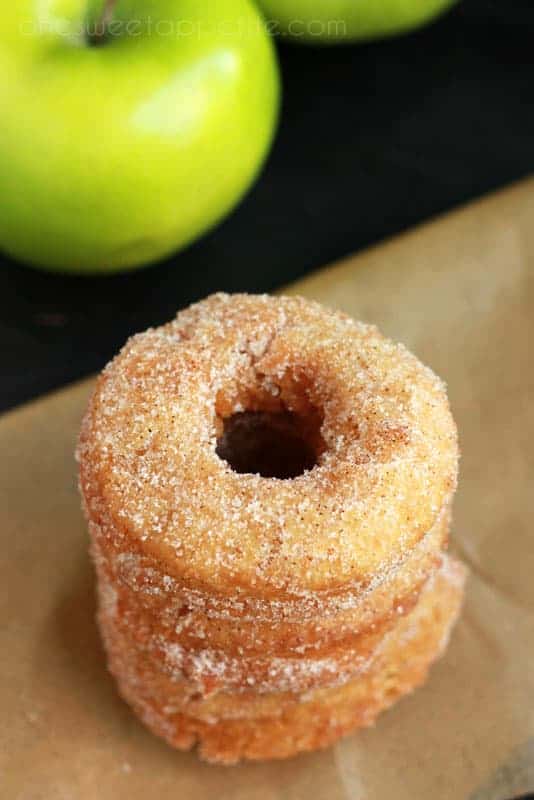 I  wanted a fall flavor but am not quite ready to bring on the pumpkin. Since apple season is in full swing I thought this would be a great place to start! After one failed attempt (cutting a dough with chunks of apple isn't as easy as I thought) I decided to skip putting fresh apples in the dough and use apple cider instead!
These donuts are so so delicious. You start by reducing the cider which enhances the flavor, gently fold and fry the dough, and end with a simple cinnamon sugar coating. The end result is an almost cake like donut that has a mild apple flavor and disappears almost as quickly as you make them. We actually made two different toppings. The first is a cinnamon and sugar (but I'm sure you could substitute apple pie spice with great results) and the second is a sweet cider glaze. Both are amazing so I'll let you decide which you want to try!
Apple Cider Donuts
Yield: 24 small or 14 large donuts
Ingredients
For the donuts:
2

cup

apple cider

3 1/2

cups

flour

1/3

cup

brown sugar

1/3

cup

granulated sugar

2

teaspoons

baking powder

3/4

teaspoons

salt

1/2

teaspoon

baking soda

3/4

teaspoon

apple pie spice

2

eggs

6

tablespoons

butter

melted

oil for frying
For the cinnamon sugar topping:
1/4

cup

sugar

1

tablespoon

cinnamon

For the apple cider glaze:

1/3

cup

powdered sugar

pinch

cinnamon

1

tablespoon

reduced apple cider
Instructions
Pour the apple cider into a small pot. Heat over medium until reduced in half. Cool to room temperature and reserve 1-2 tablespoons for the glaze.

Whisk together the flour, sugars, baking powder, salt, baking soda, and apple pie spice in a large bowl.

In a measuring cup combine the eggs, melted butter, and cooled cider.

Fold the wet ingredients into the dry until just moistened. Cover with plastic wrap and refrigerate 30 minutes or until chilled.

Turn your dough out onto a lightly floured surface. Pat into a 1/2 inch thickness and cut your donuts using a donut cutter.

Heat your oil to 365 degrees. Cook the donuts 1-2 minutes on each side until lightly browned and cooked through. Dip in cinnamon sugar mixture or glaze while still slightly warm.

For the cinnamon and sugar: Combine ingredients until incorporated. Dip warm donuts to coat.

For the glaze: Combine all of the ingredients in a small bowl. Whisk with a fork. Dip the tops of donuts.
Recipe Notes
Don't have a donut cutter? No problem! Just use a cup and small shot glass to create those perfect rounds. You can substitute the apple pie spice with 1/2 teaspoon cinnamon and 1/4 teaspoon nutmeg.
Recipe adapted from Taste of Home.
(Visited 3,222 times, 1 visits today)
14