Sink your teeth into autumn's finest fusion of flavors with these Baked Apple Cider Donuts. It's like a cozy hug from your taste buds, delivering a cinnamon-spiced punch that leaves ordinary donuts feeling jelly-filled with envy. As you take your first bite, prepare for a mouthful of warm nostalgia, paired with the guilty pleasure of licking cinnamon sugar off your fingertips.
So deliciously satisfying, they might just inspire you to throw on a flannel shirt, light a bonfire, and proclaim yourself the supreme ruler of fall treats.
Looking for more fall flavors? Try my Apple Cinnamon Jelly, Slow Cooker Apple Cider, Caramel Apple Pie, Apple Cupcakes and Apple Crumb Bars!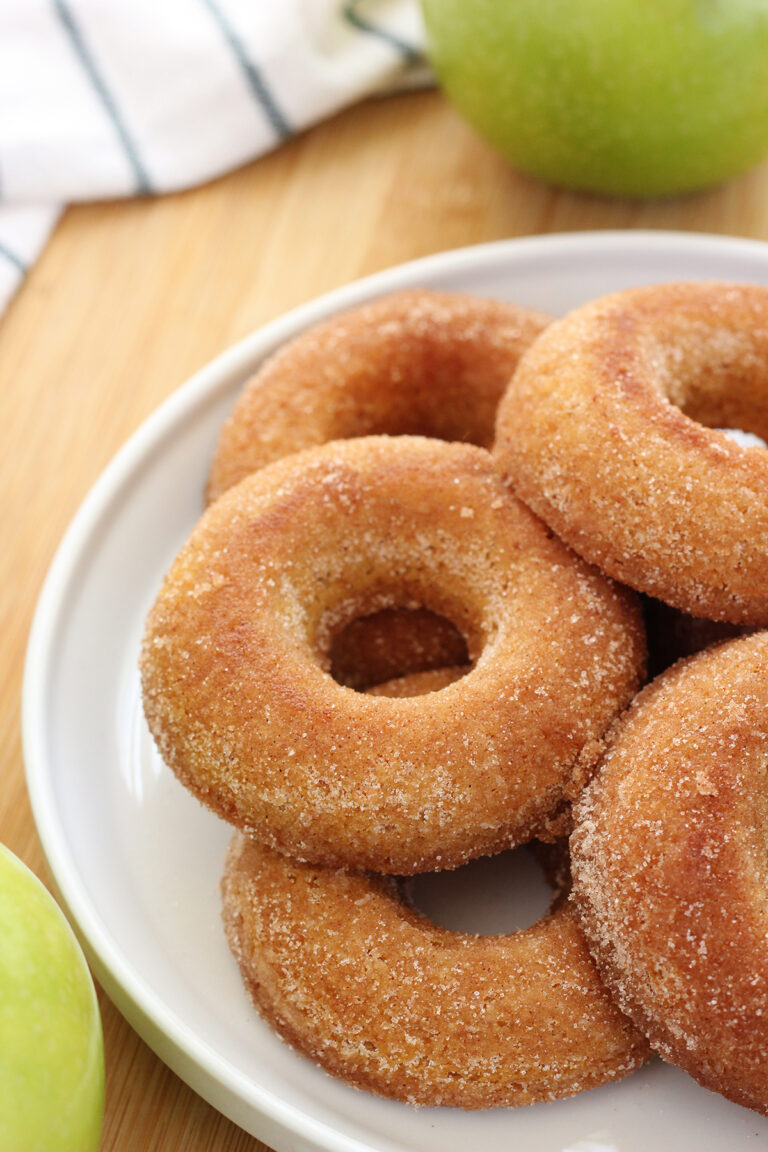 Why You'll Love This Easy Baked Donut
Easy: Baked donuts are so simple to make and less messy than their fried counterparts.
Fall Flavor: Using apple cider gives you a bold apple flavor that is drool worthy.
Melt In Your Mouth: Each bite you take will literally melt in your mouth and deliver in a flavor punch that will have you craving more!
We have the most adorable farm close to our house that opens its doors every fall. They let you interact with the animals, make your way through the corn maze, and eat the most incredible apple cider donuts. When I tell you those donuts are my all-time favorite treat, there is zero exaggeration. If I get a dozen I will share zero of them with my family.
These donuts are so stinken close to that recipe, with one slight swap. Instead of frying these are baked! So easy to make and packed with just the right balance of apple and spice. You are going to fall hard for this sweet treat and everyone will be begging for you to make these over and over.
Apple Donut Ingredients
Apple Cider: I highly recommend picking a cider that you love. This is going to be providing a lot of the flavor, so it's important for you to choose one that you already love. And don't skip reducing! It's basically like taking the flavor and doubling it into a syrup-like liquid gold.
All-Purpose Flour: You could also make this with a white whole wheat.
Baking Powder and Salt: I like to suggest that you always double check the expiration date on your leavening agents. Baking powder actually goes bad, so it's key to use fresh ingredients.
Spices: Cinnamon and nutmeg combine to help enhance that apple flavor.
Butter: Butter is used as a fat in the cake, to help keep things moist while baking, as well as the topping.
Sugars: I like to use a mix of brown and granulated sugar to help get that rich nuttiness you get from brown.
Eggs: Large eggs work as a binding agent for this cake.
Vanilla: Pure vanilla extract, not imitation, will give you the best flavor.
This recipe also uses a cinnamon and sugar topping. Alternately, you could make a glaze using 1 cup of powdered sugar and 2 to 3 tablespoons of the apple cider.
Apple Cider Donuts Recipe
PREP: The biggest tip here is to take the time to reduce the apple cider. What does that mean exactly? You'll simply simmer the cider until it has reduced by half. This helps to enhance the flavor and gives these donuts a delicious pronounced flavor.
BATTER: Make the batter by creaming the butter and sugars, whipping in the eggs, drizzling in the cider, and stirring in the dry ingredients.
BAKE: Divide the batter into greased donut pans and bake until they are light, fluffy, and slightly browned. Immediately remove from the pans to a wire rack to start to cool.
TOPPING: Dip the donuts into melted butter and sprinkle with a cinnamon and sugar topping.
ENJOY: Serve these warm and try not to eat them all in one sitting. Or do, this is a judgement free zone.
Helpful Tools
Donut Pan: These can be made in either a donut pan (affiliate) or a muffin tin (affiliate).
Piping Bags: Can you spoon the batter into the pan? Yes. But it is much easier to use a piping bag (affiliate). They are inexpensive and give you a perfect filled donut.
Silicone Pastry Brush: A good pastry brush (affiliate) will make it super simple to get butter on every inch of the donut.
Recipe Notes:
Can I use store-bought apple cider for the recipe?
Absolutely! While fresh apple cider adds a delightful touch, store-bought cider works just as well and ensures consistent flavor.
Can I make these donuts without a donut pan?
Yes, you can! If you don't have a donut pan, you can use a muffin tin instead. Simply shape the dough into small rounds and place them in the muffin tin. They will bake into delicious apple cider muffins.
Can these baked donuts be frozen?
Definitely! Once the donuts have cooled completely, you can store them in an airtight container or freezer bag and freeze them for up to three months. Just thaw them at room temperature or reheat them in the oven for a few minutes before enjoying.
Can I use a different glaze for the donuts?
Of course! While the recipe suggests a classic cinnamon sugar coating, you can get creative with your glaze choices. Consider a vanilla or maple glaze, a caramel drizzle, or even a spiced apple glaze to enhance the apple cider flavors.
How long do these donuts stay fresh?
Baked apple cider donuts can typically last for about 2 to 3 days when stored properly. To maximize their freshness, it's best to store them in an airtight container at room temperature.
Still Hungry? Follow One Sweet Appetite on Instagram, Pinterest, and Facebook!
Baked Apple Cider Donuts
These heavenly circles of temptation are made with love, apples straight from the orchard, and a dash of mischievous cider. As you take your first bite, prepare for a mouthful of warm nostalgia, paired with the guilty pleasure of licking cinnamon sugar off your fingertips.
Ingredients
Donuts
1 cup apple cider
1¾ cups all-purpose flour
1¼ teaspoon baking powder
½ teaspoon salt
1 teaspoon ground cinnamon
1/2 teaspoon ground nutmeg
10 tablespoons butter softened
3/4 cup brown sugar
1/4 cup granulated sugar
2 large eggs
1 teaspoon vanilla extract
Cinnamon Sugar Topping
1/2 cup granulated sugar
1 tablespoon ground cinnamon
6 tablespoons butter melted
Instructions
Donuts
Pour the apple cider into a small pot and bring to a boil. Lower the heat and allow the cider to simmer until it has reduced to half a cup. Remove from the heat and allow to cool.

Preheat the oven to 350 degrees. Mist two six count donut pans with baking spray and set aside for later.

Whisk together the flour, baking powder, salt, cinnamon and nutmeg in a small mixing bowl and set aside.

Place the butter, brown sugar, and 1/4 cup of granulated sugar into the bowl of a stand mixer that is fitted with the paddle attachment. Mix at low/medium speed until combined fully and fluffy, about 1 minute.

Scrape the sides of the bowl and add the eggs and vanilla. Mix for 30 seconds or until the eggs are combined fully.

Slowly stir in the apple cider that has been reduced.

Mix the dry ingredients into the butter mixture and continue to stir until the batter forms and the flour is fully incorporated, about a minute.

Divide the batter between the prepared donut pans, filling each 2/3 full. I like to use either a piping bag or a zip top bag with the corner snipped to make this easier.

Bake the donuts for 10 to 12 minutes, or until a toothpick poked into the center comes out clean.

Flip out of the pan and onto a cooling rack then move on to the topping.
Topping
Combine the remaining 1/2 cup of sugar with 1 tablespoon of cinnamon in a shallow dish.

Dip the donuts into the butter, turning to coat completely, and coat in the sugar mixture.

Repeat until all of the donuts are covered and enjoy!
Notes
These donuts are best enjoyed on the day they are made, but you can store them in an airtight container for 2-3 days at room temperature or freeze them for up to 3 months. This recipe was adapted from New York Times
Nutrition
Serving: 1donut | Calories: 325kcal | Carbohydrates: 43g | Protein: 3g | Fat: 16g | Saturated Fat: 10g | Polyunsaturated Fat: 1g | Monounsaturated Fat: 4g | Trans Fat: 1g | Cholesterol: 71mg | Sodium: 278mg | Potassium: 78mg | Fiber: 1g | Sugar: 28g | Vitamin A: 515IU | Vitamin C: 0.2mg | Calcium: 58mg | Iron: 1mg
Equipment
Reader Interactions