You only need a few ingredients and 10 minutes for this easy Buckeye Recipe. These no-bake peanut butter balls are dipped in dark chocolate for the ultimate chocolate peanut butter combo. Make them in advance for a quick treat ready whenever you get a sweet tooth.
No-bake treats are a must for any recipe box! Be sure to check out my Peanut Butter Bars and No-Bake Cheesecake for more tasty treats that don't need the oven!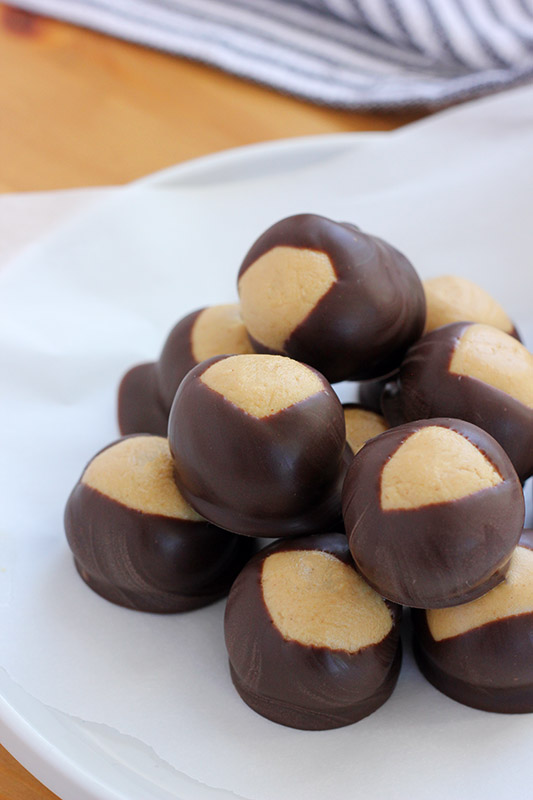 Recipe Features
No-Bake Dessert: No oven or stove required!
5-Ingredients: Most of the ingredients are commonly found in the kitchen, which means you can start making these asap!
Make-Ahead: Because they call for basic ingredients, you can keep these around for a hefty 30 days.
This recipe is SO EASY to make. Honestly, if you are looking for a quick treat to enjoy or share, this is it. Minimal ingredients, quick assembly, and simply delicious.
This no-bake treat is perfect for candy beginners. You only need a handful of ingredients and about 20 minutes of your time. The hardest part is trying not to eat all of the bite sized candies before the chocolate sets.
What Is Buckeye Candy Made Of?
The BEST easy buckeye recipe starts with the right peanut butter. I specifically stay away from natural pb. It doesn't hold up as well and gives you a crumbly filling that is difficult to work with. Jif or Skippy has been our go-to.
Peanut Butter: Creamy peanut butter, to be exact. Pick your favorite brand and try to stay away from natural peanut butters. The separating of oil will keep them from sticking together.
Butter: Just a touch of butter to help bind together the peanut butter bite. I recommend using unsalted butter for this one. There is a lot of salt in the peanut butter and no need to add more.
Vanilla Extract: Just a touch of vanilla has the flavors blend together perfectly.
Powdered Sugar: Powdered sugar is more fine, which makes it less gritty. It adds just the perfect amount of sweetness.
Dark Chocolate: For this recipe reach for good chocolate. The semi-sweet chocolate mixed with the salty peanut butter makes for the PERFECT dessert.
How To Make Buckeyes
GATHER INGREDIENTS: I like to start all of my recipes by measuring the ingredients. This helps the process flow smoothly.
MIX: Mix together the dough balls by combining the peanut butter, vanilla, and powdered sugar. Form balls using a scoop or spoon and chill.
MELT: Melt the chocolate, adding a teaspoon or two of shortening if it is too thick.
DIP: Using a toothpick to hold, dip the peanut butter bars into the melted chocolate. Place on a parchment lined tray and remove the toothpick. Smooth the holes with your finger.
CHILL: Chill until the chocolate has hardened and enjoy!
Helpful Tools
Parchment Paper: This is a huge one when you mare making anything with melted chocolate. Alternatively, you could use a silicone baking mat (affiliate). I own 4 and they are a great way to save on paper waste.
Silicone Spatulas (affiliate): Another great kitchen tool. Extremely versatile, heat resistant, and perfect for cooking or baking.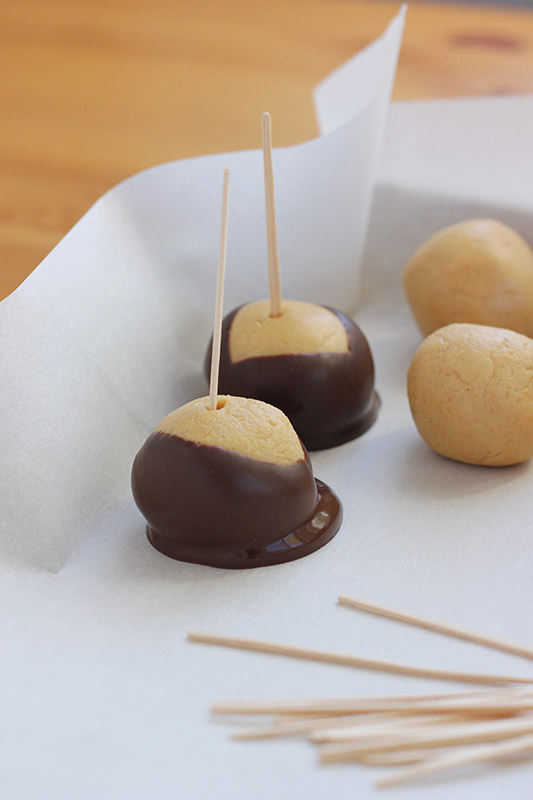 RECIPE TIPS AND FAQS
Use a small scoop (affiliate) for even sizes of peanut butter balls. This will make everything appear more uniform.
I like to melt my chocolate in a wide mouthed measuring cup. That way it is a little deeper and perfect for dipping.
Can I freeze buckeye balls?
Frozen buckeyes will keep in the freezer for up to 2 months.
How long do buckeyes last?
Homemade Buckeyes candy will last up to one month if stored properly. I suggest keeping them stored in an airtight container inside the refrigerator. This helps to keep them fresh and tasty.
Do these need to be refrigerated?
For optimal freshness keep your buckeyes sealed in an airtight container inside the refrigerator. Set out at room temperature for 20 minutes or so before serving to help them slightly soften.
How to thin chocolate for dipping?
Sometimes chocolate will be slightly thicker once melted, which makes it difficult to dip treats. For this recipe you can add a spoonful of peanut butter or shortening to the chocolate to help thin it out.
Related Recipes:
Still Hungry? Follow One Sweet Appetite on Instagram, Pinterest, and Facebook!
Peanut Butter Buckeyes
With only 5-ingredients, this buckeyes recipe is the perfect sweet treat! Quick, easy, and perfect peanut butter chocolate combo. The key is a soft flavor packed filling and half dipped chocolate
Ingredients
2 cups cups creamy peanut butter
1 cup butter
1/2 teaspoon pure vanilla extract
6 cups powdered sugar
chocolate almond bark
Instructions
Add the peanut butter, butter, and vanilla in the bowl of an electric mixer.

Beat with the paddle attachment for 2 to 3 minutes, or until combined and creamy.

Scrape the side of the bowl. Add powdered sugar and stir until combined and a dough is formed.

Form the mixture into 1-inch balls and place onto a wax paper or parchment lined tray. Place in the freezer until chilled, about 15 minutes.

Melt the chocolate in a double boiler or using the package directions.

Remove the peanut butter balls from the freezer.

Use a toothpick to poke into the center of one ball. Lift by the toothpick and half dip into the chocolate.

Place back onto the lined tray and carefully remove the toothpick. Use your finger to smooth the hole out of the top.

Carefully dip each remaining ball using the same technique.

Allow to set and enjoy!
Nutrition
Serving: 1Servings | Calories: 105kcal | Carbohydrates: 39g | Protein: 6g | Fat: 22g | Saturated Fat: 8g | Polyunsaturated Fat: 11g | Cholesterol: 24mg | Sodium: 196mg | Fiber: 1g | Sugar: 34g
Reader Interactions