These thick and chewy chocolate peanut butter cookies are packed with flavor! You cannot beat the perfect pairing of chocolate and peanut butter, especially in cookie form.
Searching for more ways to combine chocolate and peanut butter? You must try my Homemade Peanut Butter Cups (only 5-ingredients) and my Puppy Chow Snack Mix! Both heavenly and perfect for my Reese's loving friends.
This post was originally published May 18, 2012. It has since been updated to include fresh photos and helpful tips.
RECIPE FEATURES
Perfect PB Flavor: The balance of chocolate and peanut butter flavor in this recipe is perfect.
Freezer Friendly: You can freeze these in dough form to bake for later OR freeze whole cookies for a quick grab dessert.
Family Favorite: One of the most requested cookies when we have a sweet craving.
We have a slight obsession with peanut butter cookies in my home. We also have a deep love for my double chocolate cookie. SO, it only makes sense that the two be combined for the ULTIMATE chocolate peanut butter cookie recipe.
These cookies are every Reese's lovers dream. Fudgy chocolate goodness mixed with the perfect balance of peanut butter. The dough comes together quickly and, best of all, there is NO CHILLING required. That means you can whip these together and have them in the oven in under 10 minutes!
CHOCOLATE PEANUT BUTTER COOKIE INGREDIENTS
I mentioned that these are super simple to make, and luckily they call for very basic ingredients. Most of these are kitchen essentials, which means you can start baking right away. Be sure to freeze some of the dough for fresh baked cookies anytime the mood strikes!
Flour: All-purpose flour will work best in these cookies. It's the classic white flour you find in the baking aisle, and the most common variety found in pantries. Be sure to spoon the flour into the measuring cup, never scoop, for the right amount for this dough.
Cocoa powder: Classic cocoa or Dutch processed? Both actually work interchangeably in this cookie recipe. If you want a classic Reese's flavor, stick with regular cocoa. If you are looking for a deep and rich cookie, opt for Dutch.
Baking soda and Salt: I like to write the date that I open baking soda right on the box. I replace mine every 4 to 6 months to make sure it stays fresh and keeps that active rise.
Butter: I have used both salted and unsalted butter in this recipe with success. If you use salted butter you can skip the added salt called for in the dry ingredients.
Peanut butter: Specifically, creamy peanut butter.
Sugar: Granulated sugar, or classic white sugar, works best in this recipe. While I love the added flavor of molasses in brown sugar, it simply does not pair well with the chocolate peanut butter combination.
Eggs: Large eggs. Letting the eggs sit out to get to room temperature helps them mix into the batter easier, letting the dough keep a slightly cooler temp. This makes them nice and thick as they bake.
Vanilla extract: I like pure vanilla extract. It doesn't leave the fake chemical taste that can come with some imitation varieties.
Chocolate chips: Try chopping half of the chips to give you even MORE chocolate flavor in every bite.
HOW TO MAKE CHOCOLATE PEANUT BUTTER COOKIES
PREP: Preheat the oven to 350 degrees and line baking trays with parchment or silicone liners.
MEASURE: Measure all of your ingredients. I find that measuring before you start mixing the batter helps make the process extra quick and easy.
ROLL: Spoon or roll heaping tablespoons of dough.
PRESS: For that classic peanut butter cookie look, press the top with a fork to give it a beautiful criss cross top.
BAKE: Bake 8 to 10 minutes, or until the edges start to pull up and the cookies look baked through.
ENJOY: Pro tip, hide some of these cookies so you don't have to share them all!
I like to use this as a go-to for when I need to take a quick treat to friends or neighbors. I have never met a person that did not instantly fall in love with the soft chewy texture and sweet/savory combination of flavors. Package it up in a small little bag or cute decorative box, top with a bow, and make someone's day!
HELPFUL TOOLS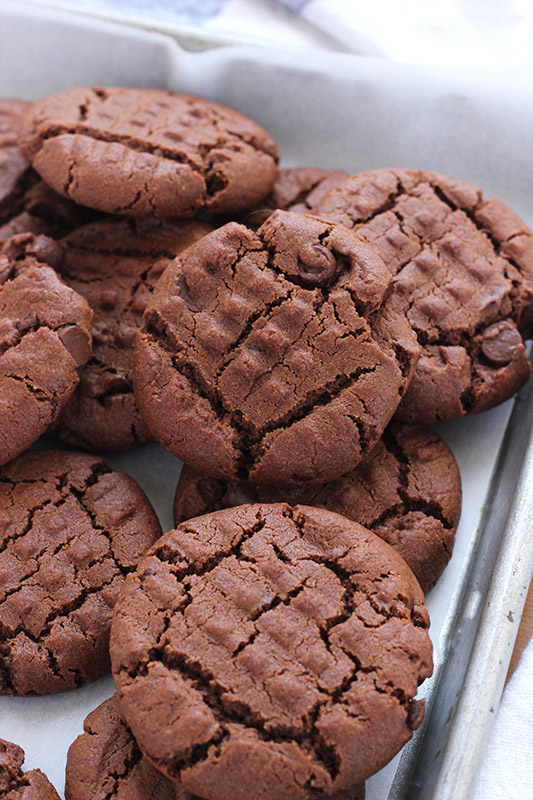 COOKIE BAKING TIPS
Why do you mark peanut butter cookies with a fork?
This dough is fairly thick and dense, like most peanut butter cookie doughs. To help them bake evenly, pressing a fork onto the top of each to slightly flatten is key. Even if you opt away from the classic fork press look, you'll need to push these down a smidge with a spoon to help them bake evenly.
Can you substitute butter for shortening in cookies?
Technically, yes. Butter and shortening are interchangeable in cookies and can be used as a one-to-one switch. However, it will alter the flavor of your cookie slightly.
Can you use natural peanut butter in cookies?
Yes, however there may be some differences between other peanut butter versions. Natural tends to be unsalted. You will need to adjust the salt in your recipe accordingly. It also tends to melt quicker leaving you with flatter more crisp cookies. 
How long will these cookies last?
Once the cookies have cooled completely, transfer to an airtight container and leave at room temperature for up to 5 days. However, we usually eat them all within a few days.
How do you freeze cookies?
You can freeze this cookie dough and have fresh baked cookies whenever you get a sweet tooth, without all of the work. Follow the steps in this post for how to freeze cookie dough.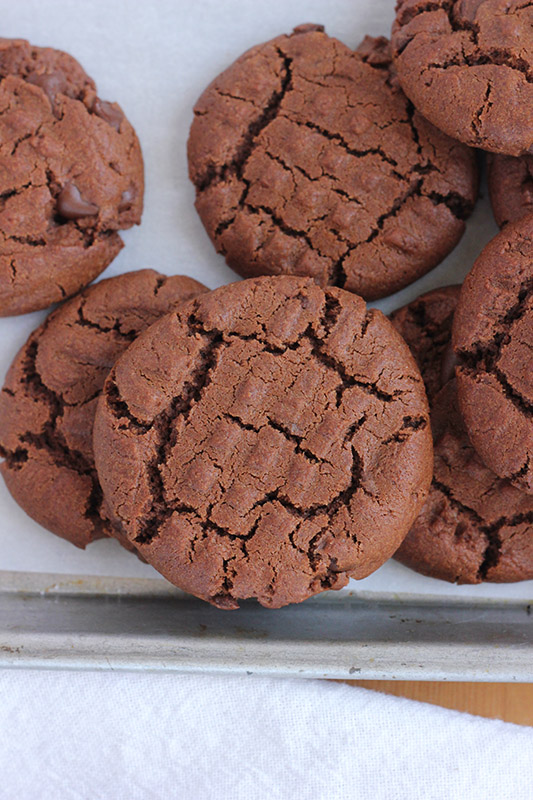 MORE MUST-TRY COOKIE RECIPES
Still Hungry? Follow One Sweet Appetite on Instagram, Pinterest, and Facebook!
Chocolate Peanut Butter Cookies
These thick and chewy chocolate peanut butter cookies are packed with flavor! You cannot beat the perfect pairing of chocolate and peanut butter, especially in cookie form.
Ingredients
1½ cup all-purpose flour
1/2 cup cocoa powder
3/4 teaspoon baking soda
1/2 teaspoon salt
1/2 cup butter slightly softened
1/2 cup peanut butter
1 cup sugar
2 large eggs
1 teaspoon vanilla
1 cup chocolate chips
Instructions
Preheat the oven to 350 degrees.

Line two cookie sheets with parchment paper, optional, and set aside.

Whisk the flour, cocoa, baking soda, and salt in a medium bowl. Set aside.

Beat the butter, sugar, and peanut butter in the bowl of an electric mixer, or with a hand mixer, until light and fluffy, about 2 minutes.

Add the eggs and vanilla and mix well.

Stir in the dry ingredients until fully combined.

Fold in the chocolate chips.

Roll heaping tablespoons of dough into a ball. Press the tops with a fork creating the classic peanut butter criss cross top.

Place 1 to 2 inches apart on the prepared trays.

Bake for 8 to 10 minutes, or until cooked through.
Notes
This dough can be made in advance and stored covered in the refrigerator for up to 2 days. Freeze the dough for up to 2 months.
Nutrition
Serving: 1Servings | Calories: 184kcal | Carbohydrates: 23g | Protein: 3g | Fat: 9g | Saturated Fat: 4g | Polyunsaturated Fat: 4g | Cholesterol: 26mg | Sodium: 146mg | Fiber: 1g | Sugar: 13g
Reader Interactions