These homemade Pumpkin Dog Treats are the perfect fall cookie for your furry friends! Made with pure pumpkin, eggs, peanut butter, and oat flour!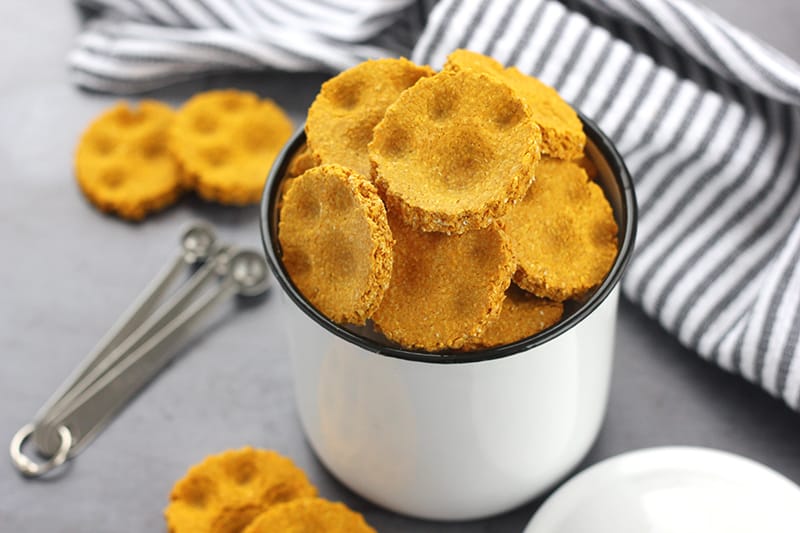 Show of hands, who has a furry four legged friend running your household??
We were lucky enough to welcome a small little schnauzer at the beginning of the year and he has easily become everyone's favorite family member.
He keeps me company while my little guy is at school and has become my sons shadow whenever he is home. We just cannot control ourselves around the little fluff ball.
If you follow me on Instagram you have probably seen him make a few appearances.
Harvey is the best. We could not imagine life without him. We also want to spoil him rotten which is where this recipe came from!
Homemade Pumpkin Dog Treats

One thing we learned about the schnauzer breed is that they are at a higher risk when it comes to diabetes which has us super careful about what goes into his little belly.
This recipe is perfect because it combines a few super healthy ingredients and gives them a homemade treat that does not have me worried about the long term results.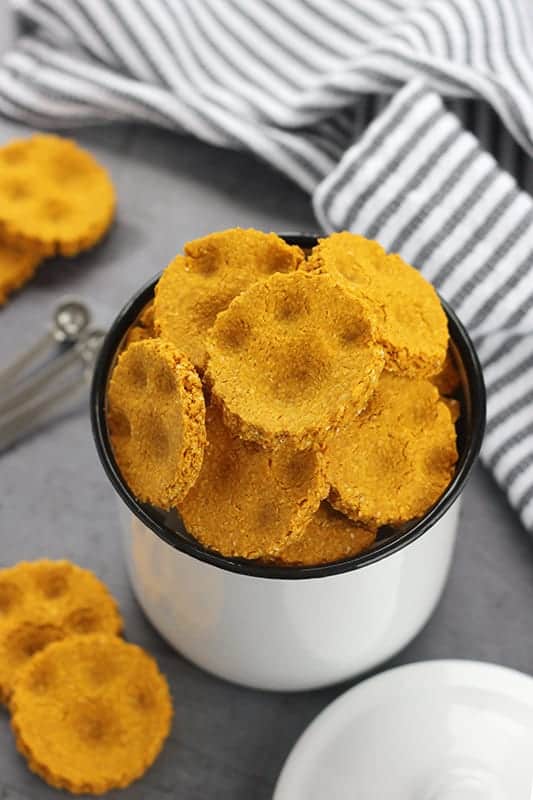 Ingredients for homemade dog treats:
Pumpkin- Be sure to use pure pumpkin and stay away from pie filling.
Eggs- Large eggs work best for this recipe.
Peanut Butter- please be sure your peanut butter does not contain xylitol.
Oat Flour- See below how to make oat flour at home. You could also use whole wheat flour.
Cinnamon- This ingredient is optional.
*Note: While these ingredients have been approved by our veterinarian, I suggest consulting yours before you feed your dog any human food.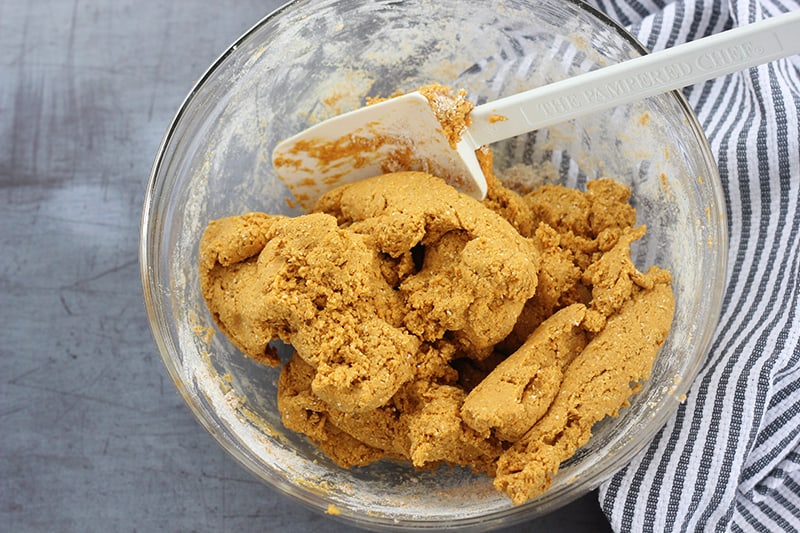 Instead of wheat flour I decided to use an oat version.
Oats are good for their digestive system and full of soluble fiber. Now, I know you are probably asking where you would get this?? Good news is you can make your own in about 5 minutes.
How to make oat flour:
Add 1 cup rolled oats to high powered blender or food processor.
Pulse until a powder like consistency.
Awesome, right?
This is actually a great alternative for dogs that have a wheat allergy.
Another great ingredient int his recipe is the pumpkin. Pumpkin has a lot of the same dietary benefits as oatmeal but ads a great scent and taste to the treat.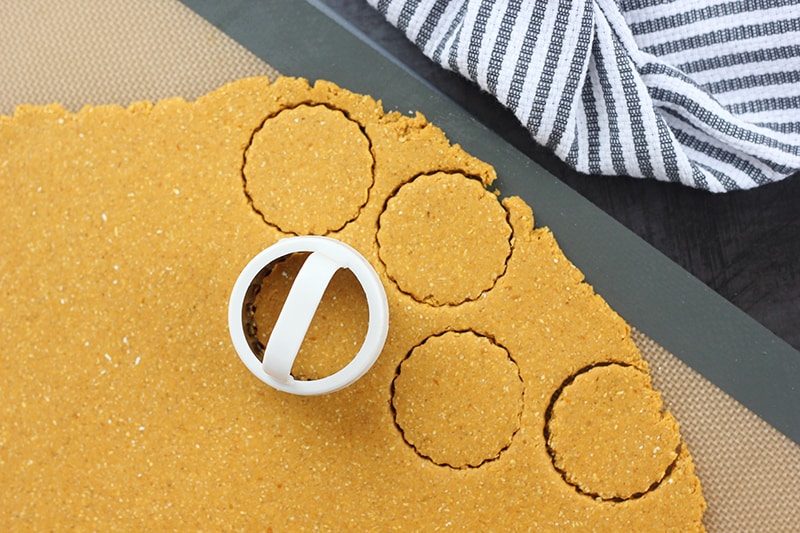 How to make dog cookies:
Whisk together your pumpkin, eggs, and peanut butter. Fold in 2 1/2 cups flour and the cinnamon. Add additional flour until the dough is no longer sticky to the touch.
Roll your dough to 1/4 to 1/2 inch thickness. Cut with your desired cookie cutter. Bake 350 degrees for 20 minutes or until crisp.


I decided that small round cookies were going to work the best for my small breed dog, but you could make these any size or shape you like.

A pumpkin shape or bone would be fun.

I also used the back of a teaspoon to create cute little paw prints right on each cookie before putting them into the oven for a cute extra special touch.

Let's talk about storage…

How to store homemade dog treats:

Let your treats cool completely.
Place in a quality air tight container and store in the pantry away from moisture. This is the best way to store if they will be used quickly.
Another alternative is to place them in a zip top bag and freeze.

How long do homemade dog treats last?

If you are storing them in your pantry, DRY homemade dog treats will last 2-3 days.
In the freezer, if stored properly, they should last up to six months!

Like this recipe? You will love my Easy Dog Treats, Pumpkin Pie Granola, Pumpkin Cheesecake Bars, and Homemade Pumpkin Spice Coffee Creamer! 

Harvey has been loving these tiny cookies. I am pretty sure it took everything he had to not jump up and snag this out of my hand. So what do you think? Are you going to whip these up for your pup?

Pumpkin Dog Treats




These easy homemade pumpkin dog treats are the perfect way to spoil your furry friends!

Ingredients

1 cup pumpkin
2 eggs
3 tablespoons peanut butter , please be sure your peanut butter does not contain xylitol
2-1/2- 4 cups Oat flour or wheat flour
1/2 teaspoon cinnamon optional

Instructions

Whisk together your pumpkin, eggs, and peanut butter. Fold in 2 1/2 cups flour and the cinnamon. Add additional flour until the dough is no longer sticky to the touch.

Roll your dough to 1/4 to 1/2 inch thickness. Cut with your desired cookie cutter. Bake 350 degrees for 20 minutes or until crisp.

Nutrition

Serving: 1Servings

Pin for later:

Still hungry? Follow One Sweet Appetite on Facebook, Instagram and Pinterest for more great recipe ideas!

Reader Interactions