These salted brownie cookies are my go-to when I'm in need of a chocolate fix! Beautiful crackled tops with a soft and chewy center gives you the perfect brownie texture in every single bite!
Can't get enough brownie goodness? Try my Best Ever Brownies, Fudge Brownies, Nutella Brownies, or for a super quick fix my 2 Ingredient Mug Brownies!
RECIPE FEATURES
Freezer Friendly: One of my all-time favorite thing about cookies is how easy they are to save. I have an entire post written to help you learn how to freeze cookie dough.
Loaded with Chocolate: This is the ultimate chocolate cookie for chocolate lovers!
Personal Favorite: This is my personal go-to cookie. I love the balance of sweet and salty, and even sometimes make them without the salt finish! Delicious either way.
Something about a fresh warm pan of brownies pulls me into a sugar coma. Brownies are life. So when I found out you can make a pan of brownies in cookie form, you know I had to jump on that bandwagon.
These fudge brownie cookies are soft and chewy with a sprinkle of finishing salt that really send the flavor over the top. Bakery worthy and perfect served with a cup of coffee, giant glass of cold milk, or a scoop of your favorite ice cream.
BROWNIE COOKIE INGREDIENTS
Butter: Unsalted butter works best when baking. This gives you more control over the added salt inside the recipe keeping them from being too salty.
Chocolate Chips: This is one of the only recipes I recommend sticking with a semi sweet chocolate chip. It helps to give that perfect brownie chocolate goodness to the batter.
Eggs: When baking, you want to stick with a large egg. When you use an egg that is too small your cookies will sink. Too large and it won't be able to handle the weight of the batter. Large is the perfect balance.
Sugar: This recipe calls for granulated sugar which can be found in the baking aisle of your grocery store.
Vanilla Extract: I have found that imitation vanilla will leave a slight chemical aftertaste to most baked goods, so I recommend sticking with pure vanilla extract.
Cocoa Powder: This recipe works with regular or Dutch cocoa powder.
Salt: Just a touch is added to the dry ingredients. Leave this out if you plan on using salted butter.
Baking Powder: To help give a little rise to your cookies. Be sure to check the expiration date and use fresh baking powder.
All-Purpose Flour: Classic pantry staple that can be found in the baking aisle of your grocery store.
Fleur De Sel salt– This is a finishing salt that is large grained than your typical table salt. You can also opt for a flaky sea salt, but be light handed.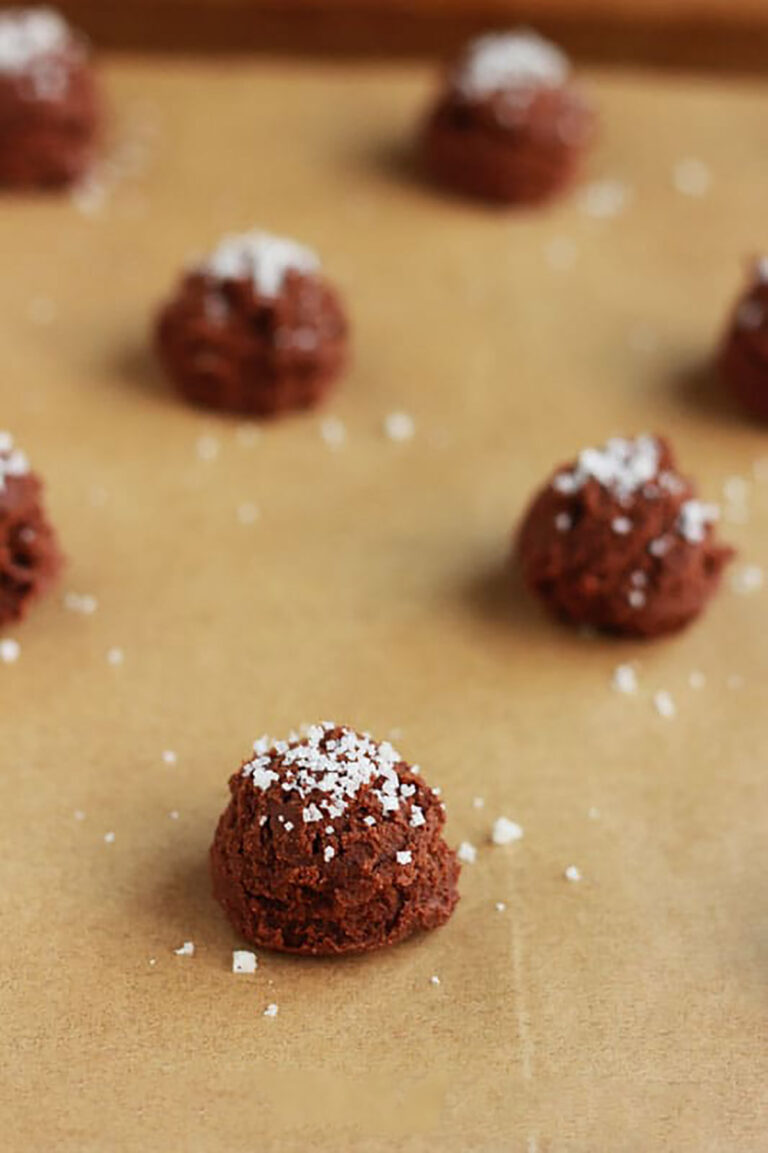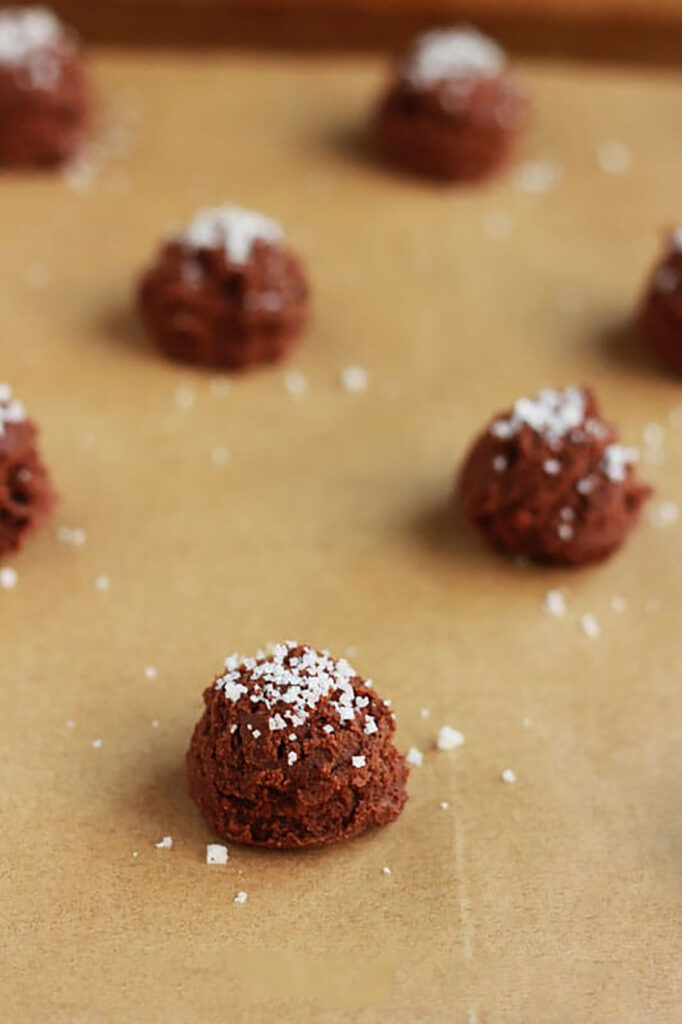 FROM SCRATCH SALTED BROWNIE COOKIES
No box mix here. These salted brownie cookies are baked completely from scratch. However, that doesn't mean they are complicated. You can have these whipped up and ready for the oven in just 10-15 minutes!
PREP: Preheat the oven to 350 degrees and line two cookie pans with parchment paper, or a silicone baking mat, and set aside.
MELT: Combine the chocolate chips with the butter inside a glass, or heat safe, bowl. Microwave for roughly 1 minute, stirring every 30 seconds, until the chocolate has melted. Set aside to slightly cool.
MIX: Whisk the eggs, sugar and vanilla in the bowl of a stand mixer fitted with the paddle attachment, or a mixing bowl using a hand mixer, for about 2 minutes, or until fully combined. Scrape the sides of the bowl then slowly mix in the melted chocolate until incorporated into the wet ingredients.
DRY INGREDIENTS: In a small bowl, or measuring cup, whisk together the cocoa powder, regular table salt, baking powder, and flour. Fold into the batter.
BAKE: Drop spoonfuls onto the lined baking trays, sprinkle with finishing salt, and bake for 10-12 minutes. Or until the edges slightly curl and the tops have cracks.
HELPFUL TOOLS
Baking Trays: I am a big fan of my Nordic Ware pans (affiliate). I have both the half sheet and full pan sizes and they are amazingly easy to clean.
Silicone Baking Mats: Parchment paper is king in my kitchen, but only when both of my silicone baking mats (affiliate) are dirty. They are SO great for so many things and worth the $13 for a set of 3.
Cookie Scoop: You can use a measuring spoon. However, a 1 tablespoon cookie scoop (affiliate) is so handy and makes the process extra speedy.
MORE COOKIE RECIPES YOU MIGHT LIKE:
Recipe Notes:
What are the best cookie baking tips?
For this recipe, I'd suggest following just a few easy tips for perfect cookies:
Cookie scoops are king. They make sure that you get the same sized cookie every single time. 
Silicone baking mats are about to become your new best friend. Seriously, better than parchment paper! 
Chilling this dough is not required, however you could get a slightly raised cookie by allowing the batter to refrigerate for 4+ hours. 
How long do these cookies last?
If stored covered and at room temperature these cookies will stay fresh for up to 4 days. Although we normally eat them much quicker.
Can you freeze brownie cookies?
Yes. These cookies freeze amazingly well. Bake and cool completely. Transfer to a freezer safe bag or container and keep stored in the refrigerator for 2 to 3 months. When ready to enjoy, remove from the freezer and allow to come to room temperature on the counter.
Do I need to chill the dough before baking?
No. Actually, these cookies will turn out the best if you get them to the oven ASAP vs chilling the dough. The quicker you get them to the oven, the better the cookie will turn out.
MORE MUST-TRY COOKIE RECIPES
Still Hungry? Follow One Sweet Appetite on Instagram, Pinterest, and Facebook!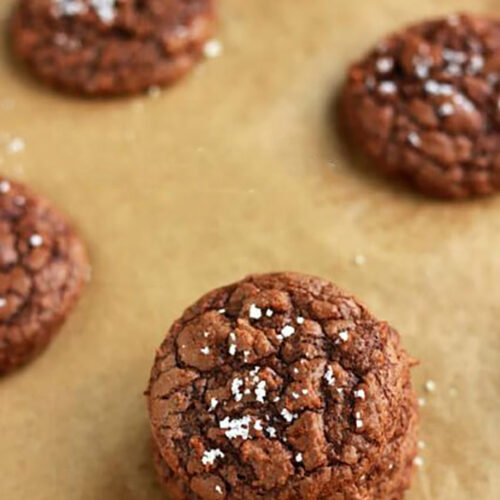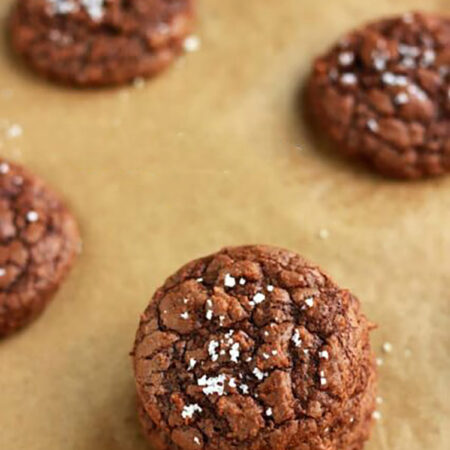 Salted Brownie Cookies
These salted brownie cookies are my go-to when I'm in need of a chocolate fix! Crunchy outside with a soft and chewy center gives you the perfect brownie texture in every single bite! 
Ingredients
1/2 cup unsalted butter
1 (12oz) bag semi sweet chocolate chips
3 large eggs
1 cup granulated sugar
1 teaspoon pure vanilla extract
2 tablespoons cocoa powder
1/2 teaspoon salt
1/2 teaspoon baking powder
3/4 cup all-purpose flour
fleur de sel salt
Instructions
Preheat the oven to 350 degrees. Line two cookie sheets with parchment and set aside for later use.

Combine the butter and chocolate chips in a microwave safe bowl. Heat in 30 second intervals, stirring in between, until melted. Set aside.

Add your eggs, sugar, and vanilla into the bowl of an electric mixer. Beat with the paddle attachment 3-4 minutes or until fully combined. Slowly stir in the melted chocolate mixture.

In a small bowl combine the cocoa, salt, baking powder, and flour. Fold into your batter.

Drop spoonfuls onto your prepared sheets. Sprinkle each cookie dough ball with fleur de sel.

Bake 10-12 minutes or until the edges slightly curl and the top has a shiny crackle.
Nutrition
Serving: 2cookies | Calories: 319kcal | Carbohydrates: 41g | Protein: 4g | Fat: 18g | Saturated Fat: 10g | Polyunsaturated Fat: 6g | Cholesterol: 67mg | Sodium: 239mg | Fiber: 2g | Sugar: 32g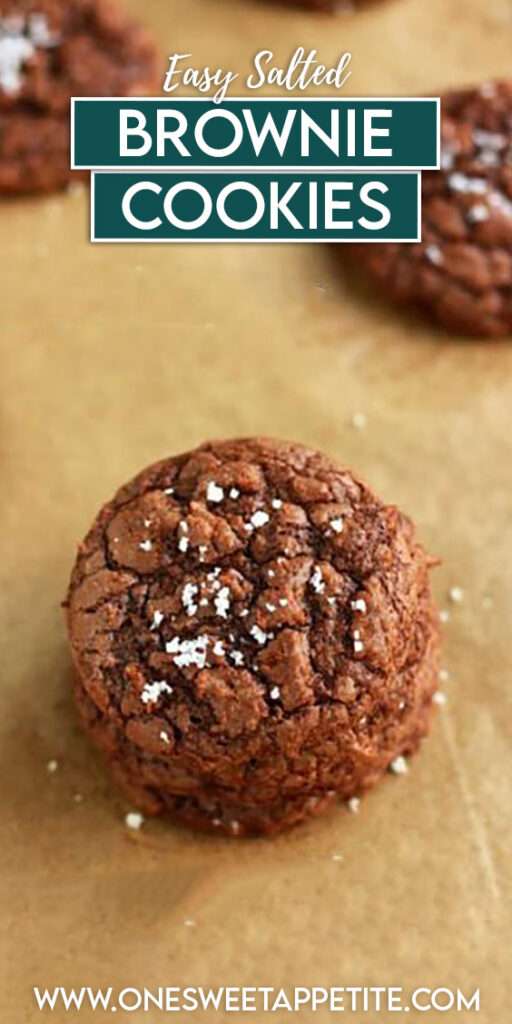 Reader Interactions