These Easy Pulled Pork Tacos are stuffed with tender pulled pork and loaded with toppings! Great with corn or flour tortillas, and one of the easiest taco recipes that is perfect for Taco Tuesday!
Serve these mouth watering tacos with homemade Green Salsa, Guacamole or chips and Queso for a filling meal everyone will love!
This recipe was originally published October 8, 2015. It has since been updated to include fresh photos and helpful tips.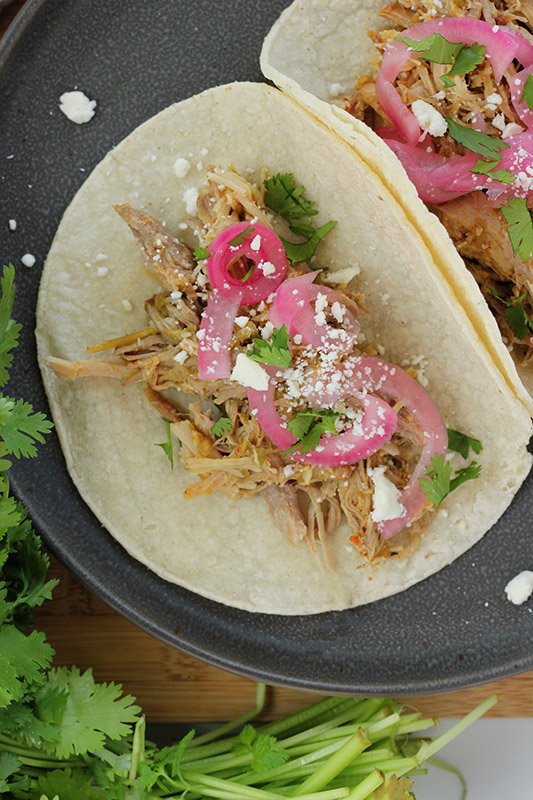 RECIPE FEATURES
Easy: These tacos could not be simpler to make! Toss ingredients into a crock pot and let it slow cook to tender perfection.
Customizable: Get creative with your spices and toppings. We like to use this as our base recipe and switch up our toppings and sauces based on our tastes.
Freezer Friendly: Pork freezes extremely well, which means you can double the recipe and freeze half for a quick dinner another day!
I LIVE for taco Tuesday. You just cannot go wrong with this easy dinner idea. Tacos are a family favorite dinner that I have never seen someone snub their nose towards. It gets even better when you realize you can have flavor packed pork with just a few pantry staples!
This recipe could not be any easier. The secret is in the seasonings! Toss all of the ingredients into the slow cooker and in just a few short hours you have rich and tender pork ready to fill your tortillas. Don't forget to load them up with toppings!
PORK TACO INGREDIENTS
Pork Shoulder
Salsa
Spices: cumin, paprika, salt and pepper.
Garlic
Onion
Tortillas
PULLED PORK TACOS TOPPINGS
HOW TO MAKE PORK TACOS IN A SLOW COOKER
HELPFUL TOOLS
TACO RECIPE TIPS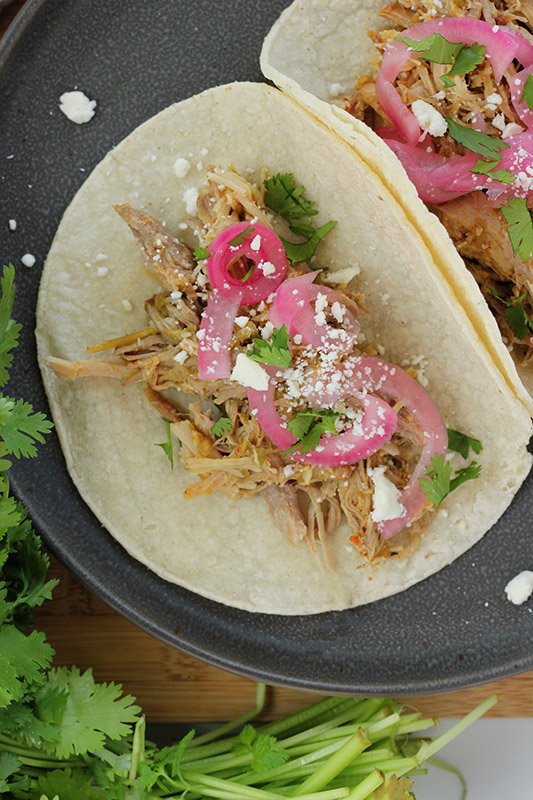 MORE-MUST TRY TACO RECIPES
Still Hungry? Follow One Sweet Appetite on Instagram, Pinterest, and Facebook!