This Pumpkin Pie Granola recipe is packed with the classic fall flavor and has easily become a favorite. It is packed with real pumpkin flavor and a delicious way to snack!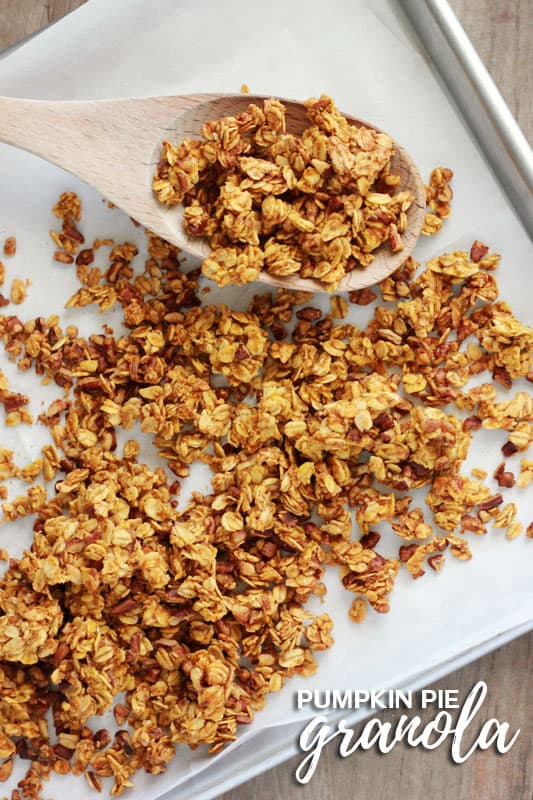 Confession… I am a granola addict. It is one of my ALL TIME favorite treats to make and munch on. For years I stuck to a basic Vanilla version. I never saw a need to adjust it because the flavor was A-MAZ-ING. It was one of those baked treats that would engulf my entire house in the most divine aroma and have both my husband and seven year old perched on our bar stools waiting for me to pull it out of the oven. Oh, and did I mention you could basically serve it on/in anything?!
It wasn't until recently that I started to crave a banana version and switched things up. It really was kind of a hit or miss recipe attempt that turned out incredible. It quickly became a recipe I'd make over and over and would watch it quickly disappear. NOW, since it's fall I thought it couldn't be too hard to turn the banana granola into a PUMPKIN version, right?
Dudes… (that's right. I called you dude)… This. Is. Pumpkintastic.
I knew immediately that we were going to love this. Just stirring together the ingredients had my kitchen smelling like fall and me wishing I was sipping on a pumpkin spice latte (sidebar… I'm actually not really that into PSL's. Shhhh… Don't tell). Can you imagine how much better it got as it slowly baked to golden perfection?? SO basically you need to make this. Now. Eat all of it on your own, package it up for gifts, or stash some in the freezer for those emergency cravings or quick grab-and-go breakfast. No need to thank me.
Pumpkin Pie Granola
Ingredients
3

cups

rolled oats

1/4

cup

brown sugar

1/2

teaspoon

salt

1

teaspoon

pumpkin pie spice

1

cup

roughly chopped pecans or walnuts

1/4

cup

coconut oil

1/3

cup

honey

1

teaspoon

vanilla extract

1/2

cup

pumpkin puree

not pumpkin pie filling
Instructions
Preheat your oven to 300 degrees. Line a baking tray with parchment and set aside.

Whisk together the oats, brown sugar, salt, pumpkin pie spice, and pecans in a large mixing bowl.

Microwave the coconut oil and honey for just a few seconds in a small separate bowl until liquid. Whisk in your vanilla and pumpkin puree.

Gently stir your wet ingredients into the dry until fully incorporated. Spread onto your prepared baking tray in an even layer.

Bake 30 minutes or until golden brown making sure to stir once halfway through baking. Allow to cool completely on the baking tray before enjoying.
Recipe Notes
For a more clump filled granola make sure you keep the granola in a thicker layer. You may need to increase baking time by 10-15 minutes.
PS, you might like…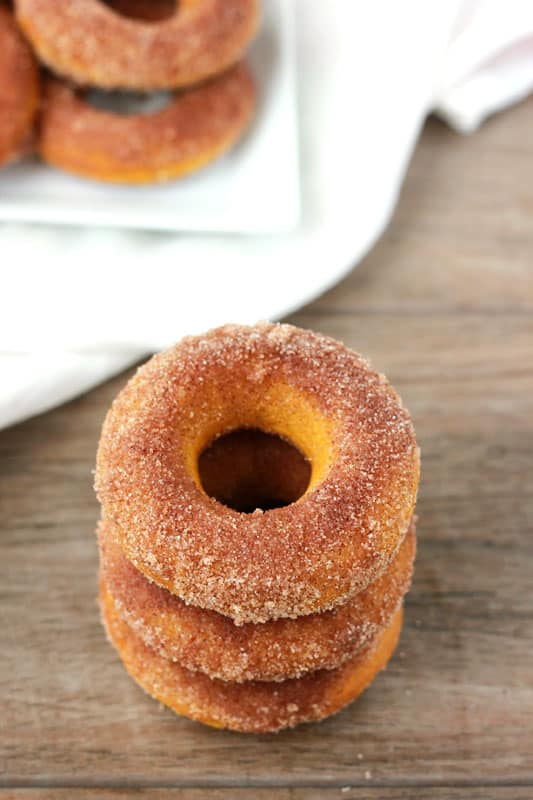 This post may contain affiliate links. I include these links to help you find specific products that are used in my recipes. If you purchase an item from the link on One Sweet Appetite, I will receive a small commission helping keep my recipes free for you.
One Sweet Appetite is a participant in the Amazon Services LLC Associates Program, an affiliate advertising program designed to provide a means for sites to earn advertising fees by advertising and linking to amazon.com
(Visited 865 times, 1 visits today)
8