This post was updated on by Jesseca
Today's post is sponsored by Idahoan® Signature™ Russets Mashed Potatoes.
You all KNOW my love for super simple recipes runs deep. Anything that requires minimal effort and tastes delicious gets a special place in my heart (and belly). So it should come as no surprise that when my bestie shared this little gem of a secret with me it instantly became a dinner staple. Drum roll please…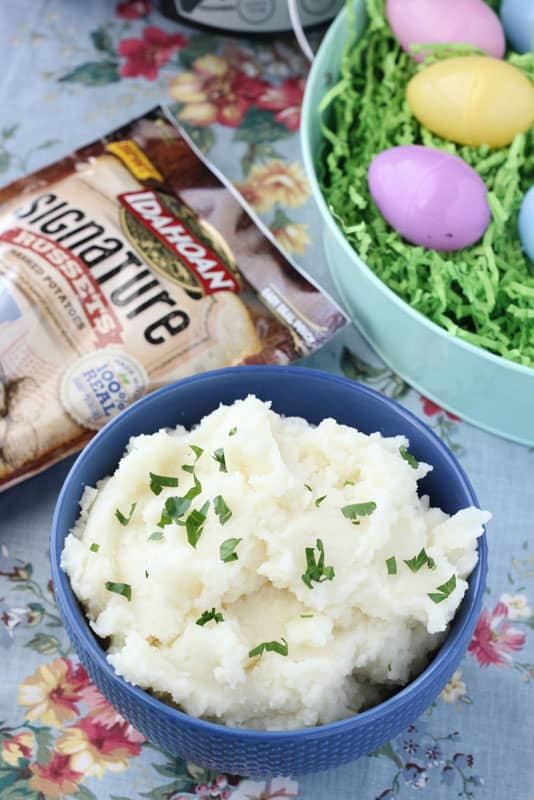 You can make mashed potatoes in the slow cooker, and they are heavenly.
This will become particularly handy in a few weeks when I'm cooking for a crowd. Easter dinner is one of my favorite reasons to feed the ones I love but I tend to focus on the main course. The poor side dishes always seem to be left as an after thought BUT using Idahoan ® Signature ™ Russets Mashed Potatoes puts my mind at ease. I always know we'll have a nice smooth taste like original homemade mashed potatoes with just a hint of butter and cream.
The potatoes only take five minutes stove-top, why take the extra effort? Your slow cooker keeps things at the perfect temperature for serving which means they're ready when you're ready. Once everything is mixed together you can focus on the other courses without any question on "who's watching the potatoes?!"
Now that you've got your amazing side dish planned and ready I thought I'd share just a few more great tips for hosting an Easter dinner that is both seamless and fun!
– Prep what you can the night before. I like to chop any veggies, measure ingredients, and even start my bread dough as far in advance as possible. That way when you're ready to get cooking you've already taken one thing off of your plate and can whip up your recipes in no time!
– Make store bought rolls taste homemade with one simple trick- 10 minutes in a slightly warm oven. Set the temperature to the lowest setting and let them heat for 5 to 10 minutes.
– Let other's help! Ask them to bring a side, dessert, or drink!
– Have fun! Remember that it's a family holiday and make some memories!
So what are you waiting for? Become the hostess with the mostess and wow everyone with your ability to create a beautiful meal. Idahoan ® Signature Russets™ are easy to replicate any day of the week, so now you can make "Any Day Taste Like Sunday," Easter Sunday and beyond!
Slow Cooker Mashed Potatoes
Ingredients
5

cups

water

6

Tbsp

butter

1

cup

milk

1

(9.74 oz)

package Idahoan Signature Russets
Instructions
Heat the water and butter in a pan over medium heat until butter is just melted.

Combine all ingredients into your slow cooker. Whisk to fully incorporate.

Set slow cooker to the warm setting and enjoy when ready!
For more information, follow @IdahoanFoods and #IdahoanSignatureRussets on Facebook, Twitter, Instagram andPinterest.
(Visited 498 times, 1 visits today)
10