This Chicken Caesar Pasta Salad is a quick weeknight dinner you are going to LOVE. Salad meets pasta in this dish that comes together in under 20 minutes! Great way to use leftovers and picky eater approved!
A fun twist on the classic Pasta Salad, this recipe is best served as a stand alone dish OR as a side to your summer BBQ's! We like to serve with a tall glass of Mint Limeade.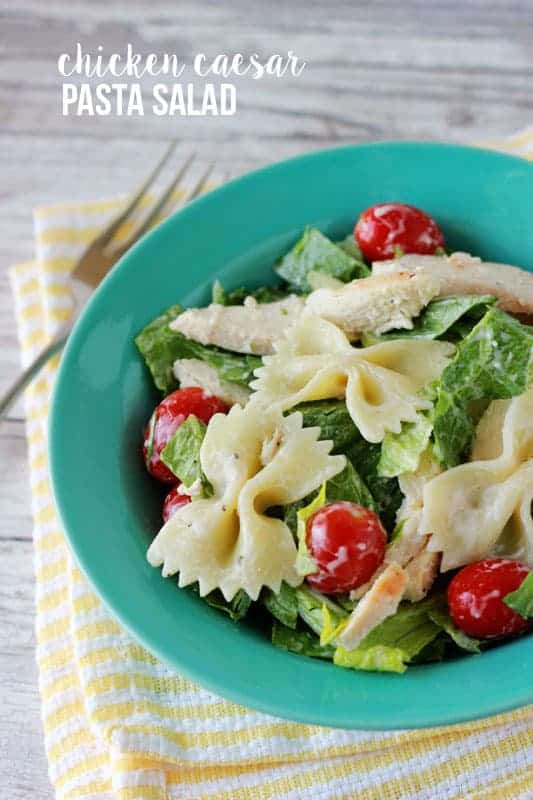 RECIPE FEATURES
Quick: You'll have this salad tossed together in under 20 minutes.
Easy to Customize: Add your favorite salad toppings for a quick and easy meal.
Family Favorite: Not a fan of Caesar dressing? Swap it for ranch! We serve this dish all summer long.
I am OBSESSED with this Chicken Caesar Pasta Salad. It is by far one of my favorite recipes that was heavily inspired by my friend Ali over at the cupcake diaries and her new cookbook!
I mean, look at this salad! Crisp romaine lettuce, pre cooked chopped chicken, Parmesan cheese… It is a combination that is made in food heaven and so simple to customize (we'll talk toppings later)!
CHICKEN CAESAR PASTA SALAD INGREDIENTS
This easy summer recipe is as tasty as it sounds. We have made it time and time again with grilled OR baked chicken. That means it is an excellent way to use up leftovers. Win? I like to think so. It is incredibly delicious no matter which route you go. Here is what you need to get started:
Pasta: We like to use either bowtie pasta(farfalle) or Rotini. the bowtie goes over well with our kid, and the rotini soaks up all of that delicious Caesar flavor.
Salt, Pepper and Garlic Powder: The seasonings are simple and tie everything together.
Caesar Dressing: Pick your favorite. We are currently obsessed with Brianna's Asiago Caesar Dressing (affiliate). It is so creamy and full of flavor.
Lemon Juice: You'll be surprised how far a squeeze of lemon juice can go in a dish. It lightens the flavor and adds the perfect amount of acidity.
Lettuce: Our go-to is romaine, but iceberg will work as well.
Toppings: Keep it simple with tomatoes, Parmesan, and chicken OR go crazy and pile on the veggies. We love to sprinkle a hefty portion of croutons just before serving.
Chicken: Leftovers work extremely well in this recipe, but you can always make fresh grilled chicken!
HOW TO MAKE GRILLED CHICKEN PASTA SALAD
PREP: Gather your ingredients. Cook the pasta according to the package directions with the salt. Drain, allowing it to sit in the strainer for a few minutes to allow the excess water to drain.
TOSS: Add everything to a mixing bowl and gently toss to combine. Add dressing just before serving to avoid soggy lettuce and vegetables.
ENJOY: Serve and enjoy!
HELPFUL TOOLS
Salad Spinner: I honestly waited WAY too long to purchase my own salad spinner (affiliate). Let me tell you, this was worth every penny. Having dry greens means the dressing can stick to every bite making it even more delicious.
Mixing Bowls: My current obsession are these nesting mixing bowls (affiliate). They stack nicely together, which means storage is a snap, and come with shredding attachments.
Salad Tongs: These tongs (affiliate) are a new addition to my kitchen, and boy-oh-boy do I love them. They make tossing and serving the salad a breeze. No more tiny scoops!
RECIPE TIPS AND FAQS
One tip? Make sure you purchase quality Caesar dressing. This is where you will get about 80% of your flavor. Since it coats all of the ingredients you want to make sure you pick a flavor packed version.
What is the best Caesar dressing? 
We have tried SO many different versions and brands. This short list is our go-to's or favorites, but there are dozens out there we haven't gotten to sample yet. 
Ken's Chef's Reserve Creamy Caesar With Roasted Garlic
Girard's Classic Caesar Dressing
Newman's Own Creamy Caesar Dressing
Can you make this recipe in advance?
Yes, and no. You can toss the ingredients together up to 24 hours in advance. However, wait to add the dressing until just before serving. This keeps the lettuce crisp and keeps the noodles from soaking up the dressing.
How long does this pasta salad last?
This salad is best eaten the same day it is made.
What other toppings can be added?
Don't limit yourself! Add any additional toppings you'd like. We love croutons and almost any chopped veggie.
MORE MUST-TRY SALADS
Still Hungry? Follow One Sweet Appetite on Instagram, Pinterest, and Facebook!
Chicken Caesar Pasta Salad
Chicken Caesar Pasta Salad. Grilled chicken is tossed with Caesar dressing, cooked pasta, beautiful cherry tomatoes, and Parmesan cheese for a lite weekday meal! 
Ingredients
1 lb Penne Pasta
2 tsp salt
1 cup Caesar dressing
1/4 tsp garlic powder
1 Tbsp lemon juice
1 head romaine lettuce chopped
10 oz grape tomatoes
1/4 cup Parmesan cheese shredded
1/4 tsp black pepper
2 cups grilled chicken diced
Instructions
Cook pasta with salt according to package directions. Allow the pasta to strain for 5-10 minutes. The lets off extra moisture keeping your salad fresh longer.

Transfer to a large mixing bowl. Add the remaining ingredients.

Gently toss and serve.
Notes
Can you make this recipe in advance?
Yes, and no. You can toss the ingredients together up to 24 hours in advance. However, wait to add the dressing until just before serving. This keeps the lettuce crisp and keeps the noodles from soaking up the dressing.
How long does this pasta salad last?
This salad is best eaten the same day it is made.
What other toppings can be added?
Don't limit yourself! Add any additional toppings you'd like. We love croutons and almost any chopped veggie
Nutrition
Serving: 1Servings | Calories: 427kcal | Carbohydrates: 45g | Protein: 46g | Fat: 41g | Saturated Fat: 7g | Polyunsaturated Fat: 31g | Cholesterol: 147mg | Sodium: 2220mg | Fiber: 7g | Sugar: 6g
Reader Interactions