This snickerdoodle cake has a soft and buttery center and sweet cinnamon sugar coating. It is the perfect dessert recipe to help with your sweet cravings!
Searching for more cinnamon and sugar favorites? Be sure to try my thick and chewy Snickerdoodle Cookies, Snickerdoodle Blondies, and Snickerdoodle Cupcakes. All filled with delicious cinnamon flavor and family favorite recipes.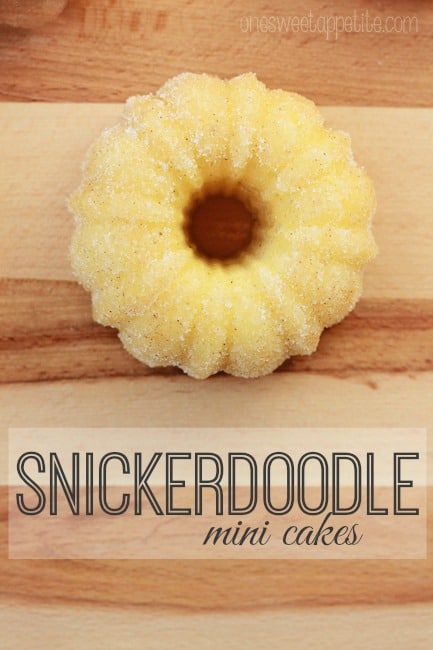 RECIPE FEATURES
Frosting Free: We aren't huge fans of frosting here in the OSA home. We much prefer to serve our cake with ice cream vs sweet and creamy buttercream. This recipe has the perfect cinnamon and sugar coating which eliminates the need for anything extra.
Freezer Friendly: You can bake these and keep them stored in the freezer for up to three months!
This snickerdoodle Bundt cake is amazing. A light and moist cake, filled with butter flavor, and the perfect balance of cinnamon and nutmeg. Rolled into a cinnamon and sugar mix for that perfect finishing touch, you really cannot go wrong with this sweet treat!
We love to whip these up whenever we have a need for something sweet. Serve them with a little cup of cocoa and you have the perfect combination. You can make them in a mini Bundt pan, cupcake pan, or even in a regular Bundt pan. Something about the mini version has captured my heart and is our go-to method every time.
WHAT IS SNICKERDOODLE CAKE MADE OF?
This recipe uses a handful of kitchen essentials. You'll need only one or two special ingredients, like buttermilk, which can also be substituted. Here is a quick look at what you will need to get started:
Flour: All-purpose flour works best for these little cakes. Be sure to measure flour by spooning into your measuring cup and leveling off with the back of a knife. When you scoop you pack the flour in tightly, which actually leaves you with too much flour.
Leavening Agent and Spices: This recipe uses baking powder. Be sure to double check the expiration date and replace if it has been open for longer than a year. Along with that, you'll need nutmeg, cinnamon and salt.
Butter: Unsalted butter that has been slightly softened. The butter gives you the fat needed to produce a moist cake. By using unsalted you give yourself more control over the added sodium, providing the perfect balance in flavors.
Sugar: White, or granulated, sugar is used inside the cake as well as the topping.
Eggs: Using eggs that are at room temperature is key to mixing the batter evenly without adding too much air.
Vanilla: I prefer pure vanilla extract over imitation. It provides a deeper flavor without a chemical aftertaste.
Buttermilk: No buttermilk? No problem. Simply place 1 tablespoons of lemon juice into a measuring cup. Fill to the 1 cup line with milk and allow to sit for five minutes.
HOW TO MAKE SNICKERDOODLE CAKE
PREP: Preheat the oven to 325 degrees. Butter and flour, or mist with baking spray, the inside of a mini bundt pan. Set aside.
MIX: Combine the butter and sugar in the bowl of an electric mixer fitted with the paddle attachment. Beat at low speed for 2 minutes, or until well combined and light and fluffy. Scrape the sides of the bowl and mix in the eggs, one at a time. Stir the splash of vanilla followed by the dry ingredients and buttermilk.
BAKE: Divide the batter between the prepared tin, filling each mold 1/2 to 2/3 full. Bake for 20 to 30 minutes, or until a toothpick comes out clean when poked into the center of the cakes.
TOPPING: Allow the cakes to cool for 10 minutes inside the pan. Gently turn the pan, using a tray or cooling rack, until upside down. Shaking gently to release the cakes. While still warm, roll each cake into a mixture of cinnamon and sugar.
HELPFUL TOOLS
Bundt Pan: Remember I mentioned that I love my mini bundt cake pan (affiliate)? This produces the CUTEST cakes that are perfect for single serve or parties.
Baking Spray: Buttering a pan with small nooks, like this one, can be tricky. I really love using baking spray (affiliate). It gets every inch and releases the cakes with almost zero problems!
Silicone Spatulas: If you don't have a set of silicone spatulas (affiliate), I highly recommend in adding them to your kitchen.
Recipe Notes:
Can I make this recipe in a regular pan?
You can use two 8 inch cake pans. Divide the batter evenly between the two and bake for 20 minutes, or until a toothpick comes out clean.
How long does this recipe last?
In general, this cake will last between- days. Keep stored covered at room temperature.
Can you freeze snickerdoodle cake?
If you aren't going to eat the cake in time, you can freeze it! Bake and cool the cakes completely. Place in freezer safe airtight containers or bags and freeze for up to three months.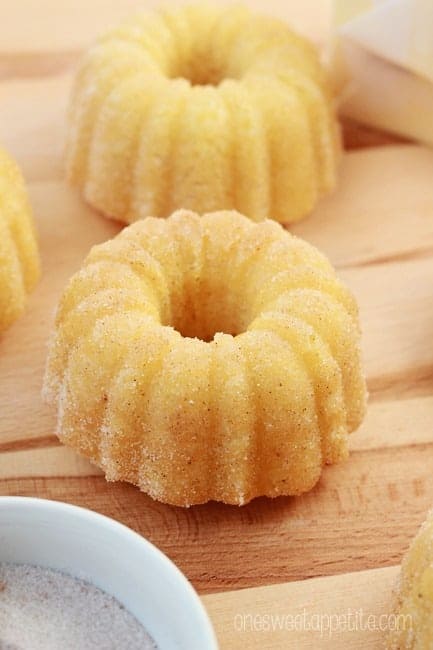 MORE MUST-TRY CAKE RECIPES
Still Hungry? Follow One Sweet Appetite on Instagram, Pinterest, and Facebook!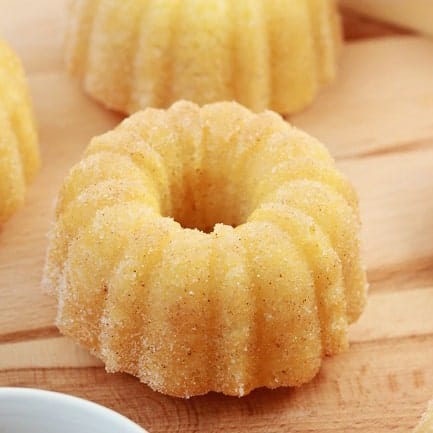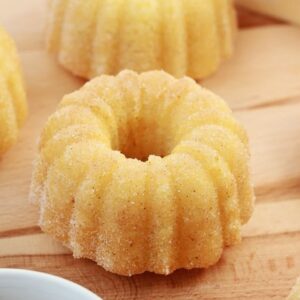 Snickerdoodle Cake
This snickerdoodle cake has a soft and buttery center and sweet cinnamon sugar coating. It is the perfect dessert recipe to help with your sweet cravings!
Ingredients
For the Cake
3 cups all-purpose flour
1 tablespoon baking powder
1 teaspoon salt
1/2 teaspoon cinnamon
1/4 teaspoon nutmeg
1 cup unsalted butter softened
2 cups granulated sugar
3 large eggs room temperature
1 teaspoon vanilla extract
1-1/4 cup buttermilk
Topping
8 tablespoons butter melted
1 cup sugar
1 teaspoon cinnamon
Instructions
Preheat the oven to 325 degrees. Spray a muffin tin or 2 mini bundt pans with cooking spray. Set aside.

Shift together the flour, baking powder, salt, cinnamon and nutmeg in a small bowl and set aside.

Combine the butter with 2 cups of sugar in the bowl of a stand mixer fitted with the paddle attachment. Stir at medium speed for 2 to 3 minutes, or until combined and fluffy.

Stir in the eggs, one at a time, followed by the vanilla extract.

Scrape the sides of the bowl. Add half of the dry ingredients with half of the buttermilk. Stir well. Scrape the sides and add the remaining dry ingredient mixture and buttermilk. Stirring until combined.

Divide between the prepared pan and bake for 20-30 minutes (baking time will vary depending on which pan you decide to use). Test by sticking a toothpick into the center of the cake. Cake is done when the toothpick comes out clean.

Remove the cakes from the pan while they are hot. Brush with melted butter and roll in 1 cup of sugar mixed with 1 teaspoon of cinnamon.
Nutrition
Serving: 1mini bundt | Calories: 532kcal | Carbohydrates: 75g | Protein: 5g | Fat: 25g | Saturated Fat: 15g | Polyunsaturated Fat: 1g | Monounsaturated Fat: 6g | Trans Fat: 1g | Cholesterol: 108mg | Sodium: 386mg | Potassium: 67mg | Fiber: 1g | Sugar: 50g | Vitamin A: 783IU | Vitamin C: 0.01mg | Calcium: 86mg | Iron: 2mg
Equipment
Reader Interactions