These Salted Caramel Macarons combine the classic delicate French cookie with a sweet homemade caramel buttercream. Top everything with a sprinkle of fleur de sel salt for that perfect finish.
Looking for even more sweet caramel treats? Try my Salted Caramel Cheesecake Bars, Easy Iced Caramel Coffee, and Salted Caramel Candies.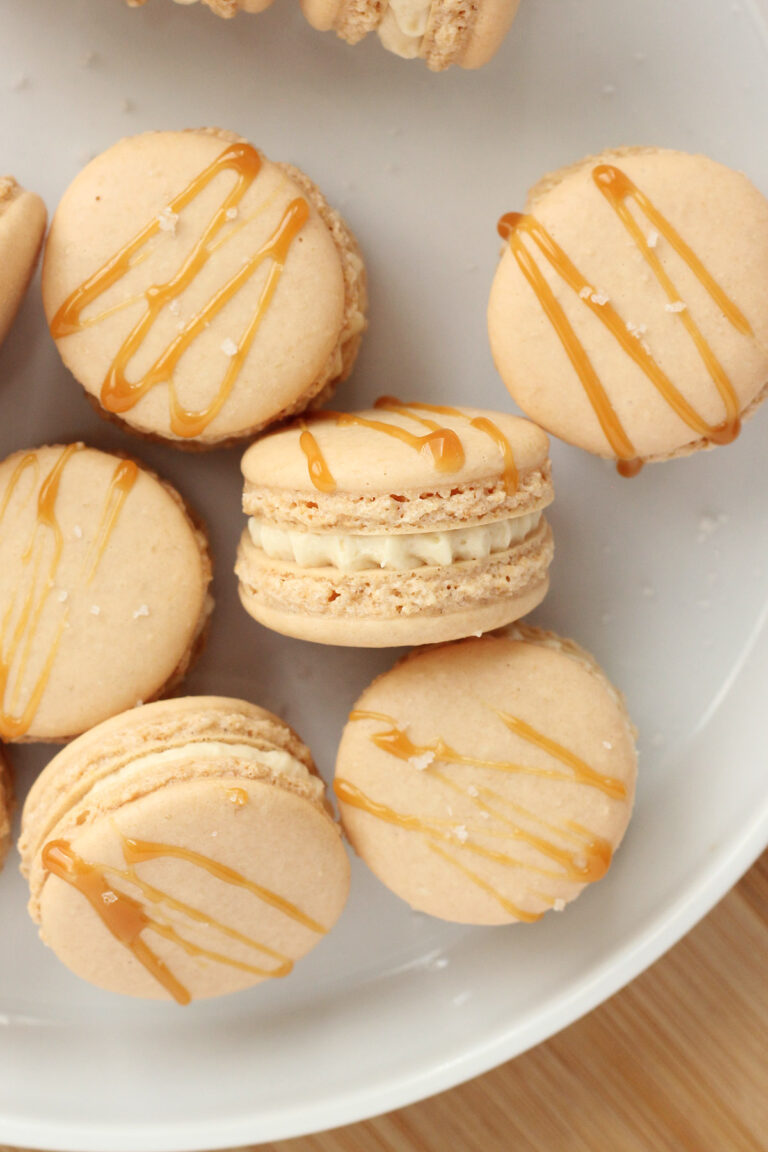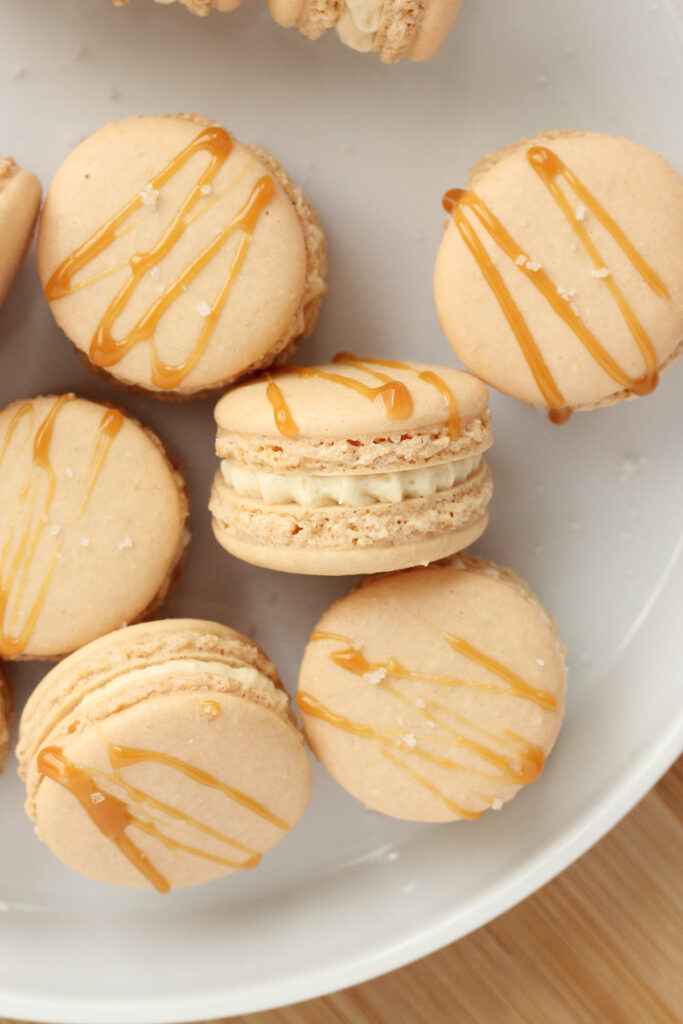 Recipe Features
BEST Macaron Base: Macarons can be temperamental. This cookie recipe is tried and tested over and over to give you an almost fool proof cookie.
Easy to Customize: You can add almost any filling to these cookies.
Perfect Gift Giving Cookie: These are simply beautiful and the perfect gift to give any time of the year.
French macaroons are notorious for being unbelievably difficult to make. I was SO SO lucky the first time I made them… the second, not so much. I really think it just takes practice and lots of patience. That hasn't stopped me from whipping up batches for almost every occasion. This recipe is almost fool-proof. Follow the directions to a T and you'll be amazed at the bakery worthy cookies you can whip up in no time!
Be patient and you'll find that these Salted Caramel French Macarons are well worth the effort. Delicate almond cookie base with a sweet caramel filling sprinkled with bits of salt. SO DANG GOOD.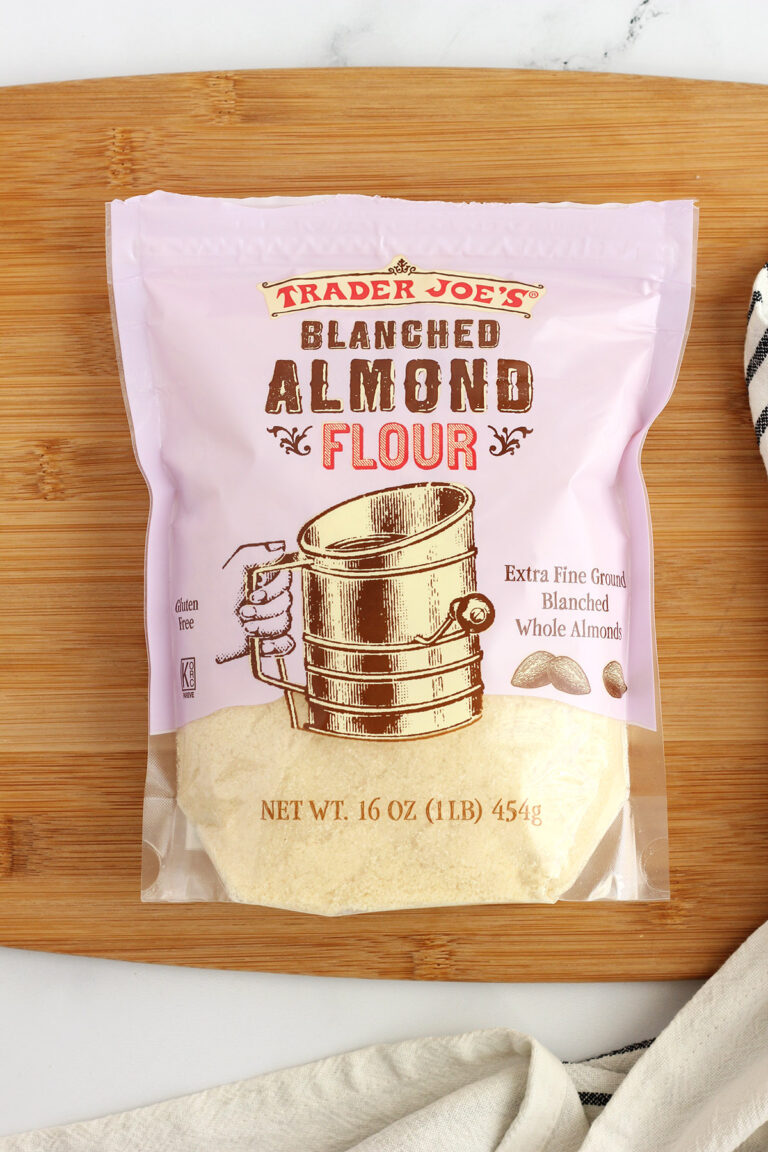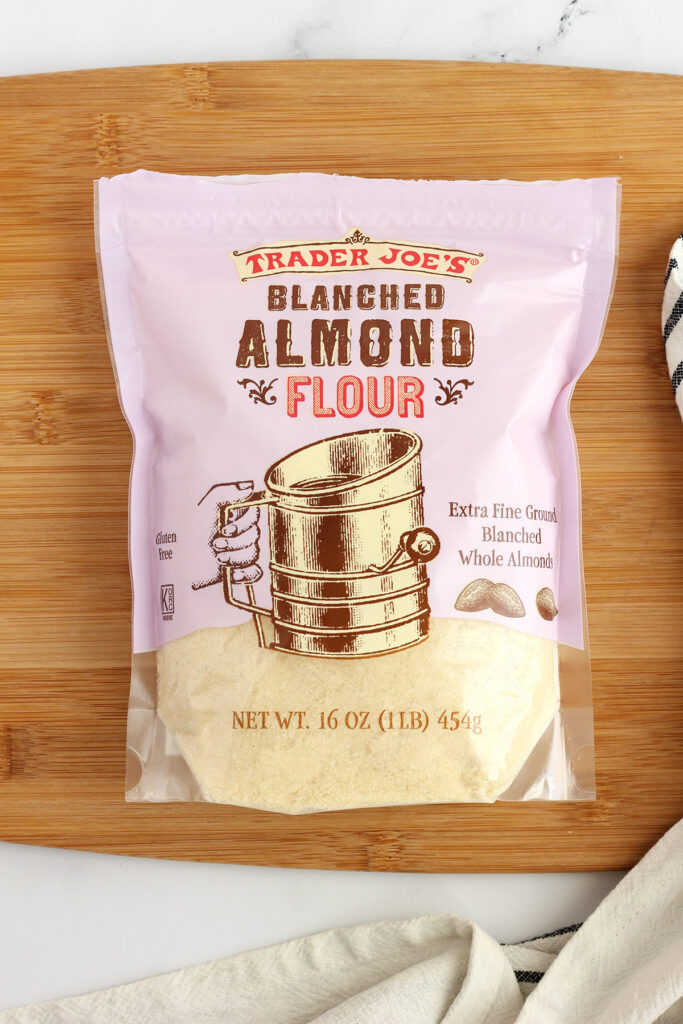 French Macaron Ingredients
Have you ever had a French Macaron before? Are you ready for this? Because I was not sure what to expect. They are so light and airy. They have the perfect crumble with every and oh my goodness are they amazing when paired with the right filling. And you only need 5 ingredients for the base!
Eggs: Specifically, egg whites. Make sure these are at room temperature. I take mine out of the refrigerator at least 30 minutes before I'm ready to start baking.
Sugars: A little granulated sugar paired with powdered sugar give you the slight sweetness the cookies need.
Almond Flour: Almond flour creates a finer smooth texture and creates less of a cakey finish. Super light and airy with a hit of almond flavor.
Salt: A pinch of salt is all you need to blend the flavors.
DO NOT SUBSTITUTE INGREDIENTS. This recipe is very particular on the ingredients used. No not substitute.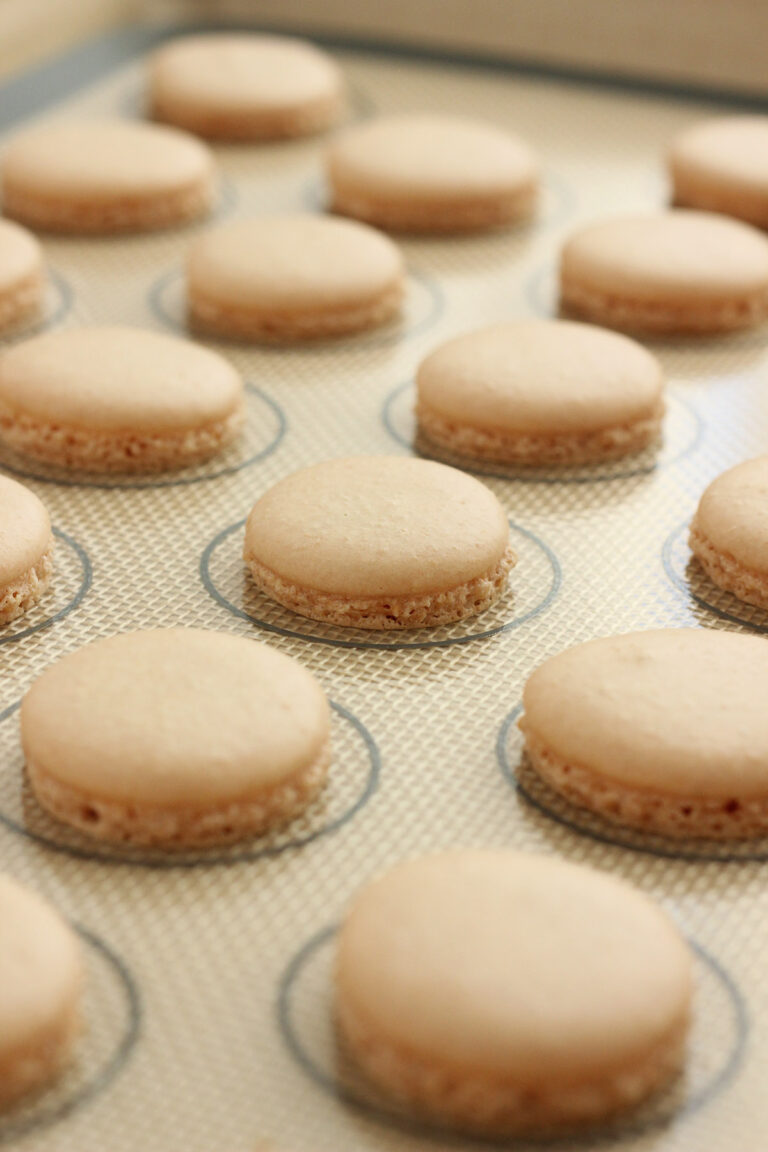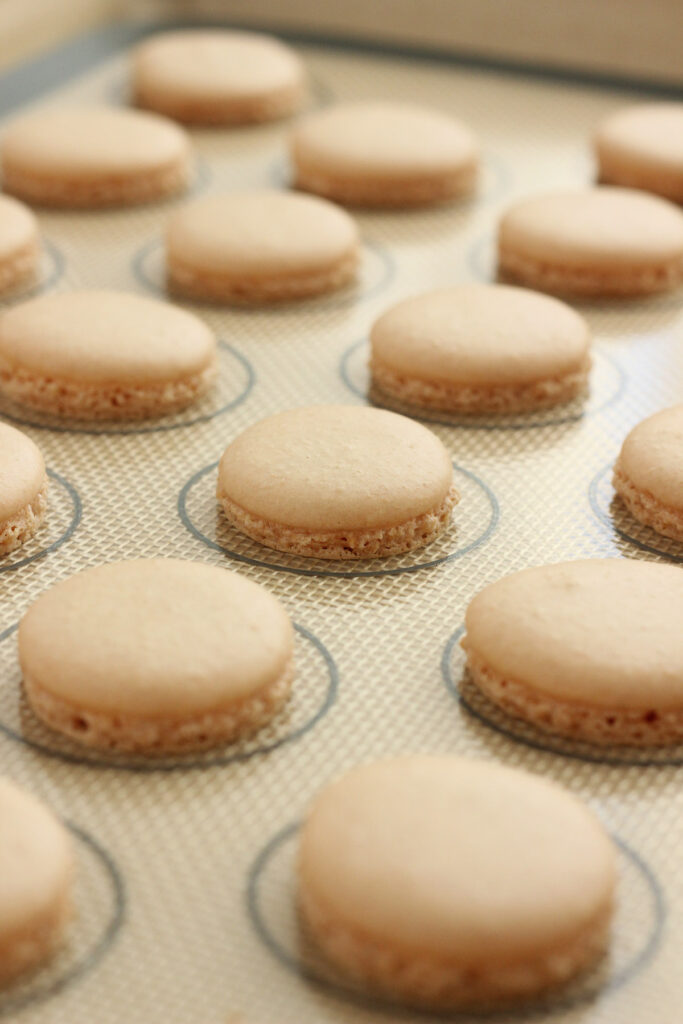 How To Make Macarons
MEASURE: I like to start by measuring out all of my ingredients before I start the baking process.
SHIFT: Shift the powdered sugar and almond flour. Set aside and whisk the egg whites with the granulated sugar to peaks.
FOLD: Fold the flour into the egg mixture, stirring exactly 65 times. Do this by hand.
REST: Pipe into rounds on parchment lined trays. Tap the trays 5 times on the counter to remove the air bubbles. Let them sit for 30 minutes.
BAKE: Bake for 20 minutes at 300 degrees.
FILL: Cool completely and fill.
Helpful Tools
Use a macaron mat like this one here. It will help keep your cookies uniform in size.
Shift all of your ingredients. Remove any large pieces of the almond meal/flour.
Buy a round pipping tip and pipping bags.
Use food color PASTE if you are going to color your cookies.
Use a flexible spatula to fold the batter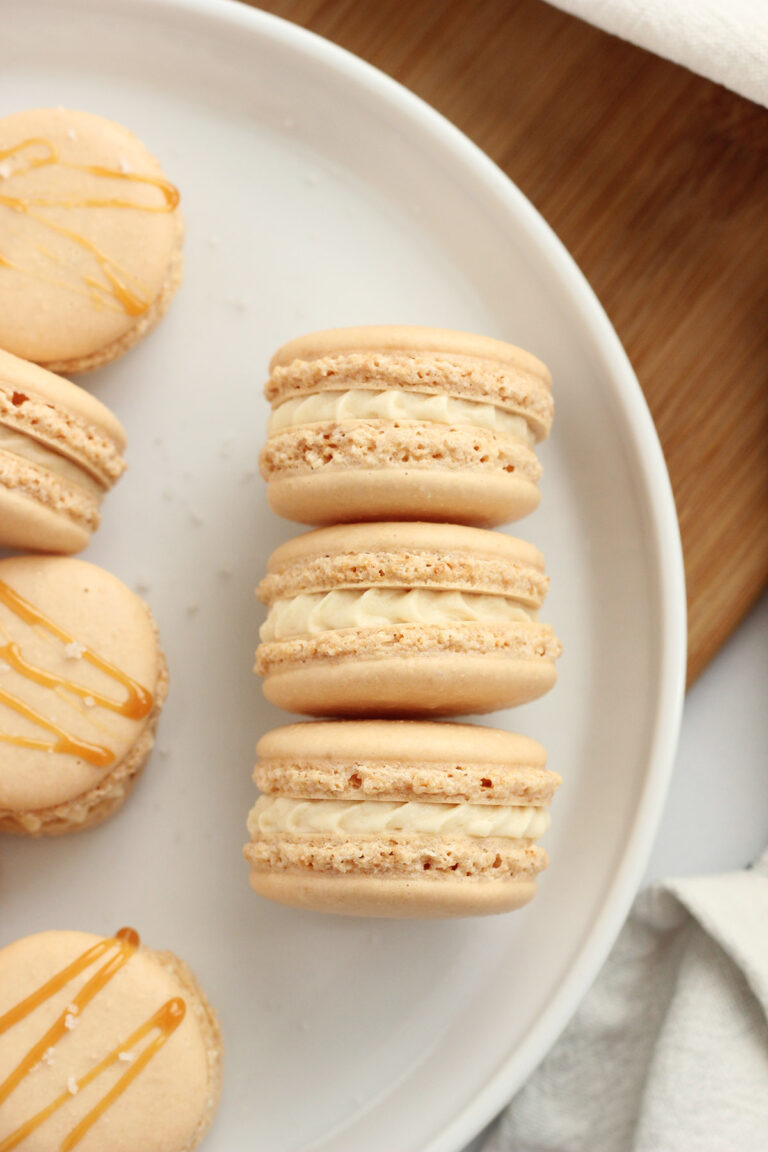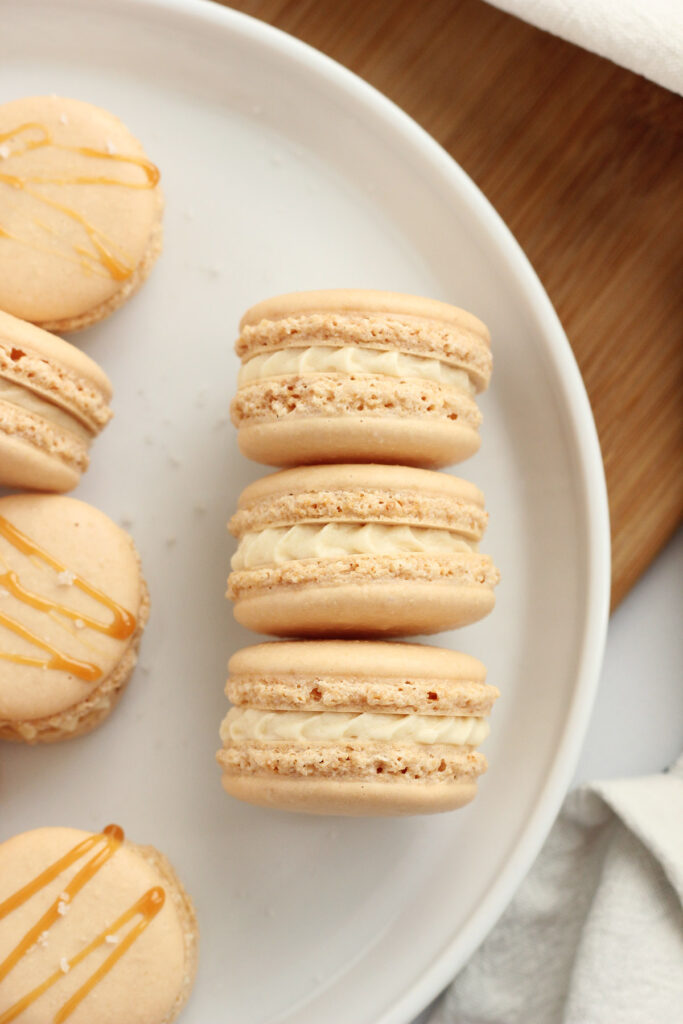 Recipe Notes:
Are macarons really that hard to make?
Yes and no. Macarons are notoriously known for being delicate and finicky. I have made 5 batches in a row that turn out gorgeous and 5 batches that were a complete waste. Getting the right consistency in your batter is an art form. After lots of practice I can confidently say that more times than not mine form perfectly. It takes patience. If I rush through the recipe I will fail. So take your time and practice, practice, practice!
Can you use regular flour to make macarons?
The short answer is no. The base of these cookies is the almond flour. It provides the flavor, texture, and beautiful feet that macarons are known for. Do not substitute for other flours.
Can I used store bought caramel in the filling?
Yes. However, I really feel like the homemade caramel buttercream or homemade caramel makes all of the difference.
Why didn't my macaroons get the classic feet?
Most of the time improper texture will come from not mixing properly or skipping the rest time. Make sure you follow the stirring ingredients exactly and let the cookies rest the full 30 minutes.
Like this recipe? You will love my Smore Macarons, Salted Brownie Cookies, and Salted Caramel Cheesecake Bars, Caramel Pecan Thumbprint Cookies
MORE MUST-TRY COOKIE RECIPES
Still Hungry? Follow One Sweet Appetite on Instagram, Pinterest, and Facebook!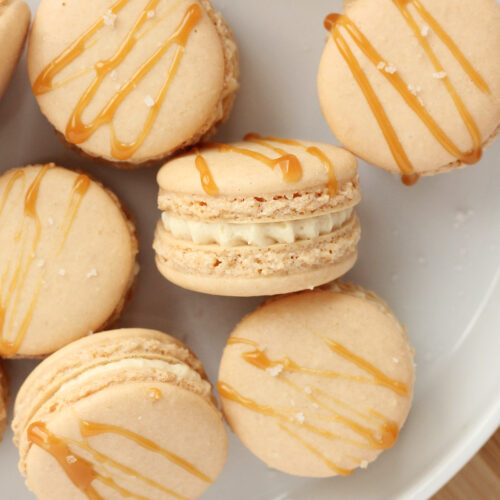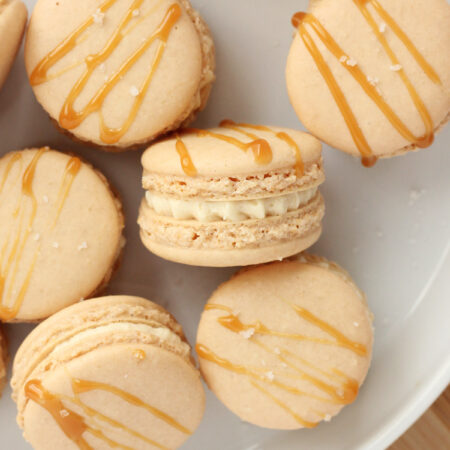 Salted Caramel French Macarons
These Salted Caramel Macarons combine the classic delicate French cookie with a sweet homemade caramel buttercream. Top everything with a sprinkle of fleur de sel salt for that perfect finish.
Ingredients
Cookies:
3 large egg whites room temperature
¼ cup sugar
2 cups powdered sugar
1 cup almond flour
pinch of salt
Caramel Frosting
1/2 cup butter softened
2 cups powdered sugar
1 teaspoon vanilla extract
1/4 cup caramel sauce* room temperature
1-2 tablespoons heavy cream
Instructions
Cookies:
Start by shifting the powdered sugar and almond flour together. I do this twice to make sure all of the large almond chunks are removed.

Whisk your egg whites until foamy. Add the salt and 1/4 cup sugar. Continue to beat until stiff peaks form.

Fold your flour mixture into your eggs, turning 65 times. Make sure you do this by hand to avoid over mixing.

Place your batter into piping bags and pipe 1 inch rounds onto two parchment lined baking trays. Tap each tray 4-5 times onto the counter to remove any air bubbles.

Allow the cookies to sit for at least 30 minutes.

Preheat your oven to 300 degrees and bake exactly 20 minutes.

Allow to cool on a wire rack. Sandwich two cookies with salted caramel sauce and enjoy!
Buttercream
Place the butter into the bowl of an electric mixer fitted with the paddle attachment. Beat until soft and somewhat fluffy, about 1 minute at medium speed.

Scrape the sides of the bowl and add the powdered sugar, one cup at a time, mixing slowly to combine.

Scrape the sides of the bowl and drizzle in the vanilla and caramel sauce. Mix for 1 minute to fully incorporate into the frosting.

Stir in the cream until it has fully mixed into the frosting. Increase the speed to medium and allow to mix for 5 minutes.

Transfer the frosting to a piping bag and pipe onto the prepared cookies, sandwiching a small amount between two of the same size.

Optional, drizzle with extra caramel and sprinkle with a touch of finishing salt.
Notes
DO NOT SUBSTITUTE ingredients for the cookie base.  I use store bought salted caramel sauce, found in the ice cream aisle. Grab the sauce that is slightly thicker for a perfect buttercream filling. 
Nutrition
Serving: 1Servings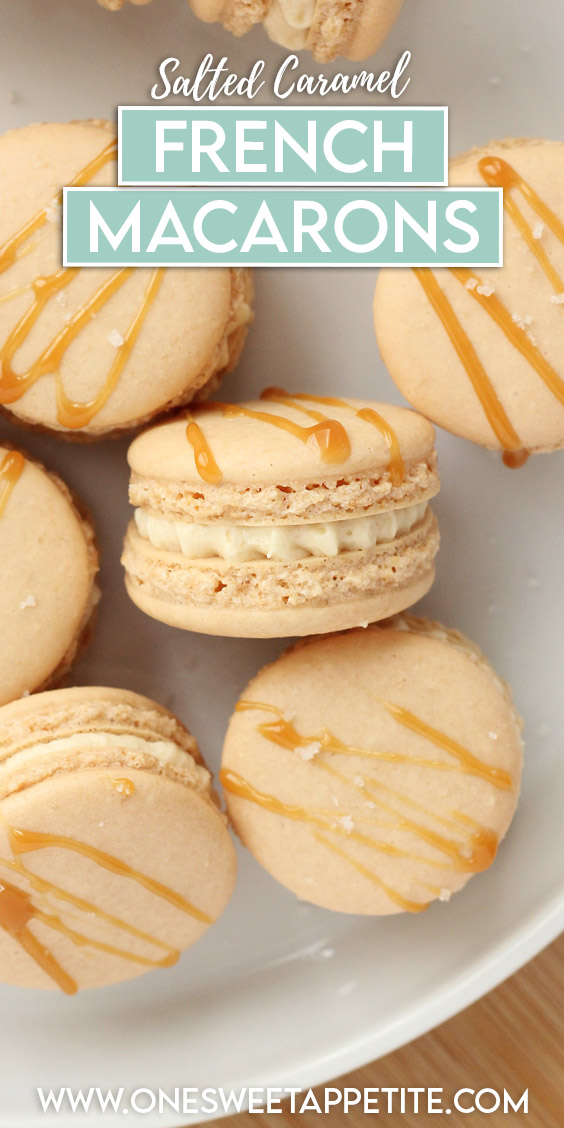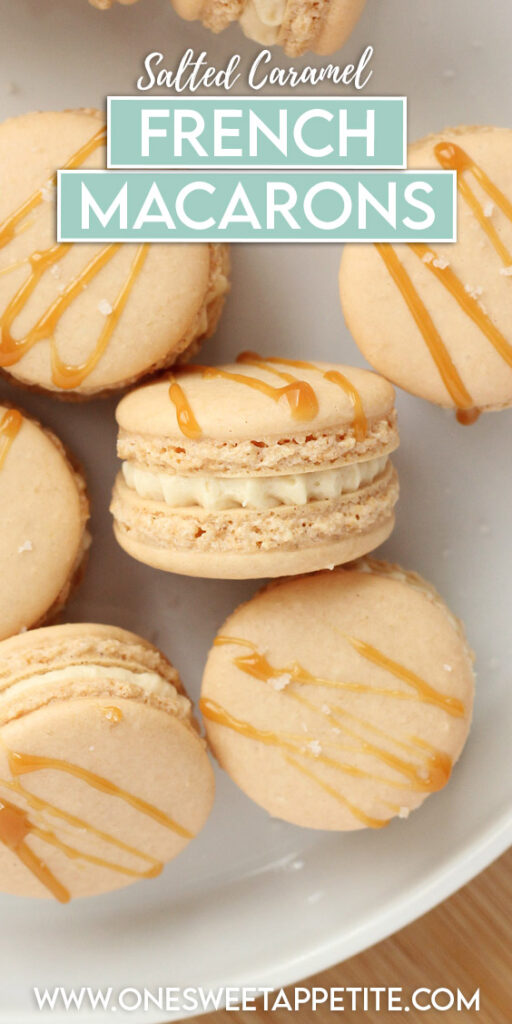 Reader Interactions