The very BEST Soft and Chewy Snickerdoodle Cookie Recipe. The secret? Cinnamon is added into the dough and the batter is rolled into a cinnamon sugar mixture just before baking! The end result is a flavor packed soft and chewy cookie that is hard to resist!
Want more snickerdoodle inspired treats? Be sure to try my Snickerdoodle Blondies, Cinnamon and Sugar Latte and Snickerdoodle Cupcakes.
Why you'll love Snickerdoodles
Soft and chewy: These cookies are thicker with the added bonus of being perfectly soft and chewy every time you bake a batch.
Freezer Friendly: Roll the dough into your rounds and place in a zip top bag to freeze before baking. Frozen dough can last up to one year!
Family Favorite: THE most requested cookie for me to bring to family events and parties.
These snickerdoodle cookies are a family favorite. Specifically, they are my mom's go-to cookie. She looooooves this recipe. Every holiday season, when I start planning my cookie trays, she pipes in and requests a double helping of my Snickerdoodles. These cookies are easy to make, soft and chewy, and perfect for sharing. Add them to your must-make list and give them a try. You will not be disappointed.
Made over and over for years, perfecting each ingredient, these are the very best snickerdoodle cookies.
Why are they called Snickerdoodles?
The origin of the name "Snickerdoodles" for this type of cookie is not entirely clear, but there are a few theories behind it.
One theory suggests that "Snickerdoodle" is a whimsical name created for marketing purposes. It is believed that the name was concocted to make the cookie sound more fun and memorable, possibly as a way to differentiate it from other types of cookies.
Best Snickerdoodle Recipe Ingredients
Like so many of my cookie recipes, this ingredient list is fairly basic. Most of the items are staples you probably already have on hand, with the addition of one key ingredient. Check out the list below for a quick preview of what you will need.
All-Purpose Flour: The secret to getting that perfect cookie puff is measuring the ingredients properly. Make sure you spoon the flour into measuring cups and level off with a knife.
Baking Soda– The baking soda freshness can make or break a cookie. Be sure to use fresh soda and replace the carton if it has sat for a while in the pantry. I make sure to replace mine six months after opening, if not sooner.
Cream of Tartar– Snickerdoodle cookies have a beautiful crinkled top. This is thanks to the added cream of tartar. Cream of tartar does expire, so be sure to replace it regularly.
Cinnamon– Added directly into the dough AND used in the sugar cinnamon topping.
Butter: Slightly softened butter. I like a more salty cookie, so I tend to use salted butter. However, these cookies were originally intended to be made with unsalted.
Sugar: Granulated sugar, regular white sugar, inside the cookie AND in the topping.
Eggs: Large eggs, preferably at room temperature. This helps the eggs mix into the batter quickly without heating up the butter too much.
Vanilla: I prefer to use pure vanilla extract. It boosts flavor and doesn't leave that chemical aftertaste you get with imitation.
Try serving these with a warm cup of Cinnamon and Sugar Hot Chocolate!
How to make Snickerdoodle Cookies
PREP: Preheat the oven to 375 degrees. Line two cookie trays with parchment, or a silicone baking mat, for easy cleanup.
DRY: Whisk together the flour, baking soda, and cream of tartar until combined.
WET: Combine the butter and 1-1/2 cups sugar in the bowl of a stand mixer, or a mixing bowl with an electric mixer. Beat with the paddle attachment for 2 minutes, or until incorporated and fluffy. Add the eggs and vanilla, stirring until combined.
MIX: Scrape the sides of the bowl with a spatula. Add the dry ingredients and stir until the dough begins to form.
ROLL: Scoop the dough in roughly 2 tablespoon amounts and roll into balls. Roll each cookie ball into the cinnamon sugar topping and place on the baking tray, spacing 2 inches apart.
BAKE: Bake 10-12 minutes, or until the cookies are lightly browned and pulling up on the edges. Let the cookies cool on the tray.
Helpful Tools for making Snickerdoodles
Baking Trays: I am a big fan of my Nordic Ware pans (affiliate). I have both the half sheet and full pan sizes and they are amazingly easy to clean.
Silicone Baking Mats: Parchment paper is king in my kitchen, but only when both of my silicone baking mats (affiliate) are dirty. They are SO great for so many things and worth the $13 for a set of 3.
Cookie Scoop: You can use a measuring spoon. However, a 1 tablespoon cookie scoop (affiliate) is so handy and makes the process extra speedy.
How to store Snickerdoodle Cookies
How long do Snickerdoodles last?
These cookies are best if eaten between 3-4 days.
How do you freeze cookie dough?
Freezing this recipe is incredibly simple. Follow the instructions through rolling the dough in the sugar topping. Place all of the dough balls onto a tray and freeze for one hour. Transfer to a labeled zip top bag. When ready to bake, let the cookies sit on a baking tray at room temperature for 20 minutes. Follow the baking instructions from there. See more in my post on how to freeze cookie dough.
FAQs on Snicker Doodle Cookies
Why is cream of tartar added to Snickerdoodles?
Here is the big question, do you really need cream of tartar for snickerdoodle cookies? The short answer? Yes. You do. Cream of tartar is the one ingredient that sets these apart from regular ol' sugar cookies. Cream of tartar helps the cookies rise and add a slight tang to the already butter flavored cookie.
Why are my snickerdoodle cookies so thin?
Make sure your ingredients are fresh. Cream of tartar, and other spices, can expire quicker than you think. Be sure to check the expiration date and use fresh spices for the best results. You can also chill your cookie dough for a more puffy cookie.
Can I double this recipe?
Yes. This recipe is easily doubled.
Why did my snickerdoodles get hard?
Several factors can contribute to Snickerdoodles becoming hard instead of soft and chewy. Here are a few possible reasons:
Baking the cookies for too long can result in a dry and hard texture. If the recipe's ingredient measurements are inaccurate, it can affect the texture of the cookies. Too much flour, for example, can lead to a drier and harder cookie.
Improper storage can cause cookies to become stale and lose their softness. Store Snickerdoodles in an airtight container at room temperature. If they are exposed to air, they can become dry and hard.
What is a substitute for cream of tartar in snickerdoodles?
I don't recommend substituting cream of tartar in this recipe. Cream of tartar is what is used in Snickerdoodles to give them their characteristic tangy flavor and help create their signature texture.
How do you know when Snickerdoodles are done baking?
Snickerdoodles should be baked until they are set around the edges but still slightly soft in the center. Keep an eye on them during baking and remove them from the oven when the edges begin to lightly brown and curl away from the pan to avoid overbaking.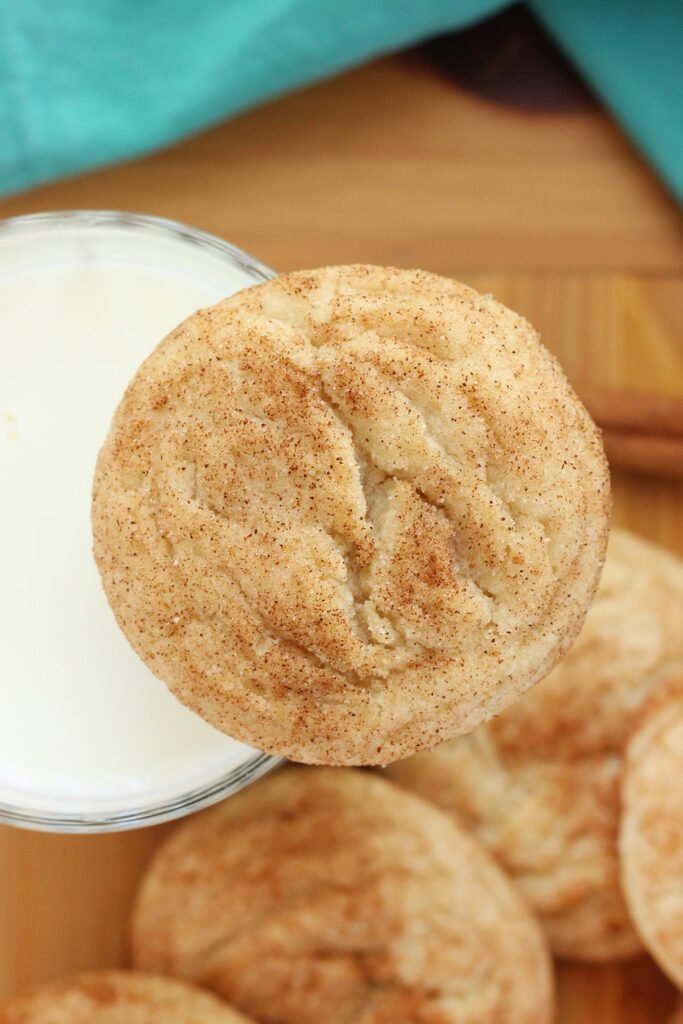 More Must Try Cinnamon recipes
Still Hungry? Follow One Sweet Appetite on Instagram, Pinterest, and Facebook!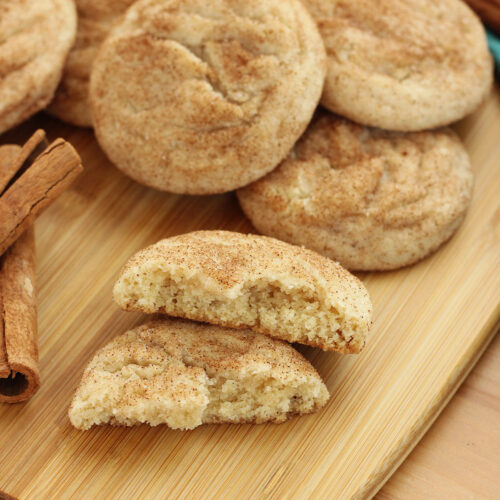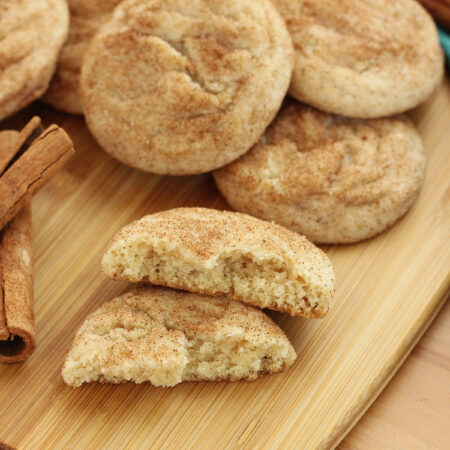 Best Snickerdoodle Cookies
The very BEST Snickerdoodle Cookies. The secret? Cinnamon is added into the dough and the batter is rolled into a cinnamon sugar mixture just before baking! The end result is a flavor packed soft and chewy cookie that is hard to resist! 
Ingredients
For the cookie:
1¾ cups all-purpose flour
1 teaspoons cream of tartar
1/2 teaspoon baking soda
1/2 teaspoon cinnamon
1/2 cup butter (one stick) softened
3/4 cup sugar
1 large egg
1 teaspoon vanilla extract
For the topping:
2 tablespoons sugar
2 teaspoon cinnamon
Instructions
Preheat the oven to 375 degrees and line a cookie tray with parchment or silicone baking mats. Set aside.

Combine the flour, baking soda, cream of tartar, and 1/2 teaspoon cinnamon in a large measuring cup or small mixing bowl. Gently stir with a fork until the ingredients are combined. Set aside.

Add the softened butter with 3/4 cup granulated sugar in the bowl of a stand mixer. Mix on medium speed for two minutes or until the butter and sugar is light and fluffy.

Scrape the sides of your bowl with a spatula. Add the egg and vanilla extract. Stir on low until incorporated.

Slowly stir in the dry ingredients, stirring on low speed until combined and a dough is formed.

In a small bowl, stir together the remaining 2 tablespoons of sugar with the 2 teaspoons of cinnamon.

Roll the dough into 2 inch balls and coat each completely in the cinnamon sugar topping.

Place 2 inches apart on the prepared baking tray. Bake 10-11 minutes, or until the edges are slightly curled and the cookies are puffed.

Let the cookies cool for 5 minutes on the baking tray and enjoy.
Notes
Recipe adapted from All Recipes
Nutrition
Serving: 1cookie | Calories: 91kcal | Carbohydrates: 11g | Protein: 1g | Fat: 5g | Saturated Fat: 3g | Polyunsaturated Fat: 0.2g | Monounsaturated Fat: 1g | Trans Fat: 0.2g | Cholesterol: 22mg | Sodium: 68mg | Potassium: 34mg | Fiber: 0.2g | Sugar: 9g | Vitamin A: 156IU | Vitamin C: 0.01mg | Calcium: 6mg | Iron: 0.2mg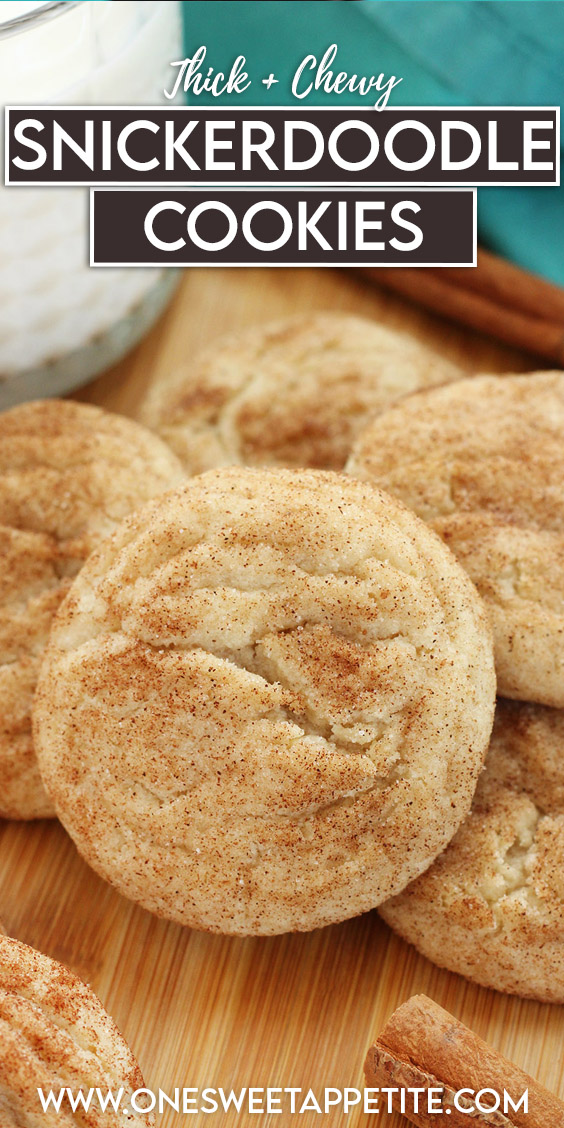 Reader Interactions