These Easy Jello Popsicles are a perfect summer treat! Slow melting and packed with flavor and made with only 4 ingredients; Jello, Kool-Aid, sugar and water!
Searching for more delicious ways to beat the heat? Whip up a batch of Fresh Strawberry Lemonade or Refreshing Mint Limeade!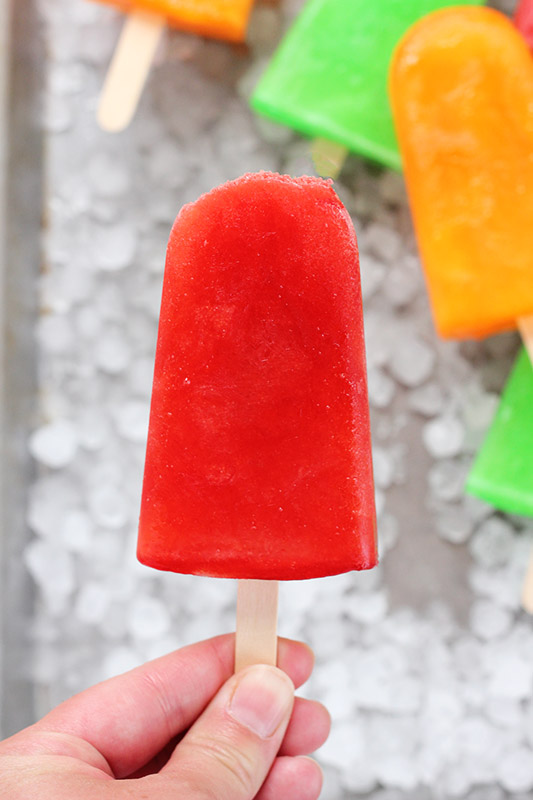 This post was originally published July 24, 2013. It has since been updated to include fresh photos and helpful tips.
This post is not sponsored and in no way affiliated with Jell-O or the Kraft Heinz brand.
RECIPE FEATURES
Easy: These come together quickly and make so many popsicles!
Kid Approved: We make these throughout the summer and my son loves to help come up with creative flavor combinations.
Slow Melting: Do they still melt? Yes. But adding jell-o mix makes it melt so much slower.
These kid friendly popsicles are a summer staple, and one I don't mind making! It takes almost zero effort and the flavor is phenominal! Mixing Jell-O with your favorite Kool-Aid flavor means the flavor combinations are nearly endless and the slow-melt makes them perfect for little eaters.
Keep this recipe on hand for summer fun that everyone can join in on!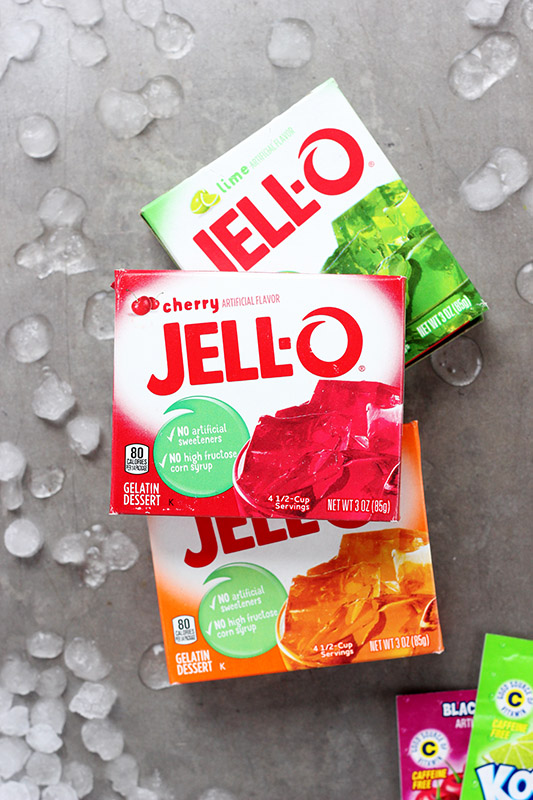 NO-DRIP JELLO POPSICLES
Not only is this recipe minimal effort, but the ingredient list is SHORT. You only need four things to whip up a batch.
Jell-O: Be sure to grab the smaller 3 oz boxes. The bigger boxes will work, just be sure to adjust ingredients accordingly.
Kool Aid: Coordinate your flavor of Jell-O with a flavor of kool-aid.
Sugar: A touch of sugar helps to sweeten the pops and tone down the tart kool-aid mix.
Water: Water is the base that gives these pops their full and icy texture.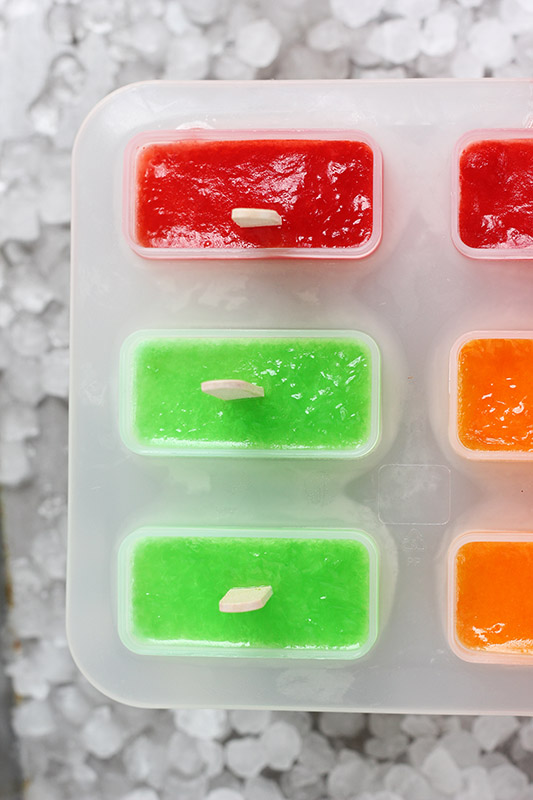 HOW TO MAKE POPSICLES OUT OF JELLO
PREP: Whisk together the Jell-o mix, kool aid packet and sugar.
WHISK: Whisk in the hot water. You want to mix until the jello starts to dissolve.
POUR: Pour in the cool water and mix well, Carefully add to your prepared molds.
FREEZE: Freeze for 6 hours, or until solid. I normally add the sticks about 40-50 minutes into freezing.
HELPFUL TOOLS
Popsicle Molds: There are dozens of different options out there. Currently, we are really loving silicone popsicle molds (affiliate). They are easier to maneuver when releasing the frozen pops.
Mixing Bowl: Specifically, a mixing bowl with a pour spout (affiliate). This makes it ten times easier to get the liquid into your molds.
Silicone Whisk: Easily in the top 10 of my favorite kitchen items. Silicone whisks (affiliate) won't scratch pans and scrape the sides of the bowl perfectly.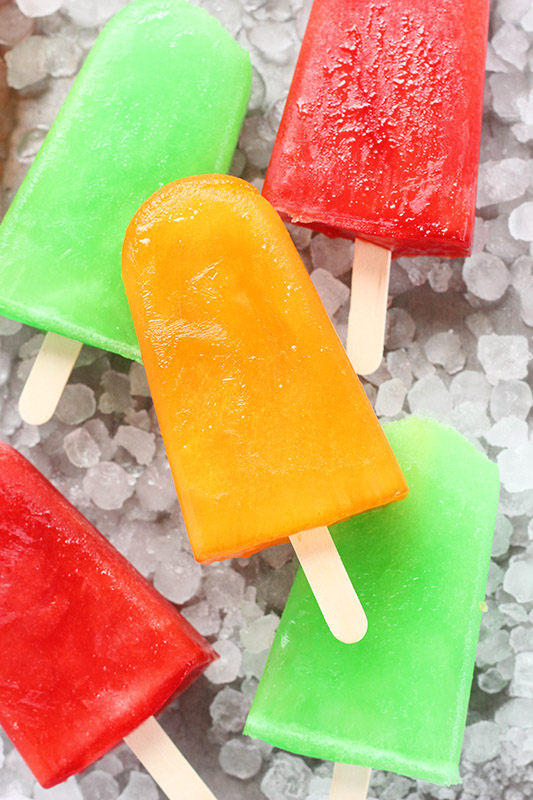 POPSICLE RECIPE TIPS
Can you make popsicles without a mold?
I have a 3 popsicle molds (affiliate link to my fave product) floating around my home. The thing is, I can almost never find them when I need them.
We are big fans of the Dixie cup method when I cannot find my favorite mold.
Pour your pops straight into a Dixie cup.
Freeze 20 minutes.
Add a Popsicle stick and freeze solid.
*Note: Use a baking tray or large plate to keep all of your cups from falling in the freezer.
What flavor combinations work well?
You can really play around with the flavors until you find one you love. We like to combine similar profiles. So, cherry jell-o with cherry kool-aid. You can add fresh fruits, layer flavors in the molds, and even mix with a layer of vanilla ice cream!
How do you get popsicles out of the mold easily?
Fill a container with hot water. You want at least enough to cover to the top of your mold without leaking over onto your pop.
Dip your mold into the hot water for 20 seconds.
Slide out your homemade Popsicle and enjoy!
How long do these homemade popsicles last?
These frozen jello pops will last up to 6 weeks if stored properly. Remove from the mold once frozen solid and keep stored in a freezer safe zip top bag until ready to enjoy.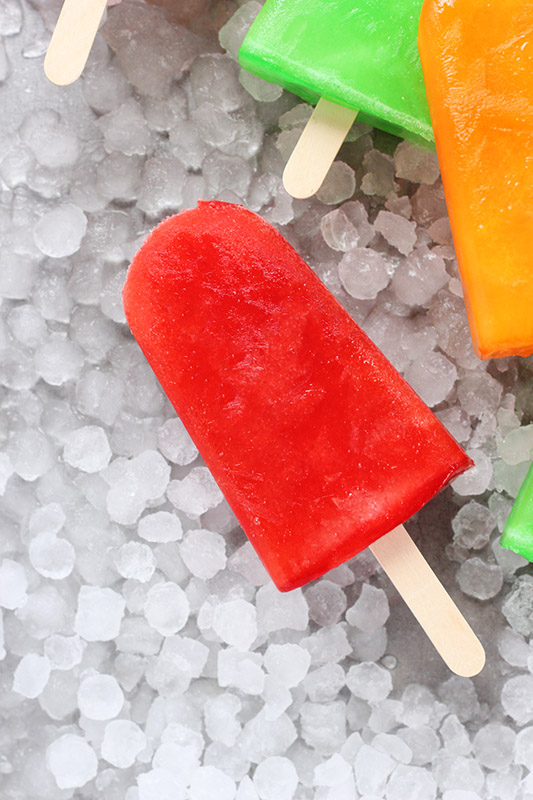 MORE MUST-TRY POPSICLE RECIPES
The Jello added into the recipe makes these melt a little slower which is especially nice on hotter days. So the only question you really have left to ask is what flavor you are going to start with?!
Still Hungry? Follow One Sweet Appetite on Instagram, Pinterest, and Facebook!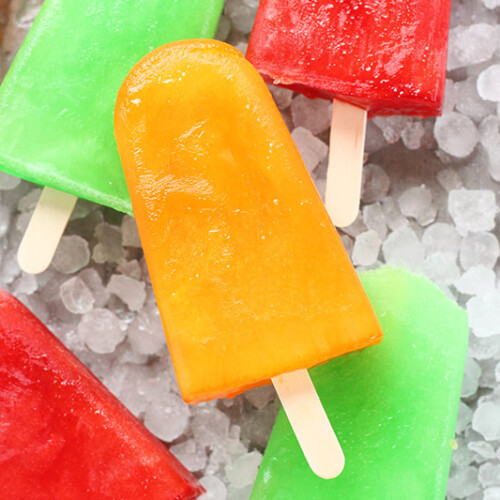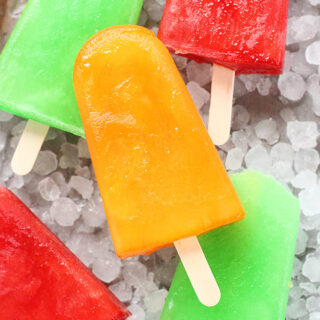 Easy Jell-O Popsicles
These Easy Jello Popsicles are a perfect summer treat! Slow melting and packed with flavor and made with only 4 ingredients; Jello, Kool Aid, sugar and water!
Ingredients
1 3oz package Jell-O
1 packet of Kool-Aid
3/4 cup sugar
2 cup boiling water
2 cup cold water
Instructions
Combine the Jell-O, Kool-Aid, sugar, and boiling water in a large pitcher. Stir until dissolved.

Mix in the cold water and pour into your molds. Freeze for 4-6 hours or until solid.
Notes
* Be sure to use coordinating flavors of Jello and Kool Aid. For example: If you use cherry Jello use cherry Kool Aid
Nutrition
Serving: 1Servings | Calories: 58kcal | Carbohydrates: 15g | Sodium: 4mg | Sugar: 15g
Equipment
Reader Interactions