These Easy Meringue Cookies are a light and sweet alternative to your typical chocolate chip! Made with whipped egg whites, powdered sugar, and cream of tartar for a delicious sweet treat the entire family will love!
I'm a BIG fan of meringue. Be sure to try a few of my other recipes that include the delicious whipped egg whites like my Lemon Pie Bars and Cranberry Meringue Pie!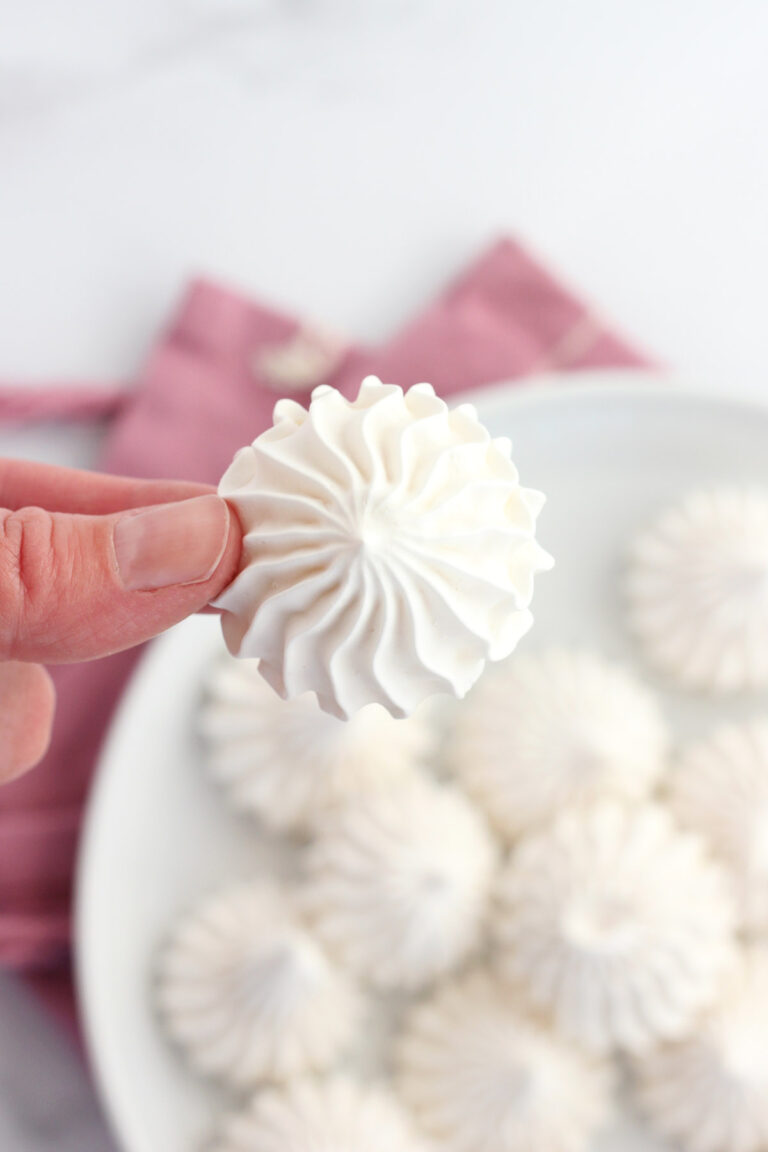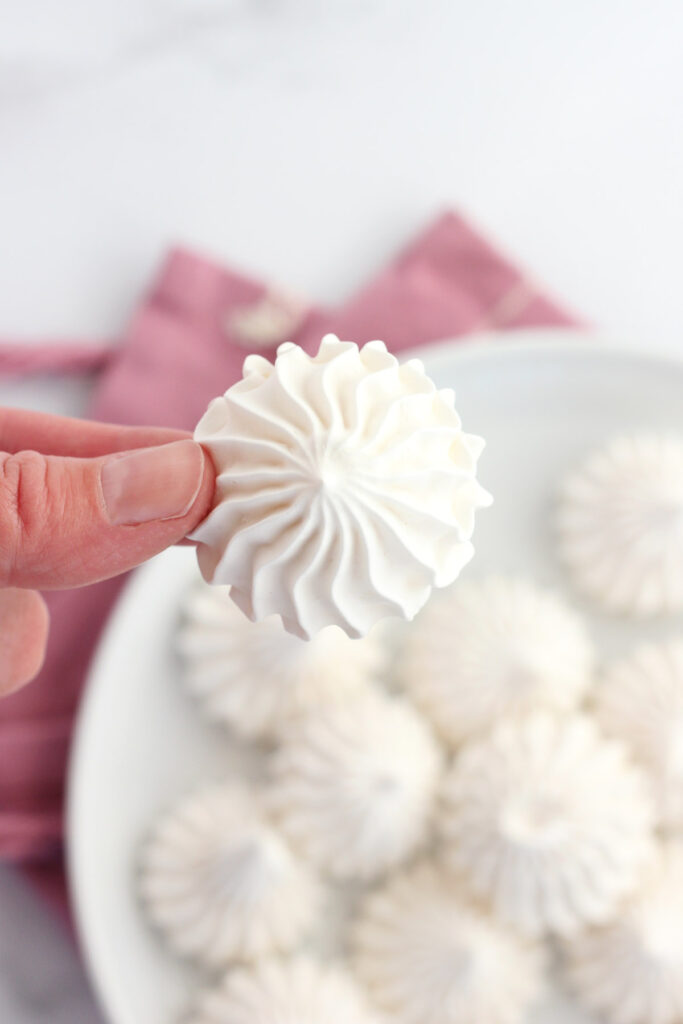 Recipe Features:
Minimal Ingredients: This is a 5-Ingredient Dessert Recipe.
Dairy Free– No dairy in this cookie recipe.
Gluten Free– Always remember to read the labels of the ingredients you use carefully to ensure dairy and gluten free
There is nothing better than a simple 5 ingredient dessert recipe. This Meringue Cookie Recipe gives you a light, airy, and perfect treat for your cookie tray! They taste a bit like cotton candy, which I feel is always acceptable.
Family approved, and one of our favorites. It takes less than five minutes to whip these up and they slow cook overnight in the oven. Super quick and simple with the added ability to customize to your flavor preferences!
Meringue Cookie Ingredients
There are only a handful of ingredients you need to make this treat, with the main ingredient being egg whites. There are a few fun ways to customize so be sure to check out my substitutions below.
Eggs: Specifically, large egg whites that are brought to room temperature. Warm egg whites will whip quickly and to the perfect consistency.
Cream of Tartar: Cream of tartar helps to stabilize the egg whites, which speeds up the whipping process. It gives you the most perfect and glossy meringue.
Powdered Sugar: Using confectioners sugar vs granulated helps give you a nice smooth finish without added grit.
Extract: Pick the flavor you want and roll with it. I really enjoy vanilla, which is pictured here, but you can use raspberry, lemon, or almond for fun flavor variations.
Food Coloring: Optional, but a fun way to add some character to your cookies.
How To Make Cookies Out Of Meringue
While these cookies are super easy to make, they can be a little finicky. You want the end result to be a light, slightly dry, baked cookie. Follow the steps below to ensure the perfect meringue cookie every time!
PREP: Start with room temperature eggs.
WHISK: Separate the eggs and beat until just foamy. Whisk in the cream of tartar and sugar.
FOLD: Fold in the extract and food coloring if using.
PIPE: Pipe onto a prepared baking tray and place in a preheated oven.
BAKE: Turn OFF the oven and leave your cookies in overnight.
Helpful Tools
I found that a hand mixer (affiliate) works best with this recipe.
Start with ROOM TEMPERATURE INGREDIENTS. I can't stress this enough.
Use disposable piping bags (affiliate) for easy clean up.
I used a 1M Piping Tip (affiliate) to create my design
Recipe Notes:
Why are my meringue cookies chewy?
Meringue cookies can soak up extra moisture. Following the directions closely and leaving them in the oven overnight is critical in achieving the perfect texture.
How do you store meringue cookies?
Use a quality air tight container (affiliate) away from moisture. If stored properly the cookies should last two weeks.
How do you quickly bring eggs to room temperature?
Forget to take the eggs out of the refrigerator? No problem! You can place the eggs in a bowl of warm water for roughly 10 minutes to bring them to room temperature.
Can I add chocolate chips to these cookies?
Of course! In fact, we like to add mini chocolate chips when we use vanilla extract.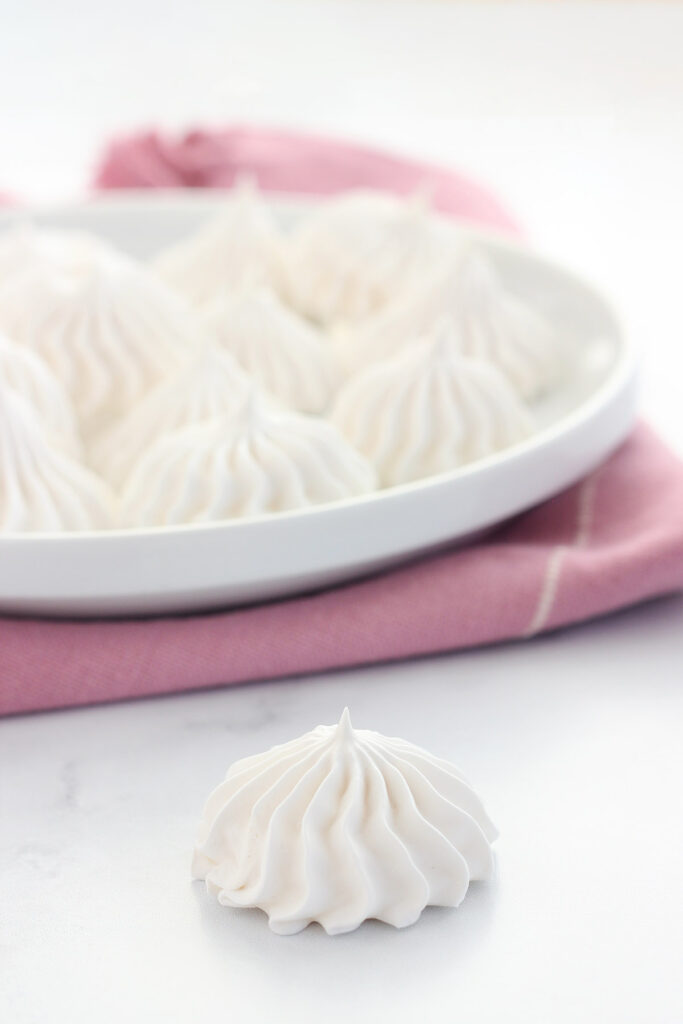 More Must Try Fruit Cookie Recipes
Still Hungry? Follow One Sweet Appetite on Instagram, Pinterest, and Facebook!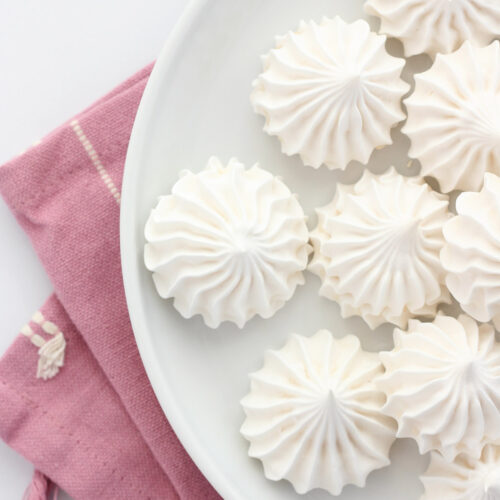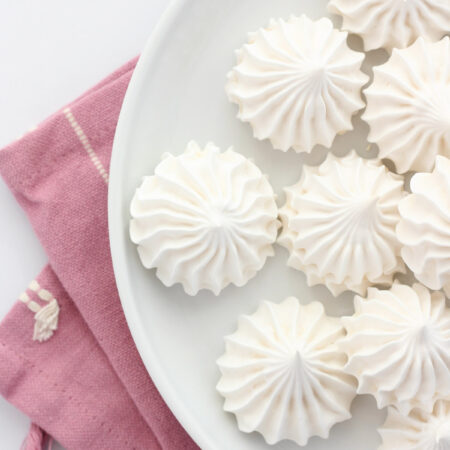 Easy Meringue Cookies
These Meringue Cookies are a light and sweet alternative to your typical chocolate chip! Made with whipped egg whites, powdered sugar, and cream of tartar! 
Ingredients
2 egg whites room temperature
1/2 teaspoon cream of tartar
2/3 cup powdered sugar
1 teaspoon vanilla extract
Instructions
Preheat your oven to 350 degrees. Line two baking trays with parchment and set aside.

Whisk your egg whites until foamy. Stir in the cream of tartar and beat until it just starts to look foamy. Slowly mix in half of the sugar. Once combined you can add the extract and food color if using. Whip in the remaining sugar until incorporated and glossy.

Pipe your meringues into 2 inch circles or your desired shape. Place into the oven. Turn the oven off and allow them to sit overnight.

Dip in chocolate if you prefer and enjoy!
Notes
You can use other flavor options by substituting the vanilla extract with raspberry, lemon or almond.  Food coloring is a fun way to give these a new look.
Nutrition
Serving: 2cookies | Calories: 27kcal | Carbohydrates: 6g | Protein: 1g | Sodium: 9mg | Sugar: 6g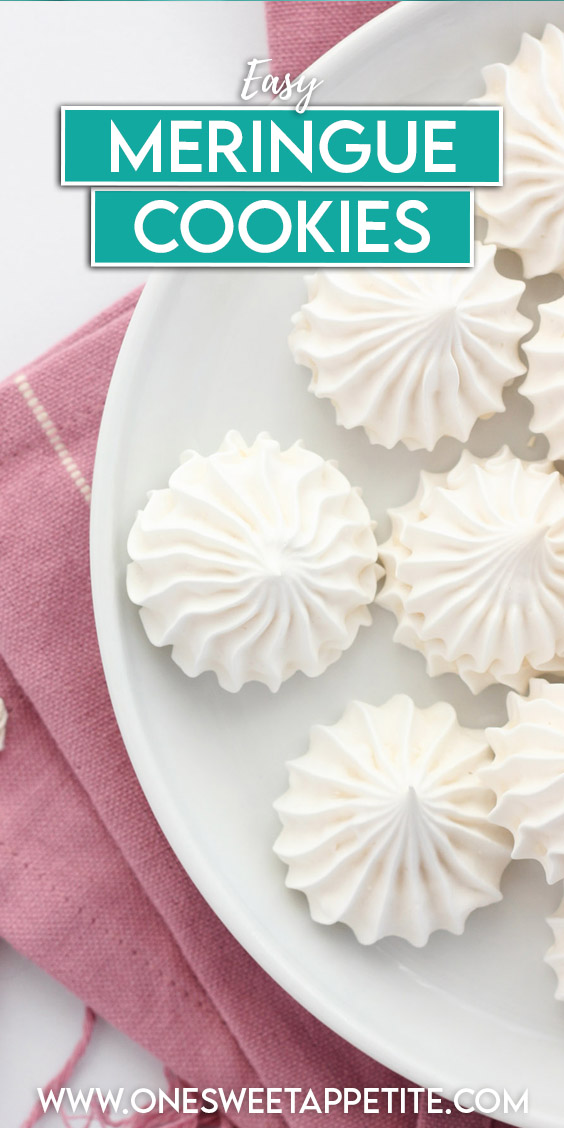 Reader Interactions