This Streusel Pumpkin Pie is a fun twist on the classic! Rich and creamy pumpkin pie topped with a cinnamon spiced crumble. The perfect fall pie recipe and addition to your Thanksgiving dessert table.
Searching for more pumpkin treats? Try my tried and true Pumpkin Pie Recipe, Streusel Pumpkin Muffins, and Pumpkin Lazy Cake.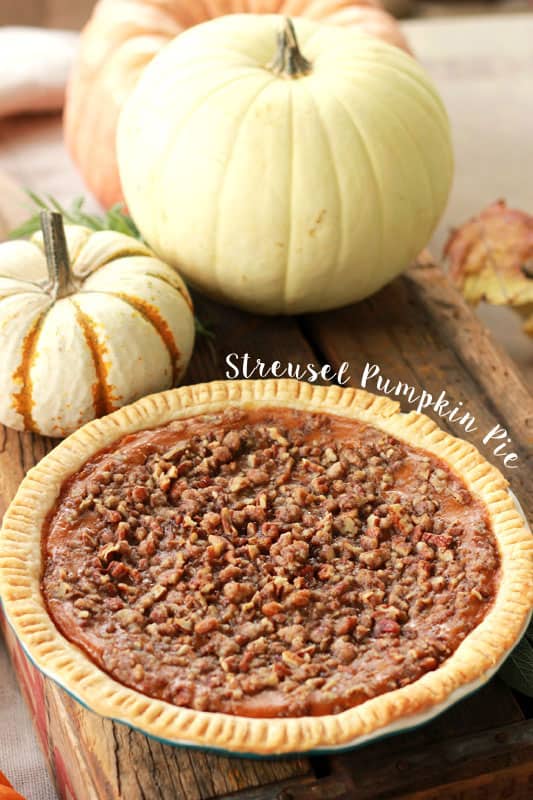 This recipe was originally published November 2, 2015. It has since been updated to include fresh photos and helpful tips.
RECIPE FEATURES
Family Favorite: We love this version of pumpkin pie. The topping adds structure to the pie that gives a delightful crunch in every bite.
Customizable: I opted for a classic pie crust, however a graham cracker crust would be equally delicious!
Make Ahead: You can make this pie up tp four days in advance. Keep stored, lightly covered, inside the refrigerator.
This pie recipe is different. It has all of the classic pumpkin pie flavors with the addition of a crunchy streusel topping. And when I say streusel, I mean a crumbly spiced topping that has the perfect balance of flour, salted butter, and spices. It is a dreamy combination. The sweetness of the pumpkin pie paired with the slightly salty topping is heavenly and hard not to love. A very fun twist on a classic pie recipe.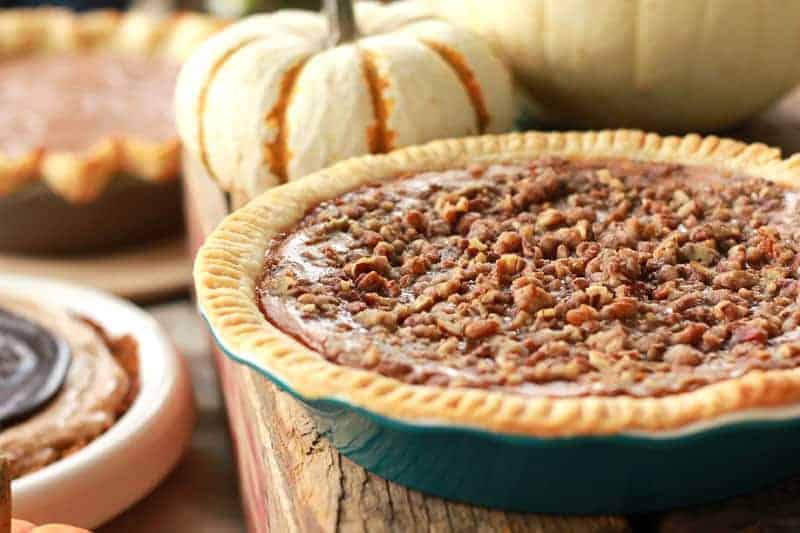 CINNAMON STREUSEL TOPPED PUMPKIN PIE
You don't need much to make this easy pie recipe. The ingredient list is short and the results are incredibly delicious.
Sugar: Both white sugar, for the pie, and brown sugar for the crumble topping.
Spices: Cinnamon, ginger, cloves, salt. These are used in both the pie and the topping. Alternatively, you can use pumpkin pie spice.
Eggs: Large eggs provide structure to the pie, which in turn keeps it sturdy to hold the topping.
Pumpkin: Canned pumpkin comes in two forms. For this recipe, be sure you opt for pumpkin puree and NOT pumpkin pie filling.
Evaporated Milk: Evaporated milk is a thicker version of the dairy product. It makes it easier for the custard pie to thicken and leaves a creamier finish.
Pie Crust: Store bought or homemade. You cannot go wrong either way. My secret favorite is the premade pie crusts in the freezer section of most grocers. They hold up well in the oven and come inside a pie tin. Perfect for gifting.
Flour: All-Purpose flour gives structure to the topping.
Butter: Salted butter cut into the flour provides the crumb.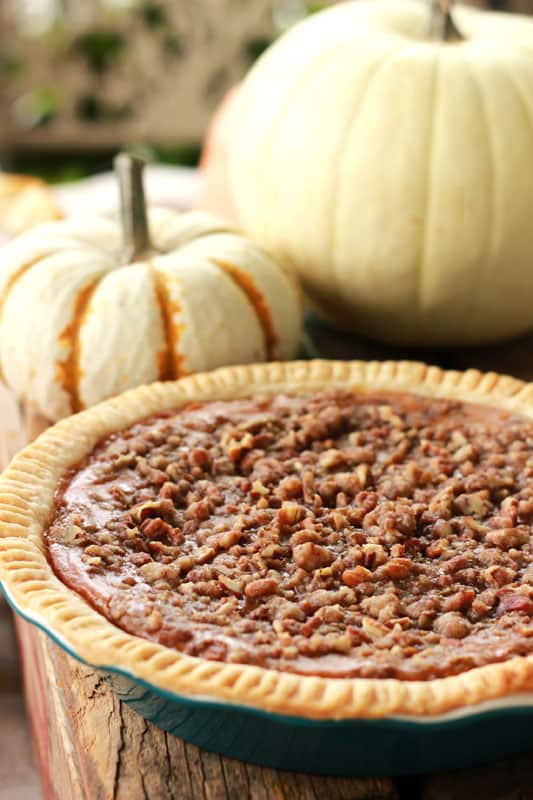 HOW TO MAKE PUMPKIN PIE WITH STREUSEL TOPPING
PREP: Preheat the oven to 425 degrees. To start the pumpkin pie with streusel topping, whisk together the white sugar, cinnamon, salt, ginger, and ground cloves called for in the pie filling.
MIX: Slowly stir the eggs and pumpkin into the spices. Add the evaporated milk and gently stir until combined.
BAKE: Pour the batter into the pie shell and bake for 15 minutes. Reduce the oven temperature to 350 degrees and bake an additional 30 minutes.
TOPPING: While the pie is baking, cut the butter and flour together using forks until crumbly. Toss in the topping spices. After the 30 minute bake, remove the pie from the oven and sprinkle with the streusel. Place back into the oven and continue to bake for 15 minutes, or until lightly golden on the top.
HELPFUL TOOLS
Pie Pans: New to my collection, I am slightly obsessed with the elegant look of this white pie pan (affiliate).
Pie Shield: There is nothing more frustrating than baking a perfect pie only to have the edges turn crisp. A pie shield (affiliate) is the perfect way to stop that from happening. Made from silicone, so the edges are easily put in place before baking.
Pie Knife: Pull out the PERFECT slice with the help of this shaped pie server (affiliate).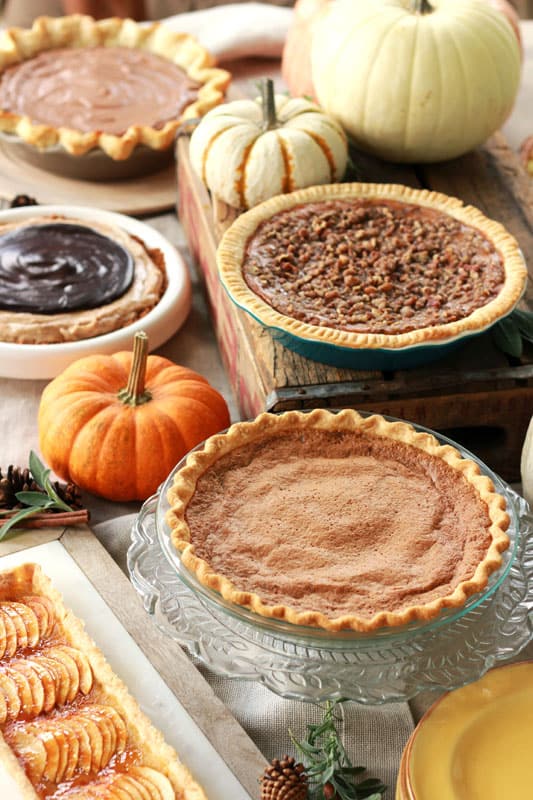 Recipe Notes:
Do you need to blind bake the crust?
With the streusel topping, this recipe takes a smidge longer to bake. I do not recommend blind baking the curst. If you like to be extra certain the crust bakes fully, and insist on this method, I highly suggest investing in a pie shield (affiliate) to keep the crust edges from burning.
What is the difference between pumpkin puree and pumpkin pie filling?
Pumpkin puree is plain pumpkin that has been steamed and blended into a puree. It has no additional ingredients. Pumpkin pie filling has all of those classic spices you would see added into a pie. Sometimes you will even see added sugars.
For this recipe, I like to use plain pumpkin puree and add spices independently. This allows for a little control over what goes into the pie allowing us to adjust and flavor as needed.
Can I leave off the topping?
Yep. If you'd rather not have a buttery topping on your pie, you can leave it off. Follow the baking directions I have in this easy pumpkin pie recipe.
Can you add nuts to a crumble topping for pie?
We have often added chopped nuts into our topping. Use either 1/2 cup chopped pecans or walnuts.
How long does homemade pumpkin pie last?
This recipe will last up to 2 days stored, lightly covered, on the counter. It will last up to 4 days, lightly covered, if kept in the refrigerator.
MORE MUST-TRY PIE RECIPES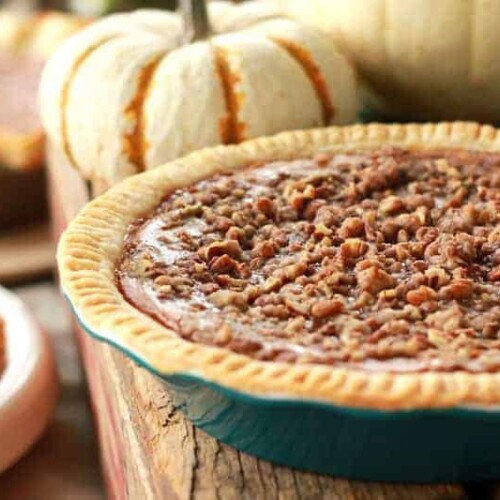 Streusel Pumpkin Pie
Streusel Pumpkin Pie. Classic Pumpkin pie is topped with a beautiful homemade streusel and baked to perfection in this pumpkin pie variation.
Ingredients
15 oz pumpkin puree
14 oz evaporated milk
1 cup granulated sugar
1/2 cup brown sugar
2 large eggs
2 teaspoons pure vanilla extract
1 teaspoon cinnamon
1/2 teaspoon ginger
1/2 teaspoon nutmeg
1/2 teaspoon salt
2 pie shells unbaked
1/4 cup brown sugar
4 tablespoons flour
1 teaspoon cinnamon
2 tablespoons butter soft
1 cup chopped pecans optional
Instructions
Preheat your oven to 425 degrees. Place both of your shells in two dishes and set aside.

Whisk together the pumpkin puree, evaporated milk, granulated sugar, 1/2 cup brown sugar, eggs, and vanilla.

In a separate bowl combine 1 teaspoon cinnamon, ginger, nutmeg, and salt. Fold into your pumpkin mixture. Divide evenly between you two prepared crusts. Bake for 20 minutes.

While your pie is baking stir together the 1/4 cup brown sugar, flour, 1 teaspoon cinnamon, butter, and pecans.

Pull to pies out of the oven. Reduce the temperature to 350 degrees. Divide your crumble mixture over the top of each pie. Place a tent of foil over each and return to the oven.

Bake 40-60 minutes or until the center is set.
Nutrition
Serving: 1Servings
Equipment
Reader Interactions