This classic Pumpkin Pie Recipe comes straight off the back of the Libby's can and is still one of my favorites!
This is THE pie of Thanksgiving for us.
My Grandma used this recipe and whipped up, not one, but THREE pumpkin pies for our gatherings.
They seemed to disappear just as fast as she could get them to the table. We would all reach around the apple, cherry, and chocolate, for this silky smooth pumpkin pie.
It has become one we can not live without. We rotate who brings it to our Thanksgiving table, but we all use the same recipe.
Classic Pumpkin Pie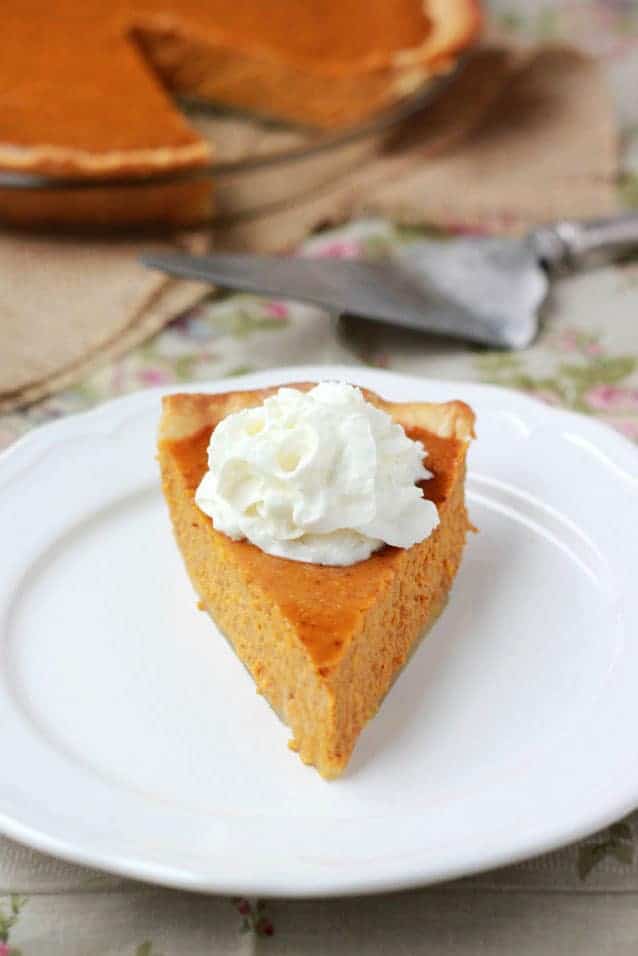 Of course, pumpkin pie is not complete without a huge dollop of of whipped cream or cool whip. Should we get into the whipped cream vs cool whip topic?? No??
And when I say huge I mean probably double the amount of pie.
Am I the only person that does this??
Ooooooh OR ice cream. WHY have I never tried ice cream??
Regardless of how you eat it you're sure to love this simple and delicious treat.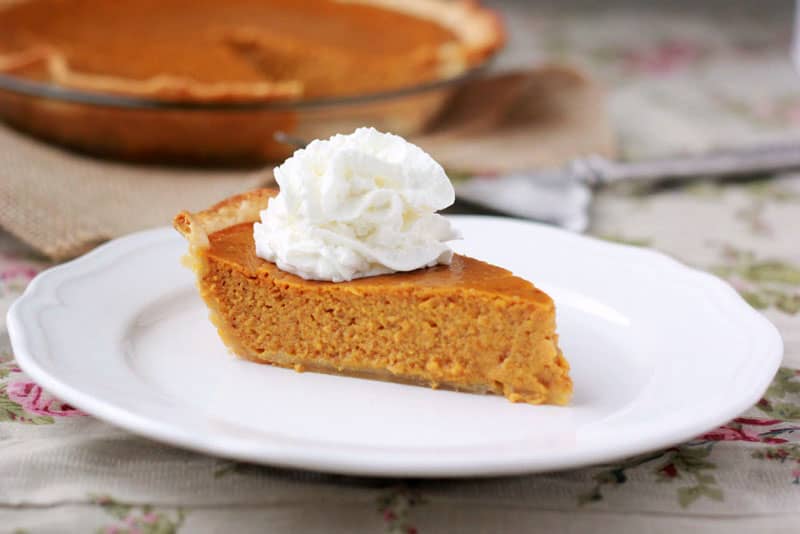 Like this recipe? You will love my Streusel Pumpkin Pie, Caramel Apple Pie, and Chocolate Pecan Pie! All great options for your upcoming family gatherings! Especially Thanksgiving dinner! 
Pumpkin Pie Recipe
Ingredients
3/4

cup

sugar

1

teaspoon

cinnamon

1/2

teaspoon

salt

1/2

teaspoon

ground ginger

1/4

teaspoon

ground cloves

2

large eggs

1

can

15 oz. Pumpkin Puree (not pumpkin pie filling)

1

can

12 fl. oz. Evaporated Milk

1

slightly baked 9-inch pie shell

Whipped cream

optional
Instructions
Preheat your oven to 425 degrees.

Whisk together the sugar, cinnamon, salt, ginger, and cloves. Slowly stir in the eggs and pumpkin. Add the evaporated milk and mix until full combined.

Pour into your pie shell and bake for 15 minutes. Reduce the heat to 350 and continue to bake for 45 additional minutes. Cool and serve with whipped cream.
(Visited 3,262 times, 1 visits today)
3