This post was updated on by Jesseca
This classic Pumpkin Pie Recipe comes straight off the back of the Libby's can and a classic Thanksgiving dessert! Easy to make and the perfect pie recipe.
This is THE pie of Thanksgiving for us.
My Grandma used this recipe and whipped up, not one, but THREE pumpkin pies for our gatherings. They seemed to disappear just as fast as she could get them to the table. We would all reach around the apple, cherry, and chocolate, for this silky smooth pumpkin pie.
It has become one we can not live without. We rotate who brings it to our Thanksgiving table, but we all use the same recipe.
Classic Pumpkin Pie
Can we have a quick chat about pie crust? I feel like a good pie starts with a solid crust. Mine uses all butter and ice water for a flaky crust that is ideal for custard filling.
We have also used graham cracker crusts, or even gingerbread cookie crusts, and all have turned out beautifully!
Should you use canned or fresh pumpkin in a pie?
THIS is the big question. I have tried both and here's the short answer… They both work and taste great. If you have access to sugar pumpkins, I suggest trying your hand at making a homemade puree. It's an incredible experience to make a pie from start to finish. However, canned pumpkin works just as well. My favorite? Farmers Market Organic Pumpkin, but any variety will do.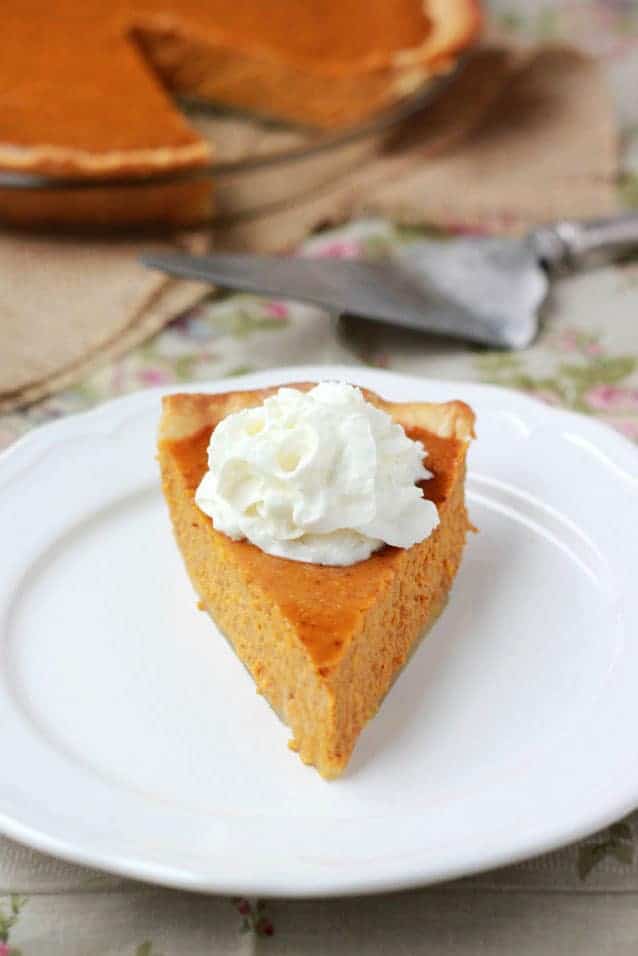 Of course, pumpkin pie is not complete without a huge dollop of of whipped cream or cool whip. Should we get into the whipped cream vs cool whip topic?? No??
And when I say huge I mean probably double the amount of pie. Am I the only person that does this?? Ooooooh OR ice cream. WHY have I never tried ice cream??
Regardless of how you eat it you're sure to love this simple and delicious treat.
How to know when pumpkin pie is set:
Knowing if your pie has cooked through can be tricky. Use one of these tips to ensure your pie has set and is ready to pull from the oven:
Gently shake the pie. If it no longer giggles in the center, your pie is ready.
Place a clean butter knife into the center of the pie. If the knife comes out clean, your pie is done.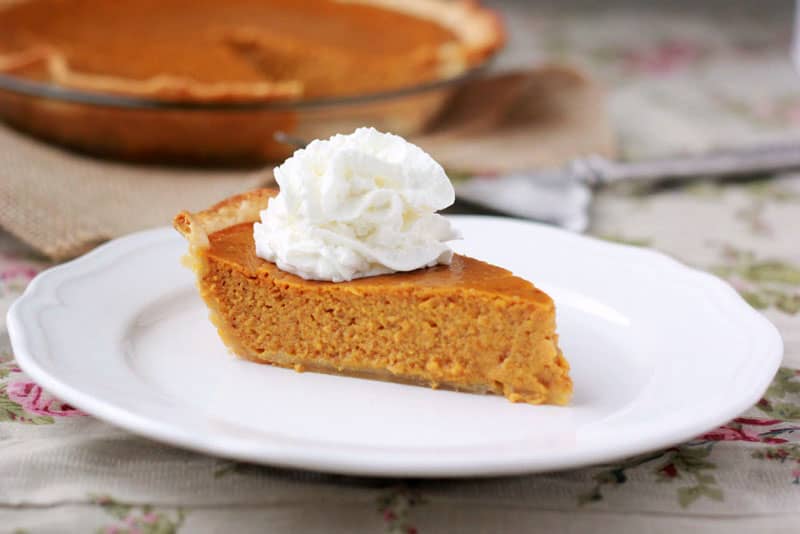 Like this recipe? You will love my:
All great options for your upcoming family gatherings! Especially Thanksgiving dinner!
Pumpkin Pie Recipe
Yield: 10 people

Prep Time: 20 minutes

Cook Time: 55 minutes

Total Time: 1 hour 15 minutes

This classic pumpkin pie recipe is a Thanksgiving staple! No-fail and minimal ingredients make it the perfect pie recipe.
Ingredients
3/4 cup sugar
1 teaspoon cinnamon
1/2 teaspoon salt
1/2 teaspoon ground ginger
1/4 teaspoon ground cloves
2 large eggs
1 can, 15 oz. Pumpkin Puree (not pumpkin pie filling)
1 can, 12 fl. oz. Evaporated Milk
1 slightly baked 9-inch pie shell
Whipped cream, optional
Instructions
Preheat your oven to 425 degrees.
Whisk together the sugar, cinnamon, salt, ginger, and cloves. Slowly stir in the eggs and pumpkin. Add the evaporated milk and mix until full combined.
Pour into your pie shell and bake for 15 minutes. Reduce the heat to 350 and continue to bake for 45 additional minutes. Cool and serve with whipped cream.
Recommended Products
As an Amazon Associate and member of other affiliate programs, I earn from qualifying purchases.
Nutrition Information:
Yield: 10 Serving Size: 10 people
Amount Per Serving: Calories: 230

Pin for later: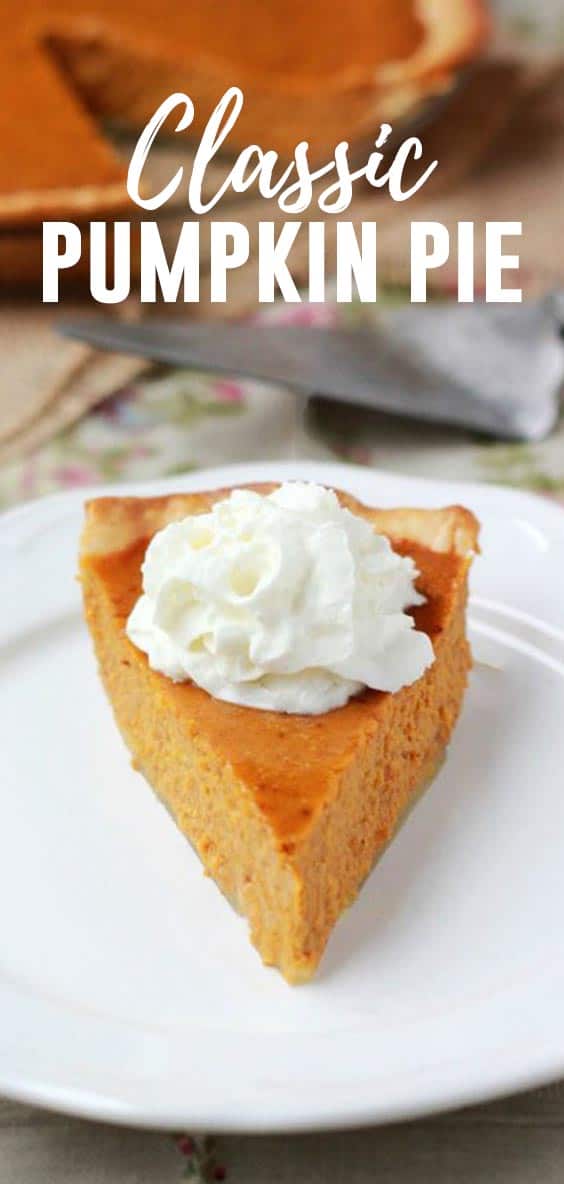 (Visited 3,403 times, 1 visits today)
5